Overview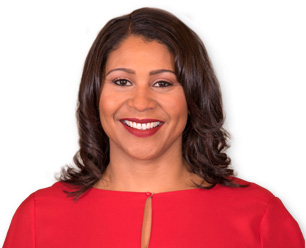 London Breed
was sworn in as the Supervisor for District 5 on January 8, 2013. The neighborhoods she represents include the Fillmore/Western Addition, North of the Panhandle, Lower Haight, Haight-Ashbury, Cole Valley, Inner Sunset, Hayes Valley, JapanTown and Alamo Square.

London was raised by her grandmother in public housing in the Western Addition and now resides in the Lower Haight.

London attended public school in San Francisco and graduated from Galileo High School. She earned her B.A. in Political Science from the University of California at Davis and later earned a Masters degree in Public Administration from the University of San Francisco.

In 2002, London became the Executive Director of the African American Art & Culture Complex. Under her leadership, the Complex's vital youth programs reached record participation, getting young people off the streets of the City and into a place for them to realize their potential. These programs in partnership with community policing and community engagement are credited with contributing to the Fillmore/Western Addition's lowest crime rate in decades and its rising number of high school graduates and college students.
As the Complex's programs grew, the building itself needed to do the same, and London raised over $2.5 million to renovate the interior and exterior of a 34,000 square foot space, complete with art galleries, theater space, and even its own self-contained recording studio.
In the public sector, London put the same principles to use after she was named to the San Francisco Redevelopment Agency Commission in 2004. In her five years there, she helped shepherd redevelopment projects that created thousands of new affordable housing units in San Francisco, helped revitalize faltering neighborhoods in Visitacion Valley and Hunter's Point, and established the Fillmore Jazz Preservation District in the area she would one day represent in City Hall.
In 2010, Mayor Gavin Newsom appointed London to the San Francisco Fire Commission, where she resolved to build stronger relationships between the City's first responders and the people of her own community. She continued to serve the Fire Commission until her election to the Board of Supervisors in November of 2012.
London believes that every San Franciscan deserves the opportunity of a decent job, the protection of a dignified place to live that fits a working person's budget, and the peace of mind that comes from feeling safe in the homes and on the streets of our City. She believes that a City's government must be judged on how it responds to the needs of its most vulnerable, and in that regard, the world's greatest City must be held to the world's highest standard.
Note: Click on the photo of Supervisor Breed to open high resolution copy.  After opening, right click on the photo to save image.