2022 District 7 Participatory Budgeting
Dear District 7 family and friends,
 I am proud to announce that the 2022 Participatory Budgeting Voting is now live! Voting is open from June 13th to June 27th. District 7 residents aged 16 and up can vote! People who live in District 7 and community groups submitted projects. There are 11 projects that would improve our neighborhoods. You vote to decide which projects we fund. We fund projects that get 400 votes or more. So get your neighbors to vote too!
What is Participatory Budgeting (PB)?
Participatory budgeting is a democratic process that gives community members the opportunity to set budgeting priorities and make decisions on what community projects should be funded. The process involves the brainstorming of project ideas, the development of proposals, and the selection of successful projects through voting.
 District 7 organizations have gone through the process of submitting their ideas and proposals through our Participatory Budgeting 2022 program. A Participatory Budget Community Review Committee (PB CRC) was established in order to review the high volume of proposals that were submitted and check for feasibility, the strength of the proposal, and community improvements to name a few. As a recap, proposals go to the PB CRC for review and the proposals with the highest scores moves forward to the ballot for voting.
 Visit Our Participatory Budgeting Website to learn more!
Important Notes:
Only projects that get 400 votes minimum will be given funding. So you can vote for as few or as many projects you want to fund. If you see a project that you want to fund then vote for it.

If you cannot find your address when inputting your address in search box, please click, "I can't find my address." You will be able to manually enter your address and proceed to vote.  
 Link to virtual ballot: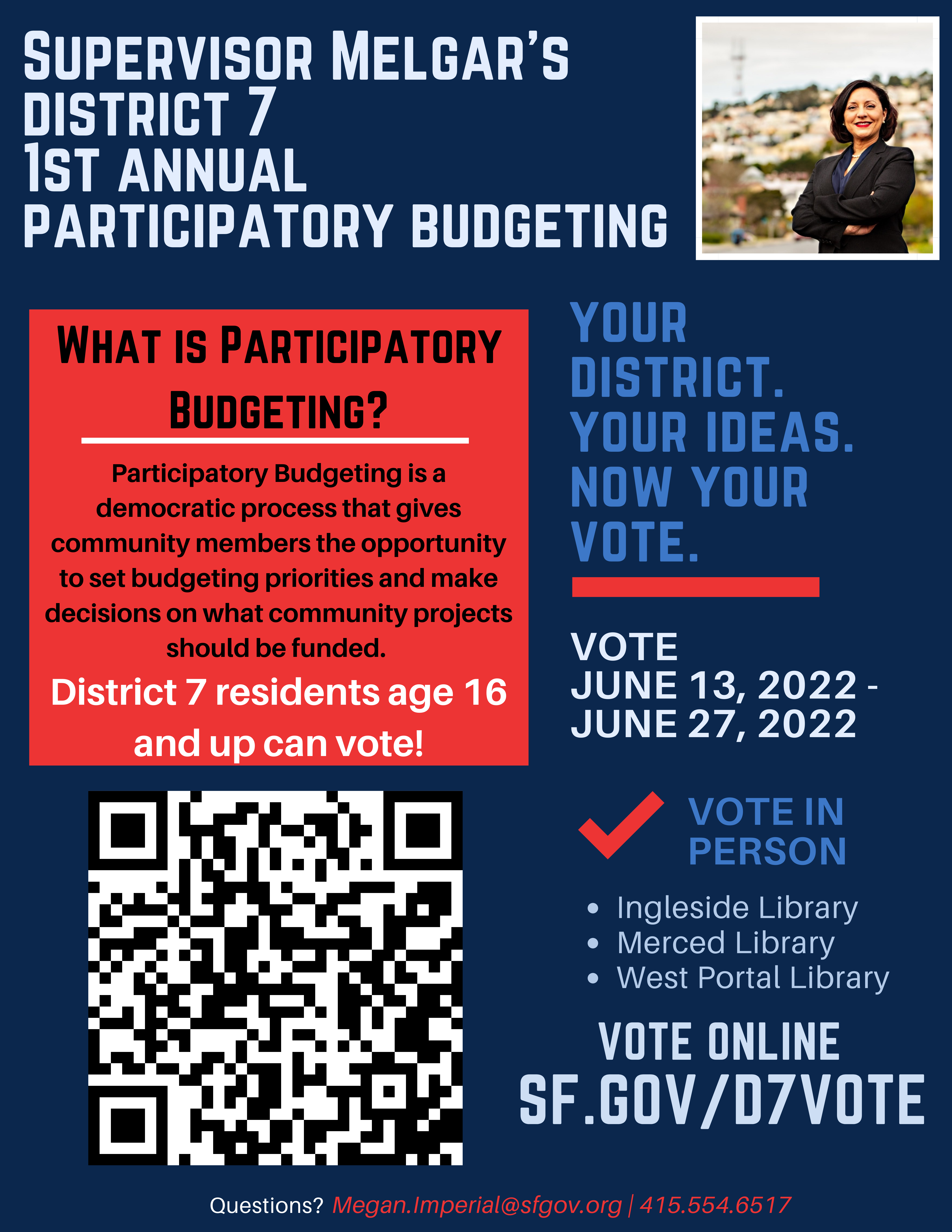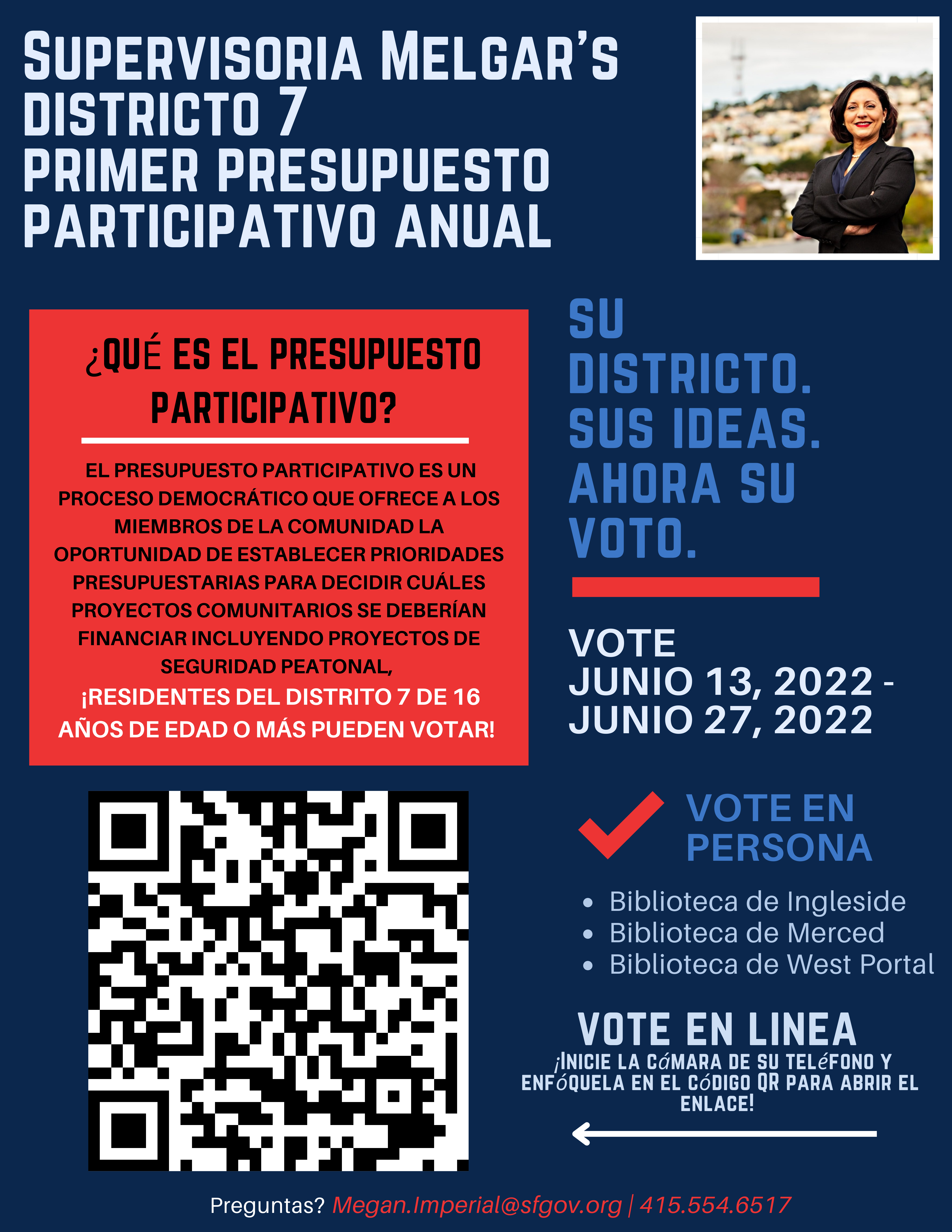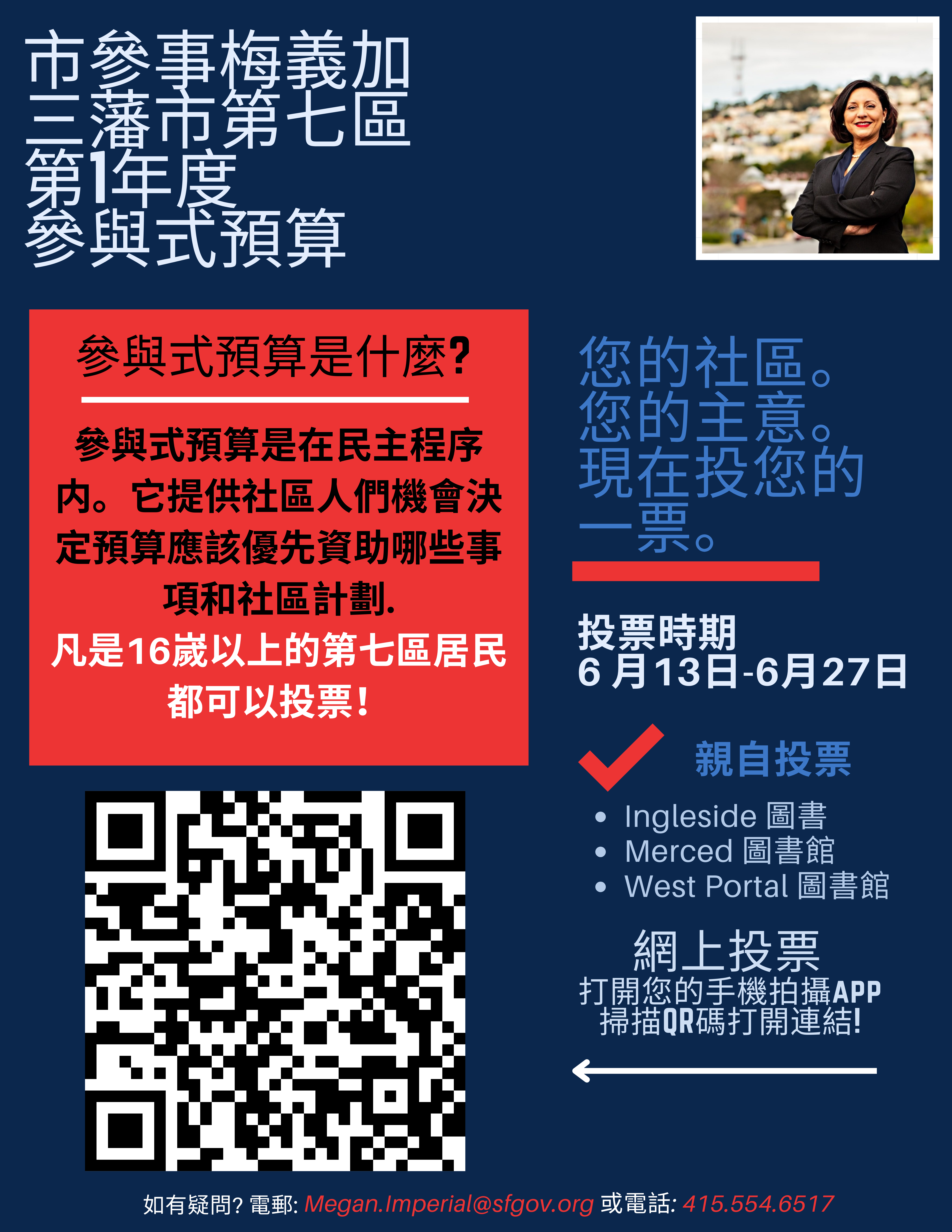 If you or a neighbor you know doesn't have internet access you can vote in person at the following locations:
Ingleside Library

Merced Library

West Portal Library
If you need assistance please contact my Legislative Aide, Megan Imperial email: (Megan.Imperial@sfgov.org) phone: 415-554-6517 or 415-972-9792.
---
2022 District 7 Participatory Budgeting