Newsletter
July/August 2016 Newsletter
Office Phone: 415-554-6968
Email: scott.wiener@sfgov.org

Office Hours
Thursday, September 8th
10am-12pm
San Francisco City Hall
Room 278
NOTE: Occasionally, we need to reschedule office hours.  To ensure that you learn of any changes before making the effort to attend, please check with the office a day or two before or call the office to put your name on the office hours list so that we can notify you if any changes occur


Policy Work
November Ballot Measures
I authored several measures at the Board that will appear on the November ballot:
 
Sales Tax to Fund Housing for Homeless People and Transportation Improvements
This measure will create a fund of $150 million dollars, with $50 million going toward the creation of permanent housing for homeless people as well as additional navigation centers, and $100 million for transportation improvements, including for Muni, BART, bike/pedestrian improvements, and road resurfacing.
 
Street Tree Measure: Taking Responsibility for Street Trees
For six years, I worked with Friends of the Urban Forest to craft a ballot measure to require the city to take back responsibility for tree maintenance and for liability and sidewalk damages resulting from trees. The Board of Supervisors placed the measure on the ballot last week. Our current system requires property owners to care for trees whether or not they planted them, want them, or have the physical or financial ability to care for them. The measure we crafted requires the city to take back the trees (including related sidewalk damage and liability) and creates dedicated funding to discharge this responsibility.
 
An example of how improving our urban forest can beautify and enhance our streetscape


Safe Neighborhoods Initiative
This measure creates the Neighborhood Crime Unit in the San Francisco Police Department, which will be tasked with focusing on addressing crime in San Francisco's neighborhoods, including by implementing foot patrols and working proactively with the community to address neighborhood-specific issues. This measure was developed in collaboration with Mayor Ed Lee and the San Francisco Police Department and was submitted to the ballot with signatures from me, as well as Supervisors Malia Cohen, Mark Farrell, and Katy Tang.

Affordable Housing: Helping Fire Victims and Prioritizing San Franciscans
I authored legislation to expand affordable housing access for victims of fire and to give priority in our affordable housing lottery to people who live or work in San Francisco. Victims of fire don't have time or warning when they are displaced – one minute they are in their homes, the next their homes are gone. The City needs to do more to support victims of fire, both with temporary and permanent relocation help. My legislation helps low-income residents displaced by fire stay in San Francisco by giving them preference in the affordable housing lottery.

Navy to Name Ship After Harvey Milk
Last week, the news broke that the Navy is planning to name a ship after Harvey Milk. This is great news for the LGBT community, and I'm extremely proud of our Navy and our country. This sends a powerful message to the world about our country and the values we hold. I'm proud to have authored a resolution in 2012 asking the Navy to take this step. Thank you to Harvey's nephew Stuart Milk and his former legislative aide Anne Kronenberg for their tireless advocacy around this effort.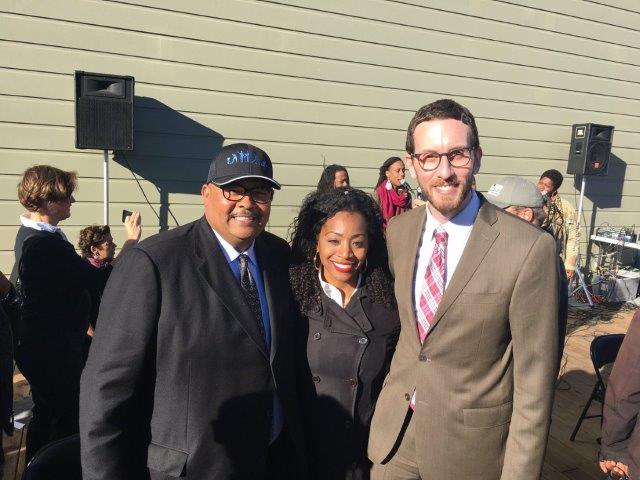 Scott with Public Works Director Mohammed Nuru and Supervisor Malia Cohen at the opening of the Bayview Opera House
Collecting Data to Improve Services for LGBT People
The history of the LGBT community is a history of fighting against invisibility. Our enemies want us to disappear, and we continually fight to remain visible. Key to visibility is understanding who we are and what we need. To gain that understanding, we must have data, which is frequently lacking for our community. For many years, I have heard stories from members of the LGBT community about the need to improve City services and outreach to the community. We have worked hard to do so, yet we never had complete data to guide our efforts. That will now change after the Board of Supervisors
unanimously passed my LGBT data collection legislation
, which requires City departments and contractors providing health care or other social services to seek, collect, and analyze data concerning the sexual orientation and gender identity of the clients they serve. Clients have the right not to provide the data, and the data will only become public in aggregated form. This legislation will allow us to improve services to the LGBT community and truly make a difference in people's lives.
Stopping Bike Theft and Chop Shops
Biking is a key part of our transit-first policy, and we want more people to bike. Yet, an explosion of bike thefts is seriously jeopardizing our positive progress around biking. If people don't feel secure parking their bikes, they're going to hesitate to bike. I recently held a hearing on bicycle theft to better understand what the City is doing to deal with this problem. According to statistics presented by the Police Department at the hearing, reported bike theft incidents have quadrupled since 2001. This is an unacceptable increase, and we need to make efforts both to improve preventative measures like building more secure bike parking and also to expand enforcement efforts, such as reinstituting the bike theft task force.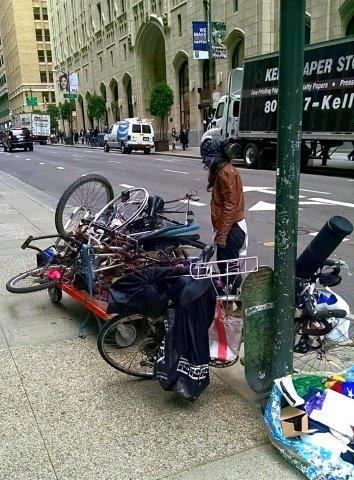 An example of why we need to do a better job addressing bike theft in our City  

Medical Cannabis Hearing
San Francisco has long been a leader in implementing rules and laws to foster a strong and well-regulated medical cannabis industry. Yet, recently adopted state legislation – the Medical Marijuana Regulation and Safety Act (MMRSA) – has changed the regulatory structure and created a clear need for change at the local level. I held a hearing on this issue, in particular how it impacts our non-retail cannabis businesses like cultivation and manufacturing. These businesses create well-paying jobs, and we need to ensure that the City's medical cannabis laws are updated in time to be in compliance with MMRSA.
 

Keeping Long-Term HIV Survivors Stable in Their Housing

People living with HIV/AIDS are often long-term survivors and seniors. We need to do everything we can to protect these members of our community and keep them stable in their homes. Last month, the Board passed

my legislation to extend rent control protections to people living with HIV/AIDS

 who are a part of a federal housing subsidy program known as HOPWA (Housing Opportunities for Persons with AIDS). Previously, under the San Francisco Rent Ordinance, HOPWA recipients did not receive the same rent protections under rent control as other recipients of federal voucher programs. In addition, in our recently adopted budget, I obtained funding to help long-term survivors who are transitioning to social security – thus dropping their income – remain in their housing rather than lose their housing due to a drop in income.  
Scott visiting a medical cannabis cultivation center 
Budget Approval Includes Funding to Fight New HIV Infections
In July, we approved the two-year $9.6 billion city budget for 2016/2017 and 2017/2018. As a member of the Budget Committee, I am proud that we have once again passed a balanced budget that reflects our priorities. Whether we are funding better parks and safer streets, Muni and transit improvements, critical health and housing programs, or supporting programming in our public schools, I'm proud to have pushed for initiatives that keep our communities healthy and secure. In particular, I'm proud to have worked with advocates to secure funding for the Getting to Zero effort, San Francisco's nationally recognized effort to end new HIV infections, as well as funding for seniors, parks and neighborhood improvements, infrastructure expansion, youth and education programing, and the LGBT community.
Other priorities funded in the budget include:
Neighborhood Improvements: Sidewalk planting, tennis court resurfacing at 14th Street and Noe Courts, bathroom facilities for Dolores Park, and activation of street activities. 
LGBT Services: Support for transgender youth services, capital support and operational funding for HIV/AIDS service providers, ongoing support for LGBT archival programming
School and Youth Programming: Support for a reading specialist at Harvey Milk Civil Rights Academy, a tech training program at Mission High School, increased staffing at neighborhood recreation centers, funding for turf soccer fields on school district properties, and student theater education programs
Seniors/Disabled: Funding for senior programs and home meal deliveries
This list is by no means exclusive. Thank you to all of our residents who helped move these key budget priorities forward.
Preserving Our LGBT Nightlife
LGBT nightlife venues are at the heart of LGBT culture, and we need to protect these sacred spaces both to honor our past and provide space for future generations to come together. The community recently learned that, due to a rent increase and possible site development, the Stud (at 9th and Harrison) - an iconic and beloved LGBT nightlife venue - is at risk of closure. I wrote a piece about why the Stud and other LGBT nightlife spaces matter. I've also called for a hearing, which we will hold at the beginning of September, on what the City is doing to preserve LGBT nightlife spaces and how we can move forward with the SOMA LGBT Cultural District.
COMMUNITY SPOTLIGHT
Herman Coleman and DeShawn Stallworth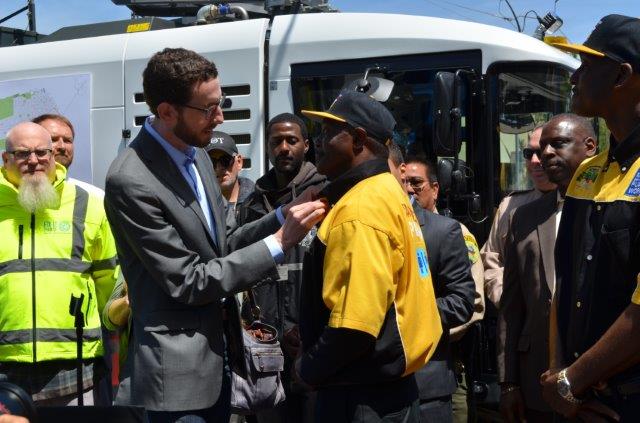 I had the honor of recognizing two of our City Pit Stop employees who helped stop a robbery at the Chevron on the corner of Castro and Market Street. Herman and DeShawn heard an attendant scream for help as she was trying to grab merchandise from the would-be thieves at the doorway of the Chevron station. When the thieves saw the pit stop attendants come over to help, they dropped the merchandise and ran away. This was a great example of how positive community programs can help keep our neighborhoods safe and I thank Herman and DeShawn for answering the call for help.
COMMUNITY UPDATES
Noe Valley Town Square
Construction on the Noe Valley Town Square is progressing well and is on time with the park opening expected at the end of October. The Recreation and Parks Department and Public Works staff are working with the design team led by CMG and the construction team led by Bauman to quickly resolve questions that arise in the field. The Visual Arts Committee of the Arts Commission have approved the artwork for the site and the artists are in the process of fabricating the art. As the summer moves on and we get closer to October, the Noe Valley Town Square Steering Committee will be planning fun opening events to celebrate the new park.

Repairing Castro Street's Rainbow Crosswalks
Work crews will be making improvements to the 18th Street/Castro Street intersection in September to address drainage problems on the southwest corner. They also will redo the iconic rainbow crosswalks that were damaged in April during the filming of a TV show. The television network, ABC, will cover the costs to repair the decorative crosswalks. The work is tentatively scheduled to begin in mid-September, when the old asphalt will be removed and replaced with new pavement. After that, the colorful striped crosswalks will be replaced.  I am pleased that ABC, the City, and community members have come together to develop this plan for the restoration of these iconic crosswalks.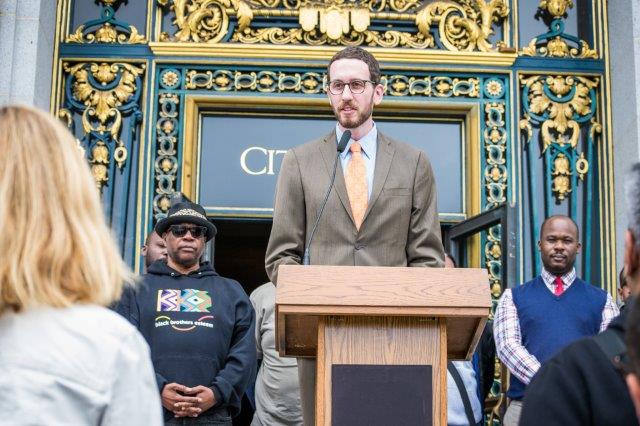 Scott speaking at a rally in support of the Black Brother's Esteem Program's 20th Anniversary. The BBE is an HIV prevention and support program for African-American men faclitated by the San Francisco AIDS Foundation
 
Diamond and Bosworth Improvements
The streetscape improvements at Diamond and Bosworth streets were officially completed in April, and the new traffic signal system was turned on in June.  While it's been a bumpy road getting to the finish line, I am pleased with the outcome.  These improvements enhance safety for all street users and enhance the gateway to the village. I have been working with the MTA to identify funding for the second phase of these improvements, which will focus on pedestrian safety and circulation improvements at Bosworth and Lyell and Bosworth and Arlington, including traffic signals at these intersections.  I am happy to report that funds have been secured for this important second phase.  Please stay tuned for how you can be involved in planning these next set of improvements.
 
Beacon Trail Improvements
In July,
we officially opened the Beacon Trail
, which connects Walter Haas Park to Billy Goat Hill. Previously, there was an unsanctioned trail that was neither safe nor environmentally friendly. With funding from the Open Space Fund, the Recreation and Park Department built a combination of earthen trail and box steps that now officially connects these two wonderful parks.   
Upcoming BART Closures
There's no BART service between Daly City and Glen Park stations this weekend while crews repair the aging trackway.  Riders should expect up to 60 min delays and multiple bus and train transfers - especially if they're headed to SFO.  Neighbors should expect overnight construction noise as crews install sound dampeners.  Once BART completes the work, the system will be safer, more reliable and quieter for neighbors. Upcoming closures will be AUgust 13-14, August 20-21, and September 17-18.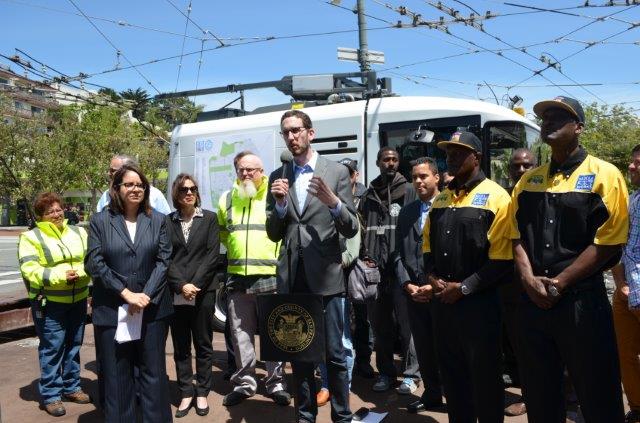 Scott joined Mayor Ed Lee and City staff at the announcing of the City's Fix-It Initiative, which is focused on addressing quality-of-life and cleaning issues in the City.   
Comcast and HUD's ConnectHome Initiatives
Comcast and the U.S. Department of Housing and Urban Development's (HUD) ConnectHome initiative have announced an expansion of Internet Essentials eligibility to public housing and HUD-assisted residents living in Comcast's service area. This means that an estimated total of up to 2 million HUD-assisted homes, including Public Housing, Housing Choice Voucher, and Multifamily programs, will now have access to high-speed Internet for $9.95 + tax a month, a discounted computer for less than $150, and free digital literacy classes --- this program expansion will have a local impact by expanding eligibility to 191,000 California and 22,000 San Francisco households. You can
read more here
.   
Update to SFTMA's Community Service Program
The Community Service Program (CSP) provides MTA customers with the option to perform community service for SF Public Works and a variety of San Francisco based non-profit organizations in lieu of paying parking and transit violations.  San Francisco is the only city that provides a community service option for citation payment. Previously, participants were credited $7.00 per hour for this work.  On April 1, 2016 the rate was increased to $10.00 per hour and on June 20, 2016 the rate was again increased to $13.00 per hour.  Participants are still required to work a minimum of 50% of their hours with SF Public Works.  A maximum of two contracts and combined total of $1,000 of fines/penalties may be enrolled in the CSP within a calendar year per person and/or vehicle(s). 
Community Calendar 
Jerry Day
Sunday, August 14
11am-4pm
Jerry Garcia Amphitheatre, McLaren Park
Jerry Day is a civic and cultural event that celebrates one of the greatest rock guitarists of all time and San Francisco native son – Jerry Garcia. This event captures the true spirit of Jerry Garcia as we celebrate his legacy, the Jerry Garcia Amphitheater, and recognize his Excelsior roots. By uniting the diverse communities of San Francisco through Jerry's music, we are creating something extraordinary for Jerry's childhood neighborhood – the Excelsior District, McLaren Park, and the City and County of San Francisco.
6th Annual Noe Valley Wine Walk
Thursday August 18
4pm-8pm
24th street, Noe Valley
The Noe Valley Merchants Association and Steven Restivo Event Services, Inc. are hosting the tasting event on 24th Street from Diamond to Chattanooga that will include restaurants and merchants offering wine samples, finger foods, and special treats. Attendees wishing to participate in the sampling program may purchase on-site tickets for $25 or advance tickets for $20 via the website. Ticket sales on the day of the event will be "Cash Only" or click here to buy tickets in advance. 
Fiesta Coloniale Italiana (North Beach)
Saturday August 20
11am-7pm
Stockton Street between Union and Filbert
The annual free, family event put on by the San Francisco Italian Athletic Club that celebrates the heritage and culture of the Italian-American community. Go to
www.sfiacfesta.com
for more information.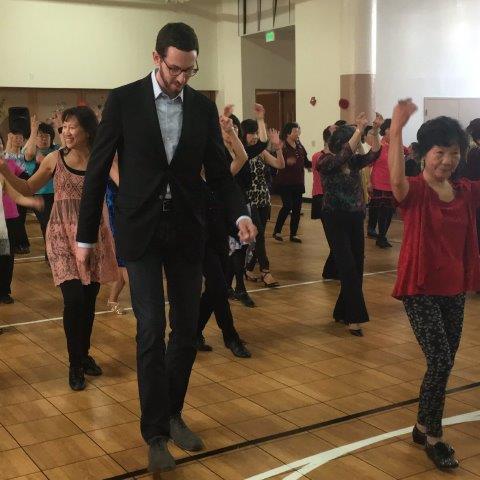 Scott dancing with some new friends at St. Anne's in the Inner Sunset  
6th Annual Chinatown Ping Pong Tournament
Sunday August 21
8am-3pm
Various locations
This year, the annual tournament will take place in 5 different locations throughout Chinatown (Portsmouth Square, Hilton Financial District's Grand Ballroom, Willie "Woo Woo" Wong Playground, Gordon J. Lau Elementary School, and Jean Parker Elementary School).  
 
Sunday Streets: Mission
Sunday, August 21
11am-4pm
Valencia Street from 26th Street to McCoppin Hub Plaza
Sunday Streets closes stretches of city streets to automobile traffic, and opens them to people for several hours on a various Sundays throughout the year, so participants can enjoy a large, temporary, public space where they can bike, walk, run, dance, do yoga, or do any other physical activity. Non-profit and health organizations offer free activities and share information about their services during the event.
Click here for more informatio
n.