About the Clerk of The Board
The Clerk of the Board of Supervisors serves as the department head for the Board of Supervisors. The Clerk has a chartered duty to manage the legislative affairs pertaining to the full Board and its Committees, and is responsible for the preparation, management and oversight of a $18.5 million budget. In addition to providing core legislative, administrative, and operational support to the Board, Committees, and members of the public, the Clerk of the Board also manages five agencies/divisions – the Assessment Appeals Board, Sunshine Ordinance Task Force, Local Agency Formation Commission (LAFCo), Budget & Legislative Analyst, and Youth Commission. The Clerk of the Board is also the official custodian of the City and County of San Francisco seal, under the authority of Administrative Code Sec. 1.6.
Angela Calvillo, Clerk of the Board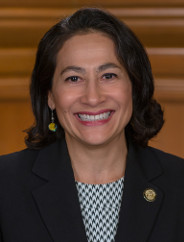 Angela is a committed public servant, passionate about engaging San Francisco residents, including residents that traditionally feel disconnected from the public process. She has spent her entire career in the public sector, advocating to make diverse communities voices heard.
Angela was appointed as the Clerk of the Board in July of 2007, a nonpartisan, nonpolitical Chartered position. With the assistance of the leadership team comprised of the Legislative, Administrative, and Operational Deputies, Angela leads the Clerk's Office, an assembly of amazing individuals who work together to carry the load and obtain quality results for the Board and the City's residents.
As Department #1, the Clerk's office endeavors to be the model of public engagement and operational resource stewardship which requires constant collaboration across all divisions to create documents that contain the regulations and laws for the City and County of San Francisco and are meant to induce public interest and participation.
Additionally, the Clerk of the Board conducts Civic Engagement classes which is committed to broadening access to our services and knowledge about the history of Board of Supervisors', as well as legislative and parliamentary processes. These classes are called upon to serve as an educational resource enabling researchers, students, residents, press and international visitors to learn about the legislative branch of government as an educational resource.
Prior to her appointment, Angela served as a longtime aide to legendary former two time President of the Board of Supervisors (and member of the California State Assembly), Tom Ammiano. Highlights of her work with Tom include working with the community to create the Emergency Response Network, a program that wrapped services around victims and families of drive-by shootings; years of citywide constituent services, and working with the Supervisor on cutting edge policy such as Universal Health Care, Equal Benefits Ordinance, Community Choice Aggregation (CleanPowerSF), Sunshine on Non-profits, A Living Wage and Worker Protections among so many others.
You can complete a Board of Supervisors Online Customer Satisfaction Form.