Clerk of the Board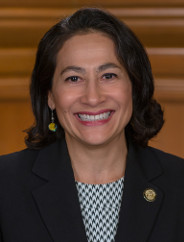 The mission of the Clerk's Office is to maintain the Board's legislative history and provide administrative support to the members of the Board of Supervisors in its response to the needs of the public. San Francisco Charter Section 2.108 states that the Board of Supervisors will liberally provide for the public's access to their government, meetings, documents and records.
Therefore, excellent customer service, efficient response to the public and quality performance are major factors that enable the Board to function effectively.
The Office of the Clerk of the Board's divisions serve as the department's backbone to oversee and manage the administrative, legislative, and operational demands of the office. Our customer service commitment to the Board, Committees, and public is to: provide accurate and timely information; be attentive, courteous, and responsive; foster a spirit of cooperation and goodwill; value diversity; and take accountability, responsibility, and pride in our work. The delivery of our commitment is made possible by the help of the Clerk of the Board's deputies and staff, as our divisions tirelessly work together to provide quality public service, support, and business continuity.