Former Supervisor Fewer - District 1
Sandra Lee Fewer
District 1

Supervisor Sandra Lee Fewer
Dear Friends: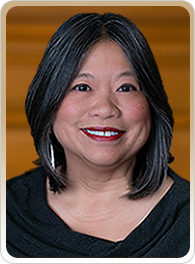 My name is Sandra Lee Fewer. Thank you for allowing me the opportunity to introduce myself to you as Supervisor for District 1.
I am a fourth generation Chinese American San Franciscan, and my husband, John Fewer, and I have lived in the Richmond for over 50 years. We raised our three children here, Sara, Colleen and Rory, and have deep roots in this neighborhood. The entire family has attended Richmond District public schools. It's here that I served as PTA President for 12 terms, then continued to serve my neighborhood and City as a School Board Commissioner. My husband served for 35 years as a San Francisco police officer, retiring in 2012 at Richmond District Station. It is the only real home we have ever known, and we wouldn't want to be anywhere else.
Our family history is rooted in San Francisco. My great grandfather started the first Chinese produce business in San Francisco's Chinatown. My husband's father, Brian Fewer, founded Friends of the Urban Forest and San Francisco Beautiful. After graduating from Washington High School, I attended City College of San Francisco and proudly earned my AA Degree. I went on to receive my BA degree in Justice Administration and a Masters of Public Administration degree at Golden Gate University.
In my early years of marriage, I was at a stay-at-home mom and became a very active volunteer in our public schools. I served as a PTA President and member of multiple school site councils, put on carnivals and teacher appreciation luncheons, arranged field trips, coordinated events and volunteers, and raised money for Richmond District schools. Our home was the "neighborhood after school hangout," filled with my children's classmates, and often their moms too.
In 2001, I began working for Coleman Advocates for Children and Youth as the Director of Parent Organizing and Educational Policy. I presented parent rights workshops to over 500 parents each year and trained several parents to be leaders in their schools and in their communities. In 2008, with community support, I was elected to the School Board for the San Francisco Unified School District. In 2010, I was elected to the San Francisco Democratic Party and served for two years. I ran for a second term on the School Board in 2012 and came in first citywide.
As a member of the Board of Supervisors, I want to give back to the neighborhood that has served my family so well and because of the real love I have for this City. In my decisions, I will always keep in mind what the Richmond has been and is to so many seniors, small businesses, families and others who call this neighborhood home.
As Supervisor, I will be a caretaker for the residents of the Richmond District. I know the Richmond inside and out and will work hard to preserve the wonderful neighborhood we live in. On the School Board, I led a new era of consensus, results-oriented leadership. I have heard from thousands of San Franciscans throughout my years as a parent, community organizer and School Board member. These voices remind me what is at stake when I vote on policies. I understand the trust of the public is sacred, and am so encouraged by the many San Franciscans standing behind my vision for an affordable, safe and diverse Richmond District!
---
Term
Elected November 2016 for term January 2017 to January 2021  
---
Committee and Board Assignments
---