District 1
Sandra Lee Fewer
District 1

Supervisor Sandra Lee Fewer
Dear Friends: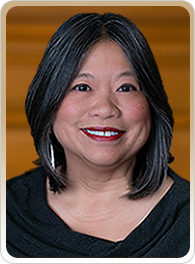 My name is Sandra Lee Fewer. Thank you for allowing me the opportunity to introduce myself to you as Supervisor for District 1.
I am a fourth generation Chinese American San Franciscan, and my husband, John Fewer, and I have lived in the Richmond for over 50 years. We raised our three children here, Sara, Colleen and Rory, and have deep roots in this neighborhood. The entire family has attended Richmond District public schools. It's here that I served as PTA President for 12 terms, then continued to serve my neighborhood and City as a School Board Commissioner. My husband served for 35 years as a San Francisco police officer, retiring in 2012 at Richmond District Station. It is the only real home we have ever known, and we wouldn't want to be anywhere else.
Our family history is rooted in San Francisco. My great grandfather started the first Chinese produce business in San Francisco's Chinatown. My husband's father, Brian Fewer, founded Friends of the Urban Forest and San Francisco Beautiful. After graduating from Washington High School, I attended City College of San Francisco and proudly earned my AA Degree. I went on to receive my BA degree in Justice Administration and a Masters of Public Administration degree at Golden Gate University. READ MORE
---
Internship Opportunity
District 1 Supervisor Sandra Lee Fewer''s internship program provides a unique opportunity to engage in the daily operations of the City and County of San Francisco.  Elected to the Board in 2016, Supervisor Fewer represents the Richmond District in San Francisco.
Our office is dedicated to providing interns with a hands-on, substantive learning opportunity regarding the local government process. Applicants who are well-organized, able to take initiative, follow instructions, and communicate well with others are highly valued in the District 1 office. Women, people of color, immigrants, disabled individuals, members of the LGBTQ community, and district residents are strongly encouraged to apply.
Internship Responsibilities
Daily office management, data entry, and constituent response (both online and in-person)
Committee clerking and prep work for the various committees on which the Supervisor sits
Work with a high level of responsiveness and timeliness
Be well-versed in and track current events, policy initiatives, and local politics
Staff a variety of policy meetings with City departments and community based organizations
Perform outreach to neighborhood groups, community leaders, and constituents
Represent the office at community meetings in the district, as well as citywide convening and events
Commit to a regular schedule of no less than 15 hours per week (schedule to be determined)
Application Process
Please send a resume and cover letter to Chelsea Boilard (chelsea.boilard@sfgov.org) with the subject line "Internship Application." Your cover letter should include: (1) the particular social, policy, and political issues that interest you (e.g., homelessness, Budget & Finance, Land use/housing, domestic violence, immigrant rights, etc.); (2) what you hope to accomplish during your tenure (e.g. Are you hoping to build city experience? ls this for school credit?  Will staff be required to regularly evaluate your performance?); and (3) your available time commitment (e.g. Mon/Wed/Fri mornings, Tues/Thurs afternoons, etc.), and the length of time you are interested in interning for (one semester, etc.).
After processing your resume and cover letter, we will schedule a follow-up phone interview, which will allow the candidate an opportunity to ask staff questions, as we ll. Please make sure to review the Supervisor's information at www.sfbos.org/fewer and be prepared to confirm basic knowledge of Supervisor Fewer's background and policy agenda.
---
Thank you for your patience and resilience during this unprecedented emergency.

If you are experiencing a fever greater than 100 F/37.8 C, cough, sore throat, shortness of breath, chills, headache, body aches, fatigue, loss of smell, diarrhea, runny nose, and/or congestion, please sign up to get tested here. 

If you are an essential or frontline worker? ?serving the community of San Francisco?, you can be tested at any time. You ?do not? need to be experiencing symptoms or have been exposed to someone with COVID-19. ?Essential workers include those who leave their homes to do their job and cannot maintain social distance or who interact with the public.

I encourage you to visit sf.gov/coronavirus and onerichmondsf.com for up-to-date info and ways to get involved, from doing phone check-ins or grocery shopping for isolated seniors, or volunteering for the food bank. 

For official updates through AlertSF, text COVID19SF to 888-777. 
Virtual Community Forum Tomorrow
Please tune in tomorrow, Saturday 5/30, at 10am for a virtual community forum on public health, safety, and homelessness. I will be joined by the following City and community leaders:
William Scott, Chief, SFPD
Bill Conley, Lieutenant, SFPD Richmond Station
Emily Cohen, Interim Director of Strategy for the Department of Homelessness and Supportive Housing
Dr. Deborah Borne, Department of Public Health
Emma Heiken, Mayor's Office of Neighborhood Services
Lauren Clapperton, Executive Director, YMCA of San Francisco 
Naomi Hui, Community Relations Manager, Richmond Neighborhood Center
D1 Covid-19 Master Resources Site
We have been sharing a lot of information about an array of announcements impacting our families, our elders, small businesses, and our neighborhood. In an effort to centralize community resources, my office has created a District 1 Covid-19 Master Resource List. If you are in need of any community/city resources or you are interested volunteering,  please check this site !

Up to date information about COVID-19 and San Francisco's guidance, news and services are also available: sf.gov/topics/coronavirus-covid-19

If you are in need of assistance please contact my office at Sandra.Fewer@sfgov.org, or call (415) 554-7410
Timeline and Plan for Safely Re-Opening
Yesterday Mayor Breed announced a plan for reopening San Francisco that will allow certain businesses and activities to resume with modifications in phases over the coming weeks and months.

As long as San Francisco continues to make progress slowing the spread of COVID-19, meets key health indicators, and state guidance continues to allow more activities, San Francisco restaurants will be able to offer outdoor dining, retail businesses will be able to allow customers to shop inside with modifications, and additional outdoor activities can resume on June 15th. The City plans to allow additional activities and businesses to resume in July and August.

San Francisco's Plan separates the State's second stage into three phases – Phase 2A, 2B, and 2C. San Francisco's Phases 3 are 4 are aligned with the State's stages. San Francisco has already entered into Phase 2A, which allows curbside pickup permitted for most retail, construction, elective surgeries, and outdoor businesses like carwashes, flea markets, and garden stores to operate.

San Francisco's current Stay Home Health Order does not have an expiration date and will be amended over the coming weeks and months to allow for a gradual and safer reopening.If the City make progress faster than expected, then the timeline outlined below may shift to allow some reopening to occur earlier. For each phase, guidance will be issued to provide businesses and operators with adequate time for planning and compliance with health and safety requirements.

Guidance for personal activities and interactions, such as visiting friends, having play dates and dinner parties is forthcoming. The plan and timeline to reopen businesses and activities was created in coordination with the San Francisco Municipal Transportation Agency's (SFMTA) Transportation Recovery Plan. For each reopening phase, SFMTA will add and adjust services incrementally.
 
San Francisco Planed Reopening Timeline

The list below does not include all the businesses and activities that the City has included in the plan for reopening. San Francisco will only allow reopening of businesses and activities that are permitted under the State's guidelines. For full information about the City's plan to allow additional activities and business to reopen in phases, go to SF.gov/reopening.

Phase 2A – June 1st  
Child care
Botanical gardens
Outdoor museums and historical sites
Outdoor curbside retail for services with minimal contact (shoe repair, dog grooming, etc.)
Phase 2B – June 15th
Most indoor retail
Outdoor dining
Summer camps
Private household indoor services
Religious services and ceremonies
Outdoor exercise classes
Professional sports games, tournaments, and other entertainment venues with no spectators
Non-emergency medical appointments
Phase 2C – July 13th
Indoor dining with modifications
Hair salons and barbershops
Real estate open houses (by appointment only)
Phase 3 – Mid-August – to be determined, will be more than one sub-phase
Schools with modifications
Bars
Other personal services
Nail salons
Massage parlors
Tattoo parlors
Gyms and fitness centers
Playgrounds
Swimming pools
Indoor Museums
Phase 4 – Date to be determined
Concert venues
Live audience sports and performances
Nightclubs
Festivals
All hotels and lodging for leisure and tourism
New Health Order - Face Coverings
Yesterday the Health Officer of the City and County of San Francisco, Dr. Tomás Aragón, issued an updated order requiring members of the public and workers to wear face coverings. 

Per the new order, people must, unless an exception applies, wear a Face Covering when outside and when anyone else other than just members of their household or living unit is within 30 feet (10 yards). Children 12 and younger are exempt. Other exceptions include:
Eating or drinking (as long as nobody you don't live with is within 6 ft)

Being alone or with members of your household as long as you have a covering easily accessible

Being alone or with members of your household in a car

A written exemption from your doctor
Stay informed: Text COVID19SF to 888-777 for text message alerts. Call 311 or visit www.SF.gov/coronavirus for more information.

If you are in need of further assistance please contact my office at Sandra.Fewer@sfgov.org, or call (415) 554-7410
This email was sent by: City and County of San Francisco
1 Dr Carlton B Goodlett Place, San Francisco, CA, 94102 United States of America

Privacy Policy
---
Term
Elected November 2016 for term January 2017 to January 2021  
---
Committee and Board Assignments
---
Contact Info
City Hall
1 Dr. Carlton B. Goodlett Place, Room 244
San Francisco, Ca 94102-4689

(415) 554-7410 - voice
(415) 554-7415 - fax
Sandra.Fewer@sfgov.org