District 1
Sandra Lee Fewer
District 1

Supervisor Sandra Lee Fewer
Dear Friends: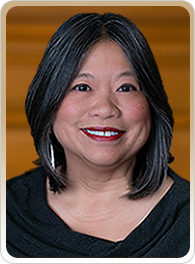 My name is Sandra Lee Fewer. Thank you for allowing me the opportunity to introduce myself to you as Supervisor for District 1.
I am a fourth generation Chinese American San Franciscan, and my husband, John Fewer, and I have lived in the Richmond for over 50 years. We raised our three children here, Sara, Colleen and Rory, and have deep roots in this neighborhood. The entire family has attended Richmond District public schools. It's here that I served as PTA President for 12 terms, then continued to serve my neighborhood and City as a School Board Commissioner. My husband served for 35 years as a San Francisco police officer, retiring in 2012 at Richmond District Station. It is the only real home we have ever known, and we wouldn't want to be anywhere else.
Our family history is rooted in San Francisco. My great grandfather started the first Chinese produce business in San Francisco's Chinatown. My husband's father, Brian Fewer, founded Friends of the Urban Forest and San Francisco Beautiful. After graduating from Washington High School, I attended City College of San Francisco and proudly earned my AA Degree. I went on to receive my BA degree in Justice Administration and a Masters of Public Administration degree at Golden Gate University. READ MORE
---
Internship Opportunity
District 1 Supervisor Sandra Lee Fewer''s internship program provides a unique opportunity to engage in the daily operations of the City and County of San Francisco.  Elected to the Board in 2016, Supervisor Fewer represents the Richmond District in San Francisco.
Our office is dedicated to providing interns with a hands-on, substantive learning opportunity regarding the local government process. Applicants who are well-organized, able to take initiative, follow instructions, and communicate well with others are highly valued in the District 1 office. Women, people of color, immigrants, disabled individuals, members of the LGBTQ community, and district residents are strongly encouraged to apply.
Internship Responsibilities
Daily office management, data entry, and constituent response (both online and in-person)
Committee clerking and prep work for the various committees on which the Supervisor sits
Work with a high level of responsiveness and timeliness
Be well-versed in and track current events, policy initiatives, and local politics
Staff a variety of policy meetings with City departments and community based organizations
Perform outreach to neighborhood groups, community leaders, and constituents
Represent the office at community meetings in the district, as well as citywide convening and events
Commit to a regular schedule of no less than 15 hours per week (schedule to be determined)
Application Process
Please send a resume and cover letter to Chelsea Boilard (chelsea.boilard@sfgov.org) with the subject line "Internship Application." Your cover letter should include: (1) the particular social, policy, and political issues that interest you (e.g., homelessness, Budget & Finance, Land use/housing, domestic violence, immigrant rights, etc.); (2) what you hope to accomplish during your tenure (e.g. Are you hoping to build city experience? ls this for school credit?  Will staff be required to regularly evaluate your performance?); and (3) your available time commitment (e.g. Mon/Wed/Fri mornings, Tues/Thurs afternoons, etc.), and the length of time you are interested in interning for (one semester, etc.).
After processing your resume and cover letter, we will schedule a follow-up phone interview, which will allow the candidate an opportunity to ask staff questions, as we ll. Please make sure to review the Supervisor's information at www.sfbos.org/fewer and be prepared to confirm basic knowledge of Supervisor Fewer's background and policy agenda.
---
My staff delivered dozens of meals to seniors yesterday. Thanks to Self-Help for the Elderly and all our nutrition providers for making sure nobody goes hungry during this difficult time. 
With at least one month of sheltering-in-place ahead of us, prioritizing our physical and mental well being remains essential. 
Bay Area health officials now recommend that everyone cover their nose and mouth with simple non-hospital grade facial coverings when leaving home for essential activities such as travel to medical appointments, grocery stores, or pharmacy visits.

Simple cloth facial coverings such as bandanas, fabric masks and neck gaiters are acceptable for this purpose. Fabric covers and bandanas should be washed and re-used. Hospital grade medical masks such as N-95 or surgical masks should be preserved for health care workers in clinical settings and first responders.
We know this is a time where our elders and people with disabilities may need additional assistance. The Department of Disability and Aging Services helpline is now open seven days a week to older adults and adults with disabilities to provide with everyday tasks as well as connect people with volunteers who can help. Call 415-355-6700 or visit http://sfhsa.org/covid-das for assistance.

I encourage you to visit onerichmondsf.com for up-to-date info and ways to get involved, from doing phone check-ins or grocery shopping for isolated seniors, or volunteering for the food bank. 
The local shelter-in-place order is effective until May 3rd, 2020, or until it is extended. For more information about this order, visit sf.gov/stay-home-except-essential-needs

For official updates through AlertSF, text COVID19SF to 888-777. 
California Academy of Sciences
Behind-the-Scenes Animal Care

While the Academy is temporarily closed during this difficult time, our biologists are still attending to the nearly 40,000 animals in our care. Tune into our
HD webcams
daily and try to catch live feedings with our
African penguins
, and be mesmerized by the colorful array of fish in the
Philippine Coral Reef
tank. Plus, keep up with more delightful animal stories on
social media
.

Museum From Home
Our commitment to providing free, high-quality resources to our community is stronger than ever. Whether you're looking for ways to entertain yourself, the kids at home, or just want to keep tabs on your favorite Academy creatures, enjoy this curated array of activities that will help keep you engaged, wherever you are. 

City Nature Challenge

Looking for outdoor activities to keep you stimulated while at home? Join the City Nature Challenge starting April 23rd and safely document biodiversity—whether that's on a hike, in a backyard, or out a window with the iNaturalist app. Knowing what species are in our city helps us study and protect them, so join the citizen science effort!
Seated Buddha Amida 
Spend time with Amida, the Buddha of the Western Paradise seated on a lotus, in a meditative art experience. Experience this meditation led by Dr. Jeffrey Durham, Associate Curator of Himalayan Art.

Take a Virtual Hike

Take a mental trip to China's famous Mount Yandang with masterful artist Chang Dai-chien. The artist reminds us that physical separation does not prevent us from enjoying beauty together.
Print-at-Home Coloring Pages
Stretch your creativity and relax your mind by coloring these pages inspired by the mural on view at the Village Artist Corner,
The Goddesses and the Art of Compassionate Wrath
by local artists Elaine Chu and Marina Perez-Wong.
Download coloring pages here.
Children's Council Virtual Resources
At Children's Council, we are committed to doing everything we can to support our city's families during this difficult time. So, we're taking our popular Parent and Caregiver programs online!
 
Join us for FREE family fun, learning activities and social connections that will lift your spirit and build your child development skills. All families and caregivers welcome. RSVP now!

Please note: if you are using a laptop or desktop computer, you'll just need to click on the link on the event page or reminder email you'll be receiving. If you're using a mobile device, you'll need to install the Zoom app to participate. 

Virtual Playgroups

Tue, Apr 7: 10:30 - 11am
Special guest "Teacher Bill" from Happy Baby Signs, who will lead a special Baby Sign Language workshop. This interactive class will include signs for the whole family, plus songs, games and time for questions and feedback. Designed for 0-6 year-olds and their parents/caregivers.
RSVP now!
Virtual Parent Café

Wed, Apr 1: 5 - 6pm
Build supportive relationships with other families while learning how to better manage the stress of parenting, particularly during these difficult days. Enjoy engaging with your peers and our child development experts.
RSVP now!
Virtual New & Expecting Moms Group

Thu, Apr 2: 11 - 11:30am
If you're a new or expecting mommy and feeling stressed, we're here for you with group discussion and interactive activities. Build new relationships and support communication between you and your child. Our facilitator is a new mom herself, with a background in social psychology and adult/child education. 
RSVP now!
de Young and Legion of Honor Museums
The amount of time we spend at home has multiplied since the Bay Area's shelter-in-place order was announced. In a sense, we have been asked to fit our world into our living quarters. Home might feel constraining, too isolated, or out of order. Why not leap into a painting?
Art Project: Windows as Viewfinders
Take a tour of your home, studying the views from each of your windows. With each view, quietly consider: what do you notice, what shapes do you see, and how do these shapes layer and intersect? Select the window that appeals most to you. Using pencil and paper, create a contour drawing—a drawing consisting only of outlines. When creating your drawing, give your eye time to study the shapes that you see, then investigate how the shapes layer upon one another. Experiment with different thicknesses of line, as Diebenkorn did.
We want to showcase your creativity! Send a photo of your drawing to digitalmarketing@famsf.org. Please include your full name, city of residence, and a sentence or two about your work. Deadline for submission: April 3, 2020.
Disability and Aging Services
HSA service center lobbies are temporarily closed in response to public health guidance to reduce the spread of coronavirus.

We are still available to meet your essential service needs without interruption by phone, online, and email. Our representatives are ready to answer your requests for benefits and information.

Call (415) 355-6700 or TTY (415) 355-6756 for all information and referrals for services, including home meal delivery. More information at sfhsa.org
Emergency Volunteer Sign-up
The COVID-19 Emergency Response Volunteer program

The COVID-19 Emergency Response Volunteer (CERV) program was created in a partnership between the City and County of San Francisco and the Shanti Project. CERV volunteers provide one-time or occasional support to older and vulnerable adults, who have been strongly advised to not leave their home during the coronavirus pandemic.

Examples of support CERV volunteers can provide:
    Grocery shopping
    Delivering medication and other essentials
    Assisting with garbage disposal
    Mail pickup
How to sign up

Volunteers must be in good health and under the age of 60. To sign up, email helpnow@shanti.org or call (415) 674-4701.  

All volunteers will receive training and must adhere to all of San Francisco's laws and rules about coronavirus.  

More information is also available at www.shanti.org/volunteer/sf-covid-19-emergency-response-volunteer-program.
Volunteer Sign-up: Medical Professionals
For medical professionals

The San Francisco Department of Public Health (DPH) is seeking licensed medical professionals to volunteer with DPH's COVID-19 response efforts.

Individuals with current licenses should register with the State of California's Disaster Healthcare Volunteers Site. All licensed medical professionals are encouraged to register.

Once registered, prospective volunteers will be contacted for their availability and called in for processing.

Volunteers will support DPH in a variety of non-hospital services responding to the COVID-19 crisis.
YMCA Virtual Wellness and Classes
The majority of our programs are closed during the COVID-19 Public Health Order. See here for at home wellness resources including live virtual classes led by Y of SF instructors.
This is an incredibly difficult time for our city, and many of us are experiencing significant uncertainty, anxiety, and fear. Below is a list of resources that provide useful strategies and support to help maintain and improve our mental health.

I would like to thank my colleagues, Supervisors Catherine Stefani and Hillary Ronen, for compiling these resources. 
Coronavirus Disease 2019 Managing Anxiety and Stress 

from the Centers for Disease Control and Prevention (CDC)

Tips for Taking Care of your Mental Health and Social Distancing, Quarantine, And Isolation During An Infectious Disease Outbreak 

from the Substance Abuse and Mental Health Services Administration (SAMHSA)

Taking Care of Your Mental Health in the Face of Uncertainty 

from the American Foundation for Suicide Prevention

Mental Health And COVID-19 – Information And Resources 

from Mental Health America

If you are feeling anxious, stressed, depressed or isolated, you can call the San Francisco Mental Health Warm Line at (855) 845-7415 or chat with them online at www.mentalhealthsf.org/peer-run-warmline.
If you are a senior who is feeling isolated due to the coronavirus, the Institute of Aging has a warm line called The Friendship Line. It operates 24 hours a day at 800-971-0016.
If you are having thoughts about harming yourself, you can call the San Francisco Suicide Prevention hotline at (415) 781-0500, and they can provide you with confidential emotional support. You can also chat online with the National Suicide Prevention Lifeline at https://suicidepreventionlifeline.org/chat/.
If you are co-quarantined with an abuser or are worried about having to self-isolate in a dangerous home situation, you can call the National Domestic Violence Hotline at (800) 799-7233 or chat online at www.thehotline.org.
For those with alcohol and addiction issues, you can find help in programs like Alcoholics Anonymous or Narcotics Anonymous. For confidential support from Alcoholics Anonymous, you can call their helpline at (415) 674-1821 or email them at help@aasfmarin.org. To reach Narcotics Anonymous, call (415) 610-7294. Online meetings are also available at https://www.weconnectrecovery.com 

and

  www.intherooms.com.
Stay informed: Text COVID19SF to 888-777 for text message alerts. Call 311 or visit www.SF.gov/coronavirus for more information. 
This email was sent by: City and County of San Francisco
1 Dr Carlton B Goodlett Place, San Francisco, CA, 94102 United States of America

Privacy Policy
---
Term
Elected November 2016 for term January 2017 to January 2021  
---
Committee and Board Assignments
---
Contact Info
City Hall
1 Dr. Carlton B. Goodlett Place, Room 244
San Francisco, Ca 94102-4689

(415) 554-7410 - voice
(415) 554-7415 - fax
Sandra.Fewer@sfgov.org