District 1
Sandra Lee Fewer
District 1

Supervisor Sandra Lee Fewer
Dear Friends: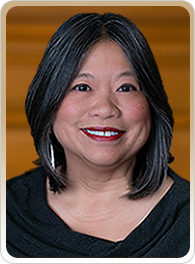 My name is Sandra Lee Fewer. Thank you for allowing me the opportunity to introduce myself to you as Supervisor for District 1.
I am a fourth generation Chinese American San Franciscan, and my husband, John Fewer, and I have lived in the Richmond for over 50 years. We raised our three children here, Sara, Colleen and Rory, and have deep roots in this neighborhood. The entire family has attended Richmond District public schools. It's here that I served as PTA President for 12 terms, then continued to serve my neighborhood and City as a School Board Commissioner. My husband served for 35 years as a San Francisco police officer, retiring in 2012 at Richmond District Station. It is the only real home we have ever known, and we wouldn't want to be anywhere else.
Our family history is rooted in San Francisco. My great grandfather started the first Chinese produce business in San Francisco's Chinatown. My husband's father, Brian Fewer, founded Friends of the Urban Forest and San Francisco Beautiful. After graduating from Washington High School, I attended City College of San Francisco and proudly earned my AA Degree. I went on to receive my BA degree in Justice Administration and a Masters of Public Administration degree at Golden Gate University. READ MORE
---
Internship Opportunity
District 1 Supervisor Sandra Lee Fewer''s internship program provides a unique opportunity to engage in the daily operations of the City and County of San Francisco.  Elected to the Board in 2016, Supervisor Fewer represents the Richmond District in San Francisco.
Our office is dedicated to providing interns with a hands-on, substantive learning opportunity regarding the local government process. Applicants who are well-organized, able to take initiative, follow instructions, and communicate well with others are highly valued in the District 1 office. Women, people of color, immigrants, disabled individuals, members of the LGBTQ community, and district residents are strongly encouraged to apply.
Internship Responsibilities
Daily office management, data entry, and constituent response (both online and in-person)
Committee clerking and prep work for the various committees on which the Supervisor sits
Work with a high level of responsiveness and timeliness
Be well-versed in and track current events, policy initiatives, and local politics
Staff a variety of policy meetings with City departments and community based organizations
Perform outreach to neighborhood groups, community leaders, and constituents
Represent the office at community meetings in the district, as well as citywide convening and events
Commit to a regular schedule of no less than 15 hours per week (schedule to be determined)
Application Process
Please send a resume and cover letter to Chelsea Boilard (chelsea.boilard@sfgov.org) with the subject line "Internship Application." Your cover letter should include: (1) the particular social, policy, and political issues that interest you (e.g., homelessness, Budget & Finance, Land use/housing, domestic violence, immigrant rights, etc.); (2) what you hope to accomplish during your tenure (e.g. Are you hoping to build city experience? ls this for school credit?  Will staff be required to regularly evaluate your performance?); and (3) your available time commitment (e.g. Mon/Wed/Fri mornings, Tues/Thurs afternoons, etc.), and the length of time you are interested in interning for (one semester, etc.).
After processing your resume and cover letter, we will schedule a follow-up phone interview, which will allow the candidate an opportunity to ask staff questions, as we ll. Please make sure to review the Supervisor's information at www.sfbos.org/fewer and be prepared to confirm basic knowledge of Supervisor Fewer's background and policy agenda.
---
Thanksgiving this year has taken on a different meaning for me, and I think for most of us. We as a neighborhood, as a city, as a state, as a country and as a world, have taken a beating this past year. COVID entered our world and changed our everyday lives quickly, brutally and destructively. We witnessed our loved ones becoming ill, our friends and family members succumbing to the deadliness of the disease and our own personal and economic security being threatened. We have witnessed increased homelessness as the disease dictated that our shelter plans could no longer be implemented and we as a city had to quickly pivot to save lives. We saw devastation to our small businesses, people's lives, and our own inability to see and touch family members and loved ones. It was and is heartbreaking.

However, it also gave us an opportunity to see what we are made of. It was an opportunity to see how and if we can still be our best, even through devastating times. It was an opportunity for the human spirit to uplift and strengthen, or to succumb to dark cynicism, anger and hate. It was an opportunity for all of us to choose hope over despair, generosity over selfishness, love of humanity over hate. The simple act of wearing a mask to keep other people safe became a small symbol of everyone doing their part.  It has given us an opportunity to be thankful for what we have, to appreciate all that has been given to us and to thank those who have responded during this time. There were neighborhood heroes that emerged during this time of need.  You will not read about them on Nextdoor or on social media, as what they do is not for recognition, but simply because they felt it their personal responsibility to step up in this time of need.  Let's shed some light on these humble One Richmond Heroes.  

One Richmond Heroes

Behind the scenes at the Richmond Senior Center, Aileen Ichikawa took the lead on weekly wellness calls, coordinated lunch deliveries and care packages, set up zoom classes, and secured a donation of masks for seniors early-on during the pandemic.  And rather importantly, Aileen screened, trained and inspired the cohort of volunteers who worked to ensure elders would stay connected and supported, even while physically apart. Thank you to Aileen and all the volunteers. 

As San Francisco sheltered in place, food security needs among seniors grew exponentially.  Self Help for the Elderly rapidly scaled up operations, creatively leveraging public and private partnerships and empowered a network of 300 volunteers to deliver 4,000 meals daily to homebound seniors across the City.  Thank you to the collective service of the fierce volunteers and staff who sustained this essential meal-delivery that have provided a lifeline for our community.

As small businesses have had to pivot to operate their businesses, we witnessed the strength of merchants coming together, and stepping-up to support one-another through this pandemic. Tony Lau, an owner of K-Elements BBQ has provided his experience in navigating the Shared Spaces process to help many other restaurants build-out their Shared Space platforms!  In the spirit of giving back, K-Elements had provided holiday meals to 150 seniors in the Richmond last year, and are continuing the tradition during this time of need. Thank you Tony and his team!

This month of December will be like no other we have known. I have known Christmases before that have been personally tragic, like two days before Christmas in 1971 when I was 14 and received a call while babysitting that my father had suffered a massive heart attack and died. Just 2 hours before, I was seated at the dinner table with him and my family making Christmas plans. This holiday season however, will be different for almost everyone, in fact, it will be different for people across the world, not just across the street. Above all, this is the time we all can come together and reaffirm our belief in... Peace on Earth and Good Will Toward All.



San Francisco was assigned by the state to the most restrictive reopening tier (Purple) according to California's Blueprint for a Safer Economy. This was due to an aggressive surge in COVID-19 cases. Our daily cases have nearly quadrupled in the past month.





Being assigned to the Purple Tier means many restrictions, starting November 29.


https://sf.gov/news/sf-assigned-states-purple-tier-will-roll-back-many-non-essential-activities

State's Limited Stay At Home Order: San Francisco must implement the State's Limited Stay At Home Order order beginning Monday, November 30 until December 21. The Limited Stay at Home Order requires non-essential businesses to close and prohibits members of different households from gathering indoors or outdoors between 10:00 pm and 5:00 am.

SF COVID-19 Health Orders can be found at https://www.sfdph.org/dph/alerts/coronavirus-healthorders.asp

​​It is more important than ever that we do everything to stop the spread of this virus. This means wearing a face covering, keeping social distance, and not gathering with people outside of your household. The choices we make now will save lives and determine our future. 
 
One Richmond Holiday Shopping Guide: #shoplocal #eatlocal #givelocal
As the holiday season begins to ramp up, take this chance to embody One Richmond principles of inclusivity, taking care of one another, and taking care of the Richmond by shopping and dining locally! This comprehensive guide to One Richmond small businesses will help you find all the best shopping, eateries, and activities that you might want to gift or to share with your loved ones.
Anza Street Bike Lanes Project
Anza Street is a 50-foot wide street running east and west through the Richmond District.  Anza Street is often used by cyclists to traverse the Richmond District because it is wide and traffic is not heavy.  The Anza Street Bike Lanes Project seeks to improve safety and connectivity for bicyclists traveling east and west on Anza Street in the Richmond District.   The Project is evaluating Anza Street between 30th Avenue and Arguello Boulevard for installation of Class II bicycle lanes.  Additionally, the Project is evaluating an extension east from Arguello Boulevard to Masonic Boulevard.

The goal of the Anza Street Bike Lane Project is to improve safety and connectivity for cyclists traveling east and west on Anza Street. The project proposes to evaluate Anza Street for the installation of Class II bike lanes as the road width will allow for the addition of bike lanes without impacts to travel lanes or parking. The Project will also evaluate an extension of the bike lanes east to Masonic Avenue and opportunities to improve pedestrian safety conditions for all roadway users.

The SFMTA will be holding a Virtual Open House for the Anza Street Project.  The interactive, online event can be accessed at any time during the two-week period listed below. At the open house, you can learn more about the proposed changes, ask questions and make comments.

Join us online any time starting 9:30 a.m. Monday, December 7 through 11:30 p.m Friday, December 18, by visiting https://www.SFMTA.com/AnzaOpenHouse.

More project information is available at www.SFMTA.com/AnzaBikeLanes.  For free interpretation services, please submit your request 48 hours in advance of meeting to 415.646.4270.
Muni Fare Assistance & Resources
Golden Gate Park Dog Training Area Update:

We are in the final phases of construction at the Golden Gate Park Dog Training Area. All of the site grading and drainage is complete, as is the electrical work to connect the irrigation timer to a power source. The large and small play areas are framed and level with additional synthetic turf areas ready for installation in the next couple of weeks. We will also install park furnishings, plantings, and the fence fabric and gates this month. Stay tuned for an opening date!
"Entwined" Light Art Display Coming to Golden Gate Park

"Entwined," a whimsical art installation by San Francisco artist Charles Gadeken, will transform Peacock Meadow in Golden Gate Park into an enchanted forest of otherworldly shapes and ever-changing light beginning December 10.
 
The installation celebrates the park's 150th anniversary and will run through February 2021, with a possible extension to June.
 
The Entwined installation creates a colorful, lighted wonderland where visitors can explore paths and sit under a grove of three entwined sculptural trees while practicing social distancing. The trees range from 12 to 20 feet tall with illuminated canopies as large as 30 feet, filling the meadow with changing light. Sculptures comprised of 2,000 LED lights cluster into small flowering bushes at varying heights, further filling the green space with peaks and valleys of radiating light. The variety of lighting effects are inspired by nature and build a sense of awe: Raindrops on the pavement, lighting and thunderstorms, wind blowing tall grass and flowers, and ripples on a pond.
  
Peacock Meadow sits in the park's east end between McLaren Lodge and the Conservatory of Flowers and across from the new pop-up Welcome Center on JFK Drive.
Mountain Lake Restoration - Vegetation Removal and Infrastructure Repairs
In 2021, the Presidio Trust and Caltrans will repair stormwater drains and install an overflow pipeline at Mountain Lake. This will protect the aquatic ecosystem by keeping highway runoff from entering the lake. It will also reduce the risk of flooding at Mountain Lake Park and along Park Presidio Boulevard/Highway 1.
To prepare for this work, in December the Presidio Trust will remove small trees and bushes at two sites: the southwest bank of Mountain Lake adjacent to Highway 1 near the Presidio's 15th Avenue Gate, and within Lobos Creek Valley. We'll replant the areas with native vegetation in fall 2021.
 

If you are experiencing a fever greater than 100 F/37.8 C, cough, sore throat, shortness of breath, chills, headache, body aches, fatigue, loss of smell, diarrhea, runny nose, and/or congestion, please contact your healthcare provider to get tested. If you do not have access to health insurance or your provider is unable to get you tested, please sign up to get tested for free here.

If you are an essential or frontline worker​ ​serving the community of San Francisco​, you can be tested at any time. You ​do not​ need to be experiencing symptoms or have been exposed to someone with COVID-19. ​Essential workers include those who leave their homes to do their job and cannot maintain social distance or who interact with the public.

I encourage you to visit sf.gov/coronavirus and onerichmondsf.com for up-to-date info and ways to get involved, from doing phone check-ins or grocery shopping for isolated seniors, or volunteering for the food bank. 

For official updates through AlertSF, text COVID19SF to 888-777. 
Stay informed: Text COVID19SF to 888-777 for text message alerts. Call 311 or visit www.SF.gov/coronavirus for more information.
This email was sent by: City and County of San Francisco
1 Dr Carlton B Goodlett Place, San Francisco, CA, 94102 United States of America

Privacy Policy
---
Term
Elected November 2016 for term January 2017 to January 2021  
---
Committee and Board Assignments
---
Contact Info
City Hall
1 Dr. Carlton B. Goodlett Place, Room 244
San Francisco, Ca 94102-4689

(415) 554-7410 - voice
(415) 554-7415 - fax
Sandra.Fewer@sfgov.org