District 1
Sandra Lee Fewer
District 1

Supervisor Sandra Lee Fewer
Dear Friends: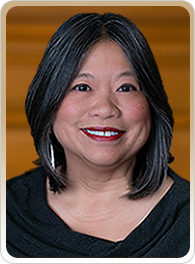 My name is Sandra Lee Fewer. Thank you for allowing me the opportunity to introduce myself to you as Supervisor for District 1.
I am a fourth generation Chinese American San Franciscan, and my husband, John Fewer, and I have lived in the Richmond for over 50 years. We raised our three children here, Sara, Colleen and Rory, and have deep roots in this neighborhood. The entire family has attended Richmond District public schools. It's here that I served as PTA President for 12 terms, then continued to serve my neighborhood and City as a School Board Commissioner. My husband served for 35 years as a San Francisco police officer, retiring in 2012 at Richmond District Station. It is the only real home we have ever known, and we wouldn't want to be anywhere else.
Our family history is rooted in San Francisco. My great grandfather started the first Chinese produce business in San Francisco's Chinatown. My husband's father, Brian Fewer, founded Friends of the Urban Forest and San Francisco Beautiful. After graduating from Washington High School, I attended City College of San Francisco and proudly earned my AA Degree. I went on to receive my BA degree in Justice Administration and a Masters of Public Administration degree at Golden Gate University. READ MORE
---
Internship Opportunity
District 1 Supervisor Sandra Lee Fewer''s internship program provides a unique opportunity to engage in the daily operations of the City and County of San Francisco.  Elected to the Board in 2016, Supervisor Fewer represents the Richmond District in San Francisco.
Our office is dedicated to providing interns with a hands-on, substantive learning opportunity regarding the local government process. Applicants who are well-organized, able to take initiative, follow instructions, and communicate well with others are highly valued in the District 1 office. Women, people of color, immigrants, disabled individuals, members of the LGBTQ community, and district residents are strongly encouraged to apply.
Internship Responsibilities
Daily office management, data entry, and constituent response (both online and in-person)
Committee clerking and prep work for the various committees on which the Supervisor sits
Work with a high level of responsiveness and timeliness
Be well-versed in and track current events, policy initiatives, and local politics
Staff a variety of policy meetings with City departments and community based organizations
Perform outreach to neighborhood groups, community leaders, and constituents
Represent the office at community meetings in the district, as well as citywide convening and events
Commit to a regular schedule of no less than 15 hours per week (schedule to be determined)
Application Process
Please send a resume and cover letter to Chelsea Boilard (chelsea.boilard@sfgov.org) with the subject line "Internship Application." Your cover letter should include: (1) the particular social, policy, and political issues that interest you (e.g., homelessness, Budget & Finance, Land use/housing, domestic violence, immigrant rights, etc.); (2) what you hope to accomplish during your tenure (e.g. Are you hoping to build city experience? ls this for school credit?  Will staff be required to regularly evaluate your performance?); and (3) your available time commitment (e.g. Mon/Wed/Fri mornings, Tues/Thurs afternoons, etc.), and the length of time you are interested in interning for (one semester, etc.).
After processing your resume and cover letter, we will schedule a follow-up phone interview, which will allow the candidate an opportunity to ask staff questions, as we ll. Please make sure to review the Supervisor's information at www.sfbos.org/fewer and be prepared to confirm basic knowledge of Supervisor Fewer's background and policy agenda.
---
Thank you for your patience and resilience during this unprecedented emergency. As cases and hospitalizations continue to rise, San Francisco has been placed on the State of California's county watch list. This means that San Francisco must abide by the State's restrictions, which includes closing indoor malls and non-essential offices.

If you are experiencing a fever greater than 100 F/37.8 C, cough, sore throat, shortness of breath, chills, headache, body aches, fatigue, loss of smell, diarrhea, runny nose, and/or congestion, please sign up to get tested here Please also sign up to get tested if you have participated in any recent protests. 

If you are an essential or frontline worker​ ​serving the community of San Francisco​, you can be tested at any time. You ​do not​ need to be experiencing symptoms or have been exposed to someone with COVID-19. ​Essential workers include those who leave their homes to do their job and cannot maintain social distance or who interact with the public.

I encourage you to visit sf.gov/coronavirus and onerichmondsf.com for up-to-date info and ways to get involved, from doing phone check-ins or grocery shopping for isolated seniors, or volunteering for the food bank. 

For official updates through AlertSF, text COVID19SF to 888-777. 
Health Orders are enforceable laws and are usually accompanied by one or more Directives which provide legally binding instructions for how to comply with the Health Order. The Orders and Directives may also be accompanied by guidance that provides suggestions and frameworks to facilitate compliance. All Health Orders are compiled online at sfdph.org.
COVID-19 Muni Core Service Plan
Service Change Update

Beginning Saturday, August 22, several bus routes will be restored or extended and frequencies improved on some routes to continue to support essential trips and physical distancing. This includes the 44 O'Shaughnessy, which will once again be traveling to California at 6th Avenue. Modified Muni Metro service will also be returning.

The SFMTA has made some necessary service changes during the order to shelter in place. Core Service bus routes are operating daily from 5:00 a.m. to 10:00 p.m. A reduced Owl network is operating at an earlier start time, from 10:00 p.m. to 5:00 a.m.

Please a wear face covering and practice physical distancing when waiting for, boarding and riding Muni.

Visit SFMTA's COVID-19 page for the latest service and citation information.
Fall Learning Plan: SFUSD Summer Family Digest
As families may have already heard, the Board of Education voted to move forward with Distance Learning this fall. Recently, the Board of Education and district leaders discussed community feedback and a high-level plan for fall learning.

The plan provides general guidance and direction including on topics related to support for special student populations, attendance, grading and assessing learning, digital learning, non-digital learning, materials distribution, resources for families, and professional development for staff.

More specific details, such as hours of instruction, will be available soon. School site staff are returning from summer break and SFUSD leadership is working with the United Educators of San Francisco to create a Memorandum of Understanding between the teachers union and district that will outline more specific details. 
SFUSD Partnership with Comcast
SFUSD has partnered through an agreement with Comcast where SFUSD pays for and provides Internet Essentials, Comcast's internet service program to support underserved communities, to eligible students for free to help them be connected for distance learning. Families can sign up through their schools, and SFUSD is also reaching out to students. 

In addition to this at-home internet service, Comcast is providing free access to their public Xfinity WiFi hotspots. These are available to anyone who needs them, including non-customers, through the end of 2020 to help provide additional support during the pandemic.
The San Francisco Public Utilities Commission has announced a number of Bill Relief Programs that offer discounts to residential and small business/non-profit customers who need help paying their utility bills. These programs are available for a limited time - you can learn more about the programs and apply today by visiting this site or calling 415-551-3000.

We are in this together. Please share widely with your business and professional networks to make sure our communities can get the help they need!
Recovery Resources for Latinx Communitie
Mayor London N. Breed, in partnership with the COVID Command Center and Latino Task Force (LTF), recently announced new strategies for COVID-19 awareness and recovery resources for the City's Latinx communities.
 


Included in the plan is the La Familia Unida Contra COVID-19 (Families United Against COVID-19) campaign that will focus on culturally-responsive safety messaging to increase awareness of health orders and guidelines, as well as programs that support the community with food, housing, finance, and mental health services.



The programs aim to remove barriers to allow access to relief for those who may not trust government programs due to their immigration status and experience in the criminal justice system. In total, the below programs are providing over $7 million to support vulnerable San Franciscans, including immigrants and undocumented residents.

The Right to Recover Fund: The program provides those who qualify with a wage replacement while they recover. Based on San Francisco minimum wage, a two-week wage replacement amounts to $1,285. The program's financial support will serve up to 1,500 San Franciscans who test positive for COVID-19 to focus on their health and recovery regardless of their immigration status. ($2 million from Give2SF)

Family Relief Fund*: This fund offered monthly financial relief of $500 to $1,000 for families that do not qualify for local, state, or federal assistance such as cash or food aid, sick time (due to hours reduction or job loss), and unemployment. The program prioritizes 1) families with a parent or guardian that is incarcerated or recently deceased, 2) individuals without social security, and 3) undocumented residents. Funds were distributed by community-based organizations that have long-standing relationships with the communities they serve. ($4.88 million from Give2SF)

Immigrant Workers Fund: To further support immigrant workers who are ineligible for state and federal programs and have been impacted by COVID-19, the City has partnered with Bay Area Community Resources and Community Youth Center to facilitate and distribute funds for supportive services and food aid. Eligible individuals receive up to a single $200 payment for supportive services and a single $200 payment for food security. ($400,000 from Give2SF)

*Fund limit reached.



For more information on the above programs, call the Office of Economic and Workforce Development (OEWD) Workforce Hotline at (415) 701-4817 where representatives are available 7 days a week to answers calls in multiple languages, or email workforce.connection@sfgov.org. Information is also available online at oewd.org/covid19/workers or by calling 311.

In addition to the economic relief programs listed above, the City has funded numerous programs to provide food security and housing stabilization for San Franciscans, with a focus on supporting residents who are most vulnerable.

Food Security

Isolation/Quarantine (IQ) Food Helpline – The City's centralized resource for food insecure people in isolation or quarantine due to COVID-19. This resource provides free groceries or prepared meals to people who have been diagnosed as COVID-19 positive, are a Person Under Investigation (PUI) awaiting test results, or are considered a "close contact" and cannot otherwise access food. Individuals may be referred to this resource by a medical provider, public health staff, social services organization, or 3-1-1. 



CalFresh – CalFresh is a state program that issues monthly payments to recipients that can be used to buy food at grocery stores, farmers markets, and some restaurants. CalFresh also gives recipients access to free job and training services as well as discounts on utilities, transportation, and more. To sign up for CalFresh, contact: (415) 558-4700 or visit: GetCalFresh.org.

Great Plates Delivered – A temporary food delivery program of three meals a day to adults 65+ who are sheltering in place or adults 60-64 who are high risk of contracting COVID-19. Great Plates currently runs through August 9.  

Home-Delivered Meals and Groceries – Meal delivery for homebound adults who are unable to shop due to a mental or physical condition.   

Community-Based Take Away Meals – Offers meals to adults 60+ at sites located throughout San Francisco.​​​​​​

Food Pantries – Weekly and bi-monthly groceries at sites located in San Francisco.  



Help is available to all San Franciscans in need of food assistance due to COVID-19. If you know anyone who is experiencing hunger or needs help finding food pantries or food assistance programs, please encourage them to call 3-1-1.  


Housing

COVID-19 Eviction and Rent Increase Moratoriums – Emergency tenant protections, including more time to pay your rent, suspension of evictions during the pandemic, and a rent freeze in City-subsidized housing.  

Give2SF Housing Stabilization Program – Financial help to pay rent, utilities, and other housing costs if you have been financially impacted by COVID-19.  

COVID-19 Homeowner Emergency Loan Program (HELP) – No-payment loans of up to $25,000 to cover HOA dues, property taxes, and lump-sum deferred mortgage payments. 


Mental Health Support 

Hotlines and urgent care centers that offer mental health and comprehensive crisis services.   
UCSF Study on Pregnant Moms, Systemic Racism, and COVID-19
Announcing HOPE COVID-19!

The first-of-its-kind study focused on finding out how the virus and its social impact is affecting pregnant women, birthing persons, and infants. 

The Study

UCSF is looking at how the virus that causes COVID-19 and factors associated with the pandemic like stress and social distancing might affect a woman or birthing person's risk for certain kinds of adverse pregnancy outcomes, like preterm birth and preeclampsia, as well as newborn and infant health.
 
They are especially interested in how the pandemic is affecting low-income and Black and Brown women and birthing persons who often suffer the impacts of systematic racism and are already at increased risk for adverse outcomes.
 
Who Can Participate and How
Survey only cohort:

 Pregnant women and birthing persons who are 18 years of age or older can participate by filling out surveys during pregnancy until their baby is 18 months old. Currently enrolling!
The survey + testing cohort: Pregnant women and birthing persons who are 18 years of age or older can participate by filling out surveys and having laboratory testing done during pregnancy until their baby is 18-months old. Participants can receive up to $550 in gift cards! Enrolling late summer 2020.
Read More!
Key Public Health Indicators
Safely reopening San Francisco requires a strong partnership among city leaders, public health experts, businesses, and the community. Our commitment to safely moving forward together comes with the awareness that reopening too quickly may pose health risks and economic setbacks.

The key health indicators shown below are an important tool the City uses to monitor the level of COVID-19 in our community, and assess the ability of our health care system to respond to the pandemic.

The indicators are not an on/off switch for the reopening. Instead, public health experts will use indicators to consider various policy changes and make recommendations during each stage of the City's reopening plan.

For an up-to-date analysis of where San Francisco stands on these key public health indicators, visit data.sfgov.org/stories/s/epem-wyzb
D1 Covid-19 Master Resources Site
We have been sharing a lot of information about an array of announcements impacting our families, our elders, small businesses, and our neighborhood. In an effort to centralize community resources, my office has created a District 1 Covid-19 Master Resource List. If you are in need of any community/city resources or you are interested volunteering,  please check this site !

Up to date information about COVID-19 and San Francisco's guidance, news and services are also available: sf.gov/topics/coronavirus-covid-19
Stay informed: Text COVID19SF to 888-777 for text message alerts. Call 311 or visit www.SF.gov/coronavirus for more information.
This email was sent by: City and County of San Francisco
1 Dr Carlton B Goodlett Place, San Francisco, CA, 94102 United States of America

Privacy Policy
---
Term
Elected November 2016 for term January 2017 to January 2021  
---
Committee and Board Assignments
---
Contact Info
City Hall
1 Dr. Carlton B. Goodlett Place, Room 244
San Francisco, Ca 94102-4689

(415) 554-7410 - voice
(415) 554-7415 - fax
Sandra.Fewer@sfgov.org