District 1
Sandra Lee Fewer
District 1

Supervisor Sandra Lee Fewer
Dear Friends: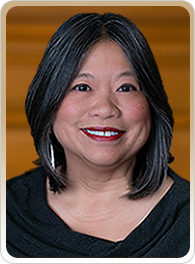 My name is Sandra Lee Fewer. Thank you for allowing me the opportunity to introduce myself to you as Supervisor for District 1.
I am a fourth generation Chinese American San Franciscan, and my husband, John Fewer, and I have lived in the Richmond for over 50 years. We raised our three children here, Sara, Colleen and Rory, and have deep roots in this neighborhood. The entire family has attended Richmond District public schools. It's here that I served as PTA President for 12 terms, then continued to serve my neighborhood and City as a School Board Commissioner. My husband served for 35 years as a San Francisco police officer, retiring in 2012 at Richmond District Station. It is the only real home we have ever known, and we wouldn't want to be anywhere else.
Our family history is rooted in San Francisco. My great grandfather started the first Chinese produce business in San Francisco's Chinatown. My husband's father, Brian Fewer, founded Friends of the Urban Forest and San Francisco Beautiful. After graduating from Washington High School, I attended City College of San Francisco and proudly earned my AA Degree. I went on to receive my BA degree in Justice Administration and a Masters of Public Administration degree at Golden Gate University. READ MORE
---
Internship Opportunity
District 1 Supervisor Sandra Lee Fewer''s internship program provides a unique opportunity to engage in the daily operations of the City and County of San Francisco.  Elected to the Board in 2016, Supervisor Fewer represents the Richmond District in San Francisco.
Our office is dedicated to providing interns with a hands-on, substantive learning opportunity regarding the local government process. Applicants who are well-organized, able to take initiative, follow instructions, and communicate well with others are highly valued in the District 1 office. Women, people of color, immigrants, disabled individuals, members of the LGBTQ community, and district residents are strongly encouraged to apply.
Internship Responsibilities
Daily office management, data entry, and constituent response (both online and in-person)
Committee clerking and prep work for the various committees on which the Supervisor sits
Work with a high level of responsiveness and timeliness
Be well-versed in and track current events, policy initiatives, and local politics
Staff a variety of policy meetings with City departments and community based organizations
Perform outreach to neighborhood groups, community leaders, and constituents
Represent the office at community meetings in the district, as well as citywide convening and events
Commit to a regular schedule of no less than 15 hours per week (schedule to be determined)
Application Process
Please send a resume and cover letter to Chelsea Boilard (chelsea.boilard@sfgov.org) with the subject line "Internship Application." Your cover letter should include: (1) the particular social, policy, and political issues that interest you (e.g., homelessness, Budget & Finance, Land use/housing, domestic violence, immigrant rights, etc.); (2) what you hope to accomplish during your tenure (e.g. Are you hoping to build city experience? ls this for school credit?  Will staff be required to regularly evaluate your performance?); and (3) your available time commitment (e.g. Mon/Wed/Fri mornings, Tues/Thurs afternoons, etc.), and the length of time you are interested in interning for (one semester, etc.).
After processing your resume and cover letter, we will schedule a follow-up phone interview, which will allow the candidate an opportunity to ask staff questions, as we ll. Please make sure to review the Supervisor's information at www.sfbos.org/fewer and be prepared to confirm basic knowledge of Supervisor Fewer's background and policy agenda.
---
SF Launches School Reopening Dashboard
Since the beginning of the COVID-19 pandemic, San Francisco schools have offered
distance learning
instead of in-person instruction to help reduce the spread of the virus throughout the community. During this time, children and youth with the highest needs have been supported by the
Community Hubs Initiative
, and many students have participated in after-school programs, in-person camps, and other learning and development opportunities with safety plans in place. Enabling more children to return to their classrooms and to other in-person learning and development programs is among the City's top priorities.  

As state reopening guidelines and local COVID-19 indicators permit, San Francisco schools may resume in-person instruction with approved safety plans in place. Schools will work with the San Francisco Department of Public Heath (SFDPH) to meet all the requirements for the safest re-opening. The dashboard below identifies the schools that have begun this process by sending an initial letter of interest to SFDPH to reopen, and it shows where each school is in the process.

For more information go to the
interactive dashboard tool
and look at the
preliminary opening guidelines
released by the city.
Last Week to Complete the 2020 Census!

Census 2020 – Deadline Sept. 30, 2020
 
It's not too late to participate! San Francisco still has a significant number of households that have not completed the 2020 Census. We have 6 days remaining and we want to make sure all San Franciscans are counted —citizens and immigrants alike. Help San Francisco get better representation and benefits by making sure you and your family get counted and by encouraging your employees to do the same. Every person counted brings $20,000 in federal resources for essential programs and services over the next 10 years. Being counted ensures our fair political representation and more important, confirms that you are here and are part of America. The census won't ask about your citizenship or employment status, or about your household income. Visit
my2020census.gov
or call 844-330-2020.
SF Richmond Autumn Moon Festival
The 4th annual Autumn Moon Festival will take place virtually on Saturday, September 26, 2020, at 11:30am!  Tune in online to enjoy local and cultural entertainment, such as a wushu/kung fu performance, children's dance, craft demonstrations, a calligraphy showcase, and a custom mooncake-making tutorial!
Saturday, September 26, 2020
11:30am – 12:30pm
Watch via Live-Stream: One Richmond Facebook
Register to watch (optional) via  Zoom
Join Assemblymember Phil Ting, Supervisor Sandra Lee Fewer, Clement Street Merchants Association, Community Youth Center, and Richmond District Neighborhood Center in our virtual event to celebrate this occasion together. 
We invite the community to share your Autumn Moon experience or highlight in a 30-second video
Tell us about a family tradition or memory you have about celebrating Autumn Moon! 

How are you adapting to celebrate Autumn Moon this year?

How you have (or will!) eat local and shop local to support a neighborhood business during Autumn Moon?

Share your story using the hashtags #onerichmondsf #autumnmoonathome
Autumn Moon Festivals have been held throughout Asia for well over 1,000 years. The celebrations are a time to reflect upon the bounty of the summer harvest, the fullness of the moon, and the myth of the immortal moon Goddess, 
Chang-O
. The Moon Festival is often considered a "Chinese Thanksgiving" because of its celebration of gratitude and inclusion of abundant food - including the popular moon cake.
Grab a mooncake and enjoy the virtual program as we celebrate #AutumnMoonAtHome, Richmond-District-style!  Share widely & for more information: 
https://www.onerichmondsf.com/calendar/2020/9/26/4th-annual-autumn-moon-virtual-celebration
Recology Compost Program Featured in Documentary

A new Netflix documentary called Kiss the Ground premiered on Netflix on September 22nd that features San Francisco's very own Recology. Kiss the Ground focuses on environmental solutions, regenerative agriculture methods, and composting techniques.

The film was inspired by a San Francisco small business owner, Matthew Engelhart, who owns the restaurant Gracias Madre and a farm in Vacaville. By focusing on regenerative agricultural practices, like Recology's composting, the film imparts a sense of hope about solutions to our current climate crisis.

If you are interested, check out this trailer or head to Netflix to give the documentary a view!
 
Golden Gate Park Slow Streets
In an effort to create safer spaces for people to recreate during the City's COVID-19 response, the San Francisco Recreation and Parks Department is providing a virtually car-free route from one end of the park to the other, from Stanyan Street at the east end of the park, to Ocean Beach and the Great Highway at the west end.
Housing Element 2022 Listening Sessions

You're invited to help shape the future of housing in San Francisco!
The San Francisco Planning Department (SF Planning) invites you to join us for a Listening Session on housing challenges and possibilities. Your participation will help define the priorities for housing in our City and inform future housing policies.
In English on Saturday, September 26th from 10am-11:30am. Register for the English Zoom event here.
In Spanish on Tuesday, September 29th from 6pm-7:30pm. Register for the Spanish Zoom event here.
In Chinese on Wednesday, September 30th from 5pm-6:30pm. Register for the Chinese Zoom event here.
SF Planning is committed to advancing racial and social equity when planning for the future of housing in the City. These Listening Sessions are part of the community engagement for the Housing Element 2022 Update: a series of policies and programs that express what we learn through Listening Sessions and other community engagement efforts.
Can't attend? Here are some other ways to get involved:
Fill out a short survey online and share your input 

here

Do you have more time? Are you interested in the details? Share input on key policy ideas online

 here

Call us at 415-644-5891 and leave your comments
Please find video recordings and materials from our other community events here. The Listening Session will be the last public event in the first phase of outreach to gather input  for the Housing Element 2022 Update.
Want to learn more about the Housing Element 2022 Update? Visit: sfhousingelement.org.

You can spread the word on social media using these recent social media posts!
https://twitter.com/sfplanning/status/1306632473187479553?s=21
https://m.facebook.com/sfplanning/
Richmond District Services



Thank you for your resilience during this unprecedented emergency. 





If you are experiencing a fever greater than 100 F/37.8 C, cough, sore throat, shortness of breath, chills, headache, body aches, fatigue, loss of smell, diarrhea, runny nose, and/or congestion, please contact your healthcare provider to get tested. If you do not have access to health insurance or your provider is unable to get you tested, please

sign up to get tested for free here.

If you are an essential or frontline worker​ ​serving the community of San Francisco​, you can be tested at any time. You ​do not​ need to be experiencing symptoms or have been exposed to someone with COVID-19. ​Essential workers include those who leave their homes to do their job and cannot maintain social distance or who interact with the public.

I encourage you to visit sf.gov/coronavirus and onerichmondsf.com for up-to-date info and ways to get involved, from doing phone check-ins or grocery shopping for isolated seniors, or volunteering for the food bank. 

For official updates through AlertSF, text COVID19SF to 888-777. 
 
SFPUC Emergency Assistance



San Francisco Public Utilities Commission (SFPUC) is offering an assistance program to customers facing challenges to pay their bills. If your small business or non-profit is experiencing financial hardship due to the COVID-19 pandemic, you may be eligible for a 20% reduction on your water and sewer bill. This program is available for a limited time and the deadline to submit an application is December 31, 2020. However, SFPUC may cease taking applications earlier if funds are exhausted. Once approved, you will receive a 20% discount on your SFPUC water and sewer bill for a period of six months. For more information and to apply,

 click here.
 
Shared Spaces Program and Dashboard
The Shared Spaces program has made it easier to use the sidewalk, parking lane, or entire street for business during the coronavirus pandemic.  Check out this newly launched interactive dashboard that shows locations and status of all the proposed Shared Spaces locations. The map is designed to make it easier for people to find Shared Spaces, check on permit status or simply track the progress of the program! 

Check out the live map and dashboard online. 
This email was sent by: City and County of San Francisco
1 Dr Carlton B Goodlett Place, San Francisco, CA, 94102 United States of America

Privacy Policy
---
Term
Elected November 2016 for term January 2017 to January 2021  
---
Committee and Board Assignments
---
Contact Info
City Hall
1 Dr. Carlton B. Goodlett Place, Room 244
San Francisco, Ca 94102-4689

(415) 554-7410 - voice
(415) 554-7415 - fax
Sandra.Fewer@sfgov.org