District 1
Sandra Lee Fewer
District 1

Supervisor Sandra Lee Fewer
Dear Friends: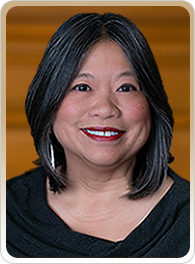 My name is Sandra Lee Fewer. Thank you for allowing me the opportunity to introduce myself to you as Supervisor for District 1.
I am a fourth generation Chinese American San Franciscan, and my husband, John Fewer, and I have lived in the Richmond for over 50 years. We raised our three children here, Sara, Colleen and Rory, and have deep roots in this neighborhood. The entire family has attended Richmond District public schools. It's here that I served as PTA President for 12 terms, then continued to serve my neighborhood and City as a School Board Commissioner. My husband served for 35 years as a San Francisco police officer, retiring in 2012 at Richmond District Station. It is the only real home we have ever known, and we wouldn't want to be anywhere else.
Our family history is rooted in San Francisco. My great grandfather started the first Chinese produce business in San Francisco's Chinatown. My husband's father, Brian Fewer, founded Friends of the Urban Forest and San Francisco Beautiful. After graduating from Washington High School, I attended City College of San Francisco and proudly earned my AA Degree. I went on to receive my BA degree in Justice Administration and a Masters of Public Administration degree at Golden Gate University. READ MORE
---
Internship Opportunity
District 1 Supervisor Sandra Lee Fewer''s internship program provides a unique opportunity to engage in the daily operations of the City and County of San Francisco.  Elected to the Board in 2016, Supervisor Fewer represents the Richmond District in San Francisco.
Our office is dedicated to providing interns with a hands-on, substantive learning opportunity regarding the local government process. Applicants who are well-organized, able to take initiative, follow instructions, and communicate well with others are highly valued in the District 1 office. Women, people of color, immigrants, disabled individuals, members of the LGBTQ community, and district residents are strongly encouraged to apply.
Internship Responsibilities
Daily office management, data entry, and constituent response (both online and in-person)
Committee clerking and prep work for the various committees on which the Supervisor sits
Work with a high level of responsiveness and timeliness
Be well-versed in and track current events, policy initiatives, and local politics
Staff a variety of policy meetings with City departments and community based organizations
Perform outreach to neighborhood groups, community leaders, and constituents
Represent the office at community meetings in the district, as well as citywide convening and events
Commit to a regular schedule of no less than 15 hours per week (schedule to be determined)
Application Process
Please send a resume and cover letter to Chelsea Boilard (chelsea.boilard@sfgov.org) with the subject line "Internship Application." Your cover letter should include: (1) the particular social, policy, and political issues that interest you (e.g., homelessness, Budget & Finance, Land use/housing, domestic violence, immigrant rights, etc.); (2) what you hope to accomplish during your tenure (e.g. Are you hoping to build city experience? ls this for school credit?  Will staff be required to regularly evaluate your performance?); and (3) your available time commitment (e.g. Mon/Wed/Fri mornings, Tues/Thurs afternoons, etc.), and the length of time you are interested in interning for (one semester, etc.).
After processing your resume and cover letter, we will schedule a follow-up phone interview, which will allow the candidate an opportunity to ask staff questions, as we ll. Please make sure to review the Supervisor's information at www.sfbos.org/fewer and be prepared to confirm basic knowledge of Supervisor Fewer's background and policy agenda.
---
Thank you for your patience and resilience during this unprecedented emergency. 

If you are experiencing a fever greater than 100 F/37.8 C, cough, sore throat, shortness of breath, chills, headache, body aches, fatigue, loss of smell, diarrhea, runny nose, and/or congestion, please sign up to get tested here Please also sign up to get tested if you have participated in any recent protests. 

If you are an essential or frontline worker​ ​serving the community of San Francisco​, you can be tested at any time. You ​do not​ need to be experiencing symptoms or have been exposed to someone with COVID-19. ​Essential workers include those who leave their homes to do their job and cannot maintain social distance or who interact with the public.

I encourage you to visit sf.gov/coronavirus and onerichmondsf.com for up-to-date info and ways to get involved, from doing phone check-ins or grocery shopping for isolated seniors, or volunteering for the food bank. 

For official updates through AlertSF, text COVID19SF to 888-777. 
Next Phase of Reopening Paused
Mayor Breed announced last week that San Francisco is experiencing a concerning increase in local COVID-19 cases, and as a result will be temporarily delaying the reopening of certain businesses and activities scheduled to be allowed to resume on Monday, June 29th.

These include: hair salons and barber shops, nail salons, tattoo salons, museums, zoos, outdoor bars, and outdoor swimming. There is no change to businesses and activities currently allowed under prior reopening phases.

While I understand this may be frustrating for many, my colleagues and I will continue to support our public health experts, including our County Health Officer Dr. Tomás Aragón, as they lead us through this pandemic. 

More information about San Francisco's phased reopening is available at sf.gov/reopening
Mayor Breed issued a proclamation declaring last week Essential Worker Week and encouraged the public to thank essential workers in person and on social media using the hashtag #EssentiallyYoursSF.
Our community is working together to shape what fall learning will look like for SFUSD students. We would like your input. We also know you have questions, and we'll do our best to answer them.
Town Halls for families, students, staff and community partners will be held throughout the week of July 6th. See schedule here. 
All you need to join is a device (phone or computer) with internet access. Meetings will be hosted on YouTube Live and participants will be able to share input and questions through ThoughtExchange. Visit sfusd.edu/townhalls for more information. 
Westside Youth Budget Questionnaire
The Westside representatives on the San Francisco Youth Commission are looking to hear from the youth of the Westside on the issues you face in your daily life, and what you would like to see the City government do on your behalf. While we had to cancel our planned Westside Youth Forum, we are looking to hear directly about your needs as youth in San Francisco through this questionnaire. Your comments will be passed on to your local representatives in City Hall during the upcoming budget process.

This questionnaire is focused particularly on the experiences and needs of youth (ages 12 to 25) who live, go to school, or work in the Westside, which includes Districts 1, 4, and 7. We welcome and appreciate any comments about your experience as a young person or student in San Francisco.
Fire Preparedness Town Hall
Housing Element 2022 Update
The two-year process for the Housing Element 2022 Update launched with an informational presentation at the Planning Commission. Both the Commission and the public comment offered support and guidance, and emphasized being bold in our policies centered in racial and social equity.
Communities across the country are in protest against police brutality, catalyzed by the murders of George Floyd, Breonna Taylor, and Ahmaud Arbery, amongst many others. These acts of resistance are about broader institutional racism affecting the lives of Black and Indigenous communities, and other communities of color.

The San Francisco Planning Department acknowledges our role in perpetuating past and current racial harm. The Housing Element 2022 Update will include policies that promote racial and social equity for these communities.
Policy is a reflection of a community's vision and values, which in turn, influences our city's culture. We particularly want to elevate the voices of those that have been most impacted by historically discriminatory housing policies including low income residents and people of color. Our goal is that in doing so, we can change San Francisco's culture of exclusion to one that is more inclusive, equitable and just.
Bring your voice into this process; here are some of the outreach tools that you can already engage in:
Webinars and virtual discussions will be organized soon; we will send an update once they become available.
---
中文詢問請電: (415) 575-9010
Para información en Español llamar al: (415) 575-9010
Para sa impormasyon sa Tagalog tumawag sa: (415) 575-9121
D1 Covid-19 Master Resources Site
We have been sharing a lot of information about an array of announcements impacting our families, our elders, small businesses, and our neighborhood. In an effort to centralize community resources, my office has created a District 1 Covid-19 Master Resource List. If you are in need of any community/city resources or you are interested volunteering,  please check this site !

Up to date information about COVID-19 and San Francisco's guidance, news and services are also available: sf.gov/topics/coronavirus-covid-19
Stay informed: Text COVID19SF to 888-777 for text message alerts. Call 311 or visit www.SF.gov/coronavirus for more information.
This email was sent by: City and County of San Francisco
1 Dr Carlton B Goodlett Place, San Francisco, CA, 94102 United States of America

Privacy Policy
---
Term
Elected November 2016 for term January 2017 to January 2021  
---
Committee and Board Assignments
---
Contact Info
City Hall
1 Dr. Carlton B. Goodlett Place, Room 244
San Francisco, Ca 94102-4689

(415) 554-7410 - voice
(415) 554-7415 - fax
Sandra.Fewer@sfgov.org