District 7
Myrna Melgar
District 7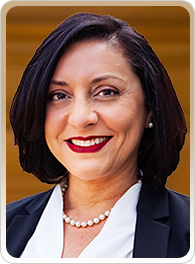 Supervisor Myrna Melgar
Myrna Melgar was elected District 7 Supervisor in November 2020. As Supervisor, she represents District 7's diverse communities, including 40 distinct neighborhoods, among them West Portal, Westwood Park, Forest Hill, Parkmerced, Golden Gate Heights, Inner Sunset, St. Francis Woods, Miraloma, and Monterey Heights. Myrna is an urban planner, economic development and housing policy expert, and has served in City government in several different capacities. Myrna is committed to achieving progress that will allow all our City's people -- including those who have been historically disadvantaged -- to flourish here. Committed to values of progress and equity, Myrna also prizes listening, collaboration, and a pragmatic focus on timely achievement of good results.
Myrna's family immigrated to San Francisco from El Salvador when she was a child during the 1980s, fleeing that country's civil war. As for so many others before and since, San Francisco provided Myrna's family with refuge and economic opportunity. Myrna is fluent in English, Spanish and French, and speaks Swedish proficiently. She attended San Francisco State University and graduated with a Bachelor's degree in Liberal Arts from Excelsior College. She holds a Master's degree in Urban Planning with a concentration in housing development from Columbia University.
Myrna formerly worked as the Executive Director of the Jamestown Community Center, Deputy Director of the Mission Economic Development Agency, Director of Homeownership Programs at the Mayor's Office of Housing during the Newsom Administration, and served as President of the City Planning Commission and Vice President of the Building Inspection Commission. Her legislative priorities include reducing homelessness; increasing the availability of affordable housing and homeownership opportunities for San Franciscans; improving rent control protections for tenants; supporting small businesses, supporting the rights of workers, improving our public transportation infrastructure, reducing our city's carbon footprint and expanding education opportunities for disadvantaged San Francisco youth and families. Myrna's priorities also include improving the Westside's access to senior services, pedestrian, bicycle and transportation improvements throughout District 7 and supporting the safety and resilience of neighborhoods and commercial corridors.
Myrna has also served on the Board of Directors of many San Francisco nonprofit human service organizations. When not working on community issues, Myrna enjoys gardening and cooking. She is a lover and supporter of the performing arts, plays the flute and renaissance recorders, loves classical and folk music and is a dedicated Samba dancer. Myrna, her husband Sean Donahue, and three daughters have made their home in Ingleside Terraces for the past decade.
---
Newsletter
Supervisor Melgar at the Coastal Cleanup on Ocean with the Women's Environmental Network, Loudspring, Surfrider, Reuse Collective and Mothers Out Front. 


Dear Neighbors,

As we enter the Fall season, I am hoping that the worst of the pandemic is behind us. With COVID-19 vaccines soon available to children under 12 later this year and booster shots becoming available to more adults, the City and County of San Francisco is preparing the next phase of the vaccination plan. You can check if you are eligible for a COVID-19 booster shot here and make an appointment with your health care provider or pharmacy. Flu season is also nearing, so please make time to get your flu shot. The best way to keep us moving ahead on our path to recovery is by staying vaccinated and following health protocols. If my office can be of any assistance to you during this time in connecting to services or resources, please call us.
STAFFING UPDATES
After many years dedicated to serving the people of District 7, Erica Maybaum accepted a new role with the Department of Disability and Aging Services (DAS). She is looking forward to supporting agencies that help older adults, people with disabilities, and veterans. We are grateful Erica is not going far and will continue working with us in her new capacity!  I am excited that Lila Carrillo, who was filling in for Erica while she was on leave, will be staying on with our team. With COVID-19 protocols, our office is working remotely for the time-being and responding to calls within a 24-hour timeframe.  Here is a general list of work areas for my staff, please feel free to reach out any time:
For General Inquiries:  E-mail MelgarStaff@sfgov.org or call 415.554.6516
 
WHY AM I NOT RESPONDING ON NEXTDOOR?

It has come to our attention that discussions about district issues and the response of our office are sometimes discussed on the platform: Nextdoor. When my staff or I do not respond to these discussions, it is mistakenly taken as a sign of being absent or unconcerned. Nextdoor has a policy that elected officials cannot engage on posts for official city or county business. City Agencies and Officials are able to share information, but may not see neighborhood threads specific to residents.

If you need help, it is best to contact the appropriate City or County department or the elected official through official government email addresses. Typically sf311.org or dialing 311 will be your first stop to report solvable non-emergency hazards, maintenance and request government services. If you have experienced a crime, please be sure to file a police report so that incidents are tracked. While you may feel skeptical about filing reports, it can be helpful to law enforcement policy to understand where more targeted solutions are necessary.

Our office receives a high volume of emails from residents both in the district and outside of it. We prioritize responding daily as necessary but sometimes messages get buried or it is not obvious that the sender is seeking a response. Please assume best intentions and be polite to our staff. If you don't get a response it may be because your email was lost, so please do not hesitate to follow up with a call at 415-554-6516 or email my staff directly.

 

Table of Newsletter Contents:

Our office is aware of the large number of people living in vehicles along Lake Merced, Winston, and tucked into other residential streets. While District 7 has nowhere near the numbers of houseless residents as other districts, finding solutions to the entrenched problem of housing instability and affordability is a top term goal. My office is engaging with City departments to coordinate response and we are "thinking outside the box."

The MTA no longer enforces overnight parking restrictions or tows these vehicles. Even if towing was an option, the City cannot simply push inhabited vehicles elsewhere and call it a solution. This has been attempted in the past and resulted in RV's scattered across neighborhoods. Additionally, anti-homeless laws for public spaces run up against federal human rights laws as confirmed by the US Supreme case Martin V. Boise. The 2019 case left in place earlier rulings by the 9th Circuit court that homeless persons cannot be punished for sleeping on public property in absence of adequate alternatives – and adequate affordable housing is severely lacking in San Francisco.

Outreach is being done to those living in their vehicles. Most have no other options. Most are fully employed. Many are families with children attending our local schools who are down on their luck. They were displaced from their San Francisco homes, or lost their jobs during the pandemic. Their vehicle is their most important asset - both a home and transportation. In fact, many of these residents do not consider themselves unhoused and thus are not receptive to offers to stay in traditional overnight shelters. Additionally, the shelter system is not set up to accept vehicles or large possessions.

This is an issue that the entire staff cares about. We are forming a strike team with the Mayor's office, City departments, SF State and will reach out to other  stakeholders. We want long-term solutions for unhoused neighbors, but also need to address the immediate public health issues like sewage, dumping, safe parking and streets. Construction is also slated soon to improve sightlines for the Vision Zero projects in the Lake Merced area, so time is of the essence.

 
YOUTH COUNCIL LEADERSHIP PROGRAM

The District 7 Youth Council (D7YC) is made up of students of San Francisco's District 7. Participating on the Youth Council trains participants in leadership, facilitation, policy research, event planning, and community organizing. They propose projects to address issues in the district, draft proposed legislation, and review legislation proposed by the Supervisor that affects youth concerns.
 
SENIOR CORNER - MERCED LIBRARY
Senior library patrons may be eligible for a free Android tablet from Community Tech Network if they:
are 60 years old or older
live alone in San Francisco
don't have home Internet
don't already own a tablet, laptop or desktop computer

In this program, called Home Connect, participants get a tablet to keep, five hours of training, and assistance hooking up discounted Internet.  Training is currently available in English and Spanish.

If you or someone you know fulfill the above requirements and are interested in this program, please call The Bridge at the San Francisco Main Library at (415) 557-4388 to learn more.

The Merced Branch is resuming 7-day services starting Saturday, October 2, 2021. The open hours will be:
Saturday:     10:00 a.m.- 6:00 p.m.
Sunday:       1:00 p.m.- 5:00 p.m.
Monday:      10:00 a.m.- 6:00 p.m.
Tuesday:      10:00 a.m.- 8:00 p.m.
Wednesday: 12:00 p.m.- 8:00 p.m.
Thursday:     10:00 a.m.- 8:00 p.m.
Friday:          1:00 p.m.- 6:00 p.m.
WALK AND ROLL TO SCHOOL DAY

Mark your calendar! Thousands of students across San Francisco will walk, bike, scoot, and roll to school on Wednesday, October 6.
 
The event builds yearlong excitement around getting to school in people-powered ways that are good for our health, environment, and communities. Parents and caregivers: be sure to mark your calendar! Learn more at walksf.org/walkandroll
 
SFPUC URBAN WATERSHED STEWARDSHIP GRANT

In partnership with the Community Challenge Grant Program, the SFPUC offers the Urban Watershed Stewardship Grant to support community led green infrastructure projects and manage stormwater in San Francisco. These grant projects have transformed sidewalks into rain gardens, created stormwater resilient schoolyards, and provided sustainable community spaces throughout the city. More information about the Urban Watershed Stewardship Grant and eligibility criteria can be found here: sfpuc.org/programs/grants.

The 2022 grant cycle will open on October 20, 2021.

The grant program has undergone some exciting improvements this year including updated guidelines, new budget guidance, and a fillable budget tool. All of these resources will be available to the applicant at

www.sfccg.org/watershed-stewardship-grants

 



Join a Virtual Grant Workshop this October  To learn more about the grant program and meet the grant administrators, join a virtual Grant Workshop on October 27, 2021 at 5:00 pm PST. Register here.
 
The Twin Peaks Gate during Fleet week (Oct 8 – 10) when during annual Airshow. This closure occurs each year during this time. The gate will be closed at 10:00am and open at 5:00pm each day.

MAJOR CONSTRUCTION COMING TO WAWONA AND VICENTE STREET
OCTOBER VIRTUAL OFFICE HOURS

Our next office hours are Friday, October 15 from 1:00 to 3:00

You can book a ten minute appointment here:
 
---
Board of Supervisors | District 7 | Myrna Melgar
1 Dr. Carlton B. Goodlett Place, Room 260
San Francisco, CA 94102
(415) 554-6516 | Fax: (415) 554-6516
melgarstaff@sfgov.org
This email was sent by: City and County of San Francisco
1 Dr Carlton B Goodlett Place, San Francisco, California, 94102 United States

Privacy Policy
---
Meet Supervisor Melgar
The next Virtual Office Hours are Friday, September 17 from 1 to 3pm.
Click here to Book an appointment
---
Term
Elected November 3, 2020 for term January 8, 2021 to January 8, 2025
---
Board and Committee Assignments
---
Contact Info
1 Dr. Carlton B. Goodlett Place
City Hall, Room 244
(415) 554-6516 - Voice
(415) 554-5163 - Fax
MelgarStaff@sfgov.org