District 7
Myrna Melgar
District 7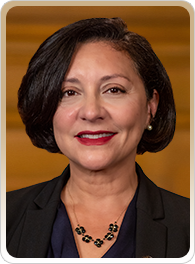 Supervisor Myrna Melgar
Supervisor Myrna Melgar represents District 7, was elected District 7 Supervisor in November 2020. As Supervisor, she represents District 7's diverse communities, including 40 distinct neighborhoods, among them West Portal, Westwood Park, Forest Hill, Parkmerced, Golden Gate Heights, Inner Sunset, St. Francis Woods, Miraloma, and Monterey Heights. Myrna is an urban planner, economic development and housing policy expert, and has served in City government in several different capacities. Myrna is committed to achieving progress that will allow all our City's people -- including those who have been historically disadvantaged -- to flourish here. Committed to values of progress and equity, Myrna also prizes listening, collaboration, and a pragmatic focus on timely achievement of good results.
Myrna's family immigrated to San Francisco from El Salvador when she was a child during the 1980s, fleeing that country's civil war. As for so many others before and since, San Francisco provided Myrna's family with refuge and economic opportunity. Myrna is fluent in English, Spanish and French, and speaks Swedish proficiently. She attended San Francisco State University and graduated with a Bachelor's degree in Liberal Arts from Excelsior College. She holds a Master's degree in Urban Planning with a concentration in housing development from Columbia University.
Myrna formerly worked as the Executive Director of the Jamestown Community Center, Deputy Director of the Mission Economic Development Agency, Director of Homeownership Programs at the Mayor's Office of Housing during the Newsom Administration, and served as President of the City Planning Commission and Vice President of the Building Inspection Commission. Her legislative priorities include reducing homelessness; increasing the availability of affordable housing and homeownership opportunities for San Franciscans; improving rent control protections for tenants; supporting small businesses, supporting the rights of workers, improving our public transportation infrastructure, reducing our city's carbon footprint and expanding education opportunities for disadvantaged San Francisco youth and families. Myrna's priorities also include improving the Westside's access to senior services, pedestrian, bicycle and transportation improvements throughout District 7 and supporting the safety and resilience of neighborhoods and commercial corridors.
Myrna has also served on the Board of Directors of many San Francisco nonprofit human service organizations. When not working on community issues, Myrna enjoys gardening and cooking. She is a lover and supporter of the performing arts, plays the flute and renaissance recorders, loves classical and folk music and is a dedicated Samba dancer. Myrna, her husband Sean Donahue, and three daughters have made their home in Ingleside Terraces for the past decade.
---
Newsletter
DISTRICT 7
PARTICIPATORY BUDGETING
LAUNCHES TODAY!
WHAT IS THE PARTICIPATORY BUDGET?
Participatory Budgeting (PB) is a democratic process in which community members propose projects and collectively decide how to spend part of a public budget. It began in 2013 by then-Supervisor Norman Yee, and this year, Participatory Budgeting is back and improved! We are looking for bold and innovative ideas as well as necessary neighborhood improvement projects.
We hope to get as many different project ideas as we can, so be creative and tell us what your concerns, priorities, and ideas are. Please help us spread the word to your neighbors as we hope to expand community participation through this virtual process — every vote counts! You can find all this information and more here. 
TIMELINE
Project Proposal Period: March 15 - April 14

Virtual Information Session: March 20, 6 - 7 PM, RSVP HERE

Review Period: April 15 -  June 11 

Voting Period: June 12 - June 26

Announcement of Winners: July 3 - July 6

Funds released to Departments and Department Project Manager assigned: Fall 2023
Proposals must be submitted no later than 11:59 p.m. on April 14, 2023.  Proposals submitted after the deadline will not be considered.
PRIORITY AREAS
Successful applications will focus on activities responding to critical needs in the following areas: 
Community Resilience & Recovery: community capacity building, volunteer training, neighborhood beautification & improvements, etc.

Public Safety: whistles, safety kits, signs, lights, etc.

Disaster Preparedness: equipment, training, program expansion into new neighborhoods, etc.

Children and Seniors: programs, accessibility, and safety for young or elderly residents, etc. 

Vision Zero: pedestrian safety, traffic calming, bicycle safety, safety education programs, etc.
ELIGIBILITY
Successful project proposals will meet all of the following criteria for eligibility:
Proposals must be submitted by neighborhood associations, non-profits, merchant groups, or institutions located in District 7. 

Authoring entities not located in District 7 will be ineligible.

Individual residents and businesses must be sponsored by an organization.

Proposals must be for new projects that respond to a demonstrated community need. 

Only one proposal per author/group can be submitted. 

Proposals must align with at least one of the five priority area categories listed below. 

Proposals must be a one-time expenditure.

Proposals must benefit District 7 residents.

Proposals must receive a minimum of 400 votes to be eligible for funding. 
FUNDING
In order to have successful community projects, we have increased the grant amounts to be allocated to projects. Grants awarded will now receive up to $50,000 in funding. A total of $377,000 will be available for general projects and a total of $422,000 will be available for the category of Vision Zero.
SUBMISSION PROCESS
All proposals must be submitted through the Google Form found here. Proposals must include all of the following to be considered:
Contact information for the proposer and project lead (if different) 

Detailed description of the proposed project

Detailed budget for the proposed project

Priority Area(s) addressed

Neighborhoods and or communities served

Description of community support for proposed project
SELECTION PROCESS
A committee of District 7 residents and community members who have subject-matter expertise will review and score proposals. We will have representatives from across District 7, including Park Merced, Twin Peaks, St. Francis Wood, Westwood Park, Balboa Terrace, Parkside, Sunnyside, Midtown Terrace, Miraloma, Inner Sunset, Golden Gate Heights, Westwood Highlands, Ingleside Terraces, and Forest Knolls.
The winning projects will be most closely reflective of the criteria and can be successfully completed with the funding allocated as a one-time grant. Members of this committee are ineligible to apply for Participatory Budgeting funding in order to avoid a conflict of interest. 
EXAMPLES OF WINNING PROJECTS FROM FY 2022 - 2023
Expand volunteer-based community litter pick-up and beautification program in West Portal ($1,600)
Improve traffic flow and safety at the intersection of Yerba Buena Avenue and Miraloma Drive ($37,500)
Install a pedestrian refuge island and analyze the crosswalk for feasibility of flashing beacons to improve pedestrian safety ($40,000)
Establish a workforce development program to prepare teens and young adults to grow professionally and develop fulfilling careers that uplift our community ($132,000)
Create community sports hub, including volleyball nets, a basketball hoop, a baseball diamond, and picnic tables at Sloat Elementary School ($25,000)
Install new string lights and new garbage cans along the Lakeside commercial corridor to encourage foot traffic and reduce litter ($44,000)

Fund murals, seating, and lighting along the Monterey Business District to elevate the corridor and provide additional community spaces ($50,000)

Expand the community building and disaster resilience through Neighborfests that will provide comprehensive training and strategies to help communities navigate a disaster ($50,000)

Create a community garden, emergency response hub, and gathering space for community disaster preparedness at Aptos Middle School ($45,000)
Quo ea modus impedit omittantur. Mel suavitate comceptam et, in vim nihil tibique. Is vis epicuri fierent accusamus, enim liveravisse necessitatibus no eos.
This email was sent by: City and County of San Francisco
1 Dr Carlton B Goodlett Place, San Francisco, California, 94102 United States

Privacy Policy
---
Term
Elected November 03, 2020 for term January 08, 2021 to January 08, 2025
---
Board and Committee Assignments
---
Contact Info
1 Dr. Carlton B. Goodlett Place
City Hall, Room 244
(415) 554-6516 - Voice
(415) 554-5163 - Fax
MelgarStaff@sfgov.org