District 7
Myrna Melgar
District 7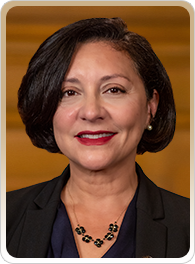 Supervisor Myrna Melgar
Myrna Melgar was elected District 7 Supervisor in November 2020. As Supervisor, she represents District 7's diverse communities, including 40 distinct neighborhoods, among them West Portal, Westwood Park, Forest Hill, Parkmerced, Golden Gate Heights, Inner Sunset, St. Francis Woods, Miraloma, and Monterey Heights. Myrna is an urban planner, economic development and housing policy expert, and has served in City government in several different capacities. Myrna is committed to achieving progress that will allow all our City's people -- including those who have been historically disadvantaged -- to flourish here. Committed to values of progress and equity, Myrna also prizes listening, collaboration, and a pragmatic focus on timely achievement of good results.
Myrna's family immigrated to San Francisco from El Salvador when she was a child during the 1980s, fleeing that country's civil war. As for so many others before and since, San Francisco provided Myrna's family with refuge and economic opportunity. Myrna is fluent in English, Spanish and French, and speaks Swedish proficiently. She attended San Francisco State University and graduated with a Bachelor's degree in Liberal Arts from Excelsior College. She holds a Master's degree in Urban Planning with a concentration in housing development from Columbia University.
Myrna formerly worked as the Executive Director of the Jamestown Community Center, Deputy Director of the Mission Economic Development Agency, Director of Homeownership Programs at the Mayor's Office of Housing during the Newsom Administration, and served as President of the City Planning Commission and Vice President of the Building Inspection Commission. Her legislative priorities include reducing homelessness; increasing the availability of affordable housing and homeownership opportunities for San Franciscans; improving rent control protections for tenants; supporting small businesses, supporting the rights of workers, improving our public transportation infrastructure, reducing our city's carbon footprint and expanding education opportunities for disadvantaged San Francisco youth and families. Myrna's priorities also include improving the Westside's access to senior services, pedestrian, bicycle and transportation improvements throughout District 7 and supporting the safety and resilience of neighborhoods and commercial corridors.
Myrna has also served on the Board of Directors of many San Francisco nonprofit human service organizations. When not working on community issues, Myrna enjoys gardening and cooking. She is a lover and supporter of the performing arts, plays the flute and renaissance recorders, loves classical and folk music and is a dedicated Samba dancer. Myrna, her husband Sean Donahue, and three daughters have made their home in Ingleside Terraces for the past decade.
---
D7 Participatory Budgeting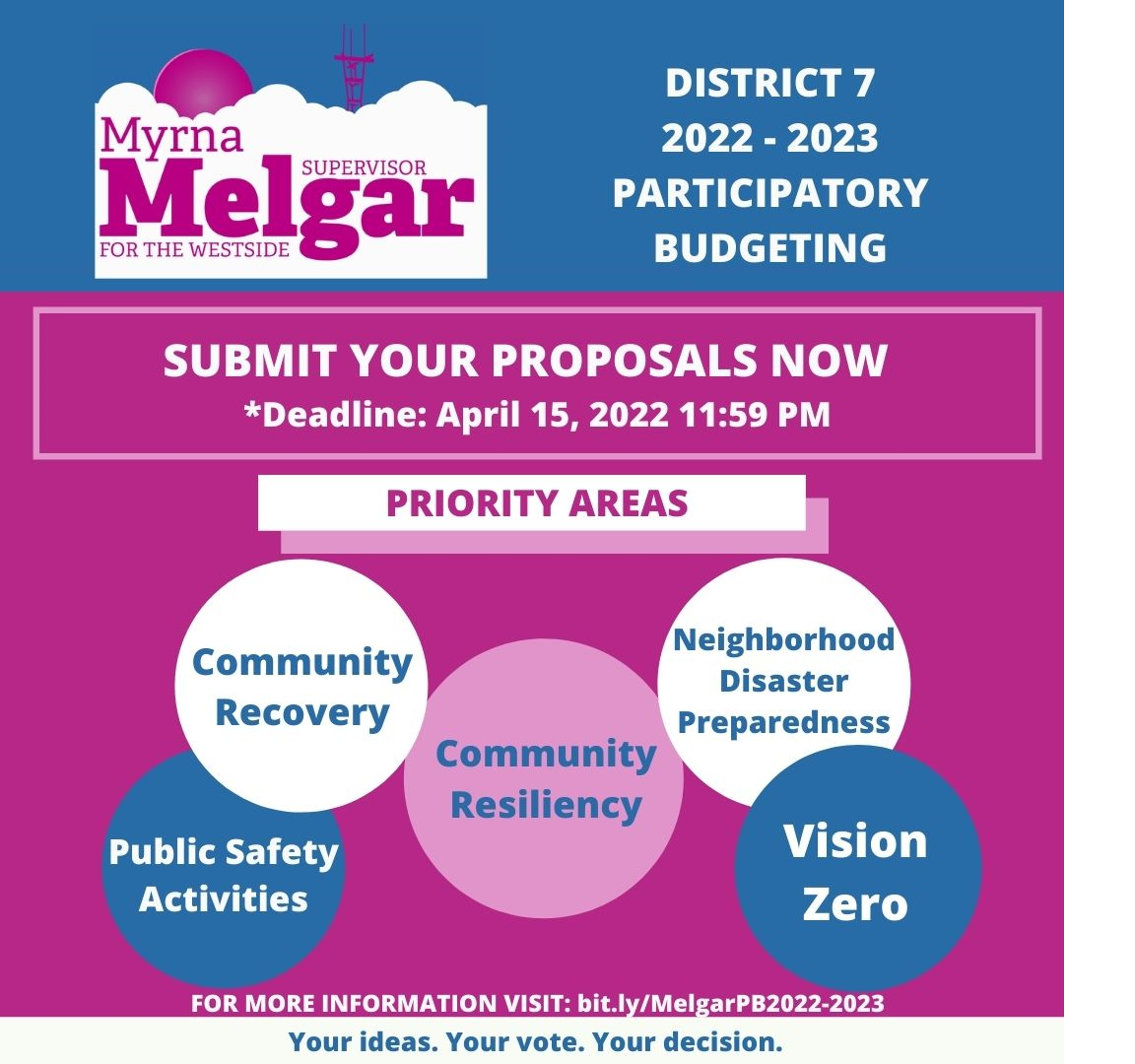 ---
Newsletter
Marching Forward, Springing Ahead

Dear Friends and Neighbors,

Spring is a time for renewal and new beginnings. After a hiatus due to the pandemic, we are excited to launch the new and improved District 7 Participatory Budget program! Participatory Budget allows you the ability to submit proposals for projects that will improve our community and ultimately, District 7 residents will decide what gets funded through a vote!  We want to hear your fresh ideas! You can read more about it HERE. 
COVID NEWS

Earlier this month, the Health Officer updated masking and vaccination guidelines in San Francisco. Workers are returning to the office and meetings at City Hall are now open to the public. There is hope on the horizon with a restored commitment to a strong recovery and a focus on the basics: dependable City services, cleaner and safer neighborhoods, and solutions, not excuses, to support the health and well-being of all our residents. 
LEGISLATIVE UPDATES: COMBATING GRAFFITI

To help the city recover and be its best self, I am introducing an ordinance to allow property owners on commercial corridors to "opt in" to letting San Francisco's Department of Public Works address graffiti on their behalf. It will be a 2 year pilot program.  Currently, it is the responsibility of the property owner to clean up graffiti in a timely manner or face fines. This program will also create new union jobs with an apprentice program so that laborers can assist the city while learning new skills. The crew will be proactive and address graffiti that is both reported or that it finds on its own during regular site visits.
WOMEN'S HISTORY MONTH

We celebrated Women's History Month by honoring women leaders at the Board of Supervisors with the theme of "Providing Healing, Promoting Hope…" Our District 7 honoree was Mary Travis-Allen of the Mayagna, Chortega, & Seneca Peoples. Mary has also been a staple in the American Indian community and has roots with Alcatraz, the Wounded Knee occupation, and the American Indian Movement here in San Francisco. She currently serves as the Advisory Board President for the groundbreaking American Indian Cultural District of San Francisco.  Mary leads fearlessly to uplift the existence and resilience of the Native People, but also works tirelessly to fight to create opportunities to address the disparities that exist in Housing, Healthcare, Education, and representation in Government for underrepresented groups.
CITY HALL BOARD MEETINGS

The Board of Supervisors meetings are now hybrid and members of the public are allowed back in the Board Chamber to watch and to provide public comment in person.Our office in City Hall, Room 260, is also open full-time 5 days a week from 9:30am to 5:30pm. Come say hi if you're in the neighborhood! Although there are no Board of Supervisors meetings during the week of Mar 28-Apr 1 for Spring Break, our office will be staffed and open with normal hours.

If you would like to meet with the our team to discuss an issue or idea, we are retaining monthly online virtual office hours for now, because we believe that option is more accessible for neighbors. You can sign up for an appointment below. Be sure to use the dropdown menu to specify whether you would like to meet with Supervisor Melgar or Staff to assist you with your issue.

- Myrna Melgar 
 
 

Table of Newsletter Contents:

We will host a Participatory Budgeting Question & Answer Virtual Session on March 23 at 6:00 pm, where you can learn more about the improvements to this year's PB period and have your questions answered. Register here to attend our community meeting!
 
LAKE MERCED QUICK BUILD TOWNHALL

The Lake Merced Quick-Build Project seeks to improve traffic safety and comfort for all users on Lake Merced Boulevard between Skyline Boulevard and John Muir Drive.

Supervisor Myrna Melgar and the San Francisco Municipal Transportation Agency (SFMTA) will host a Town Hall meeting and you're invited! You can meet the Lake Merced Quick-Build Project Team who will go over proposed project designs, obtain your feedback, and answer any project-related questions.
 
Apr 7, 2022 06:00 PM – 08:00 PM
 
Lake Merced Quick-Build Town Hall
 

The Lake Merced Quick-Build Project proposes many improvements along the corridor:

•    New bicycle facilities
•    Upgraded pedestrian amenities
•    Transit improvements
•    General traffic calming improvements

Designs are based on community priorities outlined in the Lake Merced Pedestrian Community Based Transportation Plan (2021) and build upon the Lake Merced Bikeway Feasibility Study (2021).
 

If you have questions about the Lake Merced Quick-Build Project, please contact Project Manager Shayda Haghgoo, by email Shayda.Haghgoo@sfmta.com, or phone 415.646.2673.
 
UTILITIES CREDITS AND SURCHARGES

The San Francisco Public Utilities Commission (SFPUC) has secured $10.9 million in federal and state funding to help customers pay off past due utility bills that accrued during the pandemic, including $7.3 million for water debt and $1.2 million for Hetch Hetchy Power debt. Customers will begin seeing credits on their bills in the coming weeks. The amount will vary based on individual past due amounts.

The SFPUC also secured an additional $2.4 million in debt relief for CleanPowerSF customers. CleanPowerSF customers enjoy clean power procured by the SFPUC but continue to pay one PG&E bill. Those credits are expected to begin showing up on customer bills as early as this month.

On Tuesday, March 1, 2022, the SFPUC also launched its new Customer Assistance Program, which provides a 25% discount on water and sewer services and a 30% discount on Hetch Hetchy Power services for households with low incomes. The new program features a streamlined application that takes less than 10 minutes to complete. SFPUC customers can check their eligibility and apply for a water and sewer discount at www.sfpuc.org/25offWater and a Hetch Hetchy Power discount at www.sfpuc.org/30offPower.

Drought Surcharge effective April 1

Despite winter rains, we are still in a drought. The San Francisco Public Utilities Commission has declared a Water Shortage Emergency and asks everyone to continue to use water wisely.  It also authorizes a 5% drought surcharge to appear on customers' water/sewer bills starting April 1, 2022. The drought surcharge is necessary to cover our costs and maintain responsible reserves. PUC's operational costs are fixed. Reduced water use decreases our revenues, while the costs to responsibly run the system remain unchanged. In order to continue to operate our systems, the SFPUC must recover those costs during this time. The less water properties use, the less they will feel the impact of the surcharge on their bill and the better able we will be to stretch our water supplies and get through this drought.
 
For details on water conservation rebates, and resources visit sfpuc.org/savewater.
 

Need Legal Assistance with Renting? Tenancy Advocacy Project Can Help


Are you struggling with a rental dispute? Need your landlord to make repairs? Need help applying for Covid-related rental assistance? The Tenancy Advocacy Project's (TAP) lawyers can help with those issues, as well as subsidy terminations, disability accommodations, income recertification, and other disputes with landlords or property managers. If you rent your home in San Francisco, you may be eligible for TAP's help. They are at tap@sfbar.org , or call (415) 989-1616. Please mention the Tenant Advocacy Project in your message, and make sure to include your name, phone number, best times to reach you, and a brief description of the tenancy-related issue(s) you are dealing with.

TAP is part of the Justice & Diversity Center of the Bar Association of San Francisco. TAP does not assist with eviction lawsuits. If your landlord has filed an eviction lawsuit against you, please contact the Eviction Defense Collaborative.
MARCH 31ST IS RENT RELIEF DEADLINE
Landlords And Tenants Can Apply
BAY AREA MINORITY LAW SCHOLARSHIP

Applications Are Open - Apply by May 27


Do you know someone interested in going to law school who could use financial assistance? The Bar Association of San Francisco and the Justice & Diversity Center are excited to announce that the 2022 Bay Area Minority Law Student Scholarship applications are now open. In 21 years, the program has awarded more than $2 million to 110 students with scholarships that are generally $10,000 per year. Applications are due by May 27. Click here for more information or to start an application now.
 

This year, March for Meals celebrates five decades of advocacy for older Americans.  The campaign celebrates the Older Americans Act (OAA) Nutrition Program which has become an effective example of how key public-private partnerships through thousands of community-based programs, like ours, are addressing the issues of senior hunger and isolation. Together, we are promoting the health, well-being, and nutrition of older adults through advocacy and aided by your support!
 

The San Francisco Superior Court is currently recruiting members for the 2022-23 Civil Grand Jury. The Civil Grand Jury offers the opportunity to contribute to our community by examining City government to identify efficiencies, to suggest reforms or to highlight things that are not working well. This is a unique and exciting way to become involved in City affairs.

The application deadline is May 13, 2022. The link to the application and more information are available on the Civil Grand Jury website, https://civilgrandjury.sfgov.org/.
 
TONIGHT - MARCH 21, 2022

 Let Your Voice Be Heard at the Districts 7 and 11 Task Force Meeting!

 

Join tonight's San Francisco Redistricting Task Force Meeting at 5:30 PM to hear updates and provide feedback on where new district lines should be drawn. Tonight's meeting will focus specifically on communities of interest in and around what is currently Districts 7 and 11. We invite you to share your voice about how district line changes may affect these districts, their neighborhoods and communities of interest.
 
Members of the public can attend the Districts 7 and 11 Task Force Meeting either remotely on Webex or in person. For those attending the meeting in person, the Task Force meeting will be held at City Hall, 1 Dr. Carlton B. Goodlett Place, Room 416. **Members of the public are required to wear masks at all times inside City Hall, regardless of vaccination status. Please make sure to bring a mask!
 

PASSWORD: comment
 

Youth Art Exchange announces our 3rd annual (415) Public Gallery, an art show that places the public as both exhibitors and audience members. The curation of the art show will be crowdsourced from those living/working/loving in San Francisco. No, we really mean EVERYONE, whether they consider themselves an artist or not, we want everybody's creativity in our gallery. All ages/backgrounds welcome.
 
The call for submissions is open from now - March 31st. Work will be on display starting from  April 11, 2022 - April 28th, 2022
 

Have some free time to give? Would you like to learn what its like to work in an electeds fast-paced office? We are looking for volunteers of all ages to help out in our District 7 office. According to a volunteer's comfort level and interest, duties may involve:
Administrative / routing phone calls
Constituent services
Research on policy or special projects
Monitoring committee hearings
Graphic design and copywriting
We will be offering paid internships over the Summer for youth 16-24. Read more at https://www.opps4allsf.org/welcome and find opportunities throughout government for youth. Please contact jennifer.fieber@sfgov.org for more information on volunteering or internships.
 
District 7 - Supervisor Myrna Melgar
VIRTUAL
OFFICE
HOURS
THURSDAY, MARCH 24, 2022
12:30 to 2:00 PM
 

You can book a ten minute appointment here:
 
---
Board of Supervisors | District 7 | Myrna Melgar
1 Dr. Carlton B. Goodlett Place, Room 260
San Francisco, CA 94102
(415) 554-6516 | Fax: (415) 554-6516
melgarstaff@sfgov.org

Note: Staff sometimes work remote so please be patient when leaving a phone message.
This email was sent by: City and County of San Francisco
1 Dr Carlton B Goodlett Place, San Francisco, California, 94102 United States

Privacy Policy
---
Meet Supervisor Melgar
The next Virtual Office Hours are Friday, September 17 from 1 to 3pm.
Click here to Book an appointment
---
Term
Elected November 3, 2020 for term January 8, 2021 to January 8, 2025
---
Board and Committee Assignments
---
Contact Info
1 Dr. Carlton B. Goodlett Place
City Hall, Room 244
(415) 554-6516 - Voice
(415) 554-5163 - Fax
MelgarStaff@sfgov.org