District 7
Myrna Melgar
District 7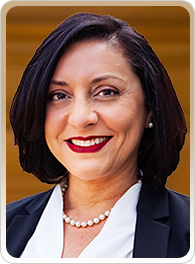 Supervisor Myrna Melgar
Myrna Melgar was elected District 7 Supervisor in November 2020. As Supervisor, she represents District 7's diverse communities, including 40 distinct neighborhoods, among them West Portal, Westwood Park, Forest Hill, Parkmerced, Golden Gate Heights, Inner Sunset, St. Francis Woods, Miraloma, and Monterey Heights. Myrna is an urban planner, economic development and housing policy expert, and has served in City government in several different capacities. Myrna is committed to achieving progress that will allow all our City's people -- including those who have been historically disadvantaged -- to flourish here. Committed to values of progress and equity, Myrna also prizes listening, collaboration, and a pragmatic focus on timely achievement of good results.
Myrna's family immigrated to San Francisco from El Salvador when she was a child during the 1980s, fleeing that country's civil war. As for so many others before and since, San Francisco provided Myrna's family with refuge and economic opportunity. Myrna is fluent in English, Spanish and French, and speaks Swedish proficiently. She attended San Francisco State University and graduated with a Bachelor's degree in Liberal Arts from Excelsior College. She holds a Master's degree in Urban Planning with a concentration in housing development from Columbia University.
Myrna formerly worked as the Executive Director of the Jamestown Community Center, Deputy Director of the Mission Economic Development Agency, Director of Homeownership Programs at the Mayor's Office of Housing during the Newsom Administration, and served as President of the City Planning Commission and Vice President of the Building Inspection Commission. Her legislative priorities include reducing homelessness; increasing the availability of affordable housing and homeownership opportunities for San Franciscans; improving rent control protections for tenants; supporting small businesses, supporting the rights of workers, improving our public transportation infrastructure, reducing our city's carbon footprint and expanding education opportunities for disadvantaged San Francisco youth and families. Myrna's priorities also include improving the Westside's access to senior services, pedestrian, bicycle and transportation improvements throughout District 7 and supporting the safety and resilience of neighborhoods and commercial corridors.
Myrna has also served on the Board of Directors of many San Francisco nonprofit human service organizations. When not working on community issues, Myrna enjoys gardening and cooking. She is a lover and supporter of the performing arts, plays the flute and renaissance recorders, loves classical and folk music and is a dedicated Samba dancer. Myrna, her husband Sean Donahue, and three daughters have made their home in Ingleside Terraces for the past decade.
---
Newsletter

Dear Friends and Neighbors,

As we wrap up this holiday season and 2021, I want to reemphasize what an honor it is serving as your District Supervisor.  We will be coming to the end of our first year in office and while it has been a whirlwind, we are proud of what we have been able to achieve. I feel energized for the year ahead and the many policy initiatives we have underway in 2022.

The priority for my office has always been to focus on the day-to-day quality of life issues that impact our residents – making sure that our City is responsive to requests and that our systems are improved upon.  As a legislator, I will push for smarter policies that enhance housing opportunities for families and seniors; accessible transportation options for all mobilities regardless of your neighborhood; safer and cleaner streets; and a government that reflects integrity and efficiency.  We have our work cut out for us, but I am up for the task. I have been an independent voice on this Board of Supervisors; I do not subscribe to any particular political faction. My vote will always reflect a thoughtful process and strong consideration for what I think will be best for the people of this district and the city.

I am grateful for your engagement and the concerns you have brought to us so we can do our best to serve you. I want to fix broken processes (and broken infrastructure!) so they work better. I look forward to the work ahead and hope for your support along the way.

On behalf of our staff, I wish you all a very safe, healthy, and happy New Year!

With sincerest regards,
Myrna
 

Table of Newsletter Contents:
2021 Year in Review - 7 Achievements For District 7
RESTORATION OF MUNI AND STREET INVESTMENTS IN DISTRICT 7
Earlier this year, we successfully fought to restore Muni lines that were suspended during the pandemic, particularly for Westside neighborhoods such as the 36/52 bus and the K and M Rail Lines. Along with Mayor Breed, we also piloted a one-year program for Free Muni for Youth to ensure that residents under 19 were able to return to in-person schooling without having to worry about fares.   

We had a tragic year with pedestrian fatalities citywide. We must do better.  That's why we are pushing hard for Vision Zero improvements in District 7, including a Lake Merced Quick Build with an additional $250,000 in funding for pedestrian and bike safety.  We also launched the Ocean Avenue Mobility Task Force to get short-term projects moving along Ocean Avenue. I am also proud that, with the support of neighbors, we were able to cut the red tape on overdue projects like getting a 4-way stop at the corner of 10th and Pacheco and fresh paint on the Havelock Bridge Stop Sign. Lastly, I called for a Transportation and Housing Hearing and urged our City Departments to plan for the uniqueness of the Westside and limited mobility in mind as they plan large scale projects towards the city's Land Use and Transportation goals.
HOUSING THAT FITS THE WESTSIDE
We secured $10 million for a Housing Innovation Fund to finance new ideas for housing that are not traditionally supported by the Mayor's Office of Housing and Community Development. This includes helping house-rich, cash-poor seniors to leverage their existing homes to add units, or for Family Child Care providers to purchase homes to operate their business and protect this critical need for neighborhoods. Legislation to program these dollars will be heard at the Board of Supervisors early next year. I also called an illuminating hearing to discuss cooperatively-owned housing as a model to provide homeownership opportunities for middle-income and low-income families.  We will be initiating a working group in the new year to get ideas into action. I also fought successfully to make good on long overdue commitments to reform the Small Sites Acquisition program so that nonprofits purchasing rent-controlled buildings can stay financially secure and ensure units are offered for rent quickly.

The Board approved $64 million, with some funds available for this use, but that funding can't be spent until this program is revamped and scaled. In District 7, we also made progress with the Laguna Honda Senior project by analyzing possible sites and scoping out preliminary plans for a continuum of care model for both independent and assisted living-type units for seniors.
SUPPORTING SMALL BUSINESSES & ECONOMIC DEVELOPMENT
As Chair of the Land Use & Transportation Committee, I worked closely with the Mayor's office, Board colleagues, small business owners, and accessibility advocates to shepherd the passage of a permanent Shared Spaces program, which will continue to be improved upon in the new year.
 

I also secured funding to support business revitalization and economic recovery efforts with special focus on the Ocean Avenue corridor. Through the budget, we also allocated funding to support small business owners impacted by the pandemic and increased vandalism with grants and financial assistance programs. In District 7, we have worked closely with merchant organizations to find ways to fill vacancies. I also co-sponsored legislation that revamped the 14B Limited Business Enterprise program to ensure that small businesses, particularly owned by women and people of color, are able to access contracting opportunities fairly.
SUPPORTING YOUTH AND CHILDREN DURING CRISIS

In partnership with Supervisor Ronen and the support of Mayor Breed, we established "Students and Families RISE" to roll out a vision to recruit families back to SFUSD and to infuse more academic and enrichment resources so that students impacted by the pandemic are able to recover from learning loss.  We fought for an additional $15 million of funding to ensure that all SFUSD families in San Francisco received summer programming slots with DCYF or Rec & Park this summer. During the budget process, we worked closely with Early Care educators to ensure the successful, transparent rollout of the funding San Francisco voters previously supported for expanded child care.
 
EMPOWERING WOMEN AND PARENTS IN THE WORKFORCE
| | |
| --- | --- |
| Earlier in the year, I called for a Gender Economic Equitable Recovery Plan, which includes support for child care and women-focused programs for workforce development.  Shortly thereafter, the City rolled out a number of initiatives including partnerships that provided free child care to apprentices in the City's training programs. I also worked with Supervisor Ronen to pass a groundbreaking program to provide Paid Sick Leave for Domestic Workers who are essential workers that have no ability to take paid time off especially during a pandemic. I also passed legislation to provide formal Parental Leave for Board Members and Members of City Bodies. It is challenging to recruit capable and willing candidates for these voluntary positions; by providing parental leave – we are sending a message that having a child is not a deficit, but an added value to their role as civic representatives. | |
DISTRICT 7 - RECOVERY AND QUALITY OF LIFE
Due to the budget timeline, we had to postpone the District 7 Participatory Budgeting program (PB) until next year. However, we were able to successfully launch the "D7 Community Grants Initiative" program allocating $250,000 of funding for projects throughout the district that will strengthen our community's recovery and resiliency. There are many initiatives underway in District 7 and while you might not immediately see the results, we made significant headway this year to move projects along. Additionally, we've been working closely with community leads and city departments to ensure that PB projects that experienced delays due to the pandemic are on track for implementation.  

We were excited to support the completion of "Hop, Skip, Play" , a beautiful 176-foot-long interactive sidewalk mural next to Miraloma Elementary School, which came to fruition this Fall. This community-lead project was welcomed by neighbors and the children at Miraloma Elementary, at a time when activating play spaces for all children to enjoy is more critical than ever as kids continue to recover from a year of virtual learning and engage with each other in a beautiful open-air space designed for their play.

This year's PB APPLICATION goes live January 2021. We will be sharing the application widely via social media, newsletter, and our website. Stay tuned!

We also kick-started discussions among community partners and City agencies to bring more resources to the long-neglected Twin Peaks Lookout.

A working group involving many departments is advancing plans to address the situation of residents living in RVs along Lake Merced and Winston Drive. Many of the vehicle dwellers are families with school children. Our goal is to connect them to city agencies and community partners to provide resources to help with more stable housing solutions.

The pandemic has had a significant impact on us all, in all aspects of life. Public Safety is no exception, with unforeseen challenges and residents feeling less safe in the City due to the increase of property crimes, and rise in hate crimes. I sponsored a town hall meeting on public safety to connect the community to information and resources, and foster communication with the San Francisco Police Department, District Attorney, and SF SAFE. I co-sponsored legislation with Supervisor Stefani to strengthen the reporting process for Domestic Violence cases and to eliminate the access of Ghost Guns on our streets. I have advocated for additional beat patrols in Westside neighborhoods and commercial corridors in Ocean Avenue and West Portal and continue to work closely with Captains of all three stations serving District 7 to better understand crime trends, public safety needs, and advocate for resources necessary to restore confidence in public safety and quality of life for all who live, work, and visit District 7.

The Department of Building Inspection has been mired in scandal.  This is especially unfortunate given its chartered duty to ensure the safety of our buildings.  This year, we held a number of hearings at the Land Use & Transportation Committee to shed light on some of the troubling allegations. I also introduced, along with my colleagues Supervisors Peskin, Chan, Ronen, and Mandelman, a Charter Amendment that can lead to reform of the oversight and structure of the Department of Building Inspection. Voters will have their say during the June 2022 election. I will also be rolling out a package of reform measures next year to implement greater efficiency, transparency and accountability for everyone seeking project approval.
 
Statement on Vote to Concur with Mayor's
State of Emergency in the Tenderloin

Last Thursday, the Board of Supervisors convened a Special meeting to vote on the concurrence of the Mayor's Declaration of a State of Emergency in the Tenderloin. The emergency order would allow the City to fast track contracts and the construction of a Linkage Center to get drug-users off the street and connected with services. 

First, I want to thank all the District 7 residents who called into public comment and sent emails to voice your opinion on this important decision. The situation in the Tenderloin is tragic.  We may walk through it, but there are residents– families with children, seniors, and businesses who are forced to LIVE through it. And while things have always been bad – it is unconscionable to hear how far it has gone. This emergency should have been declared years ago, which is why I voted in support of it last week. We have heard considerable concern about the messaging and rollout of the Order,  namely that it would be mostly law enforcement officers aggressively forcing people off the street. We discussed this issue at great length during the hearing and established that this will not be the case. This is an emergency-led response that is guided by healthcare professionals. Police officers have a role to play, but it will be in coordination with health providers. I agree that we cannot solely rely on a carceral approach to treatment, but we also need tactical support when it comes to armed drug dealers who are literally selling poison on our streets. 

It is inhumane and unjust to allow for over 1,300 people to die – since the beginning of 2020 – and thousands of others be at risk of dying on our streets. That's more deaths than caused by COVID-19.  There are also compounding psychological and social impacts for residents, especially children, exposed to seeing death on their doorsteps. I want the Board to be actively engaged in the rollout and commitments made to come to fruition. We must continue to treat everyone with dignity and not resort to aggressive tactics. We not only have the opportunity to get this right and truly change course for a better quality of life for all (especially those most vulnerable), but a moral obligation to do so.

I want to thank the residents and providers in the Tenderloin for their courage and perseverance over the past few years –  we failed you as a City and while we cannot turn back time, we need to turn a new page.
 
Mayor London Breed N. Breed and San Francisco Health Director Dr. Grant Colfax announced on December 29th, updates to the

Safer Return Together Health Order

in response to the sharp increase of COVID-19 cases recently:

Booster Requirements for Workers in High-Risk Settings
Temporary Suspension of Indoor Masking Exemptions
Up-to-Date Vaccinations

For parents and those in school, SFDPH has noted that getting vaccinated and boosted, testing after travel and gatherings, staying home when sick, and wearing well-fitted masks are key to keeping schools open for in-person learning.  

Every person counts when it comes to boosters as the primary dose vaccination series is not enough to prevent the spread of infection. San Francisco's COVID-19 case rate tripled from 91 cases to more than 273 between December 13-20a clear indication that we have entered another surge. Cases are rising three times faster than during the summer Delta-fueled surge. Further rapid increases are expected. The benefits of a booster to prevent hospitalization begin to rise in just a few days after your shot.

For holiday events people should layer their defense against the Omicron variant with vaccines, boosters, testing, and wearing an N95 or well fitted "double" masking. Limiting the size and number of indoor gatherings also reduces risk.
2022 MUNI SERVICE NETWORK
The proposal for increasing Muni service in 2022 was approved by the SFMTA Board of Directors on December 7, 2021. However due to constraints in the system and workforce SFMTA will be implementing changes in four phases.
OUR NEXT VIRTUAL OFFICE HOURS
District 7 Office of Supervisor Myrna Melgar
VIRTUAL
OFFICE
HOURS
THURSDAY, JANUARY 13, 2022
11:00 AM to 1:00 PM

 

You can book a ten minute appointment here:
 
---
Board of Supervisors | District 7 | Myrna Melgar
1 Dr. Carlton B. Goodlett Place, Room 260
San Francisco, CA 94102
(415) 554-6516 | Fax: (415) 554-6516
melgarstaff@sfgov.org

Note: Staff sometimes work remote so please be patient when leaving a phone message.
This email was sent by: City and County of San Francisco
1 Dr Carlton B Goodlett Place, San Francisco, California, 94102 United States

Privacy Policy
---
Meet Supervisor Melgar
The next Virtual Office Hours are Friday, September 17 from 1 to 3pm.
Click here to Book an appointment
---
Term
Elected November 3, 2020 for term January 8, 2021 to January 8, 2025
---
Board and Committee Assignments
---
Contact Info
1 Dr. Carlton B. Goodlett Place
City Hall, Room 244
(415) 554-6516 - Voice
(415) 554-5163 - Fax
MelgarStaff@sfgov.org