Former Supervisor Katy Tang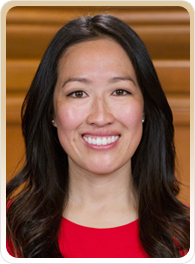 Former Supervisor Katy Tang served as the District 4 (Sunset/Parkside) representative on the San Francisco Board of Supervisors.
Since taking office in 2013, Katy has prioritized keeping San Francisco family-friendly, improving public transportation, supporting small businesses, protecting our environment, enhancing pedestrian safety, improving public safety, and protecting our City's financial health.
Katy has been a strong advocate for supporting housing opportunities for middle-income families. She partnered with the Mayor's Office and Planning Department to develop incentives and tools to keep our middle-class families in San Francisco. In partnership with the Mayor's Office of Housing & Community Development, Katy helped launch the "Home Match" program, which pairs homeowners with low-income home seekers as a way to address San Francisco's housing shortage with existing housing stock.
As a product of the San Francisco Unified School District, Katy understands the funding challenges with our public school system and supports our local schools by providing regular grants for efforts in Science, Technology, Engineering, Arts, and Mathematics (STEAM).
As a member of the San Francisco Collaborative Against Human Trafficking (SFCAHT), Katy works with city agencies and partners to end human trafficking through education, outreach, advocacy, and by supporting human trafficking survivors.
Katy is also a champion for workplace policies for new families. She spearheaded a Charter Amendment passed by voters in November 2015 that enhanced the City's Paid Parental Leave policy and sponsored legislation unanimously passed by the Board of Supervisors to improve lactation support for new mothers returning to work.
Recognizing the difficulties of homeless individuals who are also victims of domestic violence, Katy worked with the City's Shelter Monitoring Committee to prevent victims of domestic violence from being denied shelter services.
Katy works closely with the Ocean Beach Master Plan steering committee, where she has been engaging with city agencies and partners to implement recommendations for a more sustainable future on San Francisco's Pacific Coast.
To ensure that everyone, especially those with disabilities, have access to the services they need, Katy spearheaded legislation to require that all entrances to places of public accommodation in San Francisco be accessible.
As an animal rights advocate, Katy worked to ensure that the City will build a new animal shelter that will adequately serve the needs of the animals and the employees who work there. She also hosts an adoption event in her office each year in partnership with SF Animal Care & Control. In 2015, Katy sponsored legislation to ban the performance of wild or exotic animals in San Francisco for entertainment purposes.
To help youth find jobs and develop skills for the workplace, Katy's office hosts a District 4 Youth Job Fair each year to pair students with local Sunset businesses.
Katy has worked on a number of issues to improve the quality of life for residents. She spearheaded the first ever district-wide strategic planning effort, called the Sunset District Blueprint, to identify short-term and long-term initiatives to improve the neighborhood, and launched the city's first Front Yard Ambassador Program to assist residents with front yard landscaping installations and to divert rainwater from the city's sewer system.
Prior to serving as Supervisor, Katy worked as former District 4 Supervisor Carmen Chu's Legislative Aide for over five years, drafting legislation to create neighborhood commercial districts for District 4 business corridors, increasing housing protections for victims of domestic violence, streamlining complex City contracting processes, facilitating prompt payment to City contractors, and instituting increased penalties for crimes committed in and around public transit.
Katy also served in Mayor Gavin Newsom's administration in the Office of Public Policy & Finance, where she worked on community outreach for development of the City's first Community Justice Center, in addition to her work assisting with development of the City's budget.
Katy grew up in the Sunset District and is a graduate of UC Davis and University of San Francisco School of Law.
---
Term
Appointed 02/27/13 to Special Election
Elected November 2013 for term January 2014 to January 2015
Elected November 2014 for term January 2015 to January 2019
Board and Committee Assignments
Board of Supervisors
Board of Supervisors Joint
Budget and Finance Committee
Budget and Finance Federal Select Committee
Budget and Finance Sub-Committee
Government Audit and Oversight Committee
Land Use and Economic Development Committee
Land Use and Transportation Committee
Rules Committee
Additional Information