Former Supervisor Chris Daly - District 6

Former Supervisor Chris Daly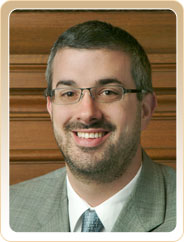 served three terms as a San Francisco Supervisor representing District 6, which includes the dynamic neighborhoods of South of Market, Tenderloin, North Mission, South Beach & Treasure Island.
For over 8 years, Chris Daly has taken the lead at City Hall on affordable housing, tenants rights, homelessness, public health, the environment, senior and kids issues, and human rights. As Supervisor he has continued his passionate fight for economic, social, and environmental justice in San Francisco.
At 28, Chris Daly was the youngest person ever elected to the San Francisco Board of Supervisors.
He was a member of the San Francisco County Transportation Authority and, as the Chair in 2003, led the effort to reauthorize the half-cent sales tax for transportation projects. Chris Daly also served on the Transbay Joint Powers Authority where he was a force for developing a new multi-modal transit center with a rail extension to downtown San Francisco.
Chris Daly served for 4 years as the Board's representative on the First Five Commission, allocating funds for early childhood development programs and also served on San Francisco's Health Service Board and Committee on Information Technology (COIT).
In regional government, Chris Daly represented San Francisco on the Metropolitan Transportation Commission and on the Bay Area Air Quality Management District, where he served as Budget and Finance Committee Chair. As a member of the Joint Policy Committee, he focused on promoting a regional land use policy that favors smart growth with affordable housing and good public transit. He also advocated tougher controls on sources of polution to clean the region's air. Chris Daly has also served on the Association of Bay Area Governments and its Regional Planning Committee.
Chris Daly moved to San Francisco in 1993 as National Coordinator of Empty the Shelters, a non-profit organization of youth and students working to end homelessness. In 1995, he co-founded the Mission Agenda, a local nonprofit organization working with low-income people living in single-room occupancy hotel residents. When fires swept through hotels in the Mission and Tenderloin, he worked with SRO residents to draw attention to their plight and to force the City government to respond to the needs of SRO residents.
Chris Daly is also a leader for tenant rights in the fight against displacement. He has served on the steering committee of the San Francisco Tenants Union and helped organize proactive response to evictions facing long-time residents, nonprofits, artists and small businesses. He is a co-founder of the Mission Anti-Displacement Coalition, which works to enact sound planning and development policies to preserve the cultural character of San Francisco's Mission district. As a tenant of the historic Redstone Building on, he helped call attention to the displacement of nonprofits and small businesses. For his work in the 90's the San Francisco Bay Guardian said that Supervisor Daly "can legitimately claim to represent the people who are suffering the worst effects of gentrification."
His high school valedictorian, Chris Daly studied the history of social movements at Duke University, where he worked with Habitat for Humanity to build low-income housing, and organized students to force the college to invest millions in affordable housing construction and to save union jobs from privatization. He has been an adjunct faculty member at New College of California. In 1989, Chris Daly received the Young Americans' Medal for Service, awarded by the United States Congress and presented by the President. He is also a Maryland 4-H All Star.
---
Term:
Elected November 2000 for term January 2001 to January 2003
Elected November 2002 for term January 2003 to January 2007
Elected November 2006 for term January 2007 to January 2011
Committee and Board Assignments:
Board of Supervisors
Audit, Labor and Government Efficiency Committee
Budget and Finance Subcommittee
Budget Committee
City and School District Select Committee
City Operations and Neighborhood Services Committee
City Planning Audit Select Committee
City Services Committee
Finance and Audits Committee
Finance Committee
Government Audit and Oversight Committee
Health and Human Services Committee
Housing, Transportation and Land Use Committee
Joint Budget and Finance/Land Use and Economic Development Committee
Land Use and Economic Development Committee
Land Use Committee
Neighborhood Services and Recreation Committee
Public Utilities and Deregulation Committee
Public Works and Public Protection Committee
Rules Committee
Transportation and Commerce Committee
Transportation Authority