Former Supervisor David Chiu - District 3

Former Supervisor David Chiu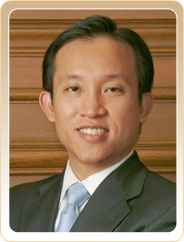 was elected in November 2008 and re-elected November 2012 to represent San Francisco's District 3. District 3 is home to many diverse and vibrant neighborhoods, including North Beach, Chinatown, Telegraph Hill, Russian Hill, Polk Street, Nob Hill, Union Square, Financial District, Barbary Coast and Fisherman's Wharf. In January 2009, David was elected President of the Board of Supervisors.
Before joining the Board, David was a founder and Chief Operating Officer of Grassroots Enterprise, an online communications technology company. Prior to Grassroots, he worked as a criminal prosecutor at the San Francisco District Attorney's Office and as a civil rights attorney at the Lawyers' Committee for Civil Rights. In the mid-1990s, David served as Democratic Counsel to the U.S. Senate Constitution Subcommittee and as Senator Paul Simon's aide to the Senate Budget Committee. The eldest child of immigrant parents, David Chiu grew up in Boston and received his undergraduate degree, law degree, and master's degree in public policy from Harvard University.
  David Chiu has lived in District 3 for more than fifteen years in the Russian Hill and Polk Street neighborhoods. Before taking office, David was a hands-on leader in San Francisco and in District 3, as a Small Business Commissioner, chair of Lower Polk Neighbors, board president of the Youth Leadership Institute, board chair of the Chinatown Community Development Center, judge-arbitrator for the Polk Street Community Court, and president of the Asian American Bar Association of the Greater Bay Area. David was previously elected to the San Francisco Democratic County Central Committee and chaired California's 13th Assembly District Democratic Committee.
David Chiu was elected to the State Assembly in November 2014 to represent the 17th District.
---
Term:
Elected November 2008 for term January 2009 to January 2013
Elected November 2012 for term January 2013 to January 2017
Committee and Board Assignments:
Board of Supervisors
Budget and Finance Committee
Budget and Finance Subcommittee
City and School District Select Committee
City Operations and Neighborhood Services Committee
Government Audit and Oversight Committee
Land Use and Economic Development Committee
Public Safety Committee
Rules Committee
 Note: Click on the photo of Supervisor Chiu to open high resolution copy. After opening, right click on the photo to save image.