Former Supervisor Gerardo Sandoval - District 11

Gerardo Sandoval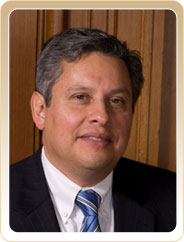 attended St. Ignatius' brother school, Loyola High School, before graduating from U.C. Berkeley in 1987. In 1989 he received his Masters Degree in City and Regional Planning from U.C. Berkeley, with a specialization in real estate and housing development. He received his law degree from Columbia University in 1995.
Gerardo served as a Deputy Public Defender in the San Francisco Public Defender's Office for four years, representing clients in all types of felony cases. He also completed a three year term on San Francisco's Public Transportation Commission, an agency with over $350 million in expenditures and 3500 employees.
Gerardo was a special assistant for finance to Mayor Art Agnos, managing the budgets of fourteen City departments such as the Port, the Fire Department and the Redevelopment Agency. He also worked on real estate projects such as the Yerba Buena Center. He was formerly an attorney at Skadden, Arps, Slate, Meagher and Flom, specializing in financial transactions. He also worked in Oakland's Office of Economic Development as an economic development specialist.
Gerardo's parents emigrated to the U.S. from Mexico in 1951. His father was a gardener and his mother was a garment worker and homemaker. Except for his oldest brother who is developmentally disabled, all of Gerardo's siblings graduated from college. Gerardo is the first in his family to receive an advanced degree.
He was in the first Head Start class in 1966 and considers himself a product of Lyndon Johnson's Great Society. He is fully bilingual in Spanish and has traveled extensively in Latin America, Asia and Europe. Gerardo is married to Amy Harrington, and they have two daughters, Natalie Irene and Julia Elyse.
---
Term:
Elected November 2000 for term January 2001 to January 2005
Elected November 2004 for term January 2005 to January 2009
Committee and Board Assignments:
Board of Supervisors
Budget and Finance Committee
Budget Committee
Economic Vitality, Small Business and Social Policy Committee
Finance and Audits Committee
Government Audit and Oversight Committee
Joint Budget and Finance/Land Use and Economic Development Committee
Land Use and Economic Development Committee
Land Use Committee
Neighborhood Services and Parks Committee
Public Works and Public Protection Committee
Rules and Audits Committee
Rules Committee
Transportation Authority