Former Supervisor Eric Mar - District 1

Former Supervisor Eric Mar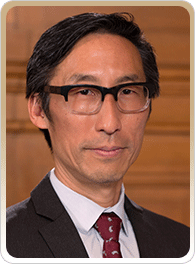 was elected in November 2008 to represent District 1, the Richmond District. In 2012, he was re-elected for a second term.
For over two decades, Eric has been a dedicated and responsive advocate for working families, youth and seniors, small businesses and all the diverse residents of the Richmond District and San Francisco. He has lived in the Richmond District since 1986.
From 2000 to 2008, Eric served as a Commissioner and past President of the San Francisco Board of Education. He led efforts to clean up corruption and financial mismanagement, close the achievement gap, strengthen parental involvement in educational policy-making and increase resources for public education.
From 1992 to 2008, Eric taught Asian American and Ethnic Studies at San Francisco State University where he mentored and supported hundreds of young people to become active in their communities and the political process.
He is also an elected member and past Vice Chair of the San Francisco Democratic Party's Central Committee. Eric has worked to strengthen the local Democratic Party and build bridges with grassroots communities.
Eric is the past director of the Northern California Coalition for Immigrant Rights and a longtime social justice activist with the Chinese Progressive Association and other grassroots organizations. As a public interest attorney, he served on the Human Rights Committee of the State Bar of California and the Civil Rights Committee of the National Asian Pacific American Bar Association. He is an ally of the labor movement and a past shop steward with SEIU Local 790.
---
Term:
Elected November 2008 for term January 2009 to January 2013
Elected November 2012 for term January 2013 to January 2017
Committee and Board Assignments:
Board of Supervisors
Joint Meeting - Board of Supervisors and Police Commission
Budget and Finance Committee
Budget and Finance Sub-Committee
City and School District Committee
City and School District Select Committee
City Operations and Neighborhood Services Committee
Government Audit and Oversight Committee
Government Audit and Oversight/LAFCo Joint Meeting
Joint Meeting - Neighborhood Services and Safety Committee and Police Commission
Joint Meeting - Public Safety and Neighborhood Services and Local Agency Formation Commission
Land Use and Economic Development Committee
Neighborhood Services and Safety Committee
Public Safety and Neighborhood Services Committee
Public Safety Committee
Rules Committee