Former Supervisor Sophie Maxwell - District 10

Former Supervisor Sophie Maxwell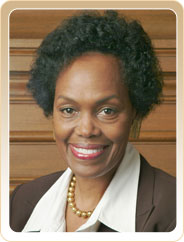 served three terms on the San Francisco Board of Supervisors, representing San Francisco's District 10 which includes Potrero Hill, Bayview Hunters Point, Visitacion Valley, Silver Terrace, Dogpatch, Little Hollywood, and the Portola districts.
During her tenure, Sophie Maxwell worked for more equitable distribution of public resources, increasing economic development opportunities for all San Franciscans, and nurturing and empowering our City's most vulnerable residents. Sophie continues to advocate for environmental justice, clean energy, and children's health and educational programs.
Sophie Maxwell was the Chairperson of the Land Use and Economic Development Committee, where she focused on sustaining and enhancing San Francisco's communities by investing in its residents.
As a member of the Government Audit and Oversight Committee, she was a driving force for accountability and transparency in local government, and for new business and economic development.
As a member of the County Transportation Authority and a Board member of Workforce Investment San Francisco, Sophie Maxwell played an integral role in shaping San Francisco's workforce system. One of her goals was to support strong working partnerships involving businesses, educational institutions, community based organizations and City agencies.
"All San Franciscans are a source of true pride, and they represent the most important resource for our City's future."
---
Term:
Elected November 2000 for term January 2001 to January 2003
Elected November 2002 for term January 2003 to January 2007
Elected November 2006 for term January 2007 to January 2011
Committee and Board Assignments:
Board of Supervisors
Budget and Finance Committee
Budget Committee
City and School District Committee
City and School District Select Committee
City Operations and Neighborhood Services Committee
City Services Committee
Economic Vitality, Small Business and Social Policy Committee
Finance Committee
Government Audit and Oversight Committee
Government Audit and Oversight/LAFCo Joint Meeting
Health and Human Services Committee
Joint Budget and Finance/Land Use and Economic Development Committee
Joint Meeting - Public Safety Committee and Police Commission
Land Use and Economic Development Committee
Land Use Committee
Public Health and Environment Committee
Public Safety Committee
Rules Committee
Select Committee on Ending Gun and Gang Violence
Transportation Authority
 Note: Click on the photo of SupervisorMaxwell to open high resolution copy. After opening, right click on the photo to save image.