District 4
Gordon Mar
District 4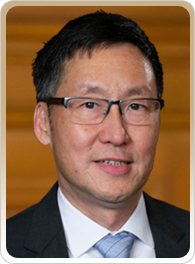 Supervisor Gordon Mar represents District 4 on the Board of Supervisors, including the Central Sunset, Outer Sunset, Parkside, Outer Parkside, and Pine Lake Park neighborhoods.
Prior to his election, Supervisor Mar served as the Executive Director of the Chinese Progressive Association and Jobs with Justice San Francisco, a coalition of 30+ labor, community, and faith-based organizations, where he led successful efforts to improve the living and working conditions of families, seniors, students, and immigrants, and to expand access to good jobs, public education, affordable housing and healthcare.  READ MORE
---
Newsletter
Spring may seem subtle in the fog-wrapped Sunset, but it's here all the same, and with it, so much of the natural beauty around us really comes to life. This has inspired a lot of recent work making the gardens of Golden Gate Park more accessible for all, and ensuring Stern Grove is fully restored and improved. 

Read on for important updates on those projects, major steps forward on our work to improve public safety, and lots more!
Virtual Community Meeting:
Ocean Beach Climate Change Adaptation Project

Wednesday, April 20 at 6:00pm
The San Francisco Public Utilities Commission, San Francisco Municipal Transportation Agency, and Recreation & Park Department will be holding a multi-agency, virtual community webinar to share status updates on the City's Ocean Beach Climate Change Adaptation Project.

The webinar focus will be on open space components within the Project's design phase which includes: multi-use trail, public bathroom, public parking lot, and new beach access points. Staff from the SFMTA will also provide an overview of proposed improvements to the transportation system as well as updates on other local westside projects.  

Register

For information please visit bit.ly/soobproject and sfpuc.org/oceanbeach.

For accommodation requests please contact Lucas Tobin, ADA Coordinator for Programmatic Access, at Lucas.tobin@sfgov.org or (415) 831-6834. 

For translation services please call (415) 496-6204. Please note that giving at least 72 hour notice will help ensure availability.

要求方便措施請聯絡項目接進ADA統籌Lucas Tobin, Lucas.tobin@sfgov.org 或 (415) 831-6834.  
要求傳譯服務請在至少72小時前來電 (415) 496-6204,這可幫助確保能提供服務
 
Five Point Sunset Safety Plan
In response to the surge in property crimes and anti-Asian hate, I've worked with City departments and neighborhood groups to create a Five Point Community Safety Plan for the Sunset District, the Asian community, and seniors. The plan consists of five new community based safety programs in the Sunset District aimed at preventing crime and ensuring that our most vulnerable community members are safe. On Lunar New Year, I joined with community and City leaders, SFPD Taraval Station and the Outer Sunset Merchant and Professional Association to announce the Five Point Sunset Safety Plan.

During the budget process, I led a successful effort to fund a major expansion of the Community Ambassadors Program (CAP) to new neighborhoods including the Sunset.  CAP is a community safety and neighborhood engagement program of the Office of Civic Engagement and Immigrant Affairs that provides a visible, non-law enforcement safety presence in neighborhoods impacted by crime. Beginning this Spring, a team of four Community Ambassadors in bright yellow jackets will be working with residents and businesses to prevent crime throughout District 4.
 
I also supported funding to expand Self-Help for the Elderly's Senior Escort Program to the Sunset District. The program ensures the safety of seniors on city streets by providing a trained escort for activities such as medical appointments, banks, grocery shopping, laundromat, and senior activity centers. Along with the District Attorney's Office, I have also supported the creation of a new program by Self Help for the Elderly providing free installation of Ring Video Doorbells in the homes of seniors in the Sunset District and other neighborhoods. Due to the immense and widespread popularity of the program, applications have already closed, and we are exploring expansion in the coming year.
 
My legislative aide Alan Wong worked with Sunset residents to form the Sunset Safety Squad in the wake of rising violence and harassment targeting seniors and the Asian community. The Sunset Safety Squad promotes public safety in the Sunset through education, outreach, training, community building, language translation, commercial corridor safety walks, and a block safety program. It has over forty volunteers consisting of mostly young neighborhood residents and professionals volunteering their time. The volunteer-led organization has an ongoing effort to recruit new volunteers from the neighborhood to join its ranks.
 
Through my role on the Budget Committee, I also secured funding to create the Sunset Safety Network (SSN) including a full-time community organizer who will bring together neighborhood groups and coordinate the many public safety programs and resources in the neighborhood with SFPD Taraval Station and other City departments including the Department of Homelessness and Supportive Housing and DPH's Community Behavioral Health Services. Launching this month, SSN will support the creation of a comprehensive crime prevention strategy in the Sunset District that can serve a model for other neighborhoods.

Read more in FOX KTVU
Crime Prevention Through Community Policing Act
Last month, I introduced the Crime Prevention Through Community Policing Act that will require each SFPD District Station to develop an annual Community Policing Plan with input from neighborhood stakeholders. The purpose of the Community Policing Plans is to prevent crime before it happens by fostering collaboration and open communication between police officers and community members. 
 
The Community Policing Plans would include public safety strategies for each District Station that deploy foot and bike patrols, meet language access needs of the community and foster proactive problem solving through collaboration between the police and the community. In addition to a foot and bike deployment strategy to enhance community trust and collaboration, the Police Department would be required to develop a formula for designating the foot and bike patrol corridors based on crime reports, foot traffic, and community input.
 
When developing their Community Policing Plan, District Stations would be required to consult stakeholders, including merchant associations, schools, neighborhood groups, and community-based organizations serving the District. This legislation will strengthen and expand on SFPD's Community Policing Strategic Plan and important efforts to prevent crime and build community trust equitably across all of our diverse neighborhoods.
Housing  Development Incentive Program for Homeowner

Last month my legislation creating the Housing Development Incentive Program for Homeowners (HDIP) was adopted by the Board of Supervisors in a unanimous vote. HDIP will provide technical assistance, financing and streamlined permitting for single family homeowners interested in expanding their homes to meet the needs of multi-generational families, seniors and community members in need of housing. Additional financial incentives will be offered to create housing affordable to middle income families who have always been the heart and soul of the Sunset District but are currently priced out of the market. HDIP focuses on supporting homeowners to create new housing, increasing housing density while preserving the quality of life and character of residential neighborhoods like the Sunset.

HDIP expands and scales up the successful District 4 Accessory Dwelling Unit Pilot Program I created with the SF Planning Department in collaboration with the nonprofit ASIAN, Inc. The Planning Department is currently working developing the HDIP program guidelines, and we will have more information to announce later this year.

Read more in SF Standard
 
Last month I joined Mayor Breed in sponsoring and passing legislation to make the Gardens of Golden Gate Park free for all San Francisco residents starting April 21st. After so much time stuck inside and sheltering, providing equitable access to these public spaces of calm and natural beauty will enhance the health and well-being of our entire community. And I used this opportunity to build on our previous work expanding access for veterans to park facilities — in addition to San Francisco residents, military veterans from across the country will be able to enjoy the Japanese Tea Garden, Conservatory of Flowers, and Botanical Gardens free of charge as a small thank you for their service. 
 
There's also critical work underway at Stern Grove, and we recently convened a virtual community meeting to provide information on all the different projects in progress. I'm very happy to say that the Stern Grove Festival will be back this summer for its 85th year of fantastic free music in an unparalleled outdoor venue. To ensure that can happen, extensive restoration work is underway to repair the substantial flooding damage that resulted from an air valve failure in a water transmission line last Fall. This work requires rebuilding an entire hillside, drainage systems and structural retaining walls; removing and reinstalling historic rock walls; restoring the concert and west meadow turfgrass; replacing the furnishings at buildings damaged by mold and water; removing and replacing or replanting 63 large eucalyptus trees undermined by the flooding, and restoring the Vale Street parking lot and tennis courts. I've introduced legislation to secure $20 million in funding to fully repair the damage, and I'm committed to ensuring Stern Grove is restored to its full glory – efficiently, effectively, and thoroughly – so generations of San Franciscans can continue to enjoy one of the most treasured green spaces in our City. Meanwhile, work is underway on the Stern Grove Playground Renovation, which will provide new play equipment and safety surfacing, replace deteriorated paths, create an accessible path and entryway, and provide new amenities and furnishings and landscaping for this important family resource.

And that's not all — the Board of Supervisors unanimously passed my legislation making the Trocadero Clubhouse in Stern Grove our City's newest historic landmark, and the first preservation project by Parkside Heritage. This work to recognize and protect the history of our neighborhood will continue — last month, I joined Supervisor Myrna Melgar in introducing legislation to next recognize the Mothers Building, a storied building with a rich history both for the arts and women's history nestled in a corner of the Zoo, as a historic landmark. 
Public Health Emergency Leave
The Board of Supervisors also voted unanimously to place Public Health Emergency Leave on the June ballot. This common-sense policy to protect workers and workplaces expands on previous emergency legislation I wrote and passed. In the year it was in effect, more than 200,000 San Francisco workers gained two additional weeks of paid leave to protect themselves, their coworkers, their families, and our City at the height of the pandemic. If passed by voters, Public Health Emergency Leave will become available automatically during any public health emergency to use if you're sick, need to quarantine, need to take care of a family member, or can't work because of it. Public Health Emergency Leave will be available upfront without needing to be accrued, and will cover all employees of private companies with 100 or more employees worldwide, and City employees. On unhealthy air quality days, outdoor workers with asthma or other conditions sensitive to poor air quality will have Public Health Emergency Leave to protect them. 

The pandemic has shown that we are only as healthy as our neighbors. No person should have to choose between being able to pay their rent or going to work with a contagious and potentially deadly disease. No parent should have to choose between a paycheck or sending their sick child to school. By extending Public Health Emergency Leave for current and future emergencies, we're acting on the lessons from this pandemic, and we'll be more prepared for the next one.

Read more in KRON4
 

San Francisco Transportation Plan Town Hall
San Francisco's transportation needs continually evolve as the city grows and changes.
To keep up with that evolution — and plan for the future — the Transportation Authority updates the San Francisco Transportation Plan every four years. 
The San Francisco Transportation Plan is the city's long-range investment and policy blueprint and it analyzes every transportation mode, every transit operator, and all streets and freeways.
The Transportation Authority want syour help to shape the plan:
Meeting ID: 815 6889 1919
Dial by your location
        +1 669 900 6833 US (San Jose)
        833 548 0282 US Toll-free
        877 853 5247 US Toll-free
        888 788 0099 US Toll-free
        833 548 0276 US Toll-free
Meeting ID: 815 6889 1919
You can also take the survey online. Open until May 2, 2022.

This Transportation Plan update builds upon technical work and public outreach conducted over the past four years as part of ConnectSF, a multi-agency collaborative process to build an effective, equitable, and sustainable transportation system for San Francisco's future. During the ConnectSF process, planners worked with the public to determine concepts to address the long-term needs of our streets, freeways and transit systems. 
Learn more about the San Francisco Transportation Plan.
 
---

Bike and Roll to School Week Events with Supervisor Mar and Sunset Families
Bike & Roll to School Week is the city's biggest annual celebration of students getting to school under their own power! Biking, scooting, skating, wheelchairs, and even walking are all part of the action. Find out about activities and register your school at sfbike.org/bikeandrollsf. Here's a list of some Bike & Roll events happening in the Sunset:

Tuesday, April 19th - Ulloa
Ulloa/Vicente Bike Bus to at least Ulloa Elementary
Time and meeting place TBD. Contact: Josh Kelly (jcoltkelly@gmail.com)

Wednesday, April 20th - Feinstein
7:30am: Meet at Parkside Square, on the basketball courts
7:40am: Depart

Thursday - Francis Scott Key
7:20am: Meet at Playland at 43rd Avenue

Friday, April 22nd - Lawton
Bike Bus to Lawton Elementary
9:00am - Meet at Sunset Recreation 
9:15am - Depart

Are you interested in a bike bus for your school? You can request one at www.sfbikeb.us 
---
Earth Day Climate Ride
Celebrate Earth Day and the recent passage of San Francisco's Climate Action Plan during the Bike Ride for Climate Action on Saturday, April 23 from 10:00 a.m.– 12:30 p.m. This family-friendly, educational bike ride will stop at multiple sites in Golden Gate Park showcasing what San Francisco and its residents are doing to create a sustainable, low-carbon city.

In partnership with the San Francisco Department of the Environment and the Recreation & Parks Department, the bike ride will offer a safe, guided route through Golden Gate Park and Outer Sunset, ending at Ocean Beach. The San Francisco Bicycle Coalition will also be issuing 30 complimentary memberships for participants on behalf of the San Francisco Department of the Environment (see tickets for more information).

Arrive at 10:00 a.m. to check-in. The ride will kick-off at 10:30 a.m. with welcome remarks from City leaders. A full agenda highlighting the stops and route map will be posted soon. All participants must register for the event in order to attend, no drop-ins.

Location/Route: Approximately 4.9 miles.

Start: Golden Gate Park (Near JFK Dr., Next to McLaren Lodge)
End: Great Highway & Lincoln

Community Clean Ups
Community clean ups are happening city-wide for Earth Day! Join us for this monumental undertaking! From the bridge to the bay there is an earth day there is a clean up happening in your neighborhood. 

Find a clean-up near you
 

Earth Day on the Great Highway

The Earth Day climate ride and citywide community clean-ups will all conclude with an after-party on the Great Highway! Come by from noon to 4pm for live music, local art, e-bike demos, and family-friendly fun for all ages.

Live Music
Local jam band legend Bert's Brew will be bringing the vibes from noon to three. Bring a picnic blanket, snacks and beverages and get ready to chill. 

Test Ride an E Bike
Ready to turn SF's hills into an easy breeze? There will be demo bikes from VanMoof and SF's own New Wheel Bikes for you to test ride. 

Community Art Gallery
Check out the climate themed art from local artists curated by John Lindsey and the Great Highway Gallery. Check out scenes the West Side's past as we work together for a brighter future. 

More details
 

Outer Sunset Farmers Market & Mercantile
Every Sunday, 11:00am - 3:00pm, on 37th Avenue between Ortega and Quintara
A weekly market featuring farmers, ranchers, food artisans, live music, children's activities, vendors, makers, merchants, artists, and local organizations. Explore all the amazing local businesses surrounding the farmers market at sunsetstrong.com.

OSFMM is presented by Sunset Mercantile in collaboration with D4 Supervisor Gordon Mar, OEWD and People of Parkside Sunset.

Sunset Co-Op Spring Market
​Saturday, April 23rd, 10-3

Located at 37th between Ortega and Pacheco (same location as the Sunday Farmer's Market). You won't want to miss this!
​
Sunset Cooperative Nursery School is excited to announce that we are hosting another Maker's Market in collaboration with Sunset Mercantile! We will be featuring an amazing curated collection of local shops and artisans all generously donating a percentage of sales to Sunset Co-op. A few delicious food vendors will also be joining the party, so bring your appetites. We'll have some live family friendly performances and games throughout the day. 
19th Avenue Construction Updates
Here is what is happening this month on 19th Avenue:
Lincoln Way

**Night work- Sewer lining on April 27, 2022 9pm-5am (overnight)
One-night only. Impacts will be minimal as this work will occur in the intersection. Neighbors can expect to see lights, some noise from construction activity.

Ocean 

Water Work

Completing Chlorination 4/15/22 
Connections 4/18/22 
Backfill trench 4/19/22 - 4/20/22 

Sewer Work: Ocean to Sloat Install 12" VCP sewer pipe and four (4) Manholes 

Ortega

Install Vault Valve  2/21/22 - 5/6/22 
Electrical work 5/18/22 - 5/24/22  

Ortega (East) through 5/31/22 

Demo/form/pour gutter, sidewalk, 5/9/22 - 5/20/22 
Sidewalks 5/9 - 5/20/22 
Pour curb ramp 5/17/22 - 5/20/22 
Bus Pad  5/23/22 - 5/31/22 
Electrical work 5/25 - 5/31/22 
T‐Trench Work/Pavement Restoration Work 5/9 - 5/13/22 
Ortega to Taraval – Grind and Pave- Eastside 5/12 - 5/13/22 

Pacheco (East) 

T‐Trench Work/Pavement Restoration Work 4/28 - 5/2/22 

Quintara (East) 

T‐Trench Work/Pavement Restoration Work 4/25 - 4/27/22 

Rivera (East) 

T‐Trench Work/Pavement Restoration Work Intersection until 4/21 - 4/22/22 

Santiago  

T-Trench restoration until 4/20/22 

Taraval 

Trench restoration just completed 4/15/22 

Ulloa 

Water work through 4/24/22 
Water Department Chlorination 4/18 - 4/22/22 
Water connections 4/25/22 
Backfill trench 4/27/22 
Sewer work through 5/13/22 
Install 4 manholes 

Vicente to Sloat 

CIPP Installation Sewer work until 4/27/22 
Water work16" DIP installation until 5/16/22. The majority (~90%) of the pipe has already been installed. 

Vicente (East)

Demo/form/pour gutter, sidewalk, 5/2/22 - 5/13/22 
Pour curb ramp 5/10/22 - 5/13/22 
Bus Pad  5/9 - 5/20/22 
Electrical (East) 5/4 - 5/10/22 

Wawona (East)

Electrical work 4/20 - 4/26/22 
Demo/form/pour gutter, sidewalk, 5/2/22 - 5/13/22 
Pour curb ramp 5/10/22 - 5/13/22 
Bus Pad  5/9/22 - 5/20/22 
Parking strip/Curb restoration- Vicente to Ulloa 5/16/22-5/27/22 
 
*** Please Note: Construction scheduling is subject to change due to rain, equipment breakdown, unforeseen field conditions, existing utility conflicts, crew availability, or early/delayed completion of work at a prior location. ***
During Construction
Street parking may be impacted while construction occurs on a block. In some cases, depending on the phase of work, street parking may not be possible on part of the adjacent block as we taper traffic lanes in order to accommodate the necessary work zone. Crews also may detour traffic to allow for a safe work zone. We kindly ask that motorists please plan ahead and allow more travel time during construction hours.
Please see the posted "no parking" barricade signs for exact work hours, days, and locations. Parking restrictions may vary per block depending on the scope of work.
We apologize for the inconvenience and thank you for your patience as we make these critical improvements along 19th Avenue.

Contact:
Contractor:
JMB Construction
Gearoid Crowe, Project Engineer
(650) 267-5300 Office 
(415) 559-2614 After-hours
Email: gcrowe@jmbconstruction.com
  
San Francisco Public Works:
Carol Huang, Project Manager
(628) 271-2153 Office
Email: Carol.Huang@sfdpw.org
 
Dadisi Najib, Public Affairs Officer
(628) 271-2245 Office
Email: Dadisi.Najib@sfdpw.org
While Open Enrollment for 2022 Covered CA has ended, there are special instances that allow people to enroll throughout the year. Enrollment into Medi-Cal is open year-round.
Residents who have experienced any of the situations listed below are considered eligible for Covered CA "Special Enrollment" but must enroll within 60 days of any of the following instances:
1.    Loss of insurance from a job loss
2.    Becoming a U.S. citizen or getting a Green Card
3.    Getting married or divorced
4.    Having – or adopting - a child
5.    Moving to San Francisco from another  state
Those with income below 400% of the FPL are eligible for Medi-Cal which covers all the same medical needs as Covered California, usually at no cost. Enrollment into Medi-Cal is open all year long.
Covered California 2023 Open Enrollment will run from November 1, 2022 – January 31, 2023. Medi-Cal enrollment is open all year.
Sunset resident Susan Pfiefer is a Certified Enrollment Counselor for Covered California and is available by phone or Zoom to answer questions or assist with enrolling in Covered CA  insurance plans or Medi-Cal, depending on availability.You can reach Susan by email at Mediasusan2@gmail.com
Neighborhood Office Hours

Starting this month, Supervisor Mar will resume District Office Hours IN PERSON at convenient neighborhood locations. You are welcome to schedule a meeting with Supervisor Mar to discuss any issues of concern or ideas for improving our neighborhood and city on Friday afternoons. To schedule a District Office Hours meeting, email marstaff@sfgov.org or call (415) 554-7460.
 
See you at the Farmers Market!
At our Women's History Month celebration last month, I presented a special commendation to Anne Cassidy Carew for her dedicated leadership with the United Irish Cultural Center . Following in her father's footsteps. Anne has served on the UICC Board including as President during a period of major change and growth in recent years. With a deep historical commitment to San Francisco and as a highly respected leader in the Irish community, Anne is inspiring a new generation of women leaders in our city. Thank you Anne!
Earlier this year, I gave a special commendation to Jamae Tasker, a District 4 resident and Executive Director of Sunset Cooperative Nursery School . The school has served preschoolers and parents in the Outer Sunset since it first started as a WPA project in 1940. Soon after the pandemic hit, Jamae started painting signs to support Black Lives Matter, encourage people to vote and to care about their community. She started an art project that connected preschoolers and professional artists, and inspired ongoing planning for public art in the Sunset. I'm grateful that when the community needed those lessons in courage and compassion, Jamae rose to the occasion and inspired so many more to do the same.
You're receiving this email because you subscribed to our newsletter, signed in at one of our events, or contacted our office.
This email was sent by: City and County of San Francisco
1 Dr Carlton B Goodlett Place, San Francisco, California, 94102 United States

Privacy Policy
---
Term
Elected November 06, 2018 for term January 08, 2019 to January 08, 2023  
---
Board and Committee Assignments
---
Contact Info
City Hall
1 Dr. Carlton B. Goodlett Place, Room 244
San Francisco, Ca 94102-4689
(415) 554-7460 - Voice
(415) 554-7432 - Fax