District 1
Connie Chan
District 1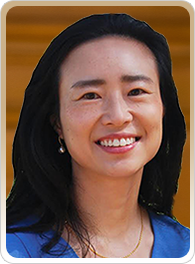 Supervisor Connie Chan
Supervisor Connie Chan represents District 1 on the Board of Supervisors, including the Inner Richmond, Central Richmond, Outer Richmond, Lone Mountain, Golden Gate Park, Lincoln Park, and University of San Francisco. Connie Chan was raised in San Francisco since the age of thirteen, and owes so much to this incredible City. Today, Connie has served our City at every level and understands how policy goals at the top are implemented into operational actions for San Francisco residents.
Born in Hong Kong, she moved to San Francisco at the age of 13 with her mother and younger brother. Her family was able to obtain a rent-controlled apartment in Chinatown (the same apartment her mother lives in today) because her mother was able to develop the skills she needed for a new career, as a claims processor at Chinese Hospital, thanks to classes at City College of San Francisco.
After graduating from Galileo High School, Connie earned her bachelor's degree from the University of California, Davis and then went to work giving back to the community that had done so much for her family. She started out as a volunteer interpreter, working with pro bono attorneys for SF Bar Association's Volunteer Legal Outreach, while serving as a community organizer for SF SAFE and Community Youth Center.
In 2006, she was recruited to be an aide to Supervisor Sophie Maxwell and later served as an aide to then-District Attorney Kamala Harris, followed by Supervisor Aaron Peskin in 2016. Since then, Connie also served at San Francisco Recreation & Parks and City College of San Francisco.
Connie's long-time partner Ed became a San Francisco firefighter in 2011 – the same year they bought their home in the Richmond District. Today, they are raising their son who is a student at Lafayette Elementary School.
Connie is honored to serve District 1 residents and her priorities as supervisor will be to ensure the same opportunities San Francisco has given her are available for all San Franciscans now and for generations to come. .
---
Newsletter
Equitable Economic Recovery for San Francisco
This Labor Day, as we look back on the labor movements past that fought for the benefits we take for granted, like the 40 hour work week and weekends, we are reminded we still have much work ahead of us. As the COVID-19 Delta variant surges, we see social economic disparities continue to widen.

Many working families still must work multiple jobs to pay their rent or mortgage and bills, are forced to choose between unsafe working conditions or unemployment, and still lack access to affordable housing and transit options, higher education, or adequate healthcare. As we celebrate our victories, let's not forget we must continue the fight for all working families and protect the right for all workers to join a union.

Read more in my September Richmond Review column.
 
September is Transit Month

On Wednesday, September 8, please join our office and ride to City Hall with the SF Transit Riders Union and Supervisor Catherine Stefani to celebrate Transit Month! We'll meet at 8:00 am at Geary and Masonic to meet our constituents and show support for public transit by riding the 38R into City Hall. Sign up to learn more and get involved!
COVID-19: Response + Updates
As of August 20, San Francisco requires proof of vaccination for entry to certain indoor businesses and all large indoor events. For more information and Mayor London Breed's press release, visit here.

As of August 3, people are required to wear masks indoors in settings like grocery or retail stores, theaters, and family entertainment centers, even if they are fully vaccinated. Find the statement and more information here. 

San Francisco is leading the nation in its COVID-19 response. Even with remarkable progress in our fight against the virus, highly transmissible Delta variant is spreading widely. While masking and testing are incredibly important measures, they alone will not help us combat COVID-19 in the way we need. Vaccinating as many people as possible, as soon as possible, is our best defense against COVID-19. Vaccines are widely available, safe and effective, and offer protection against serious hospitalization or death. While San Francisco has 76% of its eligible population fully vaccinated, we still have a lot of work to do to ensure all San Franciscans are safe.

The Richmond District is trailing behind other districts in vaccination rates. The Outer Richmond is at 73%, the Inner Richmond is at 70%, and Lone Mountain/USF is at 58% vaccinated. To protect  yourself, your family, and community, please get vaccinated. Visit sf.gov/getvaccinated or call 628-652-2700 for vaccination information and sites. You may also email sfvaxnow@sfdph.org.

The data and science is clear: with the Delta variant here, now is not the time to be unvaccinated. Nearly all currently hospitalized COVID-19 patients are unvaccinated. While someone fully vaccinated could test positive for COVID-19, vaccines are nearly 100% effective in preventing hospitalization or worse, death.

Testing continues to be an important component to prevent the spread of COVID-19

Here's more information that explains the importance of getting a COVID-19 test if someone has symptoms, regardless of vaccination status.
Transit Updates
29 Sunset Improvement Project
At the beginning of 2020, SFMTA's 29 Sunset Improvement Project was ready to kick-off a year-long outreach program. However, the COVID-19 pandemic delayed the project and priorities were shifted to developing and implementing Temporary Emergency Transit Lanes (TETL) and service changes to respond to COVID. Now, SFMTA is relaunching the project and is conducting a survey to gather feedback and ideas on how to improve the 29 Sunset.

The 29 Sunset project will improve reliability of the service by reducing pass-ups and overcrowded buses while mitigating the impacts of traffic congestion. In addition, the project will also consider potential service changes such as a skip stop service for a 29R Sunset Rapid line. We will look to stakeholders to help identify what stops should be considered for 29R service as part of the outreach process and will evaluate design options for feasibility.
 
2022 Muni Service Network
As the city recovers from the COVID-19 pandemic, SFMTA is developing a proposal for how Muni service will be restored long term. As the city sees travel patterns shift from the major focus on downtown and neighborhood to neighborhood trips expanding across the city, SFMTA wants to make sure they are providing adequate service to neighborhoods that have previously been underserved by the Muni system.

SFMTA has developed three scenarios that demonstrate a level of Muni service that the SFMTA can sustain. The SFMTA will be sharing three alternatives for how Muni service might be restored in early 2022 and inviting the public to provide feedback on those alternatives.

There will be three open house meetings this month to discuss the three scenarios and identify benefits, challenges, or concerns with the scenarios. All meetings will be held virtually.
Community Events
Autumn Moon

The fifth annual Richmond District Autumn Moon Festival will be held on Saturday, September 18, 2021 between 11 am - 3 pm, on Clement Street from 6th - 9th Avenue. This year we are bringing the festival back to Clement Street as an in-person event. This festival is organized in collaboration by Community Youth Center, the Richmond Neighborhood Center, the Clement Street Merchants Association, the Office of Assemblymember Phil Ting and our office.

This year, the Autumn Moon Festival will be a family-friendly event that serves community members affected by the COVID-19 crisis and reminds the Richmond community about coming together in times of difficulty. We hope that this event will be an opportunity for residents to connect with our small businesses, community partners and city agencies and resources.
Skatin' Place

6th Ave Skatin' Place will have a community event on September 11 from 4:30 pm - 5:30 pm to help determine proposed designs for an upcoming artwork installation. The 6th Avenue skating rink will feature a mural inside the glide lane of the rink. For more information, visit ChurchOf8Wheels.com.
Jog in the Fog

Join the Richmond District YMCA as we Jog in the Fog through the beautiful Richmond District neighborhood. The race is fun for the whole family and all proceeds from the event support the youth and community programs at the Richmond District YMCA.

Highlights include race shirts for participants, amazing views of our parks and coastal scenery, and a post-race celebration!
 

Registration Fee
Adults (13+): $45
Youth 12 & Under: FREE!
 
October Rent Relief

Do you owe back rent? Or will you have difficulty paying October rent? Self-Help for the Elderly and the Chinatown Community Development Center can help. San Francisco tenants can now apply for rent assistance in one combined program. You may qualify if you or your family experienced financial hardship during the COVID19 crisis. The program will pay 100% of your back rent and 3 or more months future rent.

For help completing the application we are providing free clinics in the Richmond District on Sunday, September 12 at the Jackie Chan Senior Center. Appointments are highly recommended at all our clinics. For more information and an appointment call: (415) 742-2735. For details visit: housingiskey.com.
Community Updates
VA Medical Center Farmers' Market

Due to ongoing construction at the Veterans Affairs Fort Miley campus, the farmers' market has been temporarily moved to the picnic area behind Building 7, and will remain in this location until further notice.

To access this new location, walk past the flag pole and around the side of Building 7 to access the market. Please refer to the map below (and attached) for directions on how to access the Farmer's Market during this interim period.
Senior Community Service Employment

Are you ready to learn new skills, train, and go back to work? If so, the Senior Community Service Employment Program (SCSEP) may be perfect for you. SCSEP is a federally funded job-readiness program that helps older adults transition from on-the-job training back into the workforce.

If you are interested in the SCSEP program, please send a cover letter and resume to: scsep@felton.org or call (415) 982-7007 ext. 613
CAAM is Hiring
The Center for Asian American Media (CAAM) is hiring an Events Production Manager. The Events Production Manager is an integral member of the CAAM staff and is responsible for the coordination and execution of year-round public events, including CAAMFest, the organization's annual celebration of Asian and Asian American storytelling. The position reports directly to the Festival and Exhibitions Director and works closely with the entire CAAM team.

To apply, please email your application to jobs@caamedia.org or mail a resume and cover letter to CAAM HR to CAAM's office at 145 9th Street, #350, San Francisco, CA 94103.

For more information on the position, visit CAAM's website.
---
Board of Supervisors | District 1 | Connie Chan 陳詩敏
1 Dr. Carlton B. Goodlett Place, San Francisco, CA 94102
(415) 554-7410 | Fax: (415) 554-5163
---
You're receiving this email because you subscribed to our newsletter, signed in at one of our events, or contacted our office.
This email was sent by: City and County of San Francisco
1 Dr Carlton B Goodlett Place, San Francisco, CA, 94102 United States of America

Privacy Policy
---
Term
Elected November 3, 2020 for January 8, 2021 to January 8, 2025
---
Board and Committee Assignments
---
Contact Info
1 Dr. Carlton B. Goodlett Place
City Hall, Room 244
(415) 554-7410 - Voice
(415) 554-5163 - Fax
ChanStaff@sfgov.org