District 1
Connie Chan
District 1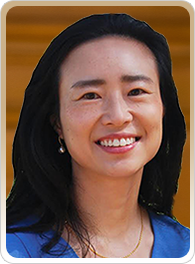 Supervisor Connie Chan
Supervisor Connie Chan represents District 1 on the Board of Supervisors, including the Inner Richmond, Central Richmond, Outer Richmond, Lone Mountain, Golden Gate Park, Lincoln Park, and University of San Francisco. Connie Chan was raised in San Francisco since the age of thirteen, and owes so much to this incredible City. Today, Connie has served our City at every level and understands how policy goals at the top are implemented into operational actions for San Francisco residents.
Born in Hong Kong, she moved to San Francisco at the age of 13 with her mother and younger brother. Her family was able to obtain a rent-controlled apartment in Chinatown (the same apartment her mother lives in today) because her mother was able to develop the skills she needed for a new career, as a claims processor at Chinese Hospital, thanks to classes at City College of San Francisco.
After graduating from Galileo High School, Connie earned her bachelor's degree from the University of California, Davis and then went to work giving back to the community that had done so much for her family. She started out as a volunteer interpreter, working with pro bono attorneys for SF Bar Association's Volunteer Legal Outreach, while serving as a community organizer for SF SAFE and Community Youth Center.
In 2006, she was recruited to be an aide to Supervisor Sophie Maxwell and later served as an aide to then-District Attorney Kamala Harris, followed by Supervisor Aaron Peskin in 2016. Since then, Connie also served at San Francisco Recreation & Parks and City College of San Francisco.
Connie's long-time partner Ed became a San Francisco firefighter in 2011 – the same year they bought their home in the Richmond District. Today, they are raising their son who is a student at Lafayette Elementary School.
Connie is honored to serve District 1 residents and her priorities as supervisor will be to ensure the same opportunities San Francisco has given her are available for all San Franciscans now and for generations to come. .
---
Newsletter
The City's Budget
This week, the Board of Supervisors Budget & Appropriations Committee commenced hearings on department budgets. During this time, the Board of Supervisors makes cuts to the Mayor's proposed budget and uses the savings to fund community priorities that were left out of the Mayor's budget. The hearings are open to all members of the public to participate and provide feedback. In July, the Board of Supervisors will finalize the budget, and the Mayor signs it by the first week of August.

Read more in my monthly Richmond Review column on the city budget process.
June Office Hours
I will be continuing to hold virtual office hours during this time to connect with neighbors and appreciate the range of dialogues about neighborhood issues and happenings. My virtual office hours during June will be weekly on Saturdays, between 9 am - 10 am. Please contact chanstaff@sfgov.org, or 415-554-7410 to schedule a time!
Intern With Our Office!

Our office is looking for interns! Email our team at chanstaff@sfgov.org for more information and to apply.
COVID-19: Response + Updates
San Francisco Fully Reopened!

On June 15, 2021, San Francisco announced the opening of all businesses and activities, as the State removed its tiered system.

Businesses may still choose to follow best practices for COVID-19 prevention. For more information and resources, visit sf.gov/topics/reopening.

To get vaccinated, visit sf.gov/covid-19-vaccine-san-francisco.
Transit Updates:
Anza Street Bike Lanes Approved
On Tuesday, June 15, the SFMTA Board approved the Anza Street Bike Lanes Project. This project creates new bike paths from Masonic to 30th Avenue, providing more connectivity to the bicycle network in our district. The project also includes pedestrian safety improvements including new or refreshed crosswalks, speed cushions, and advance limit lines. Construction for the bike lanes will begin this summer. Thank you to SFMTA staff for their work to include community feedback in the project.
38 Geary Temporary Emergency Transit Lane Evaluations

After temporary emergency transit lanes were installed on Geary Boulevard in the Richmond, the SFMTA conducted a survey and evaluated the lanes to determine how well they are working and measure any neighborhood impacts. The evaluation metrics include recommendations from the public via our evaluation criteria survey, such as bus travel time, bus crowding and effects on vehicle traffic.

Despite recent increases in traffic citywide, evaluation results are showing that the new transit lanes and other transit treatments have improved 38 Geary bus performance, with minimal traffic impacts to Geary Boulevard or parallel streets. And a majority of those who took our evaluation survey support maintaining the transit lanes.

You can read the detailed evaluation report on SFMTA's website.

Have questions? Email SFMTA at TellMuni@SFMTA.com. Or, drop in anytime during their virtual office hours on Wednesday, June 30 between 4 pm - 6 pm. to ask project staff your questions.
Great Highway at SFCTA Commission
Working with San Francisco County Transportation Authority (SFCTA) Board Member Gordon Mar's Office, the SFCTA has separated the Great Highway Evaluation Final Report from the District 4 Mobility Study Final Report. These will be presented for the Transportation Authority Board's consideration and approval at the TA's upcoming meeting (sign up for the SFCTA email list to be notified) on June 22 at 10 am.

The Great Highway Evaluation Final Report will recommend long-term options for the Great Highway, based on an evaluation of five street configuration options. For call-in information and the agenda, please check SFCTA's website here for information to be posted 72 hours before the meeting.

The San Francisco Recreation and Park Department and the SFMTA are the implementing agencies for any changes to the Great Highway. The agencies are considering the concepts evaluated in the District 4 Mobility Study and are developing an outreach process to gather more public input for near-term design options for the Great Highway. This began with a joint hearing of the Recreation and Park Commission and SFMTA Board of Directors on June 10, 2021 (Watch the June 10 hearing on SFGTV; Read the June 10 SFMTA Staff Report).

Supervisors Mar, Melgar, and myself sent an open letter to Recreation and Parks General Manager Phil Ginsburg and SFMTA Director Jeff Tumlin with our concerns around transparency around decision-making, data collection, and outreach. 

A final recommendation would need to be voted on by the Recreation and Park Commission, SFMTA Board of Directors, and the San Francisco Board of Supervisors.
Community Events
Richmond Station SFPD Community Meeting

Attend the SFPD Richmond Station's Virtual Community Meeting. Come build a safer San Francisco with Captain Caltagirone & SF SAFE at SFPD Richmond's Virtual Community Meeting June 22 at 5 pm on Zoom.
 
Small Business Assistance

The Lawyers' Committee for Civil Rights is offering webinars to provide small businesses with legal advice, assistance with commercial lease negotiations, and information on the eviction moratorium. Spots are limited for each, so be sure to sign up!

Commercial Lease Legal Clinic
June 24 from 4 pm - 6 pm
Register Here

Commercial Lease & Eviction Moratorium Webinar
June 23 at 3 pm (Cantonese/Mandarin)
Register Here

June 29 at 3 pm (Spanish/English)
Register Here
Mental Health & Well-Being Panel

In light of rising hate crimes/incidents against Asian Americans and police brutality against African Americans, how can we as a society keep ourselves mentally healthy and well? At what point should a person of color experiencing trauma from these events reach out to a licensed psychologist for help? The Bar Association of San Francisco invites you to this community-based fireside chat to discuss these issues and more. This event is free and open to the public.

The panel will take place on Wednesday, June 30 from 4 pm - 5 pm.
 
Community Updates:
Volunteer As A Walking Buddy
Richmond District Rising has been working with the Richmond District Seniors Center on a very worthwhile project: a walking group for our neighborhood's elders. This comes in response to the recent tragic attacks on Asian-American seniors. Many of our older friends and neighbors no longer feel safe walking alone.

If you are interested in being a walking buddy for a neighborhood senior, please fill out this simple form and provide what specific volunteer interest you may have. Thank you in helping keep our community safe.
San Francisco Museums for All Program Now Permanent
The San Francisco Museums for All program is now permanent and year-round! Local residents who receive Medi-Cal or CalFresh can get 4 FREE or reduced price tickets per visit when they show their Medi-Cal or EBT cards. Learn how to plan your visit to more than 20+ participating museums at www.sfmuseumsforall.org.
 
Kindergarten to College Virtual Summer Contest
San Francisco Kindergarten to College (K2C) invites you to participate in their Virtual Summer Contest (June 14-23rd). All SFUSD rising 1st-11th grade students with an existing K2C account, who virtually tour colleges or take a First Gen Empowerment workshop, will have the opportunity to win one of our 100 scholarships of $100 each, awarded at the end of the six weeks.

Students from groups underrepresented in higher education are especially encouraged to participate, including students with disabilities, Latinx students, Black students, Pacific Islander students, student who have experienced homelessness or foster youth, undocumented students, and students who are the first in their family to attend college.
Help Stretch Our Water Supply
This is the second dry year in a row for California. We know San Franciscans use water wisely and we thank you for your commitment to conservation. We must continue to do what we can to make the most of our water supplies in case this dry trend continues. We are asking San Franciscans who are able, to please be more efficient with your outdoor water use.  

The San Francisco Public Utilities Commission offers lots of resources to help you use less water both indoors and out. Utilize the SFPUC's free Water-Wise Evaluations, rebates and incentives, and free toilet program.  
 
Please feel free to contact the SFPUC's Water Conservation Team at waterconservation@sfwater.org, sfpuc.org/savewater or by calling 415-551-4730.
 
To read more about how you can conserve water, follow the links to the SFPUC's Conservation Brochure [English] [Spanish] [Chinese], and Water Leak Guide [English] [Spanish] [Chinese].
 
---
Board of Supervisors | District 1 | Connie Chan 陳詩敏
1 Dr. Carlton B. Goodlett Place, San Francisco, CA 94102
(415) 554-7410 | Fax: (415) 554-5163
---
You're receiving this email because you subscribed to our newsletter, signed in at one of our events, or contacted our office.
This email was sent by: City and County of San Francisco
1 Dr Carlton B Goodlett Place, San Francisco, CA, 94102 United States of America

Privacy Policy

             
---
Term
Elected November 3, 2020 for January 8, 2021 to January 8, 2025
---
Board and Committee Assignments
---
Contact Info
1 Dr. Carlton B. Goodlett Place
City Hall, Room 244
(415) 554-7410 - Voice
(415) 554-5163 - Fax
ChanStaff@sfgov.org