District 1
Connie Chan
District 1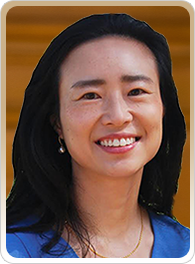 Supervisor Connie Chan
Supervisor Connie Chan represents District 1 on the Board of Supervisors, including the Inner Richmond, Central Richmond, Outer Richmond, Lone Mountain, Golden Gate Park, Lincoln Park, and University of San Francisco. Connie Chan was raised in San Francisco since the age of thirteen, and owes so much to this incredible City. Today, Connie has served our City at every level and understands how policy goals at the top are implemented into operational actions for San Francisco residents.
Born in Hong Kong, she moved to San Francisco at the age of 13 with her mother and younger brother. Her family was able to obtain a rent-controlled apartment in Chinatown (the same apartment her mother lives in today) because her mother was able to develop the skills she needed for a new career, as a claims processor at Chinese Hospital, thanks to classes at City College of San Francisco.
After graduating from Galileo High School, Connie earned her bachelor's degree from the University of California, Davis and then went to work giving back to the community that had done so much for her family. She started out as a volunteer interpreter, working with pro bono attorneys for SF Bar Association's Volunteer Legal Outreach, while serving as a community organizer for SF SAFE and Community Youth Center.
In 2006, she was recruited to be an aide to Supervisor Sophie Maxwell and later served as an aide to then-District Attorney Kamala Harris, followed by Supervisor Aaron Peskin in 2016. Since then, Connie also served at San Francisco Recreation & Parks and City College of San Francisco.
Connie's long-time partner Ed became a San Francisco firefighter in 2011 – the same year they bought their home in the Richmond District. Today, they are raising their son who is a student at Lafayette Elementary School.
Connie is honored to serve District 1 residents and her priorities as supervisor will be to ensure the same opportunities San Francisco has given her are available for all San Franciscans now and for generations to come. .
---
Newsletter
Celebrating Lunar New Year

The Year of the Tiger is quickly approaching, and I am excited for the return of some annual celebrations, including the Chinese New Year parade. February 1, 2022 will marks the first day of the Year of the Tiger, and the Chinese Chamber of Commerce of San Francisco is proud to bring back the public art project, Tiger on Parade, to its list of festivities this Lunar New Year. 

Six life-sized Tigers will be publicly displayed around San Francisco, from January 17 - February 19, to help ring in the new year. 

Be sure to check out all six Tigers and enter into their photo contest. Check out OneRichmond's website to learn how to enter, win fun prizes, and the official rules.
COVID Updates & Resources
With COVID-19 cases increasing throughout San Francisco, I want to make sure everyone has the most up-to-date information on health and safety guidelines and where you can find a booster shot or COVID test:
Have everyone ages 5+ get their COVID-19 vaccine and booster, if eligible. SF residents ages 12-15 years old are now eligible to get a booster dose. 

Anyone who develops symptoms of COVID-19 should isolate themselves and get tested as soon as possible

Individuals who do not have a provider or need assistance with isolation can connect with the SF Department of Public Health COVID Resource Center at (628) 217-6101

Wear a well-fitted mask indoors and in crowded settings. To best protect yourself, wear a N95 mask or double mask with a cloth mask over a surgical mask to improve the seal

Order free at-home COVID-19 tests: Every home in the U.S. is now eligible to order four free at-⁠home COVID-⁠19 tests. There is currently a limit of one order per residential address; one order includes four individual rapid antigen COVID-19 tests. Orders are estimated to ship free starting late January. Visit covidtests.gov for more information.  

Use caution and avoid testing sites that seem too good to be true. The San Francisco Department of Public Health (DPH) is aware of groups offering COVID-19 testing in the City that do not appear to have the appropriate permits and licensing to set up testing stations. Seek a test through your healthcare provider, or through lists approved by DPH. Please call 311 if you suspect that a testing site is unlicensed.
Additionally, the Richmond Senior Center and Community Youth Center will be able to assist you in finding a testing site or vaccine information. You can contact either organization below:

Richmond Senior Center
415-752-6444

Community Youth Center
(415) 752-9675
 
Kaiser Vaccination Clinic
On Monday, January 31st, Kaiser will be moving its vaccination clinic from our 2350 Geary Blvd tent to 2675 Geary Blvd in City Center. The new location will be right behind Target. This new 10,000 square foot space will allow Kaiser to increase their capacity to provide COVID-19 vaccines and boosters along with flu shots to our members and the community at large.  Hours initially will be 8:30 am to 4:30 pm Monday through Friday. 

For more information and updates, visit Kaiser Permanente's website here.
San Francisco Redistricting

Let your voice be heard at the upcoming Redistricting Task Force meetings! Tune into the San Francisco Redistricting Task Force Meetings to hear updates and provide feedback on where district lines should be drawn. Upcoming meetings will focus specifically on communities of interest in and around specific districts, and you can view the schedule here.

The Task Force has heard feedback about the proposed schedule and will consider amending the dates at their next meeting. Please stay tuned by checking the meeting details here. Each District's lines impact another, so we encourage you to tune in and provide comment.
 
Lunar New Year Poster Competition

On Lok and Community Youth Center (CYC) have partnered to organize the 2nd Lunar New Year poster design contest. Through this activity, the organizations hope to continue to remind young people of the importance of caring for the elderly, especially on special festivals, they may feel more lonely or need more care from others. On Lok and CYC hope to continue to make a contribution to continue to promote the importance of caring for the elderly in the community. 

If you have any questions contact Karine Su at 415-738-0607 or ksu@onlok.org.

 
SDA Survival School Classes

Senior and Disability Action is having its first 2022 Senior and Disability Survival School classes in February. In this online Pandemic Edition Survival School in Chinese and English, we will cover topics on COVID, technology, food, transportation, housing, mental health, and home services. Join us to strengthen your advocacy skills and meet service providers to get your questions answered. To register, please contact Dasom at dasom@sdaction.org and call 415-546-1333. Classes will be held on Zoom on Wednesdays and Fridays: February 2nd and 4th, 9th and 11th, 16th and 18th.

請記下耆英和傷健人士2022年的生活須知日期,開始新的一年。在此網上的流行病特輯生活須知講習會中,我們將討論新冠病毒,科技,食物,交通,房屋,心理衛生和住家服務等項目。請加入和我們一起,加強你的倡議能力和認識回答大家問題的服務者。登記請聯絡 dasom@sdaction.org 或來電 415-546-1333。講習會用Zoom於網上在星期三和星期五舉行:2月2日和4日,9 日和11日,6日和18日。
Legal Services for Small Businesses

The Lawyers' Committee for Civil Rights of the San Francisco Bay Area (LCCRSF) is hosting a virtual legal clinic to provide legal consultation to small women-led businesses on intellectual property matters. Spots are limited, so registration in advance is required. Please register here.

LCCRSF also provides legal services for entrepreneurs. Clients will need to complete an online application form here. 

Once the application form is submitted, LCCRSF staff will contact the client to schedule a 30 minute intake call in order to facilitate client/attorney matching. 
 
Get a Text, Not a Tow
This month, the San Francisco Municipal Transportation Agency (SFMTA) announced "Text Before Tow," a first-of-its-kind program where customers can sign up to receive a text message notification prior to having their vehicle towed.

This pilot program applies to four categories of tows: (1) parking more than 72-hours (2) blocked driveways (3) construction zones and (4) temporary no-parking zones such as special event or moving trucks. Peak-hour tow-away lanes, hazards, yellow or white zones and all other violations are not included. 

To sign up, visit here for more information.
 
SF Arts Commission Grants
The San Francisco Arts Commission (SFAC) recently released their Special Project Grant guidelines, which includes specific grant opportunities for District 1. The Special Project Grants program consists of one-time grants to address emerging needs within the arts ecosystem of San Francisco. Projects cover a wide range of arts activities related to neighborhood and/or community-based engagement and arts access. 

For more information or to apply for the grant, visit here. 
 
---
Board of Supervisors | District 1 | Connie Chan 陳詩敏
1 Dr. Carlton B. Goodlett Place, San Francisco, CA 94102
(415) 554-7410 | Fax: (415) 554-5163
---
You're receiving this email because you subscribed to our newsletter, signed in at one of our events, or contacted our office.
This email was sent by: City and County of San Francisco
1 Dr Carlton B Goodlett Place, San Francisco, CA, 94102 United States of America

Privacy Policy
---
Term
Elected November 3, 2020 for January 8, 2021 to January 8, 2025
---
Board and Committee Assignments
---
Contact Info
1 Dr. Carlton B. Goodlett Place
City Hall, Room 244
(415) 554-7410 - Voice
(415) 554-5163 - Fax
ChanStaff@sfgov.org