District 8
Rafael Mandelman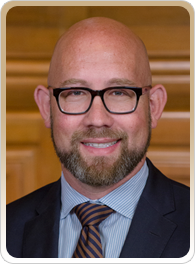 District 8

Supervisor Rafael Mandelman
represents District 8 on the San Francisco Board of Supervisors. District 8 includes the Castro, Glen Park, Noe Valley, Diamond Heights, and Mission Dolores. Supervisor Mandelman is the only LGBTQ member of the Board of Supervisors.  READ MORE
---
Phoenix Day (October 17th) was the perfect day for a birthday! I got to spend the day biking from block party to block party visiting neighbors across District 8. Thanks to Livable City for organizing these amazing events.
Though we recently re-entered the State's orange tier and COVID-19 cases are trending up across the Bay Area, our hospitalization rate remains relatively stable in San Francisco, thanks to our high vaccination rate.
 
This trend is an important reminder for those who are eligible to get their booster shots as soon as possible, and for those who have not been vaccinated yet to sign up today.
TESTING AVAILABILITY
All San Francisco residents and workers age 5 and older are eligible for the vaccine. For more information on eligibility, where to get the vaccine, and how to make an appointment, visit sf.gov/GetVaccinated.
 
Currently 89% of San Franciscans 12 and older have received at least one vaccine dose and 84% have completed a vaccine series. Getting these numbers as close to 100% as possible is the single most important thing we can do to put the pandemic behind us, so please encourage everyone you can to get their shot today.
---
MASK GUIDANCE
On October 15 San Francisco began easing mask requirements for indoor settings where stable cohorts of fully vaccinated people gather. This includes offices, gyms, college classes, and other organized gatherings of fully vaccinated people who meet regularly.
 
This is an important step forward that allows offices to return to more normal routines and interactions. More information about current mask guidance is available at sf.gov/Masks
---
TESTING AVAILABILITY 
If you feel sick, get tested right away, even if you're vaccinated. If you are unvaccinated and have a known exposure but no symptoms, get tested on or after day 6.

If you have health insurance, schedule a test with your doctor. If you have symptoms or a known exposure, your healthcare provider is required by law to get you a test.

Find out about your COVID-19 testing options: https://sf.gov/find-out-about-your-covid-19-testing-options. 
---
CITY EMPLOYEES RETURNING IN-PERSON
Welcome back to all the City employees who returned to work in-person on November 1, and thank you for your commitment to public service.
 
This wouldn't be possible without everyone at the Department of Public Health, Department of Emergency Management, and so many other City employees from different departments who came together to get San Franciscans vaccinated.
Have questions or concerns for the District 8 Office? Our next Office Hours will be on Sunday, November 14 from 9am-12pm at Higher Grounds Coffee House (691 Chenery St).
WHAT WE'VE BEEN WORKING ON
ADDRESSING OUR HOMELESSNESS CRISIS:
My office and I hear about the various encampments throughout District 8 on a daily basis from many of you, and I'd like to share some information about the work we're doing to address this crisis. I have prioritized this issue since taking office, leading the push to help those who are unable to help themselves, and introducing legislation last year that would establish a clear framework and mandate for the City to provide shelter for every homeless person within 18 months.

While this legislation has not yet received majority support at the Board of Supervisors, we are pushing every day to make it law. My office also forwards your emails about unsheltered people in distress to the Department of Public Health on a near-daily basis to push them to be more proactive in getting people into treatment and care. As part of our efforts to find creative solutions to homelessness, San Francisco will be opening our first set of 70 tiny homes at 33 Gough. This is an important step in the right direction, but we still need to do a lot more to guarantee a safe place for everyone who needs one.
---
INVESTIGATING ELECTRONIC MONITORING IN SAN FRANCISCO: My office has been investigating the use of electronic monitoring in San Francisco for several months and has found some concerning statistics . We have learned that one out of every three people on pretrial electronic monitoring in San Francisco removes their ankle monitor or commits other crimes, and they often fail multiple times. If one out of every three cells in our jail had broken locks we would do something about it. We must continue to invest in alternatives to incarceration—and we must ensure that those alternatives are effective so that we keep the public safe and break the cycle of recidivism and re-incarceration.

In July, I sent a letter of inquiry to the Sheriff requesting data on the effectiveness of electronic monitoring for the pretrial population. Given the concerning nature of the data we received in response, at the Board of Supervisors meeting on October 26, I requested an analysis from the Budget and Legislative Analyst to determine how these statistics and our use of electronic monitoring compare with other California jurisdictions. I have also sent a letter of inquiry to the Adult Probation Department to gather additional data on the effectiveness of post-sentencing electronic monitoring
---
HEARING ON IMPACTS OF INFRASTRUCTURE PROJECTS: Last month I called for a hearing on the City's process for notifying residents of major infrastructure projects, after hearing from constituents on Castro Street who were not informed their driveways would be inaccessible for up to ten days at a time during sewer replacement work. Not only were these residents cut off from their driveways without being warned, a public notice distributed by the contractor and the Public Utilities Commission explicitly stated that steel plates would be installed to provide temporary access.

I'm concerned that the mistakes made on this project reflect a pattern of disregard for residents, and the hearing will focus on implementing new best practices to ensure all affected parties receive timely, accurate information about projects that will restrict access to a public right of way. I would like to thank the residents of Castro Street for bringing this situation to my attention, and I look forward to identifying and implementing new policies to ensure this never happens again. If you would like to receive updates on this hearing or are interested in making public comment to share your experience with an infrastructure project that restricted access to a public right of way, email Jackie.Thornhill@sfgov.org
---
ALLOWING NEW BARS IN THE CASTRO: Many people would be surprised to learn that the zoning rules for the Castro actually prohibit new bars. On October 19, I introduced an ordinance that would change that after hearing from a local lesbian entrepreneur who was unable to open a wine bar in the neighborhood due to the current zoning. Under the ordinance, new bars would be allowed as a conditional use with approval from the Planning Commission. This would allow new business owners a chance to open in the Castro on a case-by-case basis. The ordinance is scheduled for a hearing at the Planning Commission on December 16 and would next go to the Board of Supervisors Land Use Committee in January
---
PROTECTING HOUSING SERVICES FOR LONG TIME TENANTS: On November 2, the Board of Supervisors unanimously passed my ordinance to strengthen protections for important tenant housing services like storage, laundry, and parking. The City's Rent Ordinance already prohibits the removal or reduction of these services without a just cause, but I learned of many cases in District 8 and around the City where tenants were being told they would have to lose these amenities to make way for new Accessory Dwelling Units, or ADUs, in their building. While ADUs are a good way to add housing to our neighborhoods, this should not come at the expense of existing tenants, especially longtime tenants and seniors in rent-controlled buildings who rely on these services and deserve to keep enjoying as part of their home. My ordinance adds notification requirements, provides tenants with a right to petition the Rent Board when an ADU project may reduce their housing services, and enhances the legal remedies for tenants whose services are wrongfully removed.
---
SUPPORTING CANNABIS BUSINESSES AND EVENTS: On October 26th, the Board passed my legislation allowing cannabis dispensaries & businesses participating in the City's amnesty program to operate through 2022, so they can continue to support the City's equity goals while the Office of Cannabis processes their permanent licenses. This legislation also extends the Cannabis Event Permit pilot program  through 2023. In 2019, I authored legislation to allow legal cannabis sales and consumption at temporary events. Last month, Grasslands was held at Outside Lands in Golden Gate Park for the second year as a part of this pilot program. This extension will allow safe, legal sales and consumption at temporary events like Grasslands to continue for two more years
---
URGING SOCIAL MEDIA COMPANIES TO MITIGATE HARM: On October 26, the Board of Supervisors unanimously passed my resolution calling on Facebook and other social media companies to take responsibility for the harmful effects of their products and improve transparency by publishing all internal research. The internal research revealed by Facebook Files whistleblower Frances Haugen includes a variety of disturbing findings, including that 32% of teen girls said when they felt bad about their bodies, Instagram made them feel worse. Among young people who reported suicidal thoughts, a full 6% of American teens traced the desire directly to Instagram. This March, the Center for Countering Digital Hate released a report titled the "Disinformation Dozen," which found that just twelve people are responsible for up to 65% of anti-vaccine content on Facebook, Instagram, Google, and Twitter. Yet a few minutes of searching reveals that seven of them still have active Twitter accounts. While we're lucky to have such high vaccination rates here in San Francisco, it's hard not to wonder how much higher they could be if these companies didn't facilitate the proliferation of such rampant misinformation.
DAVE'S PUBLIC SAFETY CORNER
Property crime and theft continue to be concerns in District 8 as we slowly emerge from the COVID-19 pandemic. Car break-ins, garage burglaries and retail theft are up district wide. It isn't all bad news though; we've had success helping neighbors and merchants reduce their likelihood of becoming victims. SF SAFE is our partner in this effort.

Simple things like lighting up your home's exterior at night and actively engaging with your neighbors go a long way in preventing burglaries. One example of this successful strategy is the 200 block of Sanchez Street, a block that had nearly a dozen break-ins and attempted break-ins at the height of the pandemic.

Neighbors organized, installed lights and cameras, and stayed in touch with one another. The break-ins all but stopped. As a nice benefit, these neighbors have a stronger sense of community. We all need to look out for each other. As your Public Safety Liaison for District 8, I'm happy to discuss these issues with you. You can email me at dave.burke@sfgov.org
MUNI SERVICE UPDATES: Starting November 1, SFMTA has temporarily suspended "short" line service on a few Muni lines due to a shortage of available operators in compliance with the vaccine mandate for City employees. There will be no cancellation of any Muni routes in response to staffing challenges associated with the city's vaccine mandate. Learn more about these service changes here, and see the current Muni service plan here.

2022 MUNI SERVICE PLAN: MTA is currently conducting outreach and developing options for its 2022 service plan, which would start in February. This service plan will be up for adoption by the SFMTA Board of Directors at a public hearing on December 7. This will also include options for several District 8 routes that are currently running on modified routes, including the J Church, 48 Quintara, and 35 Eureka. Find out how to provide input about these routes and learn more about the service plan here.

COUNTY TRANSPORTATION AUTHORITY: Last month at the County Transportation Authority, my colleagues and I approved $1.2 million for transportation safety improvements including safe access to schools, enhanced sidewalks and bike lanes in Potrero Hill, planning on Treasure Island, and a "road diet" project proposed by the Duboce Triangle Neighborhood Association. The "road diet" will reduce traffic speeds and make other pedestrian improvements on 14th Street between Divisadero and Sanchez, making it safer for parents and students to get to and from McKinley Elementary.

We also programmed $10 million in State funds for the next phase of MTA's train control modernization program, a major investment in the reliable and safe Muni rail network San Francisco deserves. And, we heard updates on transportation bills recently signed by the Governor, including AB 43 which will finally allow us to set local speed limits based on the safety needs of pedestrians and cyclists. This is a long overdue change in State law that will save lives and be a major boost to our Vision Zero goal of eliminating pedestrian fatalities in San Francisco by 2024.
Redistricting:
The Redistricting Task Force sets the City's Supervisorial districts following each federal decennial census. 

The next Task Force meeting will be at 6pm on Wednesday, November 17. You can send feedback to rdtf@sfgov.org and more information is available at sfelections.org/RDTF
---
Upcoming Neighborhood Meetings:
Eureka Valley Neighborhood Association. Thursday, November 18 at 7pm More info: https://evna.org/

Duboce Triangle Neighborhood Association. Monday, December 13 at 7pm More info: https://www.dtna.org/
---
Noe Valley Town Square Events: Upcoming events include Free Sunday Morning Yoga, Traditional American & Canadian fiddle tunes, and a Rhythm & Motion Dance Workout. Details at https://noevalleytownsquare.com/events
---
SFPD Station Community Meetings: District 8 has five different SFPD Stations whose jurisdictions are within our borders and our office works very closely with the Captains from each of those stations on specific issues impacting each neighborhood.

Each Captain hosts a monthly community meeting that you can join to share your concerns and ask questions. I encourage you to attend these meetings and find out more on the SFPD website.
---
Transportation Funding Plan Town Halls: The County Transportation Authority is preparing to ask San Francisco voters in 2022 to continue the existing half-cent transportation sales tax and approve a new 30-year investment plan, also known as the Expenditure Plan. This plan will determine how we invest sales tax dollars to improve transportation across the city. Learn more, sign up for upcoming virtual town halls, or take a survey to share your transportation priorities here.
---
Meals on Wheels Volunteer From Home Opportunity: The Thanksgiving holiday is just around the corner and Meals on Wheels San Francisco is looking for your help to craft holiday cards to brighten the day for thousands of our home-bound older San Franciscans!

Now through November 22, when you craft a special holiday card, you'll be entered into a weekly drawing for a chance to win a freshly baked pumpkin pie made from scratch in Meals on Wheels' new kitchen in the Bayview! More importantly, your personal messages and greetings will mean the world to a senior who may be alone for the Thanksgiving holiday.

Details on how to craft and mail in your cards can be found here: https://mowsf.salsalabs.org/thanksgiving2021/index.html
---
New First Year Free Program for Small Businesses: On November 1, San Francisco launched a new First Year Free program, an innovative pilot that waives first-year permit, initial license, and initial business registration fees for new small businesses.

To qualify for First Year Free, a business must open a new ground floor commercial location between November 1, 2021 and October 31, 2022. Only small businesses with less than $2 million in San Francisco gross receipts are eligible, and the program is not applicable to formula retail locations.

To learn more about First Year Free, visit: sftreasurer.org/FirstYearFree.
---
Community Challenge Grants: Applications are now open for the 2022 Grant Cycle! Since 1991, the Community Challenge Grant/Neighborhood Beautification Fund of the City and County of San Francisco has partnered with hundreds of community organizations to implement small to medium scale improvements throughout San Francisco's neighborhoods.

Learn more about Community Challenge Grants and how to apply: www.sfccg.org
---
Free Composting Pails: Feeling gassy? Bloated landfills are a common cause. The cure? Composting at home.
When you throw away kitchen food scraps and other compostable items they go into landfills. There, they create tons of harmful methane gas. This adds to the climate crisis.

So don't trash your food. Email customerservice@recologysf.com to request a free composting pail, and learn more at sfenvironment.org/SFGasRelief
San Francisco Retailer Forced to Change Hours Due to Excessive Theft, Fourth Chain to Do So

Newsweek, November 2

"It's an equity problem," Mandelman explained. "There's a lot of low-income folks, seniors, folks with disability, who rely on that Safeway and other Safeways around the city."

S.F.'s Castro Safeway closing early because of 'out of control' shoplifting

San Francisco Chronicle, October 30

Mandelman said theft at the Safeway at 2020 Market St. has been "out of control" and that he recently met with Safeway representatives "to better understand the issues at this store." He said he also planned to meet with the San Francisco Police Department and the office of San Francisco District Attorney Chesa Boudin "to see what is currently being done to deter theft at Safeway, and to figure out a plan to do better."
S.F. makes it harder for landlords to convert public spaces into ADUs
San Francisco Chronicle, October 26

"Keeping longtime San Franciscans in their homes is a top priority for me," said Mandelman. "The purpose of this ordinance is to make clear that in San Francisco it's not OK to take away things like storage, parking, or laundry that tenants have relied on for years and have the right to continue enjoying as part of their home."
Mandelman introduces legislation to allow more bars in LGBTQ Castro distric

Bay Area Reporter, October 19

"It doesn't seem right or fair to totally preclude new folks, especially queer women, trans people, and people of color, from opening up in the neighborhood, and especially given the high level of commercial vacancies in the neighborhood," Mandelman stated. "The ordinance I introduced today would allow new alcohol-serving establishments to be permitted on a conditional case-by-case basis moving forward."
After the storm: How San Francisco utilizes rainwater

San Francisco Examiner, October 27

"As the climate crisis worsens, there is no doubt that increased water reuse and recycling from all sources, including rainwater when it's available, will be necessary for our survival," Supervisor Rafael Mandelman, who has been particularly vocal about the issue, said in a statement.
S.F. uses ankle monitors to keep defendants out of jail. But does the system work?

San Francisco Chronicle, October 20

"[T]he data on the overall failure rate—requested by Supervisor Rafael Mandelman—prompted [Mayor London] Breed to take action."
City employees face months-long wait time for mental health care
San Francisco Examiner, October 21

Supervisor Rafael Mandelman called the wait times "unacceptable."

"It is true that this is a problem that is bigger than Kaiser, but Kaiser is a huge actor in this space and I think we look to Kaiser to help figure out how to solve this and actually be a leader in solving it. And I remain concerned after this hearing that we're not there and Kaiser needs to do more," he said.
San Francisco Reverses Ban On Collecting Data On Sexual Orientation Of City Workers

CBS Bay Area, October 19

Back in June, however, Supervisor Rafael Mandelman and Mayor London Breed jointly introduced an ordinance to amend the administrative code so that the city can begin collecting the voluntary data with the intention of ensuring visibility and representation for the LGBTQ community among the city's workforce, which is about 37,000 employees strong.

"LGBTQ City employees drive our buses, fight our fires, and clean our streets," Mandelman said. "This legislation will help us to identify and address the needs of these employees and ensure that we are supporting and expanding San Francisco's LGBTQ workforce."
Bay Area Paves the Way for Building Electrification Ordinances Across California

Sierra Club Yodeler, October 27

To combat this challenge, San Francisco Supervisor Rafael Mandelman, who spearheaded the ordinance to require all-electric buildings for new construction, also brought forth a water reuse ordinance — a win-win for conservation and job creation. This September, the San Francisco Board of Supervisors passed this ordinance unanimously. "This ordinance will more than double the amount of water that new large buildings are required to collect and re-use on site and direct the [Public Utilities Commission] to come up with a plan for expanding the City's supply and use of recycled water," said Mandelman.
San Francisco health department faulted on LGBTQ data collection at hearing

Bay Area Reporter, October 21

Since being elected to the board in 2018, Mandelman noted there have now been three hearings before the supervisors about the various departments' SOGI data collection efforts.

For the most part, he observed, all have made progress during that time with some doing markedly better in gathering LGBTQ demographic information and using the data to better target services to, or increase resources for, the LGBTQ community. A key takeaway, he said, has been that "programs that do not specifically serve the LGBTQ community generally underserve the LGBTQ community."
Castro awaits spooktacular Halloween

Bay Area Reporter, October 27

"Celebrating Halloween in the Castro is a San Francisco tradition," Mandelman stated. "We know that people are excited to dress up and have a good time in the Castro's bars and restaurants this weekend, and I hope that everyone will enjoy themselves in ways that are COVID-safe and respectful of the neighborhood."
 
This email was sent by: City and County of San Francisco
1 Dr Carlton B Goodlett Place, San Francisco, California, 94102 United States

Privacy Policy
---
Term
Elected June 05, 2018 for term July 11, 2018 to January 08, 2019

Elected November 06, 2018 for term January 08, 2019 to January 08, 2023
---
Committee and Board Assignments
---
Contact Info
City Hall
1 Dr. Carlton B. Goodlett Place, Room 244
San Francisco, Ca 94102-4689
415-554-6968 (phone)
415-554-6909 (fax)
mandelmanstaff@sfgov.org