District 8
Rafael Mandelman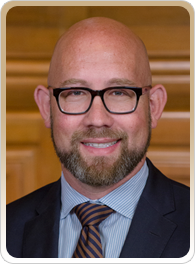 District 8

Supervisor Rafael Mandelman
represents District 8 on the San Francisco Board of Supervisors. District 8 includes the Castro, Glen Park, Noe Valley, Diamond Heights, and Mission Dolores. Supervisor Mandelman is the only LGBTQ member of the Board of Supervisors.  READ MORE
---
D8 Newsletter - June 2021
Last month I joined the Street Crisis Response Team for a ride-along with Chief Simon Pang. A program like the SCRT was a recommendation of the the 2019 Meth Task Force, which I co-chaired, and there is now a team that serves the Mission and Castro/Upper Market providing a non-police response to people in behavioral health crisis.
After being closed to the public for almost 15 months, City Hall, and my office, will reopen on Monday, June 7th! We are also still accessible by email and voicemail every day.

Please don't hesitate to reach out via email, at

mandelmanstaff@sfgov.org

 or phone at (415) 554-6968
.
Have questions or concerns for the District 8 Office? 
Our next Virtual Office Hours will be Saturday June 12th from 10am to 12pm. Email mandelmanstaff@sfgov.org to request a 10 minute appointment.
Appointments are on a first come first served basis. 
And stay tuned for inforumation about the resumption of our in-person office hours in the coming months!
VACCINE AVAILABILITY  
As of this writing 78% of San Franciscans over 12 and 71% of all San Franciscans have received at least one dose of the COVID vaccine. 

All San Francisco residents, workers, and students who are 12 years and older are eligible for the vaccine. For information on where to get vaccinated, visit https://sf.gov/covid-19-vaccine-san-francisco. You can also call the CA COVID-19 Hotline at 1-833-422-4255 Monday to Friday, 8 am to 8 pm, and Saturday and Sunday, 8 am to 5 pm, to make an appointment. 
WHAT WE'VE BEEN WORKING ON
Joining Mayor Breed, Habitat for Humanity and Diamond Heights community leaders to break ground on 8 affordable homes for purchase at 36 Amber Drive
BUILDING AFFORDABLE HOUSING IN D8
: Getting affordable housing built in District 8 has been one of my highest priorities. On May 19th, we broke ground on a new Habitat for Humanity affordable homeownership project
.
The project includes eight 2- and 3-bedroom family units in a set of townhome style buildings.
Thank you to MOHCD for working creatively with my office to secure the funding for this project. And the search for more sites and funding continues...  
---
EXPANDING HOUSING OPPORTUNITIES:
We should be making it easier to build modestly-sized housing for middle income San Franciscans in neighborhoods across the City. That is why I introduced legislation on May 18 to begin to loosen the density controls that currently restrict housing production in many of our city's neighborhoods and most of its land area by allowing development of up to four units on corner lots in all RH districts. I have not given up on a broader fourplex proposal and in the coming weeks I plan to introduce a separate ordinance that would allow fourplexes in all RH zoning districts. That change, however, will require a full EIR, which will most likely mean the Board of Supervisors will not be voting on it much before the end of 2022. I am hoping the Board can enact my corner lots ordinance this year.  
---
OPENING DISTRICT 8'S FIRST BEHAVIORAL HEALTH NAVIGATION CENTER: Since I joined the Board of Supervisors nearly three years ago, I have been working hard to open a behavioral health navigation center in District 8 to meet the needs of unhoused people struggling with mental illness and substance use and improve conditions in our neighborhoods. With the opening of 1156 Valencia Street on Tuesday, May 18th, District 8 is now home to the first-ever community-based Hummingbird Navigation Center!

The Valencia Community Hummingbird provides 26 to 30 beds, supportive services, and a path to stability and wellness for unhoused people from the surrounding community. These beds represent one more step toward meeting the City's acute need for exits from the streets, emergency rooms and jail for unhoused people with behavioral health needs. The Hummingbird model is a proven concept and we need many more of them. Thank you to Mayor Breed, the Department of Public Health, Salvation Army, PRC Baker Places, and Tipping Point for their work to open a Hummingbird in District 8.
---
PROTECTING RESIDENTIAL CARE FACILITIES: 
If we are serious about ending homelessness for seniors and people with disabilities, we need residential care facilities. On May 11th I introduced legislation that will help stop the further loss of existing facilities and make it easier to add new residential care beds in San Francisco. These facilities provide stable housing and essential care for elderly San Franciscans and those living with disabilities and chronic illness, including mental illness and addiction.  
---
WATER REUSE AND RECYCLING:
Prolonged drought is our new normal in California.
Even as we accelerate our path toward a zero-carbon future, we must prepare now for the reality of extreme water scarcity that we know is being driven by climate change. To ensure that San Francisco is doing our part, I introduced legislation on May 11 to expand existing requirements for on-site water reuse in new large residential and commercial buildings. This ordinance will also direct the SFPUC to prepare a plan for further expanding the City's supply of recycled water.
---
SUPPORTING SMALL BUSINESSES WITH SMASHED WINDOWS: 
Paying to fix smashed windows multiple times a year should not be normalized as another cost of doing business, another crime tax paid by San Francisco's small businesses and residents. I introduced legislation on May 25 requiring the City to provide reimbursement to qualifying small businesses for the cost of repairing or replacing storefront windows broken as a consequence of vandalism or burglary. Thank you to the Castro Merchants, and especially Castro small business owners Dave Karraker and Miguel Lopez, for championing the issue and demanding the City do better.  
---
HEALTHCARE FOR AIRPORT WORKERS:
On May 20 I held a hearing on egregious violations of the Healthy Airport Ordinance (HAO), which I authored with Supervisor Shamann Walton last year and which requires employers at SFO to provide airport service employees free, high quality family health care. Airline catering contractor Sky Chefs is denying HAO-required health care to as many as 300 workers by moving their jobs to San Jose, and is obstructing an investigation into its actions by the San Francisco Office of Labor Standards and Enforcement. 
---
MAKING HISTORY AT THE LYON-MARTIN HOUSE:
In May, we took a historic step to honor the legacies of LGBTQ icons Phyllis Lyon and Del Martin when the Board of Supervisors voted unanimously to support my ordinance granting local landmark status for their longtime home in Noe Valley. This will be the first site in San Francisco specifically recognizing the history of the lesbian community, a step that is long overdue. I'm proud to have initiated this process, and grateful to the local and national advocates who have championed this effort. 
---

QTAPI WEEK: San Francisco is the first city in the country to honor our Queer and Trans API (QTAPI) community with a designated week of celebration and recognition! On May 18 my colleagues unanimously supported my resolution to declare the week of May 22nd through May 29th, 2021 as Queer and Transgender Asian and Pacific Islanders Week in San Francisco. Amid a spate of heinous anti-AAPI attacks in San Francisco and around the United States, and with state legislatures across the country targeting the LGBTQ+ community, QTAPI Week sends a strong message of support and solidarity to QTAPI people everywhere. Thank you to the Bay Area QTAPI Coalition for all of their work to create the first ever QTAPI Week here in San Francisco.
 
MAY SERVICE UPDATE: Starting May 15, SFMTA reopened the Market Street subway including rail services on the N and KT lines. The F line streetcars also returned to Market from Fisherman's Wharf to the Castro. The MTA has also launched a 36/52 Special bus route, restoring partial service to residents in Glen Park, Diamond Heights, Forest Hill, Miraloma, and Sunnyside. See the route and schedule for this route here. 
 
AUGUST SERVICE PLAN: The MTA announced that the next round of service restorations planned for August will include the long-awaited return of the 35 Eureka, as well as modifications to the temporary 48 Quintara route to address street safety impacts along Clipper, and the restoration of the full 52 Excelsior and 36 Teresita lines. 
 
The Essential Trip Card (ETC) provides subsidized taxi rides for seniors and people with impaired mobility while COVID Muni service reductions remain in place. ETC users can add a one-time value to the card to cover the cost of getting to and from vaccine appointments, and additional monthly rides are now available to qualifying cardholders. Find out more here. 
 
Slow Streets have been a popular way to get outside and make essential trips during the pandemic. MTA is now considering the Sanchez Slow Street as one of the first segments to be included in a possible permanent network (more here), and outreach to surrounding neighbors is underway now, including a virtual open house that will run from June 2-11. Find out more about the program and how to participate here.
Fourplexes could be coming to S.F. corner lot near you, if new legislation passes
"The legislation, introduced by Supervisor Rafael Mandelman, would apply on corner lots in the 60% of the city that currently excludes multifamily buildings...Mandelman said that he still plans on sponsoring a citywide legislation to legalize fourplexes, but that it makes sense to do that next year after the city's long-range "housing element" plan is complete."

(San Francisco Chronicle, May 18)
S.F. treatment center for homeless and mentally ill finally opens in Mission after year of delays
"These beds represent one more step toward meeting the city's acute need for exits from the streets, emergency rooms and jail for unhoused people with behavioral health needs," Supervisor Rafael Mandelman, whose district includes the site."

(San Francisco Chronicle, May 18)
SF taps Openhouse, Mercy for new housing aimed at LGBTQ seniors
"Gay District 8 Supervisor Rafael Mandelman told the B.A.R. moving the project forward has been one of his top priorities over the last 18 months, so it is "an exciting milestone" to have the development team selected ahead of Pride Month.

"Mercy Housing and Openhouse have the right experience building LGBTQ-welcoming affordable senior housing at 55 and 95 Laguna to get this next phase done," stated Mandelman. "With this building, they will have brought 250 LGBTQ-affirming affordable senior units to a neighborhood from which far too many queer seniors have been displaced. The need for this type of housing is vast, but these buildings are a solid start."

(Bay Area Reporter, May 25)
Amid drought concerns, S.F. supervisor wants new large buildings to recycle and use less water
"We don't know how long this particular (drought) will last, but we do know that climate change is going to make water, which is already a scarce resource in the west, an even scarcer resource," Mandelman said in an interview. "It's incumbent, as we go forward, for San Francisco, as a progressive city, as an environmental city, to be doing everything we can to minimize water consumption."
(San Francisco Chronicle, May 11)
Supervisors blast S.F. for failing to provide drug treatment on demand in overdose crisis
'Supervisor Rafael Mandelman, who called the hearing, expressed frustration that the report seemed to say "that pandemic was rough, but otherwise, don't worry San Francisco, we got this. Approaching 1,000 overdose deaths a year, I don't think you've got this," he said. "If we're meeting demand, there's a problem, because we're not doing enough to increase demand."'
(San Francisco Chronicle,

 May 28)
San Francisco has a broken window epidemic. Small businesses want the city to help pay for repairs
"In my perfect world, we would be keeping our neighborhoods safe and our merchants wouldn't have to worry about someone with a behavioral health issue throwing a rock through their window, but that's not the world that we're in, that's not the city that we're in, and I think the city needs to take some responsibility for what these small businesses are dealing with," Mandelman said."
(San Francisco Chronicle,

 May 18)
S.F. is rapidly losing care facilities for the mentally ill and elderly. But a plan to save them is promising. 
"In October 2019, Mandelman sponsored temporary regulations that required a building owner to apply for special approval from the Planning Commission to demolish or convert an existing residential care facility to another use. Mandelman introduced an ordinance Tuesday to make the rules permanent and add measures that would put pressure on applicants to check if any entity is interested in running the building as a residential care facility. Mandelman also wants to expand the area where no special approval is needed to create or grow a facility."
(San Francisco Chronicle, May 14)
SF to mark nation's first LGBTQ API Week
"At the request of gay District 8 Supervisor Rafael Mandelman, who now represents the Castro neighborhood, the Board of Supervisors unanimously voted Tuesday, May 18, to adopt a resolution officially declaring May 22-29 as QTAPI Week in the City and County of San Francisco. He noted it was fitting for the city to be the one to establish such a week due to its being home to a number of LGBTQ trailblazing groups and individuals."
(San Francisco News, May 18)
City ordinance seeks to conserve water supply, expand recycled water amid statewide drought conditions
"Mandelman's proposed ordinance would expand the city's 2012 Non-Potable Water Ordinance that requires the collection, treatment and reuse of graywater, which comes from showers and bathroom sinks for non potable uses like toilet and urinal flushing and irrigation in large buildings. It would also require large commercial buildings to treat and reuse black water from toilets and kitchen sinks and expand the required use of treated graywater in residential and mixed-use buildings to include laundry rooms."
(San Francisco Examiner, May 14)
Mission facility could be SF's latest in a string of board-and-care losses
"The rate at which we are losing these things are alarming," Mandelman said. "Land use alone is not going to fix it. We need a comprehensive response and, I think, we need the political will to pursue it."
(San Francisco Examiner, May 25)
San Francisco landmarks famed lesbians' residence
"Phyllis Lyon and Del Martin were queer activists before queer activism was a thing. The modern LGBTQ rights movement is built on the foundations laid by these women and their contemporaries, and it is fitting that their home is the first San Francisco historic landmark dedicated to lesbian history," Mandelman told the Bay Area Reporter. "They shared this home for more than half a century and it has clear historic value that should be preserved and celebrated. Early LGBTQ leaders like Phyllis and Del changed the world for the generations of queer people that would follow."
(Bay Area Reporter, May 4)
S.F. is about to see a wave of affordable housing projects bring 900 homes to the city
"This is a big deal for District 8," said Supervisor Rafael Mandelman. "I've encouraged them to go as big as they can and get as many units as possible."
(San Francisco Chronicle, May 28)
Upcoming Neighborhood Meetings:

Duboce Triangle Neighborhood Association. Monday, June 14th from 7-8:30pm
More info: https://www.dtna.org/

Corbett Heights Neighbors
June 14th 
More info: https://www.corbettneighbors.com/

Eureka Valley Neighborhood Association. Thursday, July 22nd at 7pm
More info: https://evna.org/
 
---

SFPD Station Community Meetings: District 8 has three different SFPD Stations whose jurisdictions are within our borders and our office works very closely with the Captains from each of those stations on specific issues impacting each neighborhood.

Each Captain hosts a monthly community meeting that you can join to share your concerns and ask questions. I encourage you to attend these meetings and find out more on the SFPD website.
 
---
Permanent Sanchez Slow Street - Virtual Community Meeting June 2-11: MTA has announced a second virtual open house for the Permanent Sanchez Slow Street starting June 2. Details on how to access the open house, learn about the efforts, and provide feedback on the proposed design can be found here. The virtual open house and commenting period will run until June 11, 2021.
 
---

Harvey Milk Plaza Community Meetings: The conversation around the memorial at Harvey Milk Plaza continues, the Friends of Harvey Milk Plaza have been listening to the community and working on designs. 
 
Preliminary designs will be presented and discussed on June 23rd and 24th.  Learn more and register online. 
---

Emergency Rental Assistance Program Launches: San Francisco's Emergency Rental Assistance Program will be launching on May 28th. Check out sf.gov/renthelp for more information about the program and community resources. Applicants who need help with submitting their application can contact San Francisco Anti-Displacement Coalition or call 311. 
---

Help Stretch Our Water Supply: This is the second dry year in a row for California, and we must continue to do what we can to make the most of our water supplies in case this dry trend continues. The San Francisco Public Utilities Commission is asking San Franciscans who are able, to please be more efficient with your water use.  SFPUC offers lots of resources to help you use less water both indoors and out. Utilize the SFPUC's free Water-Wise Evaluations, rebates and incentives, and free toilet program. Please feel free to contact the SFPUC's Water Conservation Team at waterconservation@sfwater.org, sfpuc.org/savewater or by calling 415-551-4730.
 
---
Host Homes:
Do you live in SF and have a spare bedroom or private space that can be turned into a bedroom? The San Francisco LGBT Center's
Host Homes
Program matches San Francisco volunteer hosts with young adults (ages 18 to 24) who need stable housing for a period of three months to one year. During this time, the young adult pursues their education and employment goals alongside support from our case management team, and is then positioned to find their own housing after the program period ends. The young adult participants have previously experienced unstable housing situations like couch surfing, sleeping in cars, and living in non-affirming households.

To learn more about the program and hear participants' stories, please register here to attend a virtual information session. For more information about hosting or to connect with a current volunteer, contact us at hosthomes@sfcenter.org or 415-852-2059.
---
This email was sent by: City and County of San Francisco
1 Dr Carlton B Goodlett Place, San Francisco, California, 94102 United States

Privacy Policy

             
---
Term
Elected June 05, 2018 for term July 11, 2018 to January 08, 2019

Elected November 06, 2018 for term January 08, 2019 to January 08, 2023
---
Committee and Board Assignments
---
Contact Info
City Hall
1 Dr. Carlton B. Goodlett Place, Room 244
San Francisco, Ca 94102-4689
415-554-6968 (phone)
415-554-6909 (fax)
mandelmanstaff@sfgov.org