District 8
Rafael Mandelman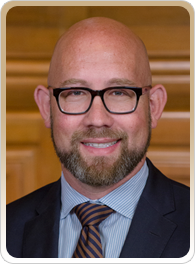 District 8

Supervisor Rafael Mandelman
represents District 8 on the San Francisco Board of Supervisors. District 8 includes the Castro, Glen Park, Noe Valley, Diamond Heights, and Mission Dolores. Supervisor Mandelman is the only LGBTQ member of the Board of Supervisors.  READ MORE
---
Thanks to everyone who marched with us at the first SF Pride Parade and Celebration since 2019! At a time when queer people are increasingly threatened, it was an honor to celebrate and stand up for the diversity of our LGBTQ+ community. 
WHAT WE'VE BEEN WORKING ON
A NEW CITY BUDGET: On June 27, the Budget and Appropriations Committee unanimously approved the City's budget for the next two fiscal years. 

My office worked to secure funding for public safety initiatives to address SFPD's growing officer shortage, including recruitment and retention bonuses and new academy classes. While I strongly support these investments, even if we succeed at filling all of our newly funded academy classes, we will still have fewer officers than we did in 2018 for many years to come. I'll continue working in future budget cycles to advance important public safety priorities.

This budget also includes expanded funding for the street-based outreach teams that engage with unsheltered and unwell residents as alternatives to SFPD, including EMS-6, Street Crisis Response Team (SCRT), Street Overdose Response Team (SORT), Street Wellness Response Team (SWRT), and Homeless Outreach Team (HOT). These non-police outreach teams engage with high utilizers of 911 & EMS, people experiencing homelessness, and people experiencing behavioral health crises to stabilize and help connect them to services. 

My office also helped fund over $6.5 million to end trans homelessness, $6 million to preserve HIV prevention and treatment services, $2.6 million to implement the City's Climate Action Plan, and $1 million for HIV/AIDS housing subsidies. And we secured over $1 million worth of funding for neighborhood level priorities. These District 8 budget wins include funding for street activations and events, new street trees and sidewalk gardens, a new turf field at James Lick Middle School, and bulbout improvements in Duboce Triangle.

FINDING A PATH FORWARD ON HOUSING LEGISLATION: More than two years ago I set out to allow small apartment buildings in neighborhoods across San Francisco. I did not support or agree with many of the amendments made to my "fourplex" ordinance as it made its way through the long legislative process. But at the end of the day, I believe that the measure the Board passed on July 12 represented an important, though incremental, step in the right direction. This was a historic move to eliminate single-family zoning in San Francisco and to create a path for multi-family apartments in every neighborhood, which have not been allowed in many parts of our city since the 1970s. 

Unfortunately, Mayor Breed disagreed and vetoed my legislation. On Tuesday, July 26, the Board of Supervisors fell one vote shy of the supermajority needed to overturn Mayor Breed's veto. I was disappointed in this outcome. We can't rely on the State to fix our housing shortage for us. I believe local leaders can and must come together to address our housing crisis, and I will continue to try to find consensus at City Hall for serious and smart action to meet San Francisco's pressing housing needs.

SAVING LAGUNA HONDA HOSPITAL: On July 21, the Government Audit and Oversight Committee held a hearing on the crisis at Laguna Honda Hospital caused by the federal Centers for Medicare & Medicaid Services initiated closure plan and forced resident transfers. At the hearing I agreed that this is a tragic and ultimately unnecessary crisis. An accrediting body is forcing bad outcomes at the local level without taking responsibility for those outcomes. Reports have emerged in recent weeks of patients who died within days of transfer, or were shipped off to far away counties away from their loved ones, or were released to homeless shelters, one step away from living on the streets. In response, I co-cosponsored a resolution to demand that federal and state leaders step in to save the nation's largest skilled nursing facility. Laguna Honda must stay open as we work to solve the shortage of skilled nursing beds in San Francisco and across the region.
A MORE AGGRESSIVE MONKEYPOX RESPONSE: Coming out of the COVID-19 pandemic, we are acutely aware of how communicable diseases can spread exponentially, particularly without adequate community outreach, precautions, and most importantly, vaccinations. Yet our national response to the monkeypox virus has been remarkably flat-footed. That's why, on July 21, I convened a hearing at the Board of Supervisors to educate the public about how to avoid contracting & spreading the virus, better understand vaccination efforts, and encourage our public health leaders to do everything they can to address this latest challenge.

On Tuesday, July 19, the Board adopted a resolution I authored calling on federal agencies to accelerate the purchase and distribution of monkeypox vaccines. Our federal government, which managed to fully vaccinate over 40 million people for COVID-19 just three months after the first shots were administered, is only planning to fully vaccinate 3 million people for monkeypox by the end of 2023. This is an abysmal goal considering at least 5.9 million gay and bisexual men and trans people live in the U.S. This should be a preventable public health crisis—unlike COVID-19, we did not have to wait for new vaccines to be developed, and unlike COVID-19, monkeypox does not seem to spread effectively through respiratory droplets. Yet here we are, with cases rising, vaccines sparse, and urgent action by our federal public health institutions absent. Local officials, healthcare providers, and community activists are left to beg for an adequate response — the response monkeypox would have received if it didn't primarily affect queer people.

REIMAGINING HARVEY MILK PLAZA: On June 28, the Board approved a measure that I brought forward with Mayor Breed and Supervisor Dorsey to accept state funds for the memorial at Harvey Milk Plaza , a long overdue redesign of this iconic public space. These funds will help provide a new gathering space for the Castro community and honor the legacy of Harvey Milk and the LGBTQ rights movement while improving safety, accessibility and the transit experience at Castro station. Thanks to the Friends of Harvey Milk Plaza for advancing this vision for a reimagined gateway to the Castro and Sen. Scott Wiener for securing this state funding. 
Photo Credit: HarveyMilkPlaza.org
A MUCH-NEEDED TOOL FOR SOLVING OUR DRUG OVERDOSE CRISIS: On June 23, the City opened San Francisco's first drug sobering center. The SoMa RISE (Recover, Initiate, Support, and Engagement) Center will serve as a safe indoor space for people who are intoxicated with opioids, methamphetamines, or other substances to come in off the streets, rest and stabilize, and get connected to care and services. Opening a sobering center was the top recommendation of the Methamphetamine Task Force I co-chaired in 2019, and I am glad to see that recommendation finally become a reality. This is an important milestone in the City's efforts to address the addiction crisis on our streets, and I look forward to continued partnership with the Mayor and Department of Public Health to accelerate our progress.
TRANSPORTATION AUTHORITY CHAIR'S REPORT
SAFER STREETS: In June, the Transportation Authority held two hearings focused on the alarming rate of traffic-related deaths and injuries on San Francisco streets. Last year, 27 people died in traffic collisions and so far this year 11 pedestrians have already lost their lives. We are now on track for one of the most deadly years for traffic violence in recent memory. This sobering reality is an important reminder that we have to seriously step up our commitment to street safety. 
MONKEYPOX: Monkeypox is a virus that spreads through prolonged skin to skin contact, sex, kissing, breathing at very close range, or sharing bedding and clothing. Having sex or close physical contact with multiple people can put you at higher risk for monkeypox, and cases have been concentrated among gay, bisexual, and transgender men who have sex with men.

The San Francisco Department of Public Health (SFDPH) recently released a new FAQ on how to avoid exposure to Monkeypox, how to know if you've been exposed, and when you're eligible to get vaccinated or tested. 

For the latest information on the City's monkeypox response, visit: http://sf.gov/monkeypox
---
MONKEYPOX VACCINATIONS
When SFDPH has enough supply, the Jynneos Monkeypox vaccine is available by appointment at clinics throughout the city, including at Kaiser Permanente and UCSF.
People who live and work in San Francisco are eligible for a Jynneos vaccine:
Gay, bisexual, and other men or trans people who have sex with men, who have had more than 1 sexual partner in the past 14 days 
Sex workers of any sexual orientation or gender identity
Persons who have had close contact within the past 14 days with someone with suspected or confirmed monkeypox 
Persons who had close contact with others at a venue or event or within a social group in the past 14 days where a suspected or confirmed monkeypox case was identified. This includes persons who received notice from a venue or event of a potential exposure within the past 14 days
Laboratory workers who routinely perform monkeypox virus testing
Clinicians who have had a high-risk occupational exposure (e.g., examined monkeypox lesions or collected monkeypox specimens without using recommended personal protective equipment)
---
VACCINE SITES
The following locations have supplies of Jynneos vaccine by appointment only:   
San Francisco City Clinic patients: call 628-217-6600 
Strut patients: call 415-581-1600 
Kaiser-Permanente patients: call 415-833-9999 
SF Health Network patients: call your specific clinic, or 415-682-1740
Adult Immunization and Travel Clinic (AITC) patients call: 415-554-2625
Apply to Host a Neighborfest Block Party Today – Check Out The Benefits! We're excited to announce that after a two-year hiatus, the Neighborfest Block Party Program is returning to District 8. 

Launched in 2016 by the City's Neighborhood Empowerment Network (NEN), Neighborfest offers residents a fun and meaningful way to connect with their neighbors and build safer, more resilient communities. 

Participants in this year's program will receive the largest suite of benefits yet. They include: 
Zero cost to hosts for street closure and sound permits    

Free, delivered street closure barricades  

Liability insurance     

Guest registration door prizes    

Door hangers for outreach    

An updated Playbook to guide the Host Committee's planning activities    

Live online orientation and host support workshops    

A dedicated program manager who provides end to end support for the application and event production process    
Slots are limited so visit the 2022 Neighborfest Program page. If you have any questions about the program, its benefits or eligibility, please contact Neighborfest@livablecity.org. 

JobsNOW! works for San Francisco residents. San Francisco Human Services Agency recently expanded JobsNOW! to help more people get back to work by providing job seekers with access to hundreds of employers and job opportunities. JobsNOW! matches San Francisco residents looking for jobs with open positions and reimburse employers when they hire our job seekers. Apply today to take advantage of the expanded opportunities. Call (877) 562-1669 or email applyforjobsnow@sfgov.org. 

San Francisco Public Trash Can Pilot. On July 18, San Francisco Public Works launched its public trash can pilot program. Prototypes of our next generation public trash cans will be on the street for real-life testing. Community members will have the opportunity to evaluate the cans and give input to inform the final selection. During the 60-day test period, custom and off-the-shelf models will be placed in neighborhoods around the City. Each prototype will have a QR code affixed to the exterior for residents to complete an online survey. Visit sfpublicworks.org/trashcanpilot for more information and to fill out the survey.

CleanCooridorsSF in Disctrict 8. CleanCorridorsSF is a special operation that deploys a large contingent of San Francisco Public Works street cleaners to a different neighborhood commercial district every Thursday to power wash and sweep the sidewalks, flush down the roadway and wipe out graffiti – a coordinated deep-cleaning blitz resulting in noticeable improvements to the cleanliness of the targeted area. 

On August 25, CleanCorridorsSF will be in District 8 at the following locations: astro from 19th Street to Market, 18th Street from Noe to Diamond, and Market from Castro to Dolores.

Aging and Disability Affordable Housing Needs Assessment. The San Francisco Department of Disability and Aging Services wants to hear from you! The department is currently gathering community input on the affordable housing needs of older people and adults with disabilities as part of the 2022 Aging and Disability Affordable Housing Needs Assessment. Visit sfhsa.org/housing to take the survey and register for a virtual or in-person community forum. Add your voice to this important process, and help improve affordable housing services for older people and adults with disabilities.

Upcoming Neighborhood Meetings

Eureka Valley Neighborhood Association. Thursday, July 28 at 6pm More info: https://evna.org/ 

Upper Noe Neighbors. Every other month on the third Wednesday at 7:00 at the Upper Noe Recreation Center. The next meeting is September 21. https://uppernoeneighbors.com/

Duboce Triangle Neighborhood Association. Tuesday, August 9 at 7pm More info: https://www.dtna.org/ 

Dolores Heights Improvement Club. Green Gardens group holds monthly clean-ups on the first Saturday of the month from 9am – 10:30am. More info: https://doloresheights.org/ 

Castro Art Mart is a monthly street fair on Noe Street between Market and Beaver the first Sunday of every month from 11am-5pm featuring LGBTQ art from local artists, live music, comedy and drag shows, and more. Learn more.

Noe Valley Town Square Events
Upcoming events at the Noe Valley Town Square include the Saturday Farmers Market and Free Sunday Morning yoga on July 31 . Details at noevalleytownsquare.com/events

Resilient Diamond Heights Survival Preparedness Event 
Saturday, August 6, Christopher Park

Resilient Diamond Heights (RDH) invites all to view disaster response equipment and supplies. Learn how to prepare your household for emergencies. Learn Diamond Heights plans and procedures for emergency response including where disaster supplies and the neighborhood shelter and support center are located. Hear about opportunities to organize your block for disaster response and opportunities to volunteer in an emergency.

Stop by anytime between 10:00 am and 12:00 noon on Saturday, August 6 at the events space at Christopher Park, 5210 Diamond Heights Blvd. For more information, contact Betsy Eddy at dhcasf@gmail.com.

Volunteer with the Diamond Heights Community Association
The DHCA is enlisting volunteers for varied community projects:
Work with the SFPD on crime prevention

Work with MTA on plans for the 52 and 35 bus line

Work on improving infrastructure needs and improving the neighborhood appearance

Organize an Adopt a Street program for trash pick up

Work with the Friends of Christopher Park and the SF Rec and Park Dept. on park needs

Work on plans to reduce fireworks and fire safety
Past DHCA accomplishments include retaining the Police Academy in Diamond Heights, concrete sidewalks along the length of Diamond Heights Blvd., stop signs at DH Blvd. and Diamond and advocated for the scheduled replacement of City water pipes. 

If you would like more information, contact Betsy Eddy at dhcasf@gmail.com. Learn more about the DHCA at www.dhcasf.org.

Diamond Heights Blvd. Median Project Workday, August 13
Join DHCA to help improve the appearance of Diamond Heights!

Date: Saturday, August 13 
Time: 9:00 a.m. to 12 noon - Joining for even an hour or two will make a difference! 
Location: Meet at St. Aidan's Episcopal Church on DH Blvd. at Gold Mine Dr.
Work: Pull weeds, trim grass, rake and pick up trash on the median islands  No gardening experience required. Tools and safety jackets will be supplied

The Median Project has been active since 2014 providing more attractive median islands for Diamond Heights.
How should San Francisco increase housing density?

San Francisco Examiner, July 27
San Francisco supervisors are going to have to decide who they disagree with more: each other or state legislators. After Mayor London Breed vetoed the Board of Supervisors' much-debated fourplex legislation, the supes will again contemplate how to increase housing development in residential neighborhoods.

The fourplex bill would have eliminated single-family zoning in The City and allowed up to four units of housing on any lot and up to six units on a corner lot. But Breed axed it, arguing it circumvented a state law meant to increase housing density.
Supes hear horror stories of Laguna Honda transfers — four dead

Mission Local, July 22
Patients being transferred or slated to transfer to a facility with bad reviews — not to mention being 30 miles away — also caused strife with the Board of Supervisors in Thursday's meeting. "To be turning folks out of [Laguna Honda] to far less careful institutions is abominable and awful," stated Supervisor Rafael Mandelman. "What is happening here is absolutely wrong."
 
SF DA Jenkins hires out staff, tours Castro neighborhood

Bay Area Reporter, July 20
San Francisco District Attorney Brooke Jenkins announced two new LGBTQ appointees to her growing management team and conducted a get-acquainted walking tour of Castro businesses with gay District 8 Supervisor Rafael Mandelman Tuesday.
Uber and Lyft must adopt measures to prevent sexual assaults, California regulator rules

Los Angeles Times, July 20
"The CPUC's action to standardize how Uber and Lyft are supposed to protect passengers from sexual assault and harassment is way overdue," Rafael Mandelman, a San Francisco supervisor and chair of the San Francisco County Transportation Authority, said in an email. "I hope this is a sign that the state is prepared to take these issues more seriously, sooner rather than later."
 
"It could have been preventable." SF Supervisor Rafael Mandelman says federal government failed in response to monkeypox outbreak

KRON 4, July 17
San Francisco Supervisor Rafael Mandelman sat down one-on-one with KRON 4 Anchor Stephanie Lin to discuss the rise in Monkeypox cases in the Bay Area, and the conversations happening between lawmakers and community groups to bring more vaccines to San Francisco.
SF leaders fear 'uncontrolled monkeypox spread' as frustration grows over federal response

ABC 7, July 14
San Francisco Supervisor Rafael Mandleman has been pushing agencies like the CDC to act faster in getting vaccines out to those that need them. But so far, he says the response from federal authorities has been lackluster. "Does it reflect an unacceptable level of indifference and maybe incompetence? I think so," Mandelman said
San Francisco officials discuss monkeypox response amid increase in cases

ABC 7, July 12
San Francisco Supervisor Rafael Mandelman and other community leaders are holding a press conference Tuesday amid an increase in monkeypox cases in the city. As of Tuesday, the total number of reported monkeypox cases in San Francisco residents has reached 60
Rise in Monkeypox Cases Prompts Calls for More Urgent Response

NBC Bay Area, July 12
Calls for a more urgent response to monkeypox are increasing as the rate of infections grows in California. The state has one of the highest infection rates in the U.S. with 148, according to the Centers for Disease Control and Prevention. On Tuesday, San Francisco Supervisor Rafael Mandelman and other community leaders are calling on health officials to lead a more aggressive vaccination campaign for at-risk populations
S.F.'s Japantown proclaims queer pride

Nichi Bei, July 6

Overall, there are "definitely some good wins in the budget," Mandelman said. In particular, he noted, "There are a lot of investments in the most vulnerable people in the community, with a real focus in trans folks in the mayor's budget and the board's budget too. I think that was also really good." Mandelman also secured $341,000 for various street activations and LGBTQ events held in the Castro and other neighborhoods he represents like Noe Valley and Cole Valley. 
Traffic deaths in San Francisco rise as citations plummet

SF Bay, July 5

Supervisor Rafael Mandelman, who chairs the the SFCTA, said at the meeting that the numbers so far in 2022 are not looking good: "In fact, with the year just halfway over, we've been averaging about one traffic related fatality per week. This is not good, and it's a strong signal. That we have to bring all the resources we can move in this trend in the opposite direction."
Bay Area health officials scramble to contain monkeypox outbreak

San Francisco Chronicle, July 3

"It will suck if monkeypox joins the list of STIs that people have to worry about," said San Francisco Supervisor Rafael Mandelman, who has called for a hearing this month to discuss the city's public health response to monkeypox. "We need to be moving quickly on vaccination and stopping the spread now."
Laguna Honda crisis reflects San Francisco's fragile health system

San Francisco Examiner, June 29

"San Francisco is being punished for addressing a need while everyone else has abandoned the field," Supervisor Rafael Mandelman said at a Board of Supervisors meeting on June 14. "This is some Kafkaesque nonsense."
Saying 'I do' at SF City Hall

Bay Area Reporter, June 29

Katelyn Dascomb-Tiojanco, left, and Monica Tiojanco happily embraced following their marriage ceremony Friday, June 24, at San Francisco City Hall that was officiated by gay District 8 Supervisor Rafael Mandelman. The City Administrator and clerk's offices opened up additional spots for wedding ceremonies at the start of Pride weekend.
The Supervisors Have Ended Single-Family Zoning

SFist, June 28

⁠The SF Board of Supervisors voted 6-4 Tuesday to approve Sup. Rafeal Mandelman's four-plex legislation, which effectively ends new homes being classified as single-family homes.
'Pride started with a protest': Abortion ruling reminds LGBTQ people why they march in S.F.

San Francisco Chronicle, June 26

"The fact that we're doing this reminds us that for many years we were getting decisions out of the Supreme Court that were expanding rights and creating hope for people," Mandelman said just a few minutes before he was set to officiate a ceremony. "So it's especially awful to receive that news now." … "Pride started with a protest," he said. "I think this whole weekend is going to be one long protest. It's horrible. It feels like our democracy has been hijacked."
'Pride is a protest' — queer folk voice power amid politics and pandemic

Mission Local, June 26

On Sunday, the city's 52nd annual Lesbian, Gay, Bisexual, Transgender and Queer Pride Parade kicked off at the Embarcadero and ended in usual fun at Civic Center. Parade participants included local gay politicos State Sen. Scott Wiener and District 8 Supervisor Rafael Mandelman, longtime queer organizations like Dykes on Bikes and San Francisco Bay Times, and any company that could capitalize on the optics. 
Drug sobering center opens to serve San Francisco's SoMa, Tenderloin

CBS Bay Area, June 23

"Opening a sobering center was the top recommendation of the Methamphetamine Task Force I co-chaired in 2019, and I am glad to see that recommendation become a reality with today's opening of the SoMa RISE sobering center," said Supervisor Rafael Mandelman. "This is an important milestone in the City's efforts to address the addiction crisis on our streets, and I look forward to continued partnership with the Mayor and Department of Public Health to accelerate our progress."
Dr. Tim Seelig Receives Commendation from SF Board of Supervisors

San Francisco Bay Times, June 22

Dr. Tim Seelig on June 14, 2022, received a Certificate of Honor during a meeting of the San Francisco Board of Supervisors at SF City Hall in the Legislative Chamber, Room 250. The certificate was presented to Dr. Seelig by Supervisor Rafael Mandelman "on the occasion of his retirement from the San Francisco Gay Men's Chorus and in recognition of his musical accomplishments." In attendance were friends and members of the chorus. Supervisor Mandelman later proudly posted a photo.
San Francisco to open drug sobering center to address meth and fentanyl epidemic and street crisis

San Francisco Chronicle, June 21

Supervisor Rafael Mandelman, who co-chaired the meth task force and attended Thursday's tour, said he was "continually frustrated by how long it takes to get facilities like this up and running." "It would be great to move quickly on this to see if it works, adjust and do the next thing and have all of that take weeks and months, not years, because the need is obvious," he said. Mandelman also said it was critical to get the center running 24/7 as soon as possible to avoid what happened at the Tenderloin center. 
NEIGHBORHOOD OFFICE HOURS
Have questions or concerns for the District 8 Office? Our next neighborhood office hours will be in Noe Valley on Saturday, August 20, from 10:00 am - 12:00 pm, at Martha & Bros Coffee (1551 Church). We will also host virtual office hours on Saturday, Augsut 27, from 9:00 - 10:30 am via Zoom.

Email MandelmanStaff@sfgov.org to request a 10 minute appointment. Appointments are on a first come first served basis. 
 
YOUR NEIGHBORHOOD PUBLIC SAFETY LIAISON
Have you met Dave yet? Dave Burke is a civilian employee of the San Francisco Police Department and serves as the District 8 Public Safety Liaison. Reach him at dave.burke@sfgov.org. 
 
This email was sent by: City and County of San Francisco
1 Dr Carlton B Goodlett Place, San Francisco, California, 94102 United States

Privacy Policy
---
Term
Elected June 05, 2018 for term July 11, 2018 to January 08, 2019

Elected November 06, 2018 for term January 08, 2019 to January 08, 2023
---
Committee and Board Assignments
---
Contact Info
City Hall
1 Dr. Carlton B. Goodlett Place, Room 244
San Francisco, Ca 94102-4689
415-554-6968 (phone)
415-554-6909 (fax)
mandelmanstaff@sfgov.org