District 8
Rafael Mandelman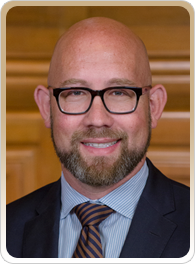 District 8

Supervisor Rafael Mandelman
represents District 8 on the San Francisco Board of Supervisors. District 8 includes the Castro, Glen Park, Noe Valley, Diamond Heights, and Mission Dolores. Supervisor Mandelman is the only LGBTQ member of the Board of Supervisors.  READ MORE
---
It felt good to return to our annual Castro Menorah and holiday tree lighting ceremonies after a quiet 2020 holiday season. Thanks to the Castro Merchants, Castro/Upper Market CBD, and Sha'ar Zahav for organizing these events.
All San Francisco residents and workers age 5 and older are eligible for the vaccine. Additionally, boosters are now recommended for  everyone 16 and older who received their J&J vaccine at least 2 months ago, or Pfizer/Moderna at least 6 months ago. For more information on eligibility, where to get the vaccine, and how to make an appointment, visit sf.gov/GetVaccinated

Currently 90% of San Franciscans 5 and older have received at least one vaccine dose and 83% have completed a vaccine series. Getting these numbers as close to 100% as possible is the single most important thing we can do to put the pandemic behind us, so please encourage everyone you can to get their shot today.
---
TESTING & VACCINES IN THE CASTRO
The Castro LGBTQ Cultural District in partnership with the Department of Public Health, Virus Geeks, South of Market Health Center and Castro Merchants is offering free COVID-19 testing and vaccines without any appointments at the Collingwood Parking lot on 18th Street between Collingwood and Castro Street.

The hub is open on Saturdays from 11:00 to 4:30 through December 18, and will resume on January 8.
---
TESTING AVAILABILITY 
If you feel sick, get tested right away, even if you're vaccinated. If you are unvaccinated and have a known exposure but no symptoms, get tested on or after day 6 following exposure.

If you have health insurance, schedule a test with your doctor. If you have symptoms or a known exposure, your healthcare provider is required by law to get you a test.

Find out about your COVID-19 testing options at sf.gov/GetTested
---
MASK GUIDANCE
In October, San Francisco eased mask requirements for indoor settings where stable cohorts of fully vaccinated people gather. This includes offices, gyms, college classes, and other organized gatherings of fully vaccinated people who meet regularly.

Due to the uncertainty caused by the Omicron variant, flu season, and increased indoor gatherings, the State recently reinstated indoor mask requirements in most public settings. More information about current mask guidance is available at sf.gov/Masks
WHAT WE'VE BEEN WORKING ON
EXPANDING HOUSING OPPORTUNITIES:
On November 18, the Planning Commission unanimously approved my fourplex legislation to allow multi-unit buildings in historically single-family zoning districts, within the same height, bulk, and design standards we have today. At the hearing many dozens of San Franciscans from all walks of life called in to share their experiences of why single-family zoning isn't working for today's San Francisco, but many also expressed concerns about the need to address potential pressures on renters and homeowners of color.
 
I take these concerns seriously and am working to develop a final version of the legislation that prioritizes housing stability for all San Franciscans, while addressing the need to reform our antiquated zoning. I look forward to collaborating with my colleagues on this proposal and bringing this legislation to the Board of Supervisors in January.
---
SUPPORTING LEGAL CANNABIS RETAILERS: The Board of Supervisors unanimously approved my legislation suspending San Francisco's Cannabis Business Tax for the 2022 tax year. Cannabis businesses create good jobs for San Franciscans and provide safe, regulated products to their customers.

Sadly, the illegal market is flourishing by undercutting the prices of legal businesses, which is bad for our economy as illegal businesses pay no taxes while subjecting workers to dangerous conditions and consumers to dangerous products. Now is not the time to impose a new tax on small businesses that are already facing a significant State tax burden as they get established and try to compete with illicit operators.
---
INVESTIGATING ELECTRONIC MONITORING: San Francisco's criminal justice system too often utterly fails to hold repeat offenders accountable for their crimes. This was certainly the case when, in November, an individual with 120 misdemeanor and 8 felony theft charges was released by a Superior Court judge with an appointment to get an ankle monitor put on.

Unsurprisingly, she didn't show up and committed a new crime little more than two weeks later. We already know electronic monitoring is a shoddy tool to decrease incarceration, with more than 1/3 of people on electronic monitoring in San Francisco committing more crimes.

In October, I requested a Budget and Legislative Analyst report on SF's use of electronic monitoring and how it compares to other counties. I also sent letters of inquiry to the Sheriff and Adult Probation requesting more data on the outcomes of people placed on electronic monitoring. Based on this incident, I'm sending a letter of inquiry to the Superior Court with questions about how the courts measure success (if they do) and how they ensure people actually get on an ankle monitor before they're released.
---
ADDRESSING ADDICTION:  am glad to hear that a top recommendation of the Methamphetamine Task Force I chaired is being implemented with the opening of the SOMA-RISE (Recover, Initiate, Support, Engage) Center. This will be an important step toward treating addiction like the public health crisis it is by providing a safe place for people struggling with addiction to access clean bathrooms, showers, food and a place to rest. Trained staff will be on site to reverse overdoses and connect participants with medical care, mental health and substance use and housing services.
---
ADDRESSING ORGANIZED RETAIL THEFT: The Board of Supervisors unanimously passed a resolution I authored calling on Congress to pass H.R. 5502, The INFORM Consumers Act, with no further amendments. In March, Senator Dick Durbin introduced the INFORM Consumers Act, which would require online marketplaces to collect, verify, and disclose certain information from high-volume sellers through product listings, and provide consumers with methods to report any suspicious activity.

The more I learn about organized retail theft, the more concerned I've become about the role that large online marketplaces play in facilitating the sale of stolen goods at an unprecedented scale. Organized retail theft is a roughly $45 billion, nationwide industry. CVS alone expects to close over 70 cases with Amazon this year, worth over $100 million. It's one thing for retailers to face competition from new business models, it's another issue entirely when that comes in the form of one business profiting off another's stolen merchandise.

I introduced this resolution addressing the online resale market for stolen goods following a meeting I convened last month with SFPD Chief Scott, DA Boudin, and representatives from Safeway and United Food and Commercial Workers to address organized retail theft at Safeway Stores in San Francisco. In the weeks since, Safeway has collaborated with SFPD on best practices, employee training, and other key areas. My staff also met with representatives from Walgreens to discuss the impact of organized retail theft on their stores and offer assistance in coordinating with SFPD and the DA's office.
---
HEARING ON IMPACTS OF INFRASTRUCTURE PROJECTS: On January 6th, I will lead a hearing at the Government Audit and Oversight Committee on the City's process for notifying residents of major infrastructure projects. This comes after hearing from constituents on Castro Street who were not informed that their driveways would be inaccessible for up to ten days at a time during sewer replacement work.

I would like to thank the residents of Castro Street for bringing this situation to my attention, and I look forward to identifying and implementing new policies to ensure this never happens again. If you are interested in making public comment at this hearing to share your experience with an infrastructure project that restricted access to a public right of way, email Jackie.Thornhill@sfgov.org  
---
REFORMING THE BUILDING DEPARTMENT: On December 14, I joined Supervisors Melgar, Peskin, and Ronen in announcing a June 2022 ballot measure to reform the leadership structure of the Department of Building Inspection, which has been plagued by a series of serious corruption allegations. The measure would remove reserved seats on the Building Inspection Commission for building industry representatives and require that all appointees be confirmed by the Board of Supervisors through a public process. This is an important first step to reduce conflicts of interest and increase transparency in the City's broken permitting system.
DAVE'S PUBLIC SAFETY CORNER
Season's Greetings! District 8, the heart of San Francisco, is serviced by three different police districts: Mission, Park, and Ingleside. Here's a handy link to figure out which police district you're in: Station Finder | San Francisco Police Department . The local district stations are home to the officers you see responding to calls for service in the different neighborhoods. The district station assignments allow the officers to get to know the various neighborhoods within the district and work with community members to address local public safety issues.
 
One way to get to know your local district station officers is by attending a Police District Captain's Meetings. These monthly meetings are one of the best ways to get to know your local district station Captain and staff. These meetings provide residents and business owners an opportunity to ask questions and discuss any public safety concerns. Representatives of the District Attorney's and City Attorney's Offices also usually in attendance as well. For the time being, these meeting are on Zoom, not in person at the stations.

You can register to attend a meeting by sending an email to: community@sfsafe.org. The meeting schedule is as follows:  
Mission Captain's meeting is the last Tuesday of each month.

Park Station's Captain's meeting is the fourth Wednesday of each month.

Ingleside Captain's meeting is the third Tuesday of each month.
Lastly, in the spirit of the season, SFPD is busy with its annual holiday toy drive. Individuals can purchase or drop off a new, unwrapped toy at any San Francisco Walgreens. Donated toys will be collected by SFPD and given to children across the City. Last year, approximately 2,500 toys were donated at San Francisco Walgreens stores.

A Go Fund Me account (gofundme.com/SFPDTOYDRIVE) has also been established by the San Francisco Police Foundation to purchase toys for children. More information is available at the link below.

SFPD & Walgreens Toy Drive | San Francisco Police Department
Thank you to the SFMTA Board of Directors for listening to transit riders and adopting a 2022 service plan on December 7 that balances community needs with our shared goals of providing reliable, accessible, and safe transit options for all San Franciscans. Overall, the plan will restore service on all but two Muni lines that have been out of service since the pandemic began, and will make important changes in District 8.

On the J Church, the Board rejected the current surface-only route with a forced transfer at Market in favor of a plan to return trains to the Market Street subway. This is an important win for the many riders who advocated passionately for a return of direct downtown service, especially those with disabilities and limited mobility, though it does so at a reduced frequency that is less than what District 8 residents and J riders deserve. I will continue to advocate for more frequent and reliable service on the J.

On the 48, the Board adopted staff's recommended compromise that will split the route to reduce the burden that modified COVID service has placed on Clipper Street residents and a modified 35 route to serve parts of Noe Valley formerly covered by the 48. Both these options still require some work by staff to deliver a plan that can be implemented safely and effectively.

Thank you to every member of the public who participated in this process, including Upper Noe Neighbors, Restore the J Work Group, Clipper and Eureka street neighbors, and my SFMTA CAC appointee Aaron P. Leifer.
Transportation Authority Year in Review
It was a privilege to join Speaker Pelosi, Representatives Speier and DeSaulnier and regional transit leaders at the Salesforce Transit Center last weekend to celebrate the passage of the $1.2 trillion bipartisan infrastructure bill.
This has been another challenging year for the SF Transportation Authority (which I chair), but ultimately a productive and encouraging one. We saw ongoing economic recovery translate into increased transportation sales tax revenue, which we at the TA put to good use allocating over $100 million this year to pedestrian and bicycle safety improvements, roadway and transit infrastructure investments, and paratransit operations in every part of the city, including over 6.5 miles of new protected bike lanes and 20 miles of bus-only transit lanes, and implementing a speed reduction plan in the Tenderloin. And, we did all of this while maintaining a AAA bond rating, making the TA one of the highest rated agencies in the state.

We also made important progress at the regional level. Plan Bay Area, an updated long-range land use and transportation vision for the region, was approved by ABAG and the MTC this year, and included all the TA's key transportation investments like the Link21 regional rail effort that includes a second BART crossing. The Downtown Rail Extension project to bring Caltrain and California High Speed Rail service into the Transbay Transit Center also marked a major milestone last week, when we received permission to enter the federal New Starts funding program. This will set the project up to apply for federal funds in 2023, a year ahead of schedule.

With the passage of the $1.2 trillion bipartisan infrastructure bill, which will include at least $40 billion in formula transportation funds for California and another $51 billion in competitive grants for regional rail projects like the Downtown Rail Extension, we have a lot to look forward to in the new year. This will include implementing our Vision Zero action strategy to eliminate traffic fatalities and severe injuries, and new speed limit reductions citywide thanks to the passage of AB 43, a new state law that will finally allow us to factor pedestrian safety into speed limits on our local streets.

My priority for next year will be to renew and grow local revenue sources and work with regional partners to continue advancing a safe, sustainable transportation network for all San Franciscans.
Upcoming Neighborhood Meetings
Duboce Triangle Neighborhood Association. Monday, February 14 at 7pm More info: www.dtna.org

Noe Valley Town Square Events
Upcoming events include a Rhythm & Motion Dance Workout, and a Holiday Glow light show/dance party. Details at noevalleytownsquare.com/events

Free Composting Pails
Feeling gassy? Bloated landfills are a common cause. The cure? Composting at home.

When you throw away kitchen food scraps and other compostable items they go into landfills. There, they create tons of harmful methane gas. This adds to the climate crisis.

So don't trash your food. Email customerservice@recologysf.com to request a free composting pail, and learn more at sfenvironment.org/SFGasRelief

Community Needs Assessment Survey
The San Francisco Department of Disability and Aging Services (SF DAS) is conducting a citywide Community Needs Assessment to understand strengths, opportunities, challenges, and gaps in current services for older adults and adults with disabilities.

In 2016, San Francisco voters passed Proposition I to establish the Dignity Fund to secure funding for services that support older adults and adults with disabilities over the next 10 years. This survey gathers community input to inform future decisions about funding priorities and program investments to support older adults and adults with disabilities. Thank you for your time and feedback! 

Please complete this survey by Friday, December 17th: tinyurl.com/2021DAS

Open Enrollment for Covered CA
Covered California 2022 Open Enrollment has begun (Nov 1, 2021 – Jan 31, 2022). It's time to explore your 2022 health insurance options. Covered CA plans offer a choice between private health insurance companies, including Kaiser, Blue Shield, Anthem Blue Cross, Chinese Community Health Plan, Healthnet, and Oscar. Even if you've checked in the past, check again because additional financial help is available to nearly all income levels, thanks to the American Plan.

The amount of help you receive is based on your household size, annual income, age, and location (zip code). If you haven't started your 2022 application yet, now is the time. As a Certified Enrollment Counselor for Covered CA, based in San Francisco, I can help you -or a friend or family member -  to enroll or renew at no cost to you understand what services are included with a 2022 Covered CA plan and help you to enroll or renew at no cost to you.

Don't pay the state penalty next year for not having health insurance.  Get quality health coverage you can afford and avoid the tax penalty next year. For coverage to begin on January 1, 2022, you must enroll by December 31.

Susan Pfeifer is a Covered CA Certified Enrollment Counselor who can assist with enrollment - you can email her at Mediasusan2@gmail.com and call at 415-860-8081
Competing proposals would create more housing in areas reserved for single-family homes 

San Francisco Examiner, November 17

"The same size box might very well get built in a neighborhood in my district, it would just house one very wealthy family in a very large home," Mandelman said. "Why not have four less wealthy households in the same size box?"
S.F. moves closer to approving plan to allow fourplexes to be built on 110,000 city parcels

San Francisco Chronicle, November 18

"The San Francisco Planning Commission Thursday unanimously approved a plan to allow fourplexes to be constructed on more than 110,000 parcels currently zoned for single-family homes or two-unit buildings."
 
San Francisco moves to delay its cannabis business tax to give legal dealers a boost

National Public Radio, December 6

"Cannabis businesses create good jobs for San Franciscans and provide safe, regulated products to their customers," Supervisor Rafael Mandelman said in a tweet. "Now is not the time to impose a new tax on small businesses that are just getting established and trying to compete with illicit operators."
SFO braces for busiest holiday season since start of pandemic

San Francisco Examiner, November 23

"With air travel finally returning to SFO, everyone who works at the airport should have access to quality health care. Employers shouldn't be withholding health insurance from frontline workers and their families by keeping them part-time or moving jobs to San Jose to avoid complying with our Healthy Airport ordinance," said Supervisor Rafael Mandelman, who co-authored the ordinance.
Two New SF Proposals Target Resale Markets Where Shoplifting Rings Sell Their Stuff
SFist, December 10

"The more I learn about organized retail theft, the more concerned I've become about the role that large online marketplaces play in facilitating the sale of stolen goods at an unprecedented scale," Mandelman said in a statement to SFist. "It's one thing for brick-and-mortar retailers to face fair competition from new business models, it's another issue entirely when that competition comes in the form of one business profiting off another's stolen merchandise."
Milk-Moscone memorial defaced in the Castro
Bay Area Reporter, December 2

"I stand with the Milk club in their condemnation of the callous disregard for humanity demonstrated by this vandalism," Mandelman stated. "This incident reminds us of the hate all of the 'Us's' still face; the fight against that hate is far from over."
Hanukkah celebration returns to the Castro

Bay Area Reporter, December 1

The menorah lighting was organized by Congregation Sha'ar Zahav, San Francisco's LGBTQ synagogue; the Castro/Upper Market Community Benefit District; and the Castro Merchants Association. The majority of attendees were members of the synagogue and there were also allies to the Jewish community present, as well as dignitaries such as gay state Senator Scott Wiener (D-San Francisco) and gay District 8 Supervisor Rafael Mandelman, who are both Jewish.
Mental Health Advocates Call for Voluntary Treatment as Spears Conservatorship Ends

San Francisco Public Press, November 18

"I think that the position of those advocates is untenable and wrong," said Supervisor Rafael Mandelman, who had to place his mother under conservatorship when he was in his early 20s. He also supported the implementation of the Housing Conservatorship Program. "I believe that there are people who cannot take care of themselves, and that when people can't take care of themselves, we are obligated to take care of them." 
New safety measures, barriers at Castro Safeway

KTVU, December 6

"They didn't want to do this. They didn't want to make the shopping experience less pleasant for their customers. That's not good business for them. But it's even worse business for them to be losing the volume of stuff they are to theft," said Mandelman.
How to remember and honor Harvey Milk 43 years after his assassination

San Francisco Chronicle, November 27

"As the current and former District Eight supervisors proudly representing the Castro over the past 20 years, we stand with our neighbors to say that this project is right for the Castro, right for the LGBTQ community and right for honoring Harvey Milk's impact on the movement."
This email was sent by: City and County of San Francisco
1 Dr Carlton B Goodlett Place, San Francisco, California, 94102 United States

Privacy Policy
---
Term
Elected June 05, 2018 for term July 11, 2018 to January 08, 2019

Elected November 06, 2018 for term January 08, 2019 to January 08, 2023
---
Committee and Board Assignments
---
Contact Info
City Hall
1 Dr. Carlton B. Goodlett Place, Room 244
San Francisco, Ca 94102-4689
415-554-6968 (phone)
415-554-6909 (fax)
mandelmanstaff@sfgov.org