District 8
Rafael Mandelman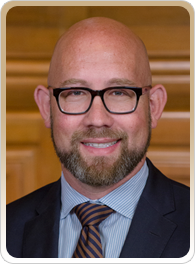 District 8

Supervisor Rafael Mandelman
represents District 8 on the San Francisco Board of Supervisors.
Prior to his election, Supervisor Mandelman served as a Deputy City Attorney for the City of Oakland and as an elected Trustee on the City College of San Francisco Board of Trustees.  As a Deputy City Attorney​, Supervisor Mandelman practiced primarily in the areas of real estate, economic development, and affordable housing.  READ MORE
---
D8 Newsletter - October 2020
Visting with George Kinfis and his children Yianni, Fotini, and Dimitra at the recently reopened Church Produce in Upper Noe Valley. The Kinfis family ran the store for 30 years until 2008, and are back at 1798 Church seven days a week keeping the shelves stocked with everything from olive oil to prickly pears.

More than half a year into the pandemic, with wildfires raging across the state, in the midst of a national uprising against systemic racism and police violence, and rapidly approaching the most consequential election of our lifetimes, we live in challenging times. I hope that you and your family are healthy, and that we all get the chance to see each other in person in the not-too-distant future. In the meantime, continue reading for updates from my office, public announcements, and more. 
My office in City Hall remains closed to the public while we continue to shelter in place and work remotely. The best way to stay in touch with us is by email. We are checking our email and voicemail every day.
Please don't hesitate to reach out via email, at
mandelmanstaff@sfgov.org

.
Most Fridays at 2pm my office hosts
 an informal Zoomside Chat, where constituents can get the latest updates and ask questions of us and our special guest. For more information, please visit my Facebook page or email erin.mundy@sfgov.org. 

This Friday, October 9th we will be joined by District 8 resident Dr. Zea Malawa, Program 
Director of Collective Impact to Prevent Preterm Birth in San Francisco - a collaboration between UCSF Preterm Birth Initiative, SF Department of Public Health, and Maternal Child & Adolescent Health (SFDPH & Ca Dept of Public Health). Born and raised in San Francisco, Dr. Malawa is a highly-respected pediatrician, a First 5 Commissioner, and is passionate about improving community health outcomes. Join us with your questions about family health, and to receive updates from the D8 Office!
Good work San Franciscans! Our collective efforts to keep transmission rates low over recent weeks have allowed us to move into the next phase of reopening. As of September 30th, restaurants and bars that serve food and places of worship have been permitted to open indoors with 25% capacity up to 100 people and playgrounds will reopen on October 14th. The City's reopening plans are based on the
State's new tiered system
and our local health indicators. Please continue wearing your mask and maintaining social distance!
I have been and will continue to advocate for more industry-specific guidance to be published by the Department of Public Health in advance of new reopenings, so that businesses who are targeted for the next phases of reopenings can plan for the safest and most successful transition possible. For now, all available guidance can be found
here
. You can keep track of all updates at
sf.gov/reopening
 and see below for the next scheduled reopenings.
Additional Activities Allowed as of September 30th
In addition to indoor dining and places of worship, San Francisco is moving forward on reopening or expanding the following activities:
Outdoor political demonstrations may continue, now with up to 200 people, as long as there is sufficient space to allow for social distancing and everyone wears a face covering.
Indoor classes for higher education and vocational programs that require specialized equipment that cannot move outside are allowed with modifications and capacity limits in place.
Some additional family entertainment, including outdoor children's carousels, miniature trains, and Ferris wheels, like the Observation Wheel in Golden Gate Park, with specified safety precautions. 

The Observation Wheel is currently under construction and is expected to open by the end of October.

Fitness centers located within hotels and lodging establishments up to 10% capacity with staff monitoring.
Indoor shopping centers and malls with 50% capacity, upon approval of an updated health and safety plan.

Indoor food courts may reopen following guidelines for indoor dining.
GOAL: early October - Indoor Movie Theaters and Outdoor Playgrounds
The Department of Public Health plans to issue directives and guidance to allow indoor movie theaters to open on October 7, if San Francisco remains assigned to the Orange tier. At that time, movie theaters can reopen with 25% capacity up to 100 people, and with no concessions sold, or outside food or drink consumed.
Now that the State has changed its guidance to allow outdoor children's playgrounds operated by government agencies to operate, and if San Francisco remains assigned to the Orange tier, the Department of Public Health will issue a directive and guidance to allow outdoor playgrounds to reopen. San Francisco anticipates this change will occur by October 14.
Reopening of Schools - Ongoing
As state and local COVID-19 indicators permit, San Francisco schools may now resume in-person learning with approved safety plans in place. San Francisco's approach to the reopening process  for San Francisco TK-12 schools (transitional kindergarten through 12th grade) prioritizes the reopening of younger grades for in-person learning this fall. As many as 106 private, parochial or charters schools have requested applications for in-person learning this fall. Almost 60 schools have submitted applications and 20 schools have been approved for re-opening. The applications are being reviewed on a rolling basis. Elementary schools are reopening first, followed by middle schools, and then high schools.
Additionally, the Department of Public Health, DataSF, and the City's COVID Command Center have partnered to create an online dashboard to help parents, administrators, and the public keep track of schools reopenings. The dashboard will be updated daily at 9am and will include data on which schools have applied for reopening, where schools are in the reopening process, and which schools have been approved for reopening. You can view that dashboard
here
.  
WHAT WE'VE BEEN WORKING ON
HOMELESSNESS IN THE TIME OF COVID-19: 
The Healthy Streets Operations Center has been actively addressing encampments in District 8 over the last two months
. Dozens of uhnoused people have been successfully moved from encampments in District 8 to shelter, safe sleeping sites and hotel rooms. While I am grateful for the progress that has been made, I know that many encampments remain unaddressed and new encampments appear every day. I will keep working with neighbors and City agencies to push for their resolution and to get unhoused folks off the streets and into care. 
Ultimately, we know that to improve conditions on our streets we must provide people with safe places to be and create additional resources for people in mental health crisis, which is why I fought for the budget investments described further below including an expansion of the Safe Sleeping Village program and Street Crisis Response teams. Last month, San Francisco received welcome news that the California Supreme Court declined to hear a legal challenge to 2018's Proposition C, officially certifying Prop. C and freeing up 

over $300 million to fund mental health and substance use services, homelessness prevention, shelter, and housing to address our homelessness crisis.
---
CREATING A MORE EFFECTIVE RESPONSE TO BEHAVIORAL HEALTH CRISES: San Franciscans need and deserve a better, more effective response to mental health crises on our streets. That's why I worked with Mayor Breed and Supervisors Hillary Ronen and Matt Haney to fund six new Street Crisis Response Teams in this year's budget. Street Crisis Response Teams were a top recommendation of the 2019 Methamphetamine Task Force which I co-chaired.

These teams will be led by the Fire Department's EMS-6 division, and will pair a community paramedic with either a licensed clinical social worker, a marriage/family counselor or a psychologist and a peer advocate. The Teams will be tasked with responding to 911 calls for people experiencing mental health crisis, including approximately 21,000 911 calls currently handled by the Police Department, ensuring that appropriately trained specialists are deployed to meet the behavioral health needs of people on our streets. The first four teams of this new unit will be launched this fall and winter, with an additional two teams coming online in early 2021.
---
INVESTING IN THE NEEDS OF DISTRICT 8: 
COVID-19 has had a huge economic impact on our City's finances. As a member of the Budget Committee I worked with my colleagues, advocates, and neighborhood leaders throughout the month of August to make hard choices while prioritizing important investments. 
In addition to the Street Crisis Response Teams, we were able to fund:
● An expansion of the Safe Sleeping Village program to move unhoused people from unregulated and unsafe encampments into safer & more appropriate spaces

● Castro Public Safety Ambassadors to provide a non-police response to safety concerns in the neighborhood 
● Support for District 8 small businesses doing outdoor dining and retail through the City's Shared Spaces program
● Help for Lyon-Martin Health Services to rebuild their staffing and gender affirming healthcare services for the LGBTQ community

● Funding for important improvements at neighborhood parks and community spaces like the Noe Valley Town Square, Glen Park Greenway, Christopher Park, and the 19th and Sanchez Street Steps

● Rental subsidy programs for trans and gender nonconforming community members, for people living with HIV and for transitional aged youth 

● The replacement of asphalt with new turf fields at Everett Middle School and Dolores Huerta Elementary

● 28 new beds at Jazzie's Place shelter for trans and gender nonconforming unhoused people

● Support for organizations in the Castro that serve LGBTQ youth and funding to help create more BIPOC-welcoming spaces in the neighborhood
---
EXPANDING SHARED SPACES IN DISTRICT 8: 
Since the program launched in June, my office has worked closely with merchant associations, small businesses, neighbors, and City staff to assist businesses interested in participating in the 
Shared Spaces
 program. Shared Spaces supports our local merchants to safely offer outdoor dining and retail by making use of sidewalks, parking spaces, and street openings. As of this month, over 200 District 8 businesses have taken advantage of the program. 
Since July, the Valencia Corridor Merchants Association has opened two blocks of Valencia to Mission merchants, from 16th Street to 17th Street and 18th Street to 19th Street, Thursday through Sunday evenings. VCMA has applied to extend the weekend openings through the end of the year, as well as to an additional block from 20th Street to 21st Street, which is expected to begin in October. On all three blocks, the hours will be 4 to 10pm Thursdays and Fridays, 11am to 10pm on Saturdays, and 11am to 6pm on Sundays. 
Beginning in August, the Castro Merchants Association launched a weekend opening on 18th Street from Collingwood to Hartford every Sunday from 1 to 8pm. Starting in October, Sunday hours will be extended to run from 10am to 10pm, with the possible addition of Friday and Saturday hours in the future. Castro Merchants have also applied for a one block opening on Noe Street from Market to Beaver Street Fridays from 4 to 10pm, and Saturdays and Sundays from 10am to 10pm, which is also expected to launch in October. 
To aide these efforts, I secured funding in this year's budget to support our merchants with additional community ambassador staffing during the street opening hours. Many thanks to the Castro Merchants and VCMA for their efforts to respond to neighbor concerns and work with all stakeholders to ensure a safe and welcoming environment for everyone.   
See more about the Shared Spaces program, including how to apply, give 
feedback
, or report 
violations
 of public health guidelines at 
sf.gov/sharedspaces
. See an interactive map of active Shared Spaces permits and applications 
here
.   
---
 
PARTNERING ON A COVID-19 PUBLIC EDUCATION CAMPAIGN: I'm partnering with the Sisters of Perpetual Indulgence and the Department of Emergency Management on a new public education campaign to remind everyone to Always Wear a Mask and Practice Safe Six. The Sisters are the perfect messengers to remind the LGBTQ community and residents and visitors to the Castro and Dolores Park to stay safe and stop the spread of COVID-19. 
 
Thank you to the Sisters for your leadership and to Photos by Gooch for the photo!
District 8 resident and NERT volunteer Jenny was helping to feed more than 1,000 folks at the SF-Marin Foodbank Drive-Thru Pantry.
VOLUNTEERS NEEDED: September was Hunger Action Month, and there is no better time than now to help the San Francisco-Marin Food Bank  end hunger by signing up to volunteer at a Pop-up Pantry today! I visited their Oracle Drive-Thru Pantry last month, where District 8 residents Jonathan and Jenny were helping to distribute boxes of fresh produce & dairy to over 1,000 people in just three hours. COVID-19 has doubled the number of households seeking food assistance from the Food Bank, and this unprecedented need can only be met with the help of volunteers like these two. Please consider signing up for a shift at https://www.sfmfoodbank.org/volunteer/pop-up-pantry/.
Enjoyed a tasty breakfast at Tyger's with Suzie Bo and Young. Tyger's has been feeding Glen Park for decades, and continues to serve the community their diner classics to-go or al fresco seven days a week! 
SUPPORTING SMALL BUSINESSES: 
Dozens of merchants throughout the district are taking advantage of individual Shared Spaces permits to expand into the sidewalks and parking lanes in front of their restaurants and shops, including Tyger's in Glen Park who recently applied to the program with technical support from my office. 
To support these and other businesses around the City, I've co-authored 
legislation
with Supervisor Aaron Peskin to waive outdoor permitting fees for small businesses, which will be voted on at the October 6th Board of Supervisors meeting. The Shared Spaces program has shown that outdoor dining and shopping is a lifeline for businesses during the pandemic. Our legislation will help to preserve this lifeline by reducing barriers and fees for small businesses.
At La Ciccia with owners Lorella and Massimiliano, who are keeping Upper Noe Valley well-fed with delectable Sardinian food six days a week! Order take-out or stop in for a sidewalk seating Tuesday through Sunday from 4 to 8pm.
SHOP AND DINE SMALL & LOCAL: 
Our small businesses are doing everything they can to continue serving their customers and communities through these unpredictable times and they need our support to stay open. Recently,

 I visited a few Upper Noe Valley gems whose doors are open for business. 

At La Ciccia, Lorella and Massimiliano were grateful for the clear skies and their recently expanded sidewalk seating. On top of keeping a kitchen running six days a week through a pandemic, La Ciccia still finds the time to donate meals to their unhoused and low-income neighbors. I also stopped in across the street at Church Produce, which recently reopened its doors under the management of the Kinfis family, who ran the store for 30 years until 2008. This time, owner George Kinfis is coaching his three children, Yianni, Fotini, and Dimitra, who've set aside other pursuits to relaunch the family business, and are keeping the shelves stocked with everything from olive oil to prickly pears and reintroducing themselves to the neighborhood seven days a week.
It's businesses like these that make our communities whole. Let's continue to support them by shopping and dining small & local!
---
MUNI SERVICE UPDATES: 
SFMTA had planned to restart Muni Metro rail service on Saturday August 22nd, but was forced to abandon those plans after a shaky start and mechanical failures over the first weekend, and a positive COVID-19 case among traffic management staff. Effective August 25th, Muni rail lines including the J-Church from Balboa Park to Market continue being served by 
substitute buses
, and several bus routes that had restarted will continue operating including the 
37-Corbett
 and 
48-Quintara
 running on modified routes, serving seniors and mobility impaired riders in hilly neighborhoods and restoring critical cross-town service I have advocated for since Muni service was drastically reduced at the beginning of the pandemic. Keep up with Muni COVID-19 updates 
here
. 
---
REMEMBERING JUSTICE RUTH BADER GINSBURG: On September 18th, I joined Senator Scott Wiener, activists Gregg Cassin and Cleve Jones, and Manny Yekutiel - owner of civic gathering space Manny's - to organize a candelit march and vigil in the Castro with hundreds of San Franciscans mourning the death of US Supreme Court Justice Ruth Bader Ginsburg. Read more about the march and the mark that Justice Ginsburg left on so many here.
SF COULD WAIVE OUTDOOR PERMITTING FEES FOR BUSINESSES
An ordinance proposed by supervisors Aaron Peskin and Rafael Mandelman would waive fees collected by the Department of Public Works for permit applications and renewals that allow for businesses to use the public right-of-way for outdoor tables and chairs, sidewalk display merchandise or parklets through April 15, 2022.
(
SF Examiner
,
 September 23)
SF RETAIL WOES SPARK LEASE DISPUTES, CALLS FOR GOVERNMENT ACTION
"There is economic devastation happening across this city and across the world," Mandelman said before the meeting. "The economic environment when this ends will be vastly different from pre-pandemic times. Why a property owner is acting like this is beyond me."
Mandelman emphasized the issue was larger than just one bad actor. He plans to call a hearing on how widespread failed rent negotiations are in the city, and local actions that could aid small businesses.
SF PROPERTY OWNERS GET ANOTHER YEAR TO COMPLETE SEISMIC UPGRADES
"Seismic retrofit work is essential and urgent, but the reality is that small businesses, residential tenants and property owners alike have asked for, and need, more time," said Mandelman. "This legislation will allow additional time for property owners to complete retrofit construction on a timeline that reduces disruption to our already beleaguered and struggling small businesses."
(
SF Chronicle
,
 September 15)
BATHHOUSE BAN REVOKED: AMID ONE PANDEMIC, SF CONFRONTS LEGACY OF ANOTHER 
"There is going to be a moment when things turn around, and we'll have these empty spaces that we have to figure out what to do with," Mandelman said. "I certainly hope that bathhouses are a part of it."
(SF Chronicle, 

September 12)
A DECADE AFTER SAN BRUNO DISASTER, IT'S TIME TO GET OFF NATURAL GAS
"As we look back on the tragedy in San Bruno a decade ago and to the climate emergency we face today, it's time for San Francisco to once again lead California and the world toward a safer, more resilient future."

(San Francisco Chronicle Op-Ed, September 9)
SF BUDGET ADD-BACKS WOULD FUND HEALTH CARE, HOUSING SUBSIDIES, COMMUNITY INITIATIVES
"This is an incredibly challenging time for people throughout San Francisco and the world," Mandelman told the B.A.R. September 1. "In our budget, we felt the need to protect the most vulnerable, especially at a time when people are facing challenges in health care."

(Bay Area Reporter, September 3)
SMALL BUSINESSES RALLY FOR FINANCIAL RELIEF AND TRANSPARENCY FROM THE CITY
"I am so proud of the Bay Area and our response to the public health crisis…it is right for us to be guided by data science and facts," Mandelman said during the rally. "But the data science and facts have disappeared around the small businesses that continue to be kept closed without any clarity about when they might be able to reopen, how they might be able to reopen, and how they should be planning." 
(
SF Examiner
,
 August 25)
MENTAL-HEALTH CRISIS TEAMS COULD REPLACE POLICE RESPONSE
"At least we will be able to say that we are trying to redirect all 21,000 of those calls," Mandelman said during the committee's hearing on the Public Health Department's budget. "If this goes well, it may be that in the future we actually do need to add maybe even another team."
(SF Examiner

, August 21)
FREE PPE AVAILABLE FOR SMALL BUSINESSES. San Francisco has secured a large shipment of Personal Protective Equipment (PPE) from the California Governor's Office of Emergency Services (CalOES) and the California Office of the Small Business Advocate (CalOSBA) to support small businesses. The shipment includes hand sanitizers, surgical masks, and face shields. The Office of Economic Workforce Development is collaborating with Community-Based Organizations (CBOs) to distribute a one-month supply of PPE to local businesses that are open and/or will reopen soon, while supplies last. To apply, visit the program's webpage here or email my officer at erin.mundy@sfgov.org.
---
Provide your input on the Housing Element 2020 Update. Every eight years California cities are required to update their General Plan's Housing Element. The Housing Element is San Francisco's housing plan: it expresses our collective vision for creating housing through a series of policies and implementation programs. The Planning Department recently launched San Francisco's 2022 update, which will be centered on racial and social equity to create housing policies that are inclusive, equitable and just. Your participation and input are critical to ensuring the Housing Element update reflects the values of our communities, especially those impacted by historically discriminatory programs. Share your feedback on key ideas for policy updates through the  online participation platform or by calling 415-644-5891 to leave your comments in a voice message.
---
The San Francisco Nonprofit Sustainability Initiative applications are now open! Up to $2.4 million is available in this round for acquisition of newly nonprofit-owned space. Supported by the San Francisco Office of Economic and Workforce Development (OEWD)
and administered by Community Vision, the NSI's real estate programs protect services and resources for residents by helping nonprofits stay embedded in their communities and overcome barriers to expansion. Find out more here.
---
Rec and Park will Provide Low-Cost Space for Outdoor Fitness. The Recreation and Park  Department announced a new program for gyms, exercise studios and other fitness providers to hold classes outdoors in city parks, and reduced the licensing cost of the program by 90 percent. Personal trainers will be able to purchase an annual permit to train up to three clients at a time for a discounted rate of $25, and fitness studios may hold classes up to 11 people with a designated spot to hold up to two hours at a time of classes for 10 weeks at a discount of $1.25 an hour and using a lottery system. Trainers and studios would have access to City parks and rec facilities, including basketball courts, lawns and plazas. Apply or read more about the program here.
---
Emergency Business/Nonprofit Water Bill Assistance
If your small business or non-profit is experiencing financial hardship due to the COVID-19 pandemic, you may be eligible for a 20% reduction on your water and sewer bill.
This program is available for a limited time and the deadline to submit an application is December 31, 2020. However, we may cease taking applications earlier if funds are exhausted.
Once approved, you will receive a 20% discount on your SFPUC water and sewer bill for a period of six months. Apply here today.
The SFMTA is seeking community feedback about how the Muni Core Service Plan is working for Muni customers and is asking for your input to identify what is not working. To supplement the reach of Muni's web-based survey, the MTA is using a text-based survey to reach people who might find it easier or more accessible to provide feedback by text. Smart phone capability is not required. Text YES/NO to 415-996-1854 to start the survey.
---
Visit SF72.org for important announcements about emergency conditions in San Francisco. 
Text your zipcode to 888-777 or visit 
alertsf.org
 to receive emergency alerts from AlertSF.
This email was sent by: City and County of San Francisco
1 Dr Carlton B Goodlett Place, San Francisco, California, 94102 United States

Privacy Policy
---
Term
Elected June 05, 2018 for term July 11, 2018 to January 08, 2019

Elected November 06, 2018 for term January 08, 2019 to January 08, 2023
---
Committee and Board Assignments
---
Contact Info
City Hall
1 Dr. Carlton B. Goodlett Place, Room 244
San Francisco, Ca 94102-4689
415-554-6968 (phone)
415-554-6909 (fax)
mandelmanstaff@sfgov.org