District 8
Rafael Mandelman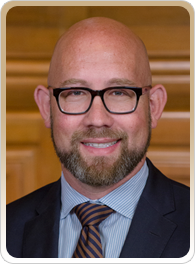 District 8

Supervisor Rafael Mandelman
represents District 8 on the San Francisco Board of Supervisors. District 8 includes the Castro, Glen Park, Noe Valley, Diamond Heights, Mission Dolores, and Cole Valley. Supervisor Mandelman is the only LGBTQ member of the Board of Supervisors.  READ MORE
---
Fighting for a better future with food and beverage at SFO. Congrats Unite Here! Local 2 for a successful negotiation to secure better benefits and the first wage increase in more than three years! 
WHAT WE'VE BEEN WORKING ON
FOURPLEX – SECOND TIME'S THE CHARM: On Friday, October 18, Mayor Breed signed my "fourplex" legislation into law. The measure will allow up to four units of housing on every residentially zoned lot in the City and up to six units on corner lots. It was nearly two years ago that I began down this path to allow small- and medium-sized apartment complexes citywide, and I'm glad that we've finally arrived at a version that has the support of the Mayor, my colleagues on the Board, and pro-housing advocates.

San Francisco has much more work ahead to meet our housing obligations under State law. We still need to upzone areas that are transit and resource rich and adopt an approved Housing Element, and we must streamline the City's excessively complicated and cumbersome permitting process."Fourplex" is one incremental but important step in the right direction to allow small apartment buildings in every San Francisco neighborhood and moves us further along the path to meeting our housing needs.  


SAFER STREETS: On Thursday, October 13, I held a hearing on the state of traffic enforcement and street safety in light of new data showing San Francisco is failing to make meaningful progress on its Vision Zero goal to eliminate traffic deaths by 2024. SFPD is currently writing on average 10 citations per day citywide compared to 74 per day in 2019, according to an analysis featured in the San Francisco Chronicle.

At the hearing we heard from community advocates who conducted the analysis. Board members asked the Police Department and MTA to explain what obstacles need to be removed to begin effective enforcement of both moving and parking violations that pose a serious risk to cyclists and pedestrians on our streets.

Coming out of this hearing I will be working with SFPD to determine what resources and technology they need to develop a coherent enforcement strategy to make our streets safer. And I've reached out to Senator Scott Wiener's office to partner on state legislation to enable automated and civilian-initiated enforcement of parking infractions to augment the enforcement capacity of the MTA.
FIGHTING FOR A BETTER FUTURE: On September 26, food and beverage workers at SFO, represented by Unite Here! Local 2, went on strike. They were fighting for a living wage, affordable healthcare for their families, job security, and fair benefits. Board President Walton and I called for a Committee of the Whole at the regularly scheduled Board of Supervisors meeting on the 27th, where we heard from union representatives, airport workers, the airport director, and the food concessions employers.

After nine months of contract negotiations, and two days after our committee hearing, thousands of workers at SFO won substantial raises for the first time in three years, as well as free family health care.


SUPPORTING THE LEGAL CANNABIS INDUSTRY: On October 18, the Board unanimously passed my ordinance extending the sunset date for Medical Cannabis Dispensaries and Temporary Cannabis Business permits. This ordinance will allow long-standing cannabis businesses, including those that operated prior to the passage of Proposition 64, to continue to temporarily operate while their applications for permanent cannabis business licenses are being processed. Extending this date is an important show of good faith by the City as we continue to help these local businesses that voluntarily came forward to enter the regulated cannabis marketplace.

The same day, I introduced an ordinance that would delay the effective date of San Francisco's local cannabis business tax through December 31, 2025. A recent analysis  conducted by the Controller at my request found that unregulated cannabis sales may comprise as much as two-thirds of the total cannabis market, and the legal cannabis industry faces significant challenges including unique cost pressures, a persistent illicit market, extreme price volatility, and a high overall tax burden. The Controller's report also recommended aligning our local tax policy with future state tax actions, with the state planning to review its retail excise tax for a potential increase in 2025. That is why I'm proposing this delay as an interim approach to allow the City to continue to monitor the industry and make longer-term choices in 2025 with more data and knowledge of the State's ultimate tax approach.


RETHINKING EQUITY IN CONTRACTING: On Tuesday, October 18, I sent a letter co-signed by four of my Board colleagues to the City Administrator requesting a review of Administrative Code Chapter 12X, which bans the City from funding employee travel or doing businesses with states that have discriminatory anti-LGBT, restrictive abortion, or voter suppression laws. Originally adopted in 2016, the policy now prohibits the City from doing business with 30 states. By prohibiting the City from doing business with more than half the country, this policy has resulted in significant administrative and compliance costs — and potentially far more significant contracting costs by limiting competition among bidders for City contracts. An analysis I commissioned estimates upwards of 20% higher contracting costs for low-bid contracts.

It's also unclear what impact this legislation has had on the very people it is supposed to help: queer people, women, and people of color in banned states. Why shouldn't San Francisco contract with a queer-owned business located in a banned state, even if they are the cheapest and highest quality vendor? Now is the time to revisit this legislation, analyze its efficacy, and explore potential policy alternatives to advance the City's social policy goals and uphold San Francisco values.


ENSURING EFFECTIVE CARE COURTS IMPLEMENTATION: On September 20, I submitted a letter of inquiry to the Department of Public Health and Superior Court on San Francisco's plans to implement SB 1338, Governor Newsom's "CARE Court" program. SB 1338 is intended to connect people with psychotic disorders who meet specific criteria to court-ordered care plans. Participants can be referred to CARE Court by a family member, behavioral health provider, first responder, or other authorized party. CARE plans will be developed by local behavioral health agencies, participants, and their CARE supporters, and will include behavioral health treatment, stabilization medication, and a housing plan.

This program presents a conundrum for San Francisco: we clearly need to try something new for people not getting the help they need, but it is unclear how much of an impact CARE Court will actually have, or whether we have the funding or capacity to implement it. That is why I have requested an estimate of the number of people who might be eligible to participate in CARE Court, and an analysis of the services likely to be ordered for participants, the costs associated with providing fair court proceedings and adequate treatment, the likely consequences of failing to implement the program, the timeline on which the City can reasonably be expected to implement the program, and the barriers to doing so.
It was an honor to be recognized by the San Francisco Climate Emergency Coalition as an SF Climate Champion alongside Supervisors Gordon Mar and Myrna Melgar. There is much more work ahead to achieve our climate goals, but with an organized and effective environmental advocacy community and committed colleagues at City Hall, San Francisco will continue to deliver local action. 
Farewell Jacob Bintliff! After three years serving as a legislative aide in the District 8 office, Jacob's last day was Friday, October 14. From leading our housing and land use work to transportation, Jacob has too many accomplishments to list here. All we can say is that Jacob will be tremendously missed in our office and by countless residents and small business owners across District 8. Best of luck on your next adventure, Jacob!

Goodbye Jacob, Hello Heather World! A 20-year resident of District 8, Heather has served on the Board of the Glen Park Association and previously wrote for the Noe Valley Voice. Outside of City Hall, you can find Heather at the Glen Park monthly Refuse Refuse cleanups, deftly wielding a trash picker. (The next one is Nov 12!) Heather will serve as the office's Noe Valley neighborhood liaison. Say hello by emailing her at Heather.World@sfgov.org.
Community Climate Grants Now Open. Communities can now apply for $2 million in community climate grants to fund climate action such as tree plantings, youth engagement, composting, and building electrification. Apply here.

Community Challenge Grants Program 2023 Cycle Open. CCG is pleased to announce the opening of the 2023 Grant Cycle for the Community Challenge (CCG) and Urban Watershed Stewardship (WSG) Grant Programs. Applications are now available and must be submitted by November 30 for funding considerations.
 
Youth MPX Resource Fair. Join the Department of Public Health and LYRIC Center for LGBTQQ Youth Thursday, November 3, 3 to 7pm, at the LYRIC Youth Center, 127 Collingwood Street, and meet other young adults aged 16-24 y/o in your community, enjoy snacks, appetizers, fun community games and learn more about youth health. Also, voice your questions, concerns and opinions on MPX and let us know what your city can do to help you feel safe.

2022 Walk to End Alzheimer's. Add your flower to the fight to End Alzheimer's by registering to walk, volunteer, or donate to the walk to End Alzheimer's. All funds raised through Walk to End Alzheimer's further the care, support and research efforts of the Alzheimer's Association, a nonprofit 501(c)3 organization. This year's event will be held on Saturday, November 5, at Pier 27. Spread the word using #Walk2EndAlz and #ENDALZ
Upcoming Neighborhood Meetings
Eureka Valley Neighborhood Association. Thursday, November 17 at 6pm. https://evna.org/ 

Upper Noe Neighbors. Every other month on the third Wednesday at 7:00 at the Upper Noe Recreation Center. https://uppernoeneighbors.com/

Glen Park Association. Next quarterly meeting will be held in January. Check its blog for dates.

Dolores Heights Improvement Club. Green Gardens group holds monthly clean-ups on the first Saturday of the month from 9am – 10:30am. More info here.

DHIC Board meets on the second Monday of every other month (except December.) Meetings are held via Zoom from 7pm – 8pm. Email info@doloresheights.org to obtain the Zoom meeting link.

Castro Art Mart is a monthly street fair on Noe Street between Market and Beaver the first Sunday of every month from 11am-5pm featuring LGBTQ art from local artists, live music, comedy and drag shows, and more. Learn more.

Noe Valley Town Square Events. Upcoming events at the Noe Valley Town Square include Acoustic Sunday and Free Sunday Morning. Details at noevalleytownsquare.com/events
San Francisco tackles housing and climate crises

Grist, October 26
San Francisco's Board of Supervisors approved a bill last week making it legal to build four units of housing on any residential lot in the city and up to six units on corner lots. This marks a big shift for San Francisco, one of the most unaffordable cities in the country. In spite of its already high population density, much of the 47-square-mile city is zoned for single-family housing. "The way much of San Francisco is zoned today makes it easier to flip existing housing into monster homes than to build small apartment buildings for regular working people," said Rafael Mandelman, a city lawmaker, in a February statement introducing the final version of the legislation.
Opposition to states ban mounts in San Francisco

Axios, October 26
Momentum is building within City Hall to revise — or completely get rid of — a San Francisco ban on doing business with companies headquartered in states with laws deemed discriminatory. Why it matters: Limiting businesses that can bid on a city contract can, theoretically, increase the overall cost of a project, which is especially problematic in San Francisco, where even a single, public toilet can cost well over $1 million to build.
S.F. contest blends pumpkins and politics

San Francisco Chronicle, October 22
"It's an uplifting event" that lets Wiener catch up with longtime constituents and meet new ones, he said after polishing off a slice of pizza. Some residents come to talk shop, while others are there for the festivities, he said. This year, Mayor London Breed, Supervisor Rafael Mandelman and District Attorney Brooke Jenkins stopped by.
SF is now boycotting most of the US. That may soon change.

Mission Local, October 18
Mandelman today sent a letter to Chu, co-signed by fellow supes Catherine Stefani, Aaron Peskin, Hillary Ronen and Ahsha Safaí. It requests that she initiate the process of either amending the city's boycott or doing away with it altogether. Chu's analysis is expected to last until May of 2023…"We need to try to speak together with places that share our values, insofar as these measures will be successful at all, because many places are doing them…This has been a hard thing to figure out how to tackle. Everyone's intentions are good. And our level of frustration with the Red States is only growing," [Mandelman said].
SF is now boycotting most of the US. That may soon change.

Mission Local, October 18
Mandelman today sent a letter to Chu, co-signed by fellow supes Catherine Stefani, Aaron Peskin, Hillary Ronen and Ahsha Safaí. It requests that she initiate the process of either amending the city's boycott or doing away with it altogether. Chu's analysis is expected to last until May of 2023…"We need to try to speak together with places that share our values, insofar as these measures will be successful at all, because many places are doing them…This has been a hard thing to figure out how to tackle. Everyone's intentions are good. And our level of frustration with the Red States is only growing," [Mandelman said].
S.F. housing crisis: New fourplex law passes — with support from Breed and YIMBYs

San Francisco Chronicle, October 17
For the second time this year, San Francisco supervisors have passed legislation allowing fourplexes to be built in every neighborhood, with up to six units permitted on all corner lots. And this time, the ordinance is likely to become law. Mayor London Breed vetoed the last fourplex legislation passed by the Board of Supervisors, but she has signaled that she is on board with the version supervisors approved overwhelmingly Tuesday
SF supervisors explore offering bounties for reporting of drivers blocking bike lanes

ABC 7 Bay Area, October 14
San Francisco supervisors are only having conversations about this being one of the options to tackle drivers double parking and putting cyclist at risk, but in order for that to happen - a state law would have to change. "If the state were to change the law to allow, say automated enforcement if there are cameras around, monitoring - could those cameras be the basis for issuing a ticket even without a parking control officer being there? You can automate that. If allowed to by the state law," said Mandelman
Fourplex revival: SF's quest for density might not be dead, after all

San Francisco Examiner, October 5
San Francisco Board of Supervisors and the mayor's office are nearing a deal to allow at least four units of housing on every residentially zoned lot in The City and up to six units on corner lots. If approved by the full Board of Supervisors, the measure would be a significant shift in housing policy in a city that has been mired in debate for years over its approach to density
In SF and Across California, People With Severe Mental Illness Languish Untreated in Jails, Hospitals

The San Francisco Standard, October 4
"Nobody at the state level is taking responsibility for these problems," said SF Supervisor Rafael Mandelman, who has advocated for increased conservatorship. "We need another state mental hospital […] and that wouldn't even begin to scratch the surface of the need."
SFO Restaurant Workers Win $5 Raise, Free Family Health Care Following Strike

KQED, October 3
The strike made headlines, and some members of San Francisco's Board of Supervisors joined the picket lines this week. On Tuesday night, the supervisors called a hearing on the strike. Union officials testified at the hearing that airport food service workers haven't had a raise since 2018, and more than one-third of them hold down two or more jobs. Workers described sleeping in their cars between shifts and bathing in public restrooms, because their long commutes home would rob them of precious hours to sleep.
Castro's 'Gay Post Office' P.O. Plus named SF Legacy Business

Hoodline, October 3
"In addition to providing exceptional mail, shipping, and business services, P.O. Plus makes significant culturally important contributions to the Castro by maintaining a historical storefront, where the first bisexual political organization, BiPol, was founded in the 1980s," wrote District 8 Supervisor Rafael Mandelman in his letter of support to the Office of Small Business. "Given P.O. Plus' enduring presence in the Castro and their commitment to providing quality, community-oriented services, I strongly believe that they would benefit from being a part of San
Francisco's Legacy Business Registry," added Mandelman.
SF Supervisors Seek 'Pro-Housing' Status Amid Tough Talk From Newsom

The San Francisco Standard, September 28

The effort to seek a pro-housing designation was brought by Mayor London Breed and co-sponsored by Board President Shamann Walton and Supervisor Rafael Mandelman, and came before the board's Budget and Finance Committee on Wednesday. The committee voted to forward the application to the full Board of Supervisors. 
 
What your supervisor thinks about police surveillance

Axios, September 22

San Francisco's Board of Supervisors sparred this week over an ordinance to allow the police department to request access to live surveillance technology from private parties… "We have technology that we can use responsibly and with appropriate guardrails that will allow our understaffed police department to function more effectively and address challenges that are facing us not in the future, but in the here and now," [said Supervisor Mandelman].
LGBTQ bike club marks 40 years

The Bay Area Reporter, September 21

With jerseys from Different Spokes adorning the back wall during its celebratory dinner September 18 at Il Casaro Pizzeria on Church Street, gay District 8 Supervisor Rafael Mandelman presents a Board of Supervisors proclamation honoring the 40 years of the cycling club. Different Spokes is best known for its old AIDS Bike-A-Thon fundraiser that the club started in 1985 and went through 1994. Club members also observed the anniversary with a 25-mile bike ride September 17 approximating the bike-a-thon route.
 
SFMTA announces opening schedule of Central Subway Project

Mass Transit, September 21

"The November opening represents a promise fulfilled to the Chinatown community to provide better local and regional transit connections," said Rafael Mandelman, chair, San Francisco County Transportation Authority and District 8 supervisor. "The transportation authority was glad to support the project with $215 million from various sources, including the half-cent sales tax program."
SF Must Have a Mental Health Court in 12 Months, But No One Can Say How it Will Work

The Frisc, September 14

"Folks in our Department of Public Health have to spend a fair amount of time in the next few months figuring out how and whether we can use this," Sup. Rafael Mandelman, a top local backer of the idea, said in a recent interview. "We're likely to have hearings with the Board of Supervisors on how implementation is likely to work and what we're hoping to accomplish. I think it's all too soon to tell."
NEIGHBORHOOD OFFICE HOURS
Have questions or concerns for the District 8 Office? Our neighborhood office hours will be on Sunday, November 12, from 10am-12pm, held virtually on Zoom. 

Email MandelmanStaff@sfgov.org to request a 10-minute appointment. Appointments are on a first come, first served basis. 
 
YOUR NEIGHBORHOOD PUBLIC SAFETY LIAISON
Have you met Dave yet? Dave Burke is a civilian employee of the San Francisco Police Department and serves as the District 8 Public Safety Liaison. Reach him at dave.burke@sfgov.org. 
 
This email was sent by: City and County of San Francisco
1 Dr Carlton B Goodlett Place, San Francisco, California, 94102 United States

Privacy Policy
---
Term
Elected June 05, 2018 for term July 11, 2018 to January 08, 2019

Elected November 06, 2018 for term January 08, 2019 to January 08, 2023
---
Committee and Board Assignments
---
Contact Info
City Hall
1 Dr. Carlton B. Goodlett Place, Room 244
San Francisco, Ca 94102-4689
415-554-6968 (phone)
415-554-6909 (fax)
mandelmanstaff@sfgov.org