District 8
Rafael Mandelman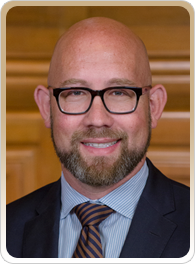 District 8

Supervisor Rafael Mandelman
represents District 8 on the San Francisco Board of Supervisors. District 8 includes the Castro, Glen Park, Noe Valley, Diamond Heights, and Mission Dolores. Supervisor Mandelman is the only LGBTQ member of the Board of Supervisors.  READ MORE
---
It was an honor to speak at the annual Chinatown Winter Wonderland event last month! Much gratitude to all the community organizations that came together to ensure our youth had a very special holiday season.
WHAT WE'VE BEEN WORKING ON
PASSING SFUSD SUPPLEMENTAL: The Board of Supervisors approved a budget supplemental I introduced with Mayor Breed to appropriate nearly $12 million to the Department of Elections to support two unanticipated elections, including the recall of three members of the SFUSD Board of Education. The school district is already facing a $125 million deficit this year, with a state takeover looming, while the City is anticipating a $100 million budget surplus. Reasonable people can disagree about the merits of the school board recall, but I am glad that my colleagues and I agreed our public school students shouldn't bear the costs.
OPENING UP CASTRO BARS: The Board unanimously approved my ordinance to allow new bars in the Castro. New bars are actually prohibited under current zoning, but now they'll be able to open as a conditional use with community input.
SISTER VISH-KNEW WAY: I can think of few organizations that have had the cultural impact and have done more to advance the cause of queer liberation over the last four decades than the global LGBTQ+ community service organization, the Sisters of Perpetual Indulgence. Sister Vish-Knew co-founded the organization on Easter Weekend in 1979 and has remained engaged with their work for the past 40 years, hosting countless community fundraisers and representing San Francisco and the Sisters at events around the world. That's why on January 11, I introduced a resolution at the Board of Supervisors to honor her by adding "Sister Vish-Knew Way" to a street in her longtime neighborhood. 
1. MAKING THE CASE FOR A PLACE FOR ALL: In April, the Board of Supervisors Budget and Finance Committee considered my "A Place for All " legislation. Hundreds of San Francisco residents and small business owners wrote and called into the meeting to support our comprehensive plan to ensure every unsheltered person has a safe place to sleep that is not a sidewalk, plaza or park. The legislation faced strong opposition from homeless advocates who oppose shelter-for-all policies and has been held at the Budget and Finance Committee since then, but I have not given up. I have continued making the case to colleagues and hope to be able to enact the legislation in 2022.

2. LAUNCHING STREET CRISIS RESPONSE TEAMS: In February, the Street Crisis Response Team began to serve the neighborhoods of District 8. Each SCRT is comprised of a behavioral health clinician, a community paramedic, and a peer, and responds to 911 calls for people experiencing behavioral health crisis on the streets. The SCRT was a top recommendation of the 2019 Methamphetamine Task Force, which I co-chaired, and I had worked with Mayor Breed and Supervisors Ronen and Haney to secure full funding for this new program in the 2020-21 Budget.
3. OPENING THE VALENCIA HUMMINGBIRD: With the opening of 1156 Valencia Street in May, District 8 became home to the first-ever community-based Hummingbird Navigation Center. The Valencia Community Hummingbird provides more than 20 beds, supportive services, and a path to stability and wellness for unhoused people struggling with mental illness and substance use disorder from the surrounding community. Unfortunately, persistent issues related to encampments and unacceptable behavior around the Hummingbird Center have reinforced the urgent need to pair expanded service offerings with effective consistent street interventions to improve street conditions in the areas where these services are provided. That is as true in the Mission as it is in the Tenderloin as it is in Pacific Heights.  

4. PILOTING A DRUG SOBERING CENTER: The City is implementing another top recommendation of the Methamphetamine Task Force with the opening of the SOMA-RISE (Recover, Initiate, Support, Engage) Center . This facility will offer a safe place for people who are intoxicated from meth or other drugs to access clean bathrooms, showers, food and a place to rest. Trained staff will be on site to reverse overdoses and connect participants with medical care, mental health and substance use and housing services.
5. ENSURING PUBLIC SAFETY STAFFING: I advocated in the Board's budget process for a number of important non-police investments to address public safety. These included Street Crisis Response and Street Wellness Teams. But I also fought for $15 million for academy classes and overtime funding for foot patrols, investigations and anti-burglary operations. We should identify and fund alternatives to police where they make sense, but after years of declining staff levels SFPD needs hundreds of additional officers to meet our City's public safety goals. The academies funded in this year's budget are not enough to get us there, but they are a start.

6. INVESTIGATING SAN FRANCISCO'S USE OF ANKLE MONITORS: My office investigated the use of electronic monitoring in San Francisco. We sent letters of inquiry to the Sheriff and Adult Probation to gather data on SF's use of electronic monitoring and found that more than ⅓ of people on pretrial electronic monitoring in San Francisco remove their ankle monitor or commit other crimes, and they often fail multiple times. If one out of every three cells in our jail had broken locks we would do something about it. I have requested a Budget and Legislative Analyst report on how San Francisco courts' reliance on electronic monitoring compares to courts in other counties; we are expecting to receive that report in February.  

7. ADDRESSING ORGANIZED RETAIL THEFT: In November, I convened SFPD Chief Scott, DA Boudin, and representatives from Safeway and United Food and Commercial Workers to address organized retail theft at Safeway stores in San Francisco. Coming out of that meeting, SFPD has collaborated with Safeway on best practices, employee training, and store layout. The Board of Supervisors also unanimously passed a resolution I authored calling on Congress to pass H.R. 5502, the INFORM Consumers Act, to require online marketplaces to collect, verify, and disclose certain information from high-volume sellers. Passing the INFORM Act is an important step toward addressing organized retail theft, as most stolen goods are sold on Amazon and other e-commerce sites. 
8. BUILDING AFFORDABLE HOUSING IN D8: In May, I joined Mayor Breed and Habitat for Humanity to break ground on a new affordable homeownership project at 36 Amber Drive in Diamond Heights. This is the first time the City has funded construction of a 100% affordable homeownership project, implementing a new strategy featured in last year's District 8 Housing Opportunities Report that I commissioned.  
9. PROTECTING HOUSING SERVICES FOR TENANTS: In November, the Board passed my legislation to strengthen protections for tenant housing services like storage, laundry, and parking from landlords attempting to replace these spaces with additional units, or ADUs. While I support the ADU program, new units shouldn't come to the detriment of existing residents. The ordinance adds notification requirements, provides tenants with a right to petition the Rent Board, and enhances the legal remedies for tenants whose services are wrongfully removed.  

10. MOVING FOURPLEXES FORWARD: Throughout the year, I have worked to advance an ordinance that would make it easier to build small multi-family buildings in residential neighborhoods citywide. We are revising my "fourplex" proposal now in response to the Planning Commission's recommendations and the legislation is on track for a hearing at the Board's Land Use committee in February.

11. REIGNING IN MONSTER HOMES: My ordinance to slow the tide of smaller, older homes being flipped into luxury single-family mansions also moved forward last year. Following the Planning Commission's advice, we have simplified and scaled the proposal back to apply to the most impacted D8 neighborhoods and look forward to bringing it to a vote at the full Board early this spring. 

12. PRESERVING RESIDENTIAL CARE FACILITIES: In September, the Board passed my ordinance amending our zoning controls to discourage the further loss of existing residential care facilities, while also making it easier to add new residential care beds in San Francisco. These facilities provide stable housing and essential care for elderly residents and those living with disabilities and chronic illness, making them an essential component of preventing and ending homelessness for seniors and people with disabilities.

13. INVESTING IN SAFE STREETS AND SUSTAINABLE TRANSPORTATION: In my first year as Chair of the County Transportation Authority, we allocated over $100 million to pedestrian and bicycle safety improvements, roadway and transit infrastructure investments, and paratransit operations across the city, and advanced major regional transit projects like bringing high speed rail to the Salesforce Transit Center.
14. MAKING SLOW SANCHEZ PERMANENT: The Slow Streets program began during the early days of the COVID pandemic as a way to provide additional outdoor recreation space and routes for car-free travel during those difficult shelter-in-place days. In September, the Sanchez Slow Street was approved as one of the first streets to be included in a permanent Slow Streets network, along with a slate of safety and pedestrian improvements along Sanchez that I helped to fund.

15. RESTORING MUNI SERVICE: Since the pandemic began the restoration of transit service has been one of my top priorities, and District 8 was one of the first to welcome back all our Muni lines. In December, the MTA Board adopted a 2022 service plan that will restore all but two Muni lines citywide, and will include the return of direct service to downtown on the J Church via the Muni subway and modifications to the 48 and 35 bus routes to respond to community concerns. 

16. MAKING SHARED SPACES PERMANENT: My office helped dozens of D8 businesses open their parklets and secured funding to support street openings on Valencia and in the Castro. I joined Mayor Breed in introducing legislation to create a permanent version of the program, which clearly remains necessary as the pandemic evolves and that I will continue working to improve to ensure a balanced program that works for all residents and businesses.

17. SUPPORTING CANNABIS BUSINESSES: In December, the Board of Supervisors unanimously approved my legislation suspending the imposition of the City's Cannabis Business Tax through December 31, 2022. Cannabis businesses create good jobs for San Franciscans and provide safe, regulated products to their customers. Now is not the time to impose a new tax on small businesses that are just getting established and trying to compete with illicit operators. 

18. EXPANDING WATER REUSE AND RECYCLING: The Board unanimously passed my water reuse and recycling ordinance, to more than double the amount of water that new large buildings are required to collect and reuse on site. The ordinance also directs SFPUC to come up with a plan for expanding the City's supply and use of recycled water. 

19. DELIVERING BUDGET WINS FOR D8 NEIGHBORHOODS: The 2021-2022 budget passed in the summer had some major victories for the residents and businesses of District 8, including funding for new District 8 sidewalk gardens and plantings in Christopher Park, Pink Triangle Park and Mount Olympus Park, and a watering system in the Arlington Cut. 
20. COLLECTING SOGI DATA: The Board of Supervisors unanimously passed legislation I co-sponsored with Mayor Breed to allow the City to collect Sexual Orientation and Gender Identity (SOGI) data for all City employees and applicants for City employment. The legislation removed a prohibition on the City from inquiring into "sexual orientation, practices, or habits" of City employees that was necessary when enacted (in 1985 at the height of the HIV/AIDS epidemic) to protect LGBTQ City employees and applicants from potential discrimination. This legislation will help us to identify and address the needs of these employees and ensure that we are supporting and expanding San Francisco's LGBTQ workforce.

21. MAKING HISTORY AT THE LYON-MARTIN HOUSE: This year we took a historic step to honor the legacies of LGBTQ icons Phyllis Lyon and Del Martin when the Board approved my ordinance to make their longtime home in Noe Valley a city landmark. This is the first local landmark site in San Francisco specifically recognizing the lesbian community, a step that is long overdue. 
The Omicron variant continues to fuel our current surge, with the Department of Public Health indicating that the peak seems to be within sight. 

While we are seeing a lot more mild cases among fully vaccinated people, testing when we have symptoms and isolating if we test positive remain critical to containing the spread of COVID-19. Guidance on what to do if you test positive is available here.
All San Francisco residents and workers age 5 and older are eligible for the vaccine. Additionally, boosters are now recommended for everyone 16 and older who received their J&J vaccine at least 2 months ago, or Pfizer/Moderna at least 6 months ago. For more information on eligibility, where to get the vaccine, and how to make an appointment, visit sf.gov/GetVaccinated

Currently 90% of San Franciscans 5 and older have received at least one vaccine dose and 85% have completed a vaccine series. Getting these numbers as close to 100% as possible is the single most important thing we can do to put the pandemic behind us, so please encourage everyone you can to get their shot today.
---
TESTING & VACCINES IN THE CASTRO
The Castro LGBTQ Cultural District in partnership with the Department of Public Health, Virus Geeks, South of Market Health Center and Castro Merchants is offering free COVID-19 testing and vaccines without any appointments at the Collingwood Parking lot on 18th Street between Collingwood and Castro Street.

The hub is open on Saturdays from 11am to 5pm.
---
TESTING AVAILABILITY 
If you feel sick, get tested right away, even if you're vaccinated. If you are unvaccinated and have a known exposure but no symptoms, get tested on or after day 6 following exposure.

If you have health insurance, schedule a test with your doctor. If you have symptoms or a known exposure, your healthcare provider is required by law to get you a test.

Find out about your COVID-19 testing options at sf.gov/GetTested
---
MASK GUIDANCE
Due to the uncertainty caused by the Omicron variant, flu season, and increased indoor gatherings, mask requirements remain in place in most public settings. More information about current mask guidance is available at sf.gov/Masks
TRANSPORTATION AUTHORITY CHAIR'S REPORT
A NEW YEAR AT THE CTA: My colleagues have re-elected me as Chair of the County Transportation Authority. This year I will continue working toward a reliable transit system that fuels our economic recovery and combats the climate crisis, and safe streets and access for all San Franciscans.

My top priorities this year will be to adopt a new 30-year spending plan and renew our Prop K transportation sales tax on the November ballot, while making good use of federal transportation infrastructure funds to invest in public EV charging stations and deliver major transit projects like the high speed rail extension to the Transbay Transit Center. 
 
LOWERING SPEED LIMITS: This month, the MTA began posting new 20 mph speed limit signs on several commercial corridors under a new state law (AB 43) that finally allows cities to take pedestrian safety into account when setting speed limits on our local roads. Reducing speeds is one of the most important things we can do to save lives and meet our Vision Zero goals. This first round of reductions includes Valencia from Cesar Chavez to Market, 24th St from Diamond to Chattanooga, and parts of Haight, Fillmore, Polk, Ocean Ave, and San Bruno Ave. 

SIGNAL RETIMING IN MISSION DOLORES AND UPPER NOE: I joined the Mayor in sponsoring a resolution to accept $2,000,000 in State funding for MTA's Vision Zero Signal Retiming project, and renew a master agreement with the State Highway Safety Improvement Program (HSIP). This project will reprogram traffic signals at 175 intersections across the city to improve pedestrian safety and increase crossing times, including along the full lengths of Dolores, Guerrero, and Valencia St.  
Looking for Volunteers & Interns
Now that we've reopened to the public, we are looking for amazing volunteers and interns for the District 8 office. If you, or someone you know, would be a great addition, please email jackie.thornhill@sfgov.org for more info! 

Upcoming Neighborhood Meetings
Upper Noe Neighbors. January 19th, 7:00 - 9:00. Email info@uppernoeneighbors.com for the Zoom link

Duboce Triangle Neighborhood Association. February 14th, 7:00 - 8:00. Join at meet.google.com/gvm-uyrv-yje, or by calling in to ‪+1 443-671-8243‬ PIN: ‪507 209 394‬#

Noe Valley Town Square Events
Upcoming events at the Noe Valley Town Square include a neighborhood dinner party with the 29th Street Swingtet on Jan 22, Sunday morning yoga on Jan 23, Acoustic Sunday on Feb 6, and Valentine Funday on Feb 13. Details at noevalleytownsquare.com/events

Transportation Spending Plan Town Hall
Join me at a virtual town hall on January 20th at 6:00 to discuss how you would spend San Francisco's transportation sales tax dollars.

California COVID Rent Relief Still Available
Applications to the State program remain open to low-income renters behind on payments because of COVID-19. Households must make less than 80% of the area median income, or about $85,000 for two people. Tenants or landlords can apply at Housingiskey.com. 
Vacancy Tax
On March 3, 2020 San Francisco voters approved a vacancy tax on certain commercial spaces that have been vacant for more than 182 days. After a yearlong delay due to the impacts of the COVID-19 pandemic, the tax took effect on January 1. Additional details are available here.
Get a Text, Not a Tow
The MTA announced "Text Before Tow," a first-of-its-kind program where customers can sign up to receive a text message notification prior to having their vehicle towed. To enroll a vehicle, complete a short online form to register their license plate and phone number. 

Open Enrollment for Covered CA
Covered California 2022 Open Enrollment is almost over (Nov 1, 2021 – Jan 31, 2022). It's time to explore your 2022 health insurance options. Covered CA plans offer a choice between private health insurance companies, including Kaiser, Blue Shield, Anthem Blue Cross, Chinese Community Health Plan, Healthnet, and Oscar. Even if you've checked in the past, check again because additional financial help is available to nearly all income levels, thanks to the American Rescue Plan. 

The amount of help you receive is based on your household size, annual income, age, and location (zip code). If you haven't started your 2022 application yet, now is the time. As a Certified Enrollment Counselor for Covered CA, based in San Francisco, Susan can help you - or a friend or family member -  to enroll or renew at no cost to you understand what services are included with a 2022 Covered CA plan and help you to enroll or renew at no cost to you.

Susan Pfeifer is a Covered CA Certified Enrollment Counselor who can assist with enrollment - you can email her at Mediasusan2@gmail.com and call at 415-860-8081
S.F. school board recall: In reversal, city will cover the district's cost of special election

San Francisco Chronicle, January 4

"Supervisor Rafael Mandelman proposed the legislation to have the city pay the district's election costs, saying the unanticipated financial hit could mean more cuts for classrooms given the district's $125 million shortfall next year."
SF supervisors OK Castro bar zoning liberalization

Bay Area Reporter, January 11

"I'm glad my colleagues passed this legislation and hope it opens the door to new operators and concepts in the Castro," Mandelman stated. "The neighborhood has too many vacancies, and we should be making it easier to fill them."
SF supe wants street named for drag nun

Bay Area Reporter, January 11

"Gay District 8 Supervisor Rafael Mandelman, who represents the Mission Dolores neighborhood, is proposing a ceremonial name change for Alert Alley, which runs between Dolores and Landers streets, so it is also known as 'Sister Vish-Knew Way.' It is derived from one of the names that founding Sister Kenneth Bunch has gone by over the years."
San Francisco to accelerate EV charging with new legislation

Cities Today, January 12

"Public electric vehicle charging stations are essential to ensuring widespread and equitable access to EVs across San Francisco,' said Rafael Mandelman, Chair of the San Francisco County Transportation Authority."
Honoring Cody Clements and Others Who Have Worked to Keep the Castro Safe
San Francisco Bay Times, January 13

"On December 13, the 15th Anniversary Party for the Castro Community on Patrol took place, honoring the organization's critical work protecting the Castro's streets in conjunction with SFPD's Patrol Special Officer. Senator Scott Wiener and Supervisor Mandelman presented certificates to Patrol Special President Alan Byard and other members attending, including Leandro Gonzalez, Greg Carey, Brian Hill, Ken Craig, and Erin Lavery."
Restoration of the Castro's poignant HIV/AIDS mural uncertain after being defaced by graffiti

Hoodline, December 23

"Mandelman added, 'The situation is plainly unacceptable, and I have contacted the property's management company and convened City agencies to see what physical changes can be made there, including restoration of the mural, to make this area a safer and more welcoming place." 
This email was sent by: City and County of San Francisco
1 Dr Carlton B Goodlett Place, San Francisco, California, 94102 United States

Privacy Policy
---
Term
Elected June 05, 2018 for term July 11, 2018 to January 08, 2019

Elected November 06, 2018 for term January 08, 2019 to January 08, 2023
---
Committee and Board Assignments
---
Contact Info
City Hall
1 Dr. Carlton B. Goodlett Place, Room 244
San Francisco, Ca 94102-4689
415-554-6968 (phone)
415-554-6909 (fax)
mandelmanstaff@sfgov.org