District 10
Shamann Walton
District 10

Supervisor Shamann Walton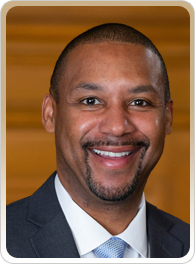 was born in San Francisco and lived in public housing at an early age in Bayview and Potrero Hill. He has worked in District 10 neighborhoods for decades
and has witnessed firsthand the challenges our community faces from long-time residents being pushed out of the city to losing childhood friends to violence and incarceration. As an accomplished and experienced community leader, Shamann has dedicated his life to improving these realities in our community and is committed to identifying solutions to our pressing issues. He has a proven track record of creating positive change in the community he serves.
As the former president and member of the San Francisco Board of Education, Shamann spearheaded the effort to close the achievement gap for Black, Latino, and special needs students and helped secure the funding for the school district's first African American Achievement and Leadership Initiative. He worked to protect undocumented students, decreased teacher turnover, increase graduation rates across the district for Black, Latino and Pacific Islander students, secured the financing and identified a site for our first affordable housing units for educators, and fought to make sure that Mission Bay will have its first school built in the next few years.  READ MORE
---
Community Events and Announcement
Dear Neighbors and Community, 

Here are the most recent City & State updates:

We are still in Shelter in Place until May 31. As a reminder, please remember to do the following:
Mandatory face coverings required when going out for essential needs such as groceries. 
When conducting essential needs such as groceries, please remember to keep safe social distance of 6 feet away from other patrons. 
Do not throw your disposable face covering or gloves on our streets, please properly dispose of them in trash cans to keep our streets clean. 
Resources for our residents: 

Our office remains open and responsive remotely. My staff periodically checks our voicemail at 415-554-7670 daily. You may also email my office at waltonstaff@sfgov.org. 

Please stay safe and healthy!

In community, 
Supervisor Shamann Walton
____________________________________________________________________
Sheriff Oversight Charter Amendment
For over a year, my office and I met with various stakeholders to discuss sheriff oversight, studied other programs launched in different counties, visited jail sites, and after several meetings, prepared a Charter Amendment to amend the Charter of the City and County of San Francisco to create the Sheriff's Department Oversight Board. This Board shall advise the Sheriff and the Board of Supervisors regarding Sheriff's Department operations. The Oversight Board shall report its quarterly findings and recommendations to the Sheriff and Board of Supervisors.
This Charter Amendment will also create the Sheriff's Department Office of Inspector General. Under the direction of an Inspector General appointed by the Oversight Board, will receive and investigate complaints of non-criminal misconduct by employees and contractors of the Sheriff's Department and in-custody deaths, develop policy recommendations for the Sheriff's Department, and report quarterly its findings, results, and recommendations to the Sheriff and the Oversight Board.
This Charter Amendment will:
Establish a Sheriff's Department Oversight Board of 7 members who shall complete a training and orientation on custodial law enforcement, constitutional policing, and Sheriff's Department policies and procedures.

This body will appoint the Inspector General in the Sheriff's Department to evaluate the work of the Sheriff's Department, compile and recommend law enforcement custodial and best practices and conduct community outreach to hear public input regarding the Sheriff's Department operations and jail conditions.

This body will receive, review, and investigate complaints against Sheriff's Department employees and contractors. This body will investigate the death of any individual in the custody of the SFSD.

The body shall develop and recommend to the Sheriff, a SFSD use of force policy and comprehensive internal review process for all use of force and critical incidents.

Quarterly reports will be submitted to the Sheriff and the SDOB reports will include the number and types of complaints filed, trend analysis, and the outcome of the complaints.
____________________________________________________________________
Family Relief Fund Update
Our office was able to work closely with the Human Rights Commission to launch a Family Relief Fund that will give resources to families who are not eligible for other state or federal programs. The program will serve 5000 families and work closely with over 50 agencies to distribute the funds. Announcements and awards to agencies serving families will be made this week with funding directly to families as soon as Monday!
____________________________________________________________________
New Testing Locations Added:

This week, the City announced the creation of three new COVID-19 testing opportunities in San Francisco:
Mobile testing in the Tenderloin
City College Student Health Center from the State
Testing for families in Hunters View
Any essential or frontline worker can now be tested, regardless of symptoms or exposure. This test is easy, fast, and free. Results are available within 24 to 48hours. Also, DPH has expanded testing for anyone living in San Francisco who either has one symptom, or who has been exposed to a COVID‐19 positive person.

To make an appointment, please visit: sf.gov/citytestsf
or sf.gov/GetTestedSF

This is a positive step, but still leaves out certain vulnerable populations. Portions of our unhoused population and other low-income families still do not qualify for asymptomatic testing. We need to make asymptomatic testing available to EVERYONE who lives in a vulnerable community and in areas where we see disproportionate amounts of people who have contracted the virus.
____________________________________________________________________
____________________________________________________________________
Economic Recovery Task Force Survey
____________________________________________________________________
PPP & Loan Forgiveness Application Webinars
____________________________________________________________________
SFPUC - Emergency Assistance Program
The San Francisco Public Utilities Commission (SFPUC) announced an emergency community assistance program to help residential customers struggling to pay their water, sewer and Hetch Hetchy power bills during the COVID-19 pandemic.



Residential customers who have been financially impacted as a result of COVID-19 or the shelter-in-place order and have a maximum household income under 200 percent of the San Francisco Area Median Income will be eligible to apply. 




The following reduced rates will be available:




·         

35 percent 

off sewer bills;




·         

30 percent 

off Hetch Hetchy power bills; and




·         

15 percent 

off water bills




This temporary program will be applied retroactively, dating back effectively to March 4. To enroll in the program, eligible customers can complete an online application form 

here

. The program will expire on September 4. 




To qualify for the program, residential customers must demonstrate the following:
Be a residential customer seeking a discount for your primary residence, with an SFPUC account serving only your dwelling unit under your own name; and 

Have experienced a loss of income related to COVID-19 or the shelter-in-place order and be experiencing financial hardship and difficulty paying your water and sewer and/or Hetch Hetchy power bills. 
The SFPUC already offers discounted rates to customers whose income makes them eligible under federal guidelines through its 
Community
Assistance Program
 (CAP). The agency is working to proactively reach out to customers who may qualify for this longer-term savings program. Customers in those programs will continue to receive benefits following the expiration of the emergency CAP expansion.
In addition to launching the temporary customer assistance program, the SFPUC 
suspended water and power shutoffs
 due to late payments, an initiative that has recently been extended. The agency has also postponed liens and collections, waived late fees and provided rental payment deferments for tenants of our facilities.
Be an emergency volunteer!

Healthy adults or medical professionals can help the City respond to the coronavirus outbreak.
Match and help a senior
Join the Emergency Response Volunteer Program
Be a food pantry and distribution volunteer
Licensed medical volunteers needed for DPH
Find out more information here: https://sf.gov/be-emergency-volunteer
____________________________________________________________________
Businesses Open in D10 During SIP
Here are some resources identifying which businesses in D10 are still open during Shelter in Place.
Please support our local businesses More to come!
Comprehensive Resource Document
We are continuing to add new resources to our comprehensive resource document linked here [bit.ly/covid19d10]. New resources include:

Please check this document regularly for additional resources and let us know if you are aware of any resources that we haven't included!
Potrero Yard Modernization
Virtual Community Conversation
On Saturday June 6, the SFMTA is hosting virtual community conversations to discuss modernizing Potrero Yard located at Mariposa and Bryant streets.

Despite COVID-19, the SFMTA will continue to invest in infrastructure to keep current and future generations moving throughout San Francisco. Potrero Yard, one of Muni's oldest bus yards, is indeed an essential project and the enhancements proposed through the Potrero Yard Modernization Project offer solutions to ensure the SFMTA maintains their fleet of buses as efficiently as possible, accommodate their new buses that will be delivered in the next six years, improve their resilience to climate change and natural disasters, and ensure staff is able to perform their work in a safe and efficient way. This site also presents a unique opportunity to add housing within the neighborhood.

Meeting materials can be found at sfmta.com/PotreroYard in English and Spanish (other languages available upon request).

If you are unable to attend this event, you can learn more about the project and subscribe to project updates by visiting the project page, emailing PotreroYard@sfmta.com, or calling Adrienne Heim, Public Information Officer, at 415.646.2564.

Event Details:
Saturday, June 6, 11 AM to Noon (English), Call 877-229-8493 and enter 119593#

Saturday, June 6, 1 PM to 2 PM (Spanish), Call +1-669-900-6833 and enter 81568997301#

You can also provide input by participating in a phone-based survey by texting "Potrero" to (415) 599-8662 in English or "Potrero" to (415) 707-5406 in Spanish.
Visitation Valley & Sunnydale Residents:
Share your thoughts on the Sunnydale Block 3 Project
We're looking to engage residents of the Visitacion Valley and Sunnydale neighborhoods to give them an opportunity to share their ideas regarding the Sunnydale redevelopment here: courb.co/block3. Although community engagement cannot happen in person, this is a wonderful opportunity for community members to make their voices heard and shape how their community grows. 
 
CA Hispanic Chamber of Commerce Statewide
Spanish Town Hall
The California Hispanic Chambers of Commerce and CA Insurance Commissioner Ricardo Lara for a Spanish Tele-Town Hall on insurance issues and available resources for small businesses during the COVID-19 pandemic emergency. With many businesses experiencing tremendous economic loss, it is imperative for you to have up to date information on services and resources. Experts from the U.S. Small Business Administration, Small Business Majority and the CA Hispanic Regional Chamber of Commerce will joining us. 
 

The event will be held on:
Wednesday, June 3rd
1:00 p.m. to 2:00 p.m.

Estimados amigos,

Únase a la Cámara de Comercio Hispana de California y al Comisionado de Seguros de California, Ricardo Lara, para una teleconferencia sobre temas de seguros y recursos disponibles para pequeñas empresas durante la emergencia de COVID-19. Dado que muchas empresas están sufriendo tremendas pérdidas económicas, es imprescindible que tengan información al día sobre servicios y recursos. Expertos de la Administración de Pequeñas Empresas de EE. UU. (SBA) y la organización de servicios a empresas pequeñas, Small Business Majority, se unirán a nosotros. El evento se realizará el:

Miércoles 3 de junio a la 1 p.m.

Envíe sus preguntas por correo electrónico con anticipación, a más tardar el lunes 1 de junio a las 10 a.m. Haremos todo lo posible para responder a todas las preguntas enviadas por correo electrónico durante la conferencia telefónica. Para las preguntas que no se aborden durante la llamada, recibirá información de contacto de especialistas que pueden ayudarle directamente. Responda y envíe sus preguntas a crb@insurance.ca.gov con el título Teleconferencia en la línea de asunto. Recibirá por correo electrónico el número de la teleconferencia un día antes del evento.

¡Gracias por acompañarnos, esperamos tener una conversación productiva!
Celebrating Asian Pacific American Heritage Month
The month of May each year is nationally celebrated as Asian Pacific American Heritage Month. This year, due to the pandemic, the San Francisco celebration is going Virtual, making it possible for the community to enjoy all the art and cultural programs while sheltering in at home at www.apasf.org.

Asian Pacific Americans are facing unique challenges during this pandemic due to the rising tide of anti- Asian hate and violence. Thus, we invite everyone to post a 30-second video message to share stories about their perspective of being Asian Pacific American during this challenging time, and any other memorable experiences related to APA history and cultures at www.apasf.org, on Instagram, Facebook, and Twitter. Use hashtags #APAVoices and tag @APASF.

May 7: #asianfoodtogo in support of small neighborhood businesses and highlight diverse Asian restaurants offering food to go.

May 14: #APAfrontline interviews with APAs serving and addressing the crisis in the front line of the pandemic

May 21: #APAtalents video concert of various unique cultural performances

May 28: #APAheritagemonth inspirational remarks by celebration partners
 
____________________________________________________________________
May is Bike Month - Biking with Children Webinar
With cuts to Muni service and fewer cars on the road, more San Franciscans than ever are biking to make essential trips under the public health order.  As we continue to shelter in place, we want to make sure people know how to bike safely and that people can turn to riding their bikes as a small way to experience joy during these difficult times. In honor of May being national Bike Month, the San Francisco Bike Coalition has put together dozens of  bike-themed online events, including numerous free bicycle education classes.

Biking with Children webinar
Thursday, May 28, 4:30-5:30pm
https://sfbike.org/event/biking-with-children/  

Riding bikes with your kids is one of the best ways to get around, get exercise outdoors and spend quality time with your young ones. And you can do it while remaining socially distanced during this time. This one hour webinar will provide loads of information about biking safely and conveniently with children from preschool through elementary school age.
____________________________________________________________________
Community Resilience Caravans
Below is are the details for Wednesday/Thursday/Friday's OMI, Lakeview, Excelsior, and Sunnydale route for the community resilience caravan as well as Thursday's Bayview, Hunter's Point, and Alemany run and Friday's Western Addition, Tenderloin, and South of Market run!

Here are the details for this week's Community Resilience Caravan Routes!

Wednesday, May 20, 2020
OMI, Lakeview, Excelsior, and Sunnydale
12:30 PM - 1:30 PM (Approximately)
Start: Stonestown Parking Lot (Nearest Trader Joe's), 3251 20th Ave, San Francisco, CA 94132
End: Sunndydale Housing Community, 654 Sunnydale Ave, San Francisco, CA 94134
MEET AT 12:00PM

Thursday, May 21, 2020
Bayview/Hunter's Point/Alemany Route
2:30 PM - 3:30 PM (Approximately)
Start: Gilman Playground, 903 Gilman Ave, San Francisco, CA 94124
End: Alemany Farmers Market, 100 Alemany Blvd, San Francisco, CA 94110
MEET AT 2:00PM

Friday, May 22, 2020
Western Addition/Tenderloin/South of Market Route
2:30 PM - 3:30 PM (Approximately)
Start: Ella Hill Hutch Community Center/Collective Impact, 1050 McAllister St.
End: United Playaz, 1038 Howard St.
MEET AT 2:00PM
____________________________________________________________________
Filling out the census is something that we can all do while shelter in place. It is easy, quick, and safe and will bring much needed resources to our communities including funding for schools and transportation. 

Make sure you count everyone living with you including children, babies, relatives, friends and roommates. 

It takes less than 10 minutes to make sure our communities are funded in the next 10 years. 

You count, I count, we count!

www.2020census.gov
____________________________________________________________________
Youth Commission Accepting Applications
____________________________________________________________________
BAYCAT Youth Producer Summer Opportunity
____________________________________________________________________
This is an incredibly difficult time for our city, and many of us are experiencing significant uncertainty, anxiety, and fear. Below is a list of resources that provide useful strategies and support to help maintain and improve our mental health.

I would like to thank my colleagues, Supervisors Sandra Lee Fewer, Catherine Stefani, and Hillary Ronen, for compiling these resources.
Coronavirus Disease 2019 Managing Anxiety and Stress from the Centers for Disease Control and Prevention (CDC)
Tips for Taking Care of your Mental Health and Social Distancing, Quarantine, And Isolation During An Infectious Disease Outbreak from the Substance Abuse and Mental Health Services Administration (SAMHSA)
Taking Care of Your Mental Health in the Face of Uncertainty from the American Foundation for Suicide Prevention
Mental Health And COVID-19 – Information And Resources from Mental Health America
If you are feeling anxious, stressed, depressed or isolated, you can call the San Francisco Mental Health Warm Line at (855) 845-7415 or chat with them online at www.mentalhealthsf.org/peer-run-warmline.
If you are a senior who is feeling isolated due to the coronavirus, the Institute of Aging has a warm line called The Friendship Line. It operates 24 hours a day at 800-971-0016.
If you are having thoughts about harming yourself, you can call the San Francisco Suicide Prevention hotline at (415) 781-0500, and they can provide you with confidential emotional support. You can also chat online with the National Suicide Prevention Lifeline at https://suicidepreventionlifeline.org/chat/.
If you are co-quarantined with an abuser or are worried about having to self-isolate in a dangerous home situation, you can call the National Domestic Violence Hotline at (800) 799-7233 or chat online at www.thehotline.org.
For those with alcohol and addiction issues, you can find help in programs like Alcoholics Anonymous or Narcotics Anonymous. For confidential support from Alcoholics Anonymous, you can call their helpline at (415) 674-1821 or email them at help@aasfmarin.org. To reach Narcotics Anonymous, call (415) 610-7294. Online meetings are also available at https://www.weconnectrecovery.com and www.intherooms.com.
District 10 Supervisor Shamann Walton | 1 Dr. Carlton B. Goodlett Pl, San Francisco | Room 282 Office Line: 415.554.7670 | General Email: waltonstaff@sfgov.org
This email was sent by: City and County of San Francisco
1 Dr Carlton B Goodlett Place, San Francisco, California, 94102 United States

Privacy Policy
---
Term
Elected November 06, 2018 for term January 08, 2019 to January 08, 2023
---
Board and Committee Assignments
---
Contact Info
City Hall
1 Dr. Carlton B. Goodlett Place, Room 244
San Francisco, Ca 94102-4689
(415) 554-7670 - Voice
(415) 554-7674 - Fax