District 10
Shamann Walton
District 10

Supervisor Shamann Walton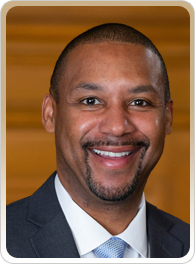 was born in San Francisco and lived in public housing at an early age in Bayview and Potrero Hill. He has worked in District 10 neighborhoods for decades
and has witnessed firsthand the challenges our community faces from long-time residents being pushed out of the city to losing childhood friends to violence and incarceration. As an accomplished and experienced community leader, Shamann has dedicated his life to improving these realities in our community and is committed to identifying solutions to our pressing issues. He has a proven track record of creating positive change in the community he serves.
As the former president and member of the San Francisco Board of Education, Shamann spearheaded the effort to close the achievement gap for Black, Latino, and special needs students and helped secure the funding for the school district's first African American Achievement and Leadership Initiative. He worked to protect undocumented students, decreased teacher turnover, increase graduation rates across the district for Black, Latino and Pacific Islander students, secured the financing and identified a site for our first affordable housing units for educators, and fought to make sure that Mission Bay will have its first school built in the next few years.  READ MORE
---
Community Events and Announcement
Dear Neighbors and Community, 

 As of this past Saturday, San Francisco is in the state's PURPLE TIER for COVID-19, meaning the virus transmission is WIDESPREAD for the county. Reopening activities are rolled back and the limited Stay at Home Order will begin Monday, November 30 at 10pm which requires non-essential businesses to close and prohibits members of different households from gathering indoors or outdoors between 10pm and 5am until December 21st. 

In this update: 
COVID-19 Reopening and Stay-At-Home Updates
COVID-19 Testing
Community Announcements
Please stay safe and be careful. The COVID-19 pandemic is still among us so we must remain vigilant and remember to do the following: 
Stay home as much as possible if you are able to.
Wear a face covering: including masks, scarves, bandanas, anything that covers your nose and mouth. If you are working in an essential space with other people, you are required to wear a mask.
Maintain 6 feet of social distancing
Wash your hands for at least 20 seconds with soap
Avoid touching your face, eyes, nose or mouth
Do not dispose your used face covering/gloves/PPE in the streets, please properly dispose in a trash bin
If you are an essential worker or believe you may be exposed to COVID-19, get tested: https://www.sf.gov/GetTested
Our office remains open and responsive remotely. My staff will periodically checks our voicemail at 415-554-7670 daily. You may also email my office at waltonstaff@sfgov.org. 

Please stay safe and healthy!

In community, 
Supervisor Shamann Walton
 
San Francisco, along with California and the United Sates is experiencing a surge in COVID-19 more aggressive than what the City has experienced to date. We are currently averaging 130 new Covid-19 positive cases per day compared to the 73 per day that we experienced the first week of November. Moreover, we currently have approximately 900 COVID-19 cases diagnosed per week in San Francisco compared to 217 diagnosed COVID-19 cases the week of October 12th.

Due to the continued increase in COVID-19 cases in San Francisco, the State has placed San Francisco in the most restrictive

Purple tier

for reopening. Certain activities will roll back and the State Limited Stay at Home Order will be in effect on November 30, 2020.

The following activities will close: 
Indoor worship

Indoor individual prayer is still allowed with updated safety protocols
Live streaming and broadcasting of services indoors is still allowed with existing capacity limits and safety protocol

Indoor movie theaters
Indoor gyms and fitness centers, limited 1-1 training may continue indoors with specific ventilation measures in place
Indoor operations at museums, aquariums, and zoos but can continue outdoor activities subject to existing safety protocols
Outdoor family entertainment centers: carousels, ferris wheels, train rides, and bungee trampolines
The following activities are reduced:
Retail stores must limit capacity to 25%
Indoor funerals of up to a total of 12 people
Standalone grocery stores can operate at 50% capacity, but other essential retail such as pharmacies and hardware stores must decrease to 25% capacity.
Reduced capacity to 25% includes low-contact retail services, like dog groomers and shoe repair shops.
Reduced capacity to 25% also includes equipment rental businesses, like bike rentals.
The following activities may continue with safety protocols: 
Restaurants may continue to operate outdoors. 
Indoor personal services including hair and nail salons, massage, and esthetician services, etc. may continue subject to existing required safety protocols.
Outdoor playgrounds, outdoor skate parks, outdoor roller, and ice rinks (at 25% capacity up to a maximum of 25 total people), outdoor battling cages, and outdoor mini-golf.
Outdoor activities at gyms and fitness centers, including fitness classes up to 25 people, may continue subject to existing required safety protocols.
Drive-in movies may continue with existing required safety protocols
Outdoor religious services is still allowed up to the existing local limit of 200 people and subject to existing safety protocols.
All schools – TK-12 -- that are already open for in-person learning may continue to offer indoor instruction.

Under the Purple tier, TK-6 schools that have not yet opened, may apply for a waiver from the Health Officer to open for indoor in-person instruction. Middle schools and high schools that have not yet opened may not open for indoor instruction, however they may apply to provide outdoor-only learning.
More information about changes related to San Francisco's assignment to the Purple tier can be found at https://sf.gov/LimitedStayHome.

San Francisco's reopening timeline can be found at https://sf.gov/step-by-step/reopening-san-francisco.
COVID-19 Testing & Flu Vaccines
D10 COVID-19 FREE Testing Locations
Alemany Farmers Market

100 Alemany Blvd, Walk-through & drive-through
Monday. 12:30pm to 4:30pm
Tuesday to Thursday, 8:30am to 4:30pm
Friday, 8:30am to 12:30pm

Bayview Opera House 

4705 3rd Street
Every Monday & Thursday, 8:30am to 4:00pm

Southeast Health Center

2401 Keith Street at Armstrong
Mondays to Fridays, 8:00am to 5:00pm

Sunnydale Hope SF 

1652 Sunnydale Ave
Tuesdays, 2:00pm - 6:00pm
Thursdays, 10:00am - 2:00pm

Potrero Hill Health Center

1050 Wisconsin Street
Mondays to Fridays, 9:00am to 12:00pm, 1:30pm to 3:30pm

NOW Hunters Point Pop Up

155 Jennings Street
Friday, December 4, 9:00am to 3:30pm
For more information and to schedule a free COVID-19 test: https://datasf.org/covid19-testing-locations/
Flu Vaccine & Prevention
Why a flu vaccine is more important than ever in 2020:
It could save your life.
It protects the vulnerable members of your community.
Getting COVID + flu at the same time = trouble.
It will ease the burden on the healthcare system.
It's FREE!
The flu vaccine protects everyone's health. When you are vaccinated against flu, you protect yourself and lower the chances of infecting others, including people at high risk of developing potentially serious flu complications.

For those with insurance, a flu vaccine is widely available without cost to the patient as a preventive service from their regular doctor or most pharmacies. Call your doctor, clinic or pharmacy to schedule your flu shot in advance. To find a flu vaccine at a location near you, visit the Vaccine Finder.

For those without health insurance, DPH and community clinics will be offering opportunities to get a free flu shot. For more details and a list of San Francisco locations that offer free or low-cost flu vaccinations, visit www.sfcdcp.org/flushots.  
 
From the Office of District 10
African American Reparations Advisory Committee: 
Early this year during Black History Month, I introduced a resolution supporting a reparations plan and advisory committee that was unanimously sponsored and passed by the Board of Supervisors. African Americans were enslaved in the United States from 1619 to 1865 but the effects of slavery still remain today in our institutions and communities. Through collaboration with the Human Rights Commission, we held multiple community forums throughout San Francisco to gather input for the advisory committee. This ordinance was heard and passed with positive recommendation from the Rules Committee on November 30, 2020 and will be heard on the full board on December 1, 2020 as a committee report.

The reparations advisory committee will have 15 members with various expertise and experiences working and living in the African American community and will be housed under the Human Rights Commission to research, develop, and present a true reparations plan for San Francisco. This is the 100% appropriate time to ensure reparations for Black people in San Francisco. With the commitment of resources for the investment in the Black community, with the unanimous passage of a reparations resolution here in SF, with the commitment from all communities to improve outcomes for Black people here in San Francisco and with the organized collaboration between Black people here in SF, the dreams of equity can only be realized with a reparations plan that allows for wealth accumulation, generational opportunities and true community ownership.

We will update when the ordinance is fully passed and when applications are opened for the Reparations Advisory Committee.
African American Art and Cultural District:
The African American Art and Cultural District has been critical in supporting and protecting our community along Third Street. I introduced an ordinance to extend the African American Art and Cultural District Citizens Advisory Committee sunset date to January 2023, and extend the written reports and recommendations from City Departments describing the cultural attributes fo the District and proposing strategies to acknowledge, and preserve the cultural legacy of the District. 

The amendments in this ordinance will also change the size of the Advisory Committee from 15 members to 7 members and change the membership to include an owner of a business located in the District, an employee of a nonprofit organization in the District, a person with knowledge or expertise regarding the history or culture of the District, a youth between ages of 14 to 24, and three other at-large members. 
Co-Sponsoring Legislation from Other Offices:
Transparent Negotiations with POA and the City:
We held a press conference with Supervisor Ronen along with Supervisors Haney, Preston, Mar, and Fewer on November 17, 2020 to announce an important legislation to bring transparency to the contract negotiations process between the SF Police Officers Association (POA) and the City . We are at a time where we are continuing to fight for police reform in San Francisco, where we are redirecting resources from SFPD to the Black community, where we passed oversight for the Sheriff's Department, and where we are making sure that the Civil Service Commission enacts policies preventing law enforcement from hiring officers with previous excessive force complaints. This is the only way to make this process transparent for the public and no longer award bad behavior of officers.

Halting Shelter-in-Place Hotels Rehousing/Phase Out Plan:
Along with Supervisors Haney, Ronen, and Preston, we are announcing the introduction of legislation to put a halt to any plans of removing individuals experiencing homelessness from Shelter in Place Hotels and into the streets. This legislation will guarantee that anyone removed from a SIP Hotel will go to permanent or supportive housing, an appropriate shelter or a placement appropriate for them, not on the streets.

We cannot have a plan for moving people out of Shelter In Place hotels if we cannot state explicitly where they are going. Evicting people to the streets is cruel during this pandemic and the cold weather season. We have resources in place that could address securing and continuing to fund SIP hotels and we have additional resource opportunities that have been identified, whether it be ERAF, possible federal stimulus, Proposition C allocations and state resources like Project Room Key and the Governor's announcement of an additional 62 million dollars to provide support for individuals experiencing homelessness.
Upcoming Legislation & Hearings
On December 10, 2020, we will hear the findings and recommendations from the Economic Mitigation Working Group through the Office of Small Business through the collaboration of the Office of Economic Workforce Development, Small Business Development Center, Office of the Controller, Office of the City Attorney, the Tobacco Retail Permit Program, Supervisor Sandra Fewer's office and my office in response to mitigating effects of banning e-cigarettes without FDA approval. For meeting information: https://sfbos.org/events/calendar/upcoming
We have requested a hearing on the Equal Employment Opportunity office's practices in light of the corruption on pending cases. The Budget Legislative Analyst will also report their findings on EEO. We are still working on a date for this hearing. In the meantime, we have introduced a resolution urging EEO to collaborate with the Human Rights Commission on investigating EEO cases. In the future, we hope to establish oversight of the EEO office.
On Tuesday, November 24, Supervisor Shamann Walton joined community leaders and members to denounce the recent rise of violence including the recent homicides in the Bayview in District 10 at the Hunters View community. 

Watch the full press conference here.

In the past few weeks, the District 10 office has continued to respond to shootings and homicides. During the shelter in place, shootings have occurred at Alice Griffith Apartments, Sunnydale Developments, Oakdale Avenue and Third Street, Hawes and Gilman Streets and various locations throughout District 10 neighborhoods. Community members and neighbors have had to bury babies, young men, mentors, and family members.

To date, one-third of the city's total homicides have occurred in District 10 in 2020. Citywide, there have been 45 homicides and 15 of those homicides with a firearm occured in District 10. Last year, there were a total of 41 homicides citywide and 9 of those homicides occured in District 10 with a firearm. District 10 by far has the highest homicide rates compared to all districts. Despite the efforts and investments pledged by the city to help District 10, senseless violence keeps happening in the southeastern neighborhoods. 

Through collaboration with community based organizations, town halls, and meetings with residents in the past year, I announced the District 10 Community Safety Plan. The comprehensive plan is a new community process desperately needed to support successful public safety work in District 10. The plan brings together all stakeholders to create change and bring the voice of the community to the forefront of addressing violence. 

Recommendations in the District 10 Community Safety Plan include:
A violence prevention oversight committee for youth violence for ages 12-25. This will be the driving force in determining a District 10 action plan against violence.
Community experts in violence prevention in the Black, Asian, and Latino community meeting monthly to work together to create real community solutions addressing violence.
The community is involved in defining effective violence prevention strategies, evaluation tools adopted by the city, and any development of a violence prevention plan.  
Three immediate actions of the District 10 Community Safety Plan include:
Elevated role and support from the City & County of San Francisco in implementing public safety strategies with community.
Establish the District 10 violence prevention monthly convenings through the Violence Prevention Convener.
Reimagine what community mobilization and peace planning efforts look like.
The following strategies are also addressed through the District 10 Community Safety Plan:
School-based intervention and prevention.
Mediation and truce negotiations.
Increased community partnerships and coordinated interventions.
Increased transportation and transit safety measures.
Culturally responsive service providers with elevated support from the City & County of San Francisco in public safety strategy implementation.
In addition to announcing the District 10 Community Safety Plan, we asked all District 10 residents to pledge for peace and stop the violence. The Peace Pledge includes standing with the District 10 community to support the implementation of new strategies to address senseless violence, pledge for peace, ask for coordinated resources and commitment to the implementation plan, and ask to help come up with new solutions to best address the violence that plagues our community.
The pledge also asks the community to
Live violence free
Help others live violence free
Keep children, families, seniors, community centers, churches, parks, and schools safe.
City Department Updates & Resources
Clerk of the Board of Supervisors
Since COVID-19 visited the City, many calls have been focused around needed services to alleviate issues pertaining to COVID-19.  To assist in our own constituent services, we created an Interactive Map  with extensive COVID-19 City services that has quite a bit of helpful information for our residents. We are excited to unveil the Map and extend it to you for application in your newsletter or for your constituent use. The map is routinely checked and is updated by our staff and is live on our Board of Supervisors website here.  

Additionally, as we work to induce public engagement, we have created a newsletter that provides information representing services that can be found in the Office of the Clerk of the Board and actions taken by the Board of Supervisors as a whole.  We expect to send out our newsletter updates 4-6 times a year or as needed, informing the public on how to access our services and make their communities even better by learning where the pressure points are to engage with the Board of Supervisors.

On behalf of the staff in the Clerk's office, I present to you our Interactive Map and our premiere newsletter issue, and we look forward to your feedback.  The preferred browser is Firefox to see photos or use the web version in Chrome.  A special thank you to John Tse, Wilson Ng, Eileen McHugh, Richard Lagunte, and West Coast Consulting.
____________________________________________________________________
____________________________________________________________________
African American Art & Cultural District Membership
Part of San Francisco's Cultural District Program, the African American Arts and Cultural District (AAACD) within Bayview Hunters Point has the goal of preserving, strengthening and promoting the residents, families, small businesses, nonprofits and cultural assets within the neighborhood. We envision a robust economically vital neighborhood that adds to the rich cultural tapestry of San Francisco. A neighborhood that supports the nuances that embody African American heritage and culture.

To participate, fill out the form here. 
____________________________________________________________________
Grant/Funding Opportunity
Bayview Hunters Point is a frontline community in terms of environmental justice and climate vulnerability.  There is funding for community organizers to participate in a year-long training to build capacity to conduct deeper and successful organizing around community determined needs in regards to those two issues. 

Application due on December 3 at 5pm.
District 10 Supervisor Shamann Walton | 1 Dr. Carlton B. Goodlett Pl, San Francisco | Room 282 Office Line: 415.554.7670 | General Email: waltonstaff@sfgov.org
This email was sent by: City and County of San Francisco
1 Dr Carlton B Goodlett Place, San Francisco, California, 94102 United States

Privacy Policy
---
Term
Elected November 06, 2018 for term January 08, 2019 to January 08, 2023
---
Board and Committee Assignments
---
Contact Info
City Hall
1 Dr. Carlton B. Goodlett Place, Room 244
San Francisco, Ca 94102-4689
(415) 554-7670 - Voice
(415) 554-7674 - Fax