District 10
Shamann Walton
District 10

Supervisor Shamann Walton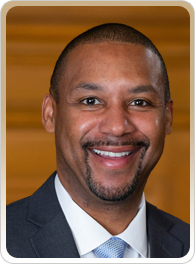 was born in San Francisco and lived in public housing at an early age in Bayview and Potrero Hill. He has worked in District 10 neighborhoods for decades
and has witnessed firsthand the challenges our community faces from long-time residents being pushed out of the city to losing childhood friends to violence and incarceration. As an accomplished and experienced community leader, Shamann has dedicated his life to improving these realities in our community and is committed to identifying solutions to our pressing issues. He has a proven track record of creating positive change in the community he serves.
As the former president and member of the San Francisco Board of Education, Shamann spearheaded the effort to close the achievement gap for Black, Latino, and special needs students and helped secure the funding for the school district's first African American Achievement and Leadership Initiative. He worked to protect undocumented students, decreased teacher turnover, increase graduation rates across the district for Black, Latino and Pacific Islander students, secured the financing and identified a site for our first affordable housing units for educators, and fought to make sure that Mission Bay will have its first school built in the next few years.  READ MORE
---
Community Events and Announcement
Hunters Point Shipyard Testing
Dear Neighbors and Community, 

Happy AAPI Heritage Month! May is Asian American and Pacific Islander Heritage Month and we honor the rich, diverse cultures and contributions from generations of Asian and Pacific Islander communities to the United States and to our city, San Francisco. Asian Americans and Pacific Islanders have been a vital part of our American history from building the railroads to working the fields, developing technology and fueling our economy. As we celebrate AAPI Heritage Month, we must also unite to Stop AAPI Hate.

We also want to wish safe and blessed Eid Mubarak for everyone who celebrates. We recognize that it is currently a painful time for many Muslims across the world and we hold space in our hearts for those who continue to fight for justice in their homelands. 

In Case You Missed It: The Public Safety Plan

Our office has been working with City Departments and community-based partners to continue to provide resources and implement our public safety plan to stop violence in San Francisco. This plan will be translated in Spanish and Chinese by the end of the month and will be included in our next newsletter. 

If you missed our Budget Town Hall, you may watch it online here. We are still gathering feedback for our budget process and you can submit your feedback here. 

In this update: 
D10 Office & Legislation Updates
City Hall Reopening
COVID-19 Vaccine & Testing Information
City Updates
Community Announcements
City Hall is reopening for the general public on June 7, 2021 with limited in-person counter services. District offices will be available in person on an appointment-only basis. Our office will continue to be responsive to the community. My staff will regularly check our voicemail at 415-554-7670 and email at
waltonstaff@sfgov.org
daily. 
Please stay safe and healthy!
In community, 
Supervisor Shamann Walton
District 10 Office & Legislation Updates
Reparations Advisory Committee
First and foremost I want to thank the entire Black community in San Francisco for pushing and fighting for reparations. We have selected our 15 member Reparations Advisory Committee, that is charged with researching, developing, and presenting a true reparations plan for Black people in San Francisco. Our community has been in this battle for decades. Through faith, perseverance and unwavering strength, we are now moving closer to realizing reparations here in SF. This committee will tackle categories like education, housing, employment, health and wellness, overcriminalization and all areas of injustice for the Black community! I'm overjoyed by the 50 plus applicants who applied to serve on this committee. Although there are only 15 seats, everyone was qualified and this was a great display of Black excellence here in SF!

Newly appointed members to the African American Reparations Advisory Committee include: James Lance Taylor, Tinisch Hollins, Eric McDonnell, Reverend Dr. Amos Brown, Omerede 'Rico' Hamilton, Nikcole Cunningham, Gloria Berry, Daniel Landry, Tiffany Walker-Carter, Gwendolyn Brown, Anietie Ekanem, Starr Williams, Shakeyla O'Cain, Laticia Erving, and Yolanda Harris. Members will serve indefinite terms and create a comprehensive reparations plan over the next two years.  
Hazard Pay Reenactment for Grocery & Drugstore Workers
This past Tuesday, the Board of Supervisors voted unanimously to reenact the Emergency Ordinance: COVID-19 Related Hazard pay for our essential grocery and drug store workers. This reenactment will extend the law to June 15 to align with the state's plan to reopen the economy. This ordinance requires all stores with 500 or more employees to pay an extra $5 per hour for COVID-19 related hazard pay for their workers. Although San Francisco is in the yellow tier, most surrounding Bay Area counties are still in orange and residents do travel between counties to work or to shop. I want to take a moment to thank our essential grocery and drug store workers who have continuously worked hard during this pandemic to make sure that all of us continue to have access to food, and supplies..  
Shelter Grievance Policy

I am requesting legislation to formalize the Shelter Grievance Policy onto the City Administrative Code. All shelter residents should have a right to invoke fair, timely, and accessible due process procedures upon notification of a denial of service or warning notice.

The current Shelter Grievance Policy was initially adopted in April 1992 and amended in August 2016 to reflect the transfer of functions from the Human Services Agency to the Department of Homelessness and Supportive Housing. Over the last 28 years, the Shelter Grievance Policy has become a best practice for the fair and equitable application of shelter rules, as well as monitoring of shelter conditions.
The VISION Act - AB 937

The Board of Supervisors passed a resolution in support of AB 937 (Carillo) - The VISION Act, which will prevent jails, prisons, and other public state and local agencies from funneling community members who are eligible for release to ICE jails where they endure deplorable conditions and face permanent separation from their families and communities. Immigrants are part of our families, communities and workplaces. Every Californian, including our neighbors who are immigrants, should be safe from profiling and harm by the government.

Thank you Asian Law Caucus, Communities United Against Violence, and Prisoners with Children for advocating on this important issue.
 
Visitacion Valley Community Unity: Public Safety Town Hall
On Saturday, April 26 I joined the Public Safety Town Hall, organized by Visitacion Valley Community Unity, along with Ingleside Captain Nicole Jones and Police Commissioner Larry Yee to share what our office has been doing, as well as listen to community needs around public safety. Since we have been in office, we have been working on implementing public safety measures in Visitacion Valley, including bringing on a Violence Prevention Convener to coordinate between community organizations, providers and communities in District 10. We pride ourselves as the District that has a comprehensive and written public safety plan for our residents.
 
Budget Equity Town Hall
Along with Budget Chair Supervisor Matt Haney, we learned about the issues and needs of the Black community at the Budget Equity Town Hall. Thank you, MegaBlack SF, the Human Rights Commission, the African American Arts and Cultural Complex, and to the community members and leaders for participating and providing feedback and demands. 
 
Grocery Outlet 355 Bayshore - Grand Opening
I attending the ribbon cutting for the new Grocery Outlet on Bayshore on April 29. We will continue to push for more grocery stores in District 10. More work to do (always is). This grocery store has quality produce, meats and necessities at reasonable prices for all. They have also hired in community working with YCD and Uncle Dame!

Stay tuned for the next big announcement as we work hard to bring more grocery stores to District 10.
 
Ujamaa Kitchen
A big thank you to En2action for opening up a new commercial kitchen (Ujamaa Kitchen) in Bayview. This pandemic has been detrimental to our small businesses and this space on the Shipyard will allow for some of Bayview's own entrepreneurs to continue to grow and thrive during what is hopefully the tail-end of the pandemic.

This is an extension of the original Bayview Bistro, forced to shut down during this crisis. Should put to all of the vendors:
Big H BBQ
Food 4 Tha Mood
Gumbo Social
Peaches Patties
Soul Bowl'z
Rome's Kitchen
Ron's Pit Stop BBQ Tacos Rodriguez
The Vegan Hood Chefs Yes Pudding
Yo Soy Ceviche
The San Francisco Board of Supervisors announced this week that in-person City Hall counter services for the Office of the Clerk of the Board of Supervisors will reopen on June 8, 2021 and District Supervisor offices will be on an appointment-only basis. Members of the Board and staff will reconvene for in-person legislative proceedings and business beginning June 15, 2021. Members of the public will continue to participate remotely in legislative proceedings, pending updated health and safety guidance from the Health Officer regarding large indoor public gatherings. City Hall, as a facility, will reopen on June 7, 2021, and a number of offices in City Hall will also resume in-person services.

The health and well-being of our community are at the forefront of our minds as we continue our progress. In-person participation in proceedings will be limited to Board Members and City staff at this time. Members of the public may continue to participate and provide public comment remotely via remote meeting call-in and/or by submitting comments regarding current legislative matters electronically via email to Board.of.Supervisors@sfgov.org . The Board of Supervisors will continue to work with City agencies and partners to monitor State and local health orders, and is committed to resuming in-person services while also ensuring safe participation by members of the public. In-person public participation to proceedings will resume as new Health Officer data and guidance regarding large indoor gatherings permit.

Public meetings held by the Board of Supervisors and its committees will continue to be publicly cablecasted through SFGovTV and SFGovTV's online Video on Demand service at www.sfgovtv.org.

For general inquiries, the Office of the Clerk of the Board will have in-person services available at City Hall, Room 244, during regular business hours, from Monday to Friday, 8am to 5pm.

For more information on how members of the public may continue to engage with the Board of Supervisors, visit https://sfbos.org/connect-board-supervisors.'
 
COVID-19 Reopening, Testing, & Vaccines
San Francisco Reopening Updates - Yellow Tier
Mayor London Breed and Director of Health Dr. Grant Colfax announced that, starting Thursday, May 6, San Francisco will reopen and expand additional activities that are allowed by the State as we have met the State's criteria to advance to the least restrictive tier based on its COVID-19 cases, hospitalizations, and other health metrics. With this move into the final tier on the State's  Blueprint for a Safer Economy, San Francisco will open its few remaining closed sectors and expand several others.

Department of Public Health (DPH) has posted the revised Health Order with detailed requirements to its webpage. 
____________________________________________________________________
Masking in Public
The CDC's announcement that fully vaccinated people no longer need to wear masks in certain indoor settings is great news because it further underscores the efficacy of the COVID-19 vaccine in driving down cases and preventing community spread. As we recently did with the new guidance on outdoor masking for fully vaccinated people, we must wait for the state to adopt the updated guidelines before making changes to the local health order that we consider safe.

We know people are eager to shed their masks and the quickest way we can arrive at a place where it is safe to do so, is for every eligible person to get vaccinated as soon as possible. Appointments are widely available throughout the City. The longer you wait to get vaccinated, the greater the risk of contracting and becoming severely ill from COVID-19 or spreading it to a friend, loved one or co-worker. If we all get vaccinated, we can continue to reopen our city and look forward to a great summer

You will still need a face covering to go into a store or restaurant and if you are in a crowd outdoors. You should always have a face covering with you, even if you are vaccinated. 

Wearing a face covering reduces your chances of getting and spreading COVID-19. People who are not vaccinated, or who are at high risk of getting COVID-19, should still wear a mask outdoors in most situations. Stay 6 feet apart and wear a mask that covers your mouth and nose. Make sure it fits snugly around your face.

For more information on San Francisco mask guidance click here. 

 
____________________________________________________________________
 Vaccines Now Available for Ages 12 and up
____________________________________________________________________
New Vaccine Site in Visitacion Valley!
Visitacion Valley is home to a large population of essential workers and communities of color that have been disproportionately impacted by COVID-19. This morning we launched the 1099 Sunnydale vaccination site in Visitacion Valley in partnership with DPH, FACES SF, J&J Community Resource Center, the Samoan Community Development Center and Visit Health. Residents that live in the 94134 zip code can make an appointment or drop-in from 9:30 a.m. to 3:30 p.m., Monday through Wednesday. Residents can also access vaccines on Wednesdays from 10 a.m. to 2 p.m., at the satellite site at 1652 Sunnydale, at the Sunnydale Community Wellness Center, operated in partnership with J&J Community Resource Center and Bayview Child Health Center. A third location, also on Sunnydale Avenue, will be added in the coming weeks. Residents can contact FacesSF at 415-239-8705 or at kwu@facessf.org to schedule an appointment.
 
____________________________________________________________________
Get Tested for COVID-19!
If you feel sick, get tested right away. If you have a known exposure, but have no symptoms, get tested on or after day 6. 
If you have health insurance, schedule a test with your doctor. If you have symptoms or a known exposure, your healthcare provider is required by law to get you a test.

For more information on how to get a COVID-19 test, please visit: https://sf.gov/find-out-about-your-covid-19-testing-options
____________________________________________________________________
The District 10 Office helped launch the Bayview Essential Services Hub located at 1800 Oakdale Ave in February, providing COVID-19 testing, food, financial assistance, and other many resources for residents.

Bayview and neighborhoods surrounding Bayview have the highest rates of COVID-19 cases and deaths, with Black and Latinx communities more likely to face death than their white counterparts. Multiple community groups, including the Latino Task Force, Black Wall Street, Rafiki Coalition, Young Community Developers, MegaBlack SF and the YMCA collaborated to launch this hub, dedicated to lessen the disproportionate harm the pandemic has upon our communities.

To make an appointment at the hub, contact Tracy Taper at 415-822-3491 or ttaper@ycdjobs.org. Visit www.sf.gov/getvaccinated to make an appointment for vaccines.
 
SFMTA: Evans Quick Build
Your input is needed to ensure safer streets and road improvements. Make your voice heard!

In support of San Francisco's Vision Zero goal to eliminate traffic fatalities, the SFMTA aims to create a safer, more livable Evans Avenue. Evans Avenue, between Cesar Chavez and 3rd streets, consists of two travel lanes in both the eastbound and westbound directions. The average traffic on a weekday ranges from about 12,000 vehicles per day (near 3rd Street) to 23,000 (near Cesar Chavez Street).

Evans Avenue is part of San Francisco's Vision Zero High Injury Network , which means 75% of the city's traffic injuries and fatalities occur on just 13% of San Francisco streets. From 2015 to 2020, 81 traffic collisions have been reported on Evans Avenue between Cesar Chavez and 3rd streets. Three of these involved a person on a bicycle, resulting in one severe injury. 12 involved a pedestrian, resulting in five severe injuries and one fatality.

To increase traffic, pedestrian and bike safety on this segment of Evans Avenue, the SFMTA is looking to make quick, adjustable, and reversable improvements which could include a road diet (removing one or two travel lanes), paint, traffic delineators, street signs, and parking and loading adjustments.

Three "Quick-Build" designs that could be implemented have been developed and the SFMTA needs your feedback.

Visit SFMTA.com/EvansSurvey (English language) SFMTA.com/EncuestaEvans (Spanish language) or SFMTA.com/調查Evans (Chinese language) to take a brief survey. The survey will be open until May 21.

To learn more about the project visit SFMTA.com/EvansQuickBuild .
____________________________________________________________________
Help Strech Our Water Supply!
This is the second dry year in a row for California. We know San Franciscans use water wisely and we thank you for your commitment to conservation. We must continue to do what we can to make the most of our water supplies in case this dry trend continues. We are asking San Franciscans who are able, to please be more efficient with your outdoor water use.  The San Francisco Public Utilities Commission offers lots of resources to help you use less water both indoors and out. Utilize the SFPUC's free Water-Wise Evaluations,  rebates and incentives, and free toilet program.   
Please feel free to contact the SFPUC's Water Conservation Team at waterconservation@sfwater.org,  sfpuc.org/savewater or by calling 415-551-4730.
To read more about how you can conserve water, follow the links to the SFPUC's Conservation Brochure  [English] [Spanish]  [Chinese] , and Water Leak Guide [English] [Spanish]  [Chinese]. 
____________________________________________________________________
Keeping Our AAPI Community Safe with DA Chesa Boudin
____________________________________________________________________
____________________________________________________________________
District Attorney District 10 Community Liaison Team
The District Attorney's Office has formed a District 10 Community Liaison Team. The community liaison team will be directly responsive to the district's residents about specific needs that emerge within the district and will serve as direct liaisons between constituents and the District Attorney's Office.  The Community Liaisons teams are made up entirely of volunteers within the District Attorney's Office. 

Community Liaisons will interface with members of their assigned district and will collaborate on strategies to enhance community wellbeing and safety.  The community liaison teams intend to work closely with the supervisors in each district, as well as their staff.  They will attend town halls and community events; engage with constituents; and serve as direct contacts for community members to the District Attorney's Office. 

To reach the District 10 DA Community Liaison Team, please email: SFDA.District10@sfgov.org
____________________________________________________________________
Islais Creek Area Community Circle-Back 
A one-hour, virtual event to learn about flood-resilience ideas for the Islais Creek area and provide your feedback in small group discussions. Please RSVP to one of two options:
Tuesday, May 18th from 12:00–1:00PM RSVP HERE OR 
Wednesday, May 19th from 6:00–7PM RSVP HERE 
Location: Zoom (video and dial-in options) 
Accessibility: For other language assistance or disability accommodations, please contact Candace Soohoo at candace.soohoo@sfgov.org or (628) 652-7536 at least 72 hours in advance. 
Please let us know anyone else we should invite and/or feel free to spread the word among your networks. We appreciate your support helping us connect with other members of the community! 
Please see our webpage for more information about the project and reach out to Danielle Ngo danielle.ngo@sfgov.org with questions. We hope to see you there—thank you!  
Weekends On The Hill
Sponsored by the Potrero Dogpatch Merchants Association, is available each weekend. Enjoy the sun and play in the streets. Dine al fresco, listen to music in a lawn chair, and experience the magic of the neighborhood. Weekends On The Hill takes place in San Francisco on 18th Street from Connecticut to Mississippi on Friday 4pm–10pm, Saturday 8am–10pm, and Sunday 8am–4pm.
____________________________________________________________________
____________________________________________________________________
District 10 How to Start a Walking School Bus:
the Bayview Neighborhood Edition
Join SF Safe Routes to School and Walk SF for our District 10 Walking School bus webinar.

When: Wednesday, May 26th
Time: 5:30 pm - 6:30 PM

Zoom Registration link.

Studies show that children who walk to school enjoy health benefits and academic advantages, as well as getting more quality bonding time with parents. Plus, walking to school gives children a sense of accomplishment, independence, and self-confidence.

Register now!
District 10 Supervisor Shamann Walton | 1 Dr. Carlton B. Goodlett Pl, San Francisco | Room 282 Office Line: 415.554.7670 | General Email: waltonstaff@sfgov.org
This email was sent by: City and County of San Francisco
1 Dr Carlton B Goodlett Place, San Francisco, California, 94102 United States

Privacy Policy

             
---
Term
Elected November 06, 2018 for term January 08, 2019 to January 08, 2023
---
Board and Committee Assignments
---
Contact Info
City Hall
1 Dr. Carlton B. Goodlett Place, Room 244
San Francisco, Ca 94102-4689
(415) 554-7670 - Voice
(415) 554-7674 - Fax