District 10
Shamann Walton
District 10

Supervisor Shamann Walton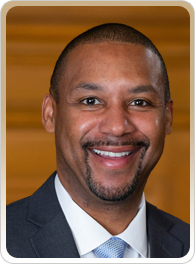 was born in San Francisco and lived in public housing at an early age in Bayview and Potrero Hill. He has worked in District 10 neighborhoods for decades
and has witnessed firsthand the challenges our community faces from long-time residents being pushed out of the city to losing childhood friends to violence and incarceration. As an accomplished and experienced community leader, Shamann has dedicated his life to improving these realities in our community and is committed to identifying solutions to our pressing issues. He has a proven track record of creating positive change in the community he serves.
As the former president and member of the San Francisco Board of Education, Shamann spearheaded the effort to close the achievement gap for Black, Latino, and special needs students and helped secure the funding for the school district's first African American Achievement and Leadership Initiative. He worked to protect undocumented students, decreased teacher turnover, increase graduation rates across the district for Black, Latino and Pacific Islander students, secured the financing and identified a site for our first affordable housing units for educators, and fought to make sure that Mission Bay will have its first school built in the next few years.  READ MORE
---
Community Events and Announcement
Dear Neighbors and Community, 
Happy November! COVID-19 pediatric vaccines for ages 5 to 11 are now available. More information in this newsletter. 

Our Public Safety Plan is now available translated in Chinese and Spanish. We have been working with City Departments and community-based partner to provide resources and implement our plan to stop violence in District 10. 

Find the plan in different languages here:
For general updates and meeting information at the Board of Supervisors, please visit: www.sfbos.org

For an web version of this newsletter and past newsletters, please visit: www.sfbos.org/supervisor-walton-district-10

In this update: 
D10 Office & Legislation Updates

Candlestick Vehicle Triage Center

COVID-19 Updates & Vaccine Information
City Department Updates
Community Announcements
Reach to our office at 415-554-7670 or email at waltonstaff@sfgov.org. For the latest updates, please follow me on Facebook and Twitter. 

In community, 
Supervisor Shamann Walton
 
Candlestick Point State Recreation Area Vehicle Triage Center
There will be a new temporary vehicle staging lot to serve as an interim site until the new Vehicle Triage Center (VTC) at Candlestick Point opens in January 2022. Following the recent storm and heavy rain in San Francisco, a number of residents residing in vehicles at the Hunters Point Expressway, as well as a number of abandoned vehicles, were impacted. The new site, which is located at 1236 Carroll Avenue, will temporarily stage these individuals and their vehicles until the VTC is opened, at which point they will have the opportunity to move to the Candlestick VTC.

As you know we have been working hard to meet the needs of community and folks forced to live in vehicles. We are set to open a Vehicle Triage Center (VTC) with infrastructure and supports to improve the lives of everyone soon. The recent storms have created a dangerous and unsafe situation for everyone and has caused us to find quick temporary relief for neighbors and folks living in vehicles. This temporary site will address the needs of everyone while we prepare to open the VTC.

The Healthy Streets Operations Center (HSOC) is coordinating the services being offered to impacted residents. Outreach and street medicine teams are making daily safety and wellness checks to impacted residents, and Mother Browns is providing them with daily meals. Environmental health professionals are also monitoring the conditions on site.

The Vehicle Triage Center will include up to 150 parking spaces for up to 177 people, 24/7 staffing and security, lighting, electricity, bathrooms, mobile shower facilities, potable water, and mobile blackwater pumping services. The VTC will provide people living in their vehicles in the immediate area with a safe place to park and live and access to services designed to help stabilize their lives through health care, housing, employment, or other interventions that meet their unique needs.

The goal of the vehicle triage site to remove barriers and connect people to long term care and housing.

To view the presentation, click here.
To watch the recording of the meeting, click here. 
For more information on Proposed Projects, click here.

We are working on compassionate, successful ways to provide housing and support for people who are unhoused. This will take the collective, but we won't stop working to make change!
Language Access Ordinance Amendments
Our communities with limited-English proficiency (LEP) should have access to the City's services in their native language. My office, in collaboration with my colleagues, the Office of Civic Engagement and Immigrant Affairs (OCEIA), and the community Language Access Network has been working on amendments for the City's Language Access Ordinance. 

According to data from OCEIA, 1 in 3 San Franciscans are immigrants and 43.1% of San Franciscans over the age of 5 speak a language other than English at home. 

The 2021 Language Access Report indicated that the COVID-19 pandemic presented many challenges and disproportionately impacted Black, Indigenous, and People of Color (BIPOC), immigrant, Limited English Proficient (LEP), and vulnerable populations in accessing city services. The pandemic exacerbated health, economic, racial and social inequities in San Francisco including the digital divide where some communities and populations did not have access to technology to receive timely information or access to services. Language access to city departments was a challenge for many LEP residents during the pandemic, which led to many gaps in providing timely translated information and gaps in cultural and linguistic competency.

Language Access has been a key priority in San Francisco in 2001 and the city needs to do better to ensure that our services are available to LEP residents. After robust engagement with community and our city departments, our proposed amendments include the following: 
Accountability of City Departments to comply with the Language Access Ordinance
Increasing languages offered for interpretation and translation of city services
Quality control of interpretation and translation services
Clarifying the definitions of interpretation (spoken) and translation (written)
Requiring first responders who are bilingual to indicate visibly their languages spoken on their badge or uniform
Creating a Language Access Task Force to advise the city on language access gaps 
We are hoping to introduce these amendments by the end of this year.
 
Sick Leave and Paid Time Off for Domestic Workers
I co-sponsored legislation by Supervisor Hillary Ronen to allow domestic workers to have access to sick leave and paid time off. These workers work hard as frontline works and often for multiple employers. This small ask can be the difference in making ends meet for families or having to get behind on bills and basic needs. Read more about the legislation here. 
San Francisco Redistricting
Every 10 years after the Census, San Francisco goes through a redistricting process where the Supervisorial districts are redrawn to ensure that each district maintains equal numbers of residents. Members of the public are encouraged to participate in the redistricting process. There will be upcoming meetings with the Redistricting Task Force online and in the district from now till April 2022.

The next meeting will be on November 17, 2021 at 6pm. 

For the latest information and to join the mailing list on redistricting, please visit: sfelections.org/rdtf

You may submit comments to the redistricting task force at rdtf@sfgov.org or call 415-554-4445.

Follow the Redistricting Task Force on Facebook and Twitter.
COVID-19 Vaccines for Children Ages 5 to 11
San Francisco children ages 5 to 11 years old are now eligible to receive the Pfizer-BioNTech COVID-19 vaccine, following a careful clinical study of its safety and efficacy and after receiving final approval and guidance from federal and state authorities.
The San Francisco Department of Public Health (SFDPH), health system partners and pharmacies will begin administering the vaccines largely by appointment only starting today in select locations, with SFDPH-affiliated spots and four school sites initially reserved for children in highly-impacted neighborhoods where access is crucial.
We anticipate every child to have access to a vaccination over the next several weeks as we enter the busy holiday season. Parents and caregivers can make appointments using their health system's instructions, or pharmacy websites. Other sources for vaccine appointments include the state's vaccine booking website, myturn.ca.gov and the City's website, sf.gov/getvaccinated , which will be updated with local information about appointments as it becomes available across the network of sites in San Francisco including at the SFUSD school sites.
To ensure easy access for working families and children in school, SFDPH and health system partners will hold evening and weekend vaccination sites, and pop-up events at select locations.
The shot itself is nearly painless, and most people who get vaccinated may only experience side effects such as a sore arm, fever, or fatigue. These are completely normal and are signs the body is building immunity to the virus.
Parents, guardians, or other person with legal authority must consent to the receipt of the vaccine, and those with questions or concerns about the vaccine should talk to their health care provider
It is now also influenza season, and many clinics and vaccination sites can provide both COVID and Flu vaccinations to children, and it is safe to receive both on the same day. COVID vaccinations are an opportunity to connect children with their health care providers, and also address other health care needs they may have, including check-ups and getting up to date on their other vaccinations.
How to support children during their vaccine visit:
Source: https://www.cdc.gov/vaccines/parents/visit/before-during-after-shots.html
Bring quiet activities to entertain your child for the required 15 minute observation period after receiving the vaccine.
Pack your child's favorite toy, book, or blanket to comfort him or her during vaccinations.
Be honest with your child. Explain that shots can pinch or sting, but that it won't hurt for long.
Engage other family members, especially older siblings, to support your child.
Avoid telling scary stories or making threats about shots.
Remind your child that vaccines can keep him or her healthy – they are a good thing!
Distract and comfort your child by cuddling, singing, or talking softly.
Smile and make eye contact with your child. Let your child know that everything is ok.
Hold your child firmly on your lap, whenever possible while they receive the shot.
For more information about COVID-19 vaccines for children, go to the CDC's resource page.
The SF Department of Public Health held workshops on the COVID-19 vaccine for children from ages 5 to 11. To view a recording of the workshops, please visit:
COVID-19 Vaccine Boosters
The San Francisco Department of Public Health (SFDPH) released new data today showing that seniors are especially vulnerable to hospitalizations from COVID-19, even among those who are fully vaccinated. While the vaccines remain effective at preventing severe illness among fully vaccinated younger people, the data demonstrate the need for people ages 65 and over to get COVID-19 booster shots in advance of the busy holiday season.

Following federal and state guidelines, SFDPH also recommends that other higher risk groups, including people over 50 with underlying medical conditions, get boosters six months or more after their primary series. All Johnson & Johnson recipients should receive a booster two months or more after their dose.

Seniors are of special concern, given that data shows only 1 in 5 eligible San Franciscans ages 65 and older have received a COVID-19 booster, as of October 25. This leaves many of our seniors at risk for hospitalization in the coming months, as increased contact with friends and family during the holiday season gives the virus opportunities to spread.

Boosters are widely available across San Francisco's health systems at nearly 100 vaccination sites, most of which allow drop-ins. Caregivers, family members and friends are encouraged to assist seniors in getting to vaccination sites through appointments or drop-in options. Many of these sites also provide influenza vaccines, which can be safely given at the same time as COVID-19 boosters and are also essential this winter. Appointments and drop-in options can be found here.

More information about boosters, can be found here.

SFDPH dashboards on COVID-19 data can be found here.
Get the Flu Shot!
The San Francisco Department of Public Health (SFDPH) strongly recommends that everyone ages 6 months and older get a flu vaccine to safeguard their health, as November brings the start of flu season that will overlap with COVID-19 this year.

Last year's flu season was relatively mild, as people significantly reduced contact with each other and masked during the height of the COVID-19 pandemic. While it's still unknown how severe this year's flu season will be, people are returning to many social activities. With increased contact during the holiday season, people could easily spread influenza. San Franciscans can prepare for the combined circulation of flu and COVID-19, which have many of the same symptoms, by vaccinating against both.

It takes about two weeks after vaccination for the body to build immunity against flu, so now is the time to get vaccinated to maximize protection during the flu season. In addition to protecting oneself, loved ones, and the community by getting the flu vaccine, people should also stay at home when sick, practice good hand hygiene, and maximize fresh air.  

More information about the flu vaccine can be found here. More information about COVID-19 primary dose vaccine series can be found here as well as a list of vaccination sites in the City. Information about  COVID-19 boosters can be found here.  
 
SFUSD Vaccination Sites
Malcolm X Academy School
350 Harbor Road in the Bayview
3:30 pm – 6:30 pm on Tuesdays

Balboa High School
1000 Cayuga Ave in the Excelsior
2:30 pm – 5:30 pm on Wednesdays

McCoppin Elementary School
651 6th Ave in the Richmond
10:30 am – 1:30 pm on Saturdays

Sunset Elementary School
1920 41st Ave in the Sunset
10:30 am – 1:30 pm on Sundays


Please visit SF.GOV/getvaccinated for a complete list of vaccination sites as well as days and hours of operation. People are encouraged to first seek vaccination through their health care provider, if they have one.
 
The District 10 Office helped launch the Bayview Essential Services Hub located at 1800 Oakdale Ave providing COVID-19 testing, food, financial assistance, and other many resources for residents.

Bayview and neighborhoods surrounding Bayview have the highest rates of COVID-19 cases and deaths, with Black and Latinx communities more likely to face death than their white counterparts. Multiple community groups, including the Latino Task Force, Black Wall Street, Rafiki Coalition, Young Community Developers, MegaBlack SF and the YMCA collaborated to launch this hub, dedicated to lessen the disproportionate harm the pandemic has upon our communities.

The Bayview Hub is opened every Wednesday and Thursday from 10AM to 4pm at 1800 Oakdale Avenue. Drop-ins welcomed. 
 
SFMTA 2022 Muni Proposed Service Changes
SFMTA has issued proposed changes to the 2022 Muni Service. In early 2022 SFMTA is restoring connections, particularly for people with disabilities and seniors. Taking the time to evaluate our service and working with the public, we have also developed ideas for new connections, allowing Muni to take more people more places. 

These changes will restore key pre-pandemic connections, preserve or restore Muni access in hilly areas and focus on access for people with disabilities and seniors. At the same time, they will provide new direct connections from the Western Addition, Tenderloin and Richmond District to Caltrain, Oracle Park (Giants' Stadium) and SoMa, and will provide new through-service between North Beach, Fisherman's Wharf, Russian Hill and the Marina through all the western neighborhoods.  

Read more about it here. 
District Attorney District 10 Community Liaison Team
The District Attorney's Office has formed a District 10 Community Liaison Team. The community liaison team will be directly responsive to the district's residents about specific needs that emerge within the district and will serve as direct liaisons between constituents and the District Attorney's Office.  The Community Liaisons teams are made up entirely of volunteers within the District Attorney's Office. 

Community Liaisons will interface with members of their assigned district and will collaborate on strategies to enhance community wellbeing and safety.  The community liaison teams intend to work closely with the supervisors in each district, as well as their staff.  They will attend town halls and community events; engage with constituents; and serve as direct contacts for community members to the District Attorney's Office. 

To reach the District 10 DA Community Liaison Team, please email: SFDA.District10@sfgov.org
Safe Routes to School Webinars: English & Chinese
Safe Routes to School Webinars in Chinese Date:
全市粤语如何开办步行学校网络研讨会
Get Out Webinar in Chinese
走出戶外
Meals on Wheels - Craft a Special Holiday Card!
The Thanksgiving holiday is just around the corner and Meals on Wheels in San Francisco is looking for your help to craft holiday cards to brighten the day for thousands of our homebound older San Franciscans! 
Now through November 22, when you craft a special holiday card, you'll be entered into a weekly drawing for a chance to win a freshly baked pumpkin pie made from scratch in Meals on Wheels' new kitchen in the Bayview! More importantly, your personal messages and greetings will mean the world to a senior who may be alone for the Thanksgiving holiday. Details on how to craft and mail in your cards can be found here:  https://mowsf.salsalabs.org/thanksgiving2021/index.html
3rd Street Mural Project
A collaboration with Blue Shield, EDOT, OEWD and SFAAACD the 3rd Street Mural Project is a Beautification project seeking artists, youth and adults to participate in designing and painting 10 murals along the 3rd street corridor.
Artists will be paid a stipend for their work. 
A selection committee will determine which design concepts will be awarded the opportunity and stipends.
If you are interested in joining the selection committee, please let us know. Please submit design concepts by Nov 15, 2021 to ericka@sfaaacd.org
Bay Area Discovery Museum
The Bay Area Discovery Museum (BADM) in Sausalito is packed with learning experiences for your 0-10 year old child. Come and explore something new with your family and discover new interests together. Throughout the Museum, you will find a variety of developmentally appropriate spaces that encourage learning through play.
Open Wednesday - Sunday, 9 a.m. - 4 p.m., there are plenty of ways to enjoy BADM:
Free First Wednesday: Visit BADM for free the first Wednesday of every other month. Next first free Wednesday is January 5. Tickets are available 2 weeks before First Free Wednesday.
Museums for All:

BADM offers $1 admission to EBT (Electronic Benefit Transfer) cardholders and their families ($1 per family member) every day through the Museums for All program.

Family Access Membership:

a full year of general admission for $40 to families that qualify.

Open Door

: Families are always welcome to visit the museum on a pay-what-you-can basis, please ask about our Open Door policy at the front desk.
Admission includes full access to BADM daily programs and exhibits. Advanced ticket reservations are required for entry.
Reserve or request tickets.
District 10 Supervisor Shamann Walton | 1 Dr. Carlton B. Goodlett Pl, San Francisco | Room 282 Office Line: 415.554.7670 | General Email: waltonstaff@sfgov.org
This email was sent by: City and County of San Francisco
1 Dr Carlton B Goodlett Place, San Francisco, California, 94102 United States

Privacy Policy
---
Term
Elected November 06, 2018 for term January 08, 2019 to January 08, 2023
---
Board and Committee Assignments
---
Contact Info
City Hall
1 Dr. Carlton B. Goodlett Place, Room 244
San Francisco, Ca 94102-4689
(415) 554-7670 - Voice
(415) 554-7674 - Fax