District 10
Shamann Walton
District 10

Supervisor Shamann Walton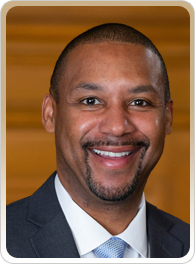 was born in San Francisco and lived in public housing at an early age in Bayview and Potrero Hill. He has worked in District 10 neighborhoods for decades
and has witnessed firsthand the challenges our community faces from long-time residents being pushed out of the city to losing childhood friends to violence and incarceration. As an accomplished and experienced community leader, Shamann has dedicated his life to improving these realities in our community and is committed to identifying solutions to our pressing issues. He has a proven track record of creating positive change in the community he serves.
As the former president and member of the San Francisco Board of Education, Shamann spearheaded the effort to close the achievement gap for Black, Latino, and special needs students and helped secure the funding for the school district's first African American Achievement and Leadership Initiative. He worked to protect undocumented students, decreased teacher turnover, increase graduation rates across the district for Black, Latino and Pacific Islander students, secured the financing and identified a site for our first affordable housing units for educators, and fought to make sure that Mission Bay will have its first school built in the next few years.  READ MORE
---
Community Events and Announcement
Dear Neighbors and Community, 
Please stay safe and vigilant in protecting yourselves and your family from the COVID-19 micron variant. There is a currently a surge in San Francisco and across the nation. Please get a free booster vaccine if you have not already through your healthcare provider or at one of our community sites. For more information on COVID-19 vaccines and boosters, please visit: http://sf.gov/getvaccinated. 
For general updates and meeting information at the Board of Supervisors, please visit: www.sfbos.org

For a web version of this newsletter and past newsletters, please visit: www.sfbos.org/supervisor-walton-district-10

In this update: 
D10 Office & Legislation Updates
COVID-19 Omicron Updates & Vaccine Information
City Department Updates
Community Announcements
Reach to our office at 415-554-7670 or email at waltonstaff@sfgov.org. For the latest updates, please follow me on Facebook and Twitter. 

In community, 
Supervisor Shamann Walton
P.S. GO NINERS THIS WEEKEND!!!!
Supervisor Shamann Walton & Supervisor Matt Haney at the January 2, 2022 Home Game. 
Public Safety Plan Update
This week, the District 10 office hosted a townhall report back on the work being done from our Safety Plan. Our plan is meant to be community led and give all stakeholders a voice in new strategies to promote peace. I want to thank all the city and community partners that work everyday promoting peace solutions. I want to thank the community and all of our collaborative partners for participating and being part of a community led process. Senseless violence has no place in District 10 or SF. I am committed to achieving a vision of peace and Vision Zero for Homicides and Violent Crimes. To view the recording of the meeting, please visit:  http://fb.watch/aGIC8jXoRm/

Our Public Safety Plan is available translated in Chinese and Spanish. We have been working with City Departments and community-based partners to provide resources and implement our plan to stop violence in District 10. 

Find the plan in different languages here:
COMING SOON: A NEW BAYVIEW GROCERY STORE!
The District 10 Office has been working on addressing food insecurity and bringing quality grocery stores to Bayview since we took office. When we lost the Walgreens in the plaza, we knew we needed to bring in a grocery store and address food desert concerns. Over the past year our office has been working closely with a grocery provider to bring a much needed asset to community. More details to follow, but there will be a grocery store in Bayview Plaza.
 
Bayview Vehicle Triage Center at Candlestick
After months of planning with community stakeholders and City and State Departments, the new Bayview Vehicle Triage Center (VTC) at Candlestick Point has opened this week. We have been working hard to meet the needs of community and folks forced to live in vehicles. 

The Candlestick area has been under-resourced, neglected, and overrun with challenges for way too long. For years, our housed neighbors living in the Candlestick area have been calling on the City to tackle these very issues and all of our community members deserve to live in a neighborhood that's clean and safe and our vehicularly housed folks deserve access to basic services like restrooms, electricity, and pathways to housing. This VTC is the first step towards answering the calls of all our neighbors in the area who deserve better.

The Bayview VTC includes up to 135 parking spaces for 203 people, 24/7 staffing and security, bathrooms, mobile shower facilities, potable water, and mobile blackwater pumping services. Additionally, the Center will provide people living in their vehicles in the immediate area with access to services designed to help stabilize their lives through health care, housing, employment, or other interventions that meet their unique needs and lead to a permanent exit from homelessness. 

Urban Alchemy and Bayview Hunters Point Foundation will operate and provide services at the Center. This VTC is intended to be temporary for two years as we work on more permanent solutions address the unhoused crisis in District 10. 

I'd like to particularly thank Abe Evans and Percy Burch from my office for helping facilitate the planning process to make the Bayview VTC possible. 

To learn more about the Community-led Work Group or participate in the meetings, please email abe.evans@sfgov.org.
First Reparations Advisory Committee Report Released!
First Reparations Advisory Committee Report is out here in San Francisco! Thank you to the entire committee—Chair Eric McDonnell—the Human Rights Commission—under the leadership of Dr. Director Sheryl Evans Davis—my colleagues, and my entire community. We will achieve Justice through this process. The heavy lifting continues!

Read about the report here.
 
San Francisco Redistricting
Every 10 years after the Census, San Francisco goes through a redistricting process where the Supervisorial districts are redrawn to ensure that each district maintains equal numbers of residents. Members of the public are encouraged to participate in the redistricting process. There will be upcoming meetings with the Redistricting Task Force online and in the district from now till April 2022.

The upcoming remote meetings are: 
Saturday, January 22, 2022 - 10:00 am - District 5 
Saturday, January 29, 2022 - 10:00 am - District 3
Friday, February 4, 2022 - 3:00PM - District 10
Monday, February 7, 2022 - 5:30PM - District 11 
Wednesday, February 9, 2022 - 5:30PM - District 8
Wednesday, February 16, 2022 - 5:30PM - District 4
Friday, February 18, 2022 - 3:00PM - District 9
Saturday, February 26, 2022 - 10AM - District 6
Friday, March 4, 2022 - 3:00PM - District 3
Saturday, March 5, 2022 - 10AM - District 10
Monday, March 7, 2022 - 5:30PM - District 1
Wednesday, March 9, 2022 - 5:30PM - District 2 
Monday, March 14, 2022 - 5:30PM - District 7
Friday, March 25, 2022 - 3:00PM - District 9
Monday, April 4, 2022 - 5:30PM - District 8
Wednesday, April 6, 2022 - 5:30PM - District 5
Friday, April 8, 2022 - 3:00PM 
Monday, April 11, 2022 - 5:30PM
Wednesday, April 13, 2022 - 3:00PM
The Redistricting Task Force is happy to announce that the San Francisco Redistricting Tool is now available online: 
https://redrawmysf.publicredistricting.com

We invite you to investigate the redistricting tool and use it to create your own redistricting plans, while referencing the population data associated with each district in your plan.

Here is a link to the User Guide for the Redistricting Tool: https://www.publicredistricting.com/sf/sanfrancisco_guide.pdf

For the latest information and to join the mailing list on redistricting, please visit: sfelections.org/rdtf

You may submit comments to the redistricting task force at rdtf@sfgov.org or call 415-554-4445.

Follow the Redistricting Task Force on Facebook and Twitter
 
Grand Opening: Bayview Park
We promised to improve parks and open space in District 10. The remodeling of the baseball field and the playground at Bayview Park is just one example of honoring that commitment. The community was a driving force in these park improvements. The proximity of the adult exercise equipment to the new playground allows parents and grandparents to all share in outdoor fun with children. The new picnic lawn invites families to gather after a day of swimming.
 
COVID-19 Vaccine Boosters Availability
Boosters are widely available across San Francisco's health systems at nearly 100 vaccination sites, most of which allow drop-ins. Caregivers, family members and friends are encouraged to assist seniors in getting to vaccination sites through appointments or drop-in options. Many of these sites also provide influenza vaccines, which can be safely given at the same time as COVID-19 boosters and are also essential this winter. Appointments and drop-in options can be found here.

More information about boosters, can be found here.

SFDPH dashboards on COVID-19 data can be found here.
SFUSD Vaccination Sites
Malcolm X Academy School
350 Harbor Road in the Bayview
3:30 pm – 6:30 pm on Tuesdays

Balboa High School
1000 Cayuga Ave in the Excelsior
2:30 pm – 5:30 pm on Wednesdays

McCoppin Elementary School
651 6th Ave in the Richmond
10:30 am – 1:30 pm on Saturdays

Sunset Elementary School
1920 41st Ave in the Sunset
10:30 am – 1:30 pm on Sundays


Please visit SF.GOV/getvaccinated for a complete list of vaccination sites as well as days and hours of operation. People are encouraged to first seek vaccination through their health care provider, if they have one.
 
The District 10 Office helped launch the Bayview Essential Services Hub located at 1800 Oakdale Ave  providing COVID-19 testing, food, financial assistance, and other many resources for residents.

Bayview and neighborhoods surrounding Bayview have the highest rates of COVID-19 cases and deaths, with Black and Latinx communities more likely to face death than their white counterparts. Multiple community groups, including the Latino Task Force, Black Wall Street, Rafiki Coalition, Young Community Developers, MegaBlack SF and the YMCA collaborated to launch this hub, dedicated to lessen the disproportionate harm the pandemic has upon our communities.

The Bayview Hub is opened every Wednesday and Thursday from 10AM to 4pm at 1800 Oakdale Avenue. Drop-ins welcomed. 
 
SFMTA Updates
Omicron Surge Impacts: https://www.sfmta.com/blog/omicron-surge-impact-muni-routes-and-schedules

_________________________________________
Text Before Tow Program 
The San Francisco Municipal Transportation Agency (SFMTA) released "Text Before Tow," a first-of-its-kind program where customers can receive a text message notification prior to having their vehicle towed.

This pilot program, starting on January 3rd, 2022, applies to four categories of tows: (1) parking more than 72-hours (2) blocked driveways (3) construction zones and (4) temporary no-parking zones such as special event or moving trucks. These categories represent 27% of all vehicles towed in 2020, approximately 12,500. It is important to note that peak-hour tow-away lanes, hazards, yellow or white zones and all other violations are not included.

To enroll a vehicle, customers need to complete a short online form to register their license plate and phone number. When a customer's vehicle is about to be towed, they will receive a text in which a tow truck will be dispatched at the same time. Note: Vehicles will still receive a citation for the violation from Parking Control Officers (PCO).

This service does not provide the drivers with a "countdown" and as it is dependent on the travel time of the tow truck, which could be as few as five minutes. Once a vehicle is hooked up to a tow truck, the tow cannot be stopped. Should the driver return before the tow truck arrives, the vehicle will not be towed, however a parking violation ticket will still be issued.

Please note that this program is provided as a courtesy only. The SFMTA cannot guarantee the delivery or receipt of text messages. Failure to receive a text message cannot be used as a basis for a refund claim or for the release of a towed vehicle.

For more information or to sign up for this program, please visit https://www.sfmta.com/text-tow-program-application.

_________________________________________
Upcoming 2022 Muni Service Plan
Phase 1 (Feb 19) rail changes will go into effect:
Subway extension until midnight on Sundays
J Church back into subway at 15 min headway
Phase 2 (March 5) first phase of bus changes that are cost neutral:
Restoring connections: 2 Clement, 10 Townsend, 21 Hayes and 8Ax/Bx
Restoring pre-COVID routing: 23 Monterey (Sloat to the Zoo), 43 Masonic
Modifying routes: 28 (to Fishermans wharf), 56, 57 (to WP), 58 (to Brotherhood Way)
Adding service: 29 Ocean (from a 10 min to a 9 min headway)
Reducing service: 1 CA short, 14R short and 30 short, 9R
Phase 3 (June)second phase of bus changes:
Restoring pre-COVID routing: 6 Haight. 28R 19th Ave Rapid
Modifying routes: 12 Folsom, 31 Balboa (down 5th to CalTrain)
Adding service: 2, 5, 9R, 10, 21, 38R
Phase 4 (August) third and final phase assuming additional resources
Restoring the 1 short and 14R short to pre-COVID frequencies
SF Environment: Rethink Disposable Program
In October, the Reusables Win in SF campaign kicked off with an engaging livestream featuring local restaurant owners who have successfully integrated reusables into their dine-in and take-out operations. Check it out here! (Also available with Spanish and Chinese subtitles.)

Now we are proud to present the next phase, with the launch of our Reusables Win in SF landing page. The site contains a downloadable brochure (also in Spanish and Chinese), along with helpful stats, a directory of reusable businesses, and much more. '

Benefits of technical and financial assistance:
Through our ReThink Disposable Program, we are working to provide on the ground multilingual technical and financial assistance to small and medium sized businesses during their recovery period by helping them switch from disposable, single-use foodware to reusables.
On average businesses who switch from disposable to reusable food ware typically see an annual net savings of between $3k-$22k! Through our partnership, we can provide businesses with financial assistance of $300 to help them purchase reusable foodware, shelving, and more!
With the help of Plastic Free Restaurants, we are doubling financial incentives for black-, minority-, women-, and LGBTQ+ -owned food service businesses participating in the program.
For more information on the program, please submit a request at ReThink Disposable Program.
SF Bottle Bank Pilot Program
Making CRV redemption easier for San Franciscans. 

The BottleBank™ program is an innovative mobile recycling program in San Francisco that utilizes specially made bags with preloaded barcodes that can be tied to a consumer's account to provide a convenient and easy way to get their redemption back. The pilot is designed to increase redemption rates of aluminum, plastic, glass, and bi-metal beverage containers that have California Redemption Value (CRV) and to return those deposits directly back to the consumers.

The pilot is a partnership between the San Francisco Conservation Corps, the San Francisco Department of the Environment, Our Planet Recycling, SF CRV Grocers Alliance, CalRecycle, and the Oregon Beverage Recycling Cooperative.

For more information and locations, please visit: www.sfbottlebank.org.  
 
Apply to SFUSD Schools by February 4, 2022
We are less than one month away from the deadline to apply to schools for the 2022-2023 school year. If your child is entering Kindergarten, Middle School, or High School next year, you need to apply for a new school. Learn how to apply today at sfusd.edu/apply . If you need help with your application, call (415) 241-6085 or visit our new Bayview enrollment office at 1520 Oakdale Avenue, Monday through Friday from 8am to 4:30 pm. We have staff who speak English, Spanish, and Chinese who can help you enroll.
Immigrant Parent Voting in the Next School Board Election
Noncitizen parents can Register to Vote in the upcoming SFUSD School Board Election by January 31, 2022. For more information, please visit bit.ly/SFimmigrantvote.

Immigrant Parent Voting Collaborative Flyer in English | 中文 | Español | Arabic

Department of Elections Posters: Official posters about non-citizen voting in English | 中文 | Español | Filipino

Department of Elections Voter Guide: In-depth voter guide for noncitizen parents in English | 中文 | Español | Filipino

Department of Elections Registration Form: Printable PDFs of the non-citizen voter registration form, which is different than the citizen registration form and must be printed and signed, in English | 中文 | Español | Filipino | Arabic
 
The 12th Annual Bayview Black History Month and Lunar New Year Celebration Event will honor two cultures with rich histories.

The event will feature opening blessings, remarks from local dignitaries, cultural performances, and open dialogue promoting racial solidarity. The event is hosted by the Community Youth Center of San Francisco (CYC), Bayview Hunters Point YMCA, and Chinatown Community Development Center (CCDC). Sponsored by Department of Children, Youth and Their Families (DCYF), Mayor's Office of Housing and Community Development (MOHCD), San Francisco Foundation, Golden State Warriors, Cruise, Wu Yee Children's Services, and New Breath Foundation.

When: Saturday, February 5, 2022, 11 am - 12 pm, PST

View on the CYC Facebook and YouTube pages.
 
California Mortgage Relief Program
The effects of COVID-19 continue to hurt many families. Up until recently, only rent relief  has been available for California tenants. Now, help is here for homeowners too.
Thanks to the federal American Rescue Plan, the California Mortgage Relief Program has $1 billion in funding for Californian homeowners who have fallen behind on their mortgage payments as a result of pandemic-related hardships. Nearly half of that is reserved for those in historically disadvantaged neighborhoods. As many as 40,000 qualified households could receive up to $80,000 in one-time payments made directly to their mortgage company. Moreover, the funds will not need to be repaid.
For more information on eligibility and the application process, please visit the California Mortgage Relief Program . If you're interested, I encourage you to act fast because funds are available on a first come, first served basis and will run out quickly.
COVID-19 Rent Relief Program
Great news!  Applications to the CA COVID-19 Rent Relief program is extended to further help households who are falling behind on their rent and utility payments due to COVID-19.  However, funding is currently limited.  As such, we want to make sure that your constituents and staff are aware of the fund's present availability.  Also, we want to provide updated information and resources on the program and current eviction protections especially after the eviction moratorium ended in September 2021.  
Just a reminder: Tenants and Landlords can apply here:  Housingiskey.com or by calling 1-833-430-2122. Please encourage them to apply now to help avoid eviction.
Please view or share the following link:
For further support with the rent relief program, including referrals for rent relief application assistance, information on keeping tenants housed, and/or presentation requests, you may continue to contact me directly (racquel@homeownershipsf.org or call 415-799-4926) or reach out to our team at info@homeownershipsf.org or call 415-202-5464 for assistance.
*Please advise anyone who receives an eviction notice to contact the  Eviction Defense Collaborative ASAP at 415-659-9184.
Medication Education and Disposal Project
Informing residents about consumer-generated unwanted medicine disposal options is one of the key goals of the MED-Project Product Stewardship Plan for unwanted medicine from households. As part of our program, we are providing educational materials about options to dispose of household unwanted medicine.

If you would like to obtain free copies of the educational brochure for residents, please contact the MED-Project Help Desk at (833) MED-PROJECT / (833) 633-7765 or email us at sanfrancisco@med-project.org. This brochure is available to order in one or more of these languages: English, Spanish, Chinese, Filipino/Tagalog, and Russian. If you would like more information regarding the MED-Project program for unwanted household medicine collection and disposal, please visit our website at: www.med-project.org.
 
Volunteer Opportunities at the SF-Marin Food Bank 
Home Delivered Grocery (HDG) program (2-3hours – Highly Recommended) - The HDG volunteer opportunity creates a unique opportunity the community to connect with Food Bank staff and go into the community, helping deliver groceries to program participants.

Pop-Up Pantry – This opportunity allows for the help in pre-bagging groceries to be distributed on-site to program participants. The Call for Volunteers – Currently, our Pop-Up Pantries need volunteers; this opportunity is open to the public (2-4 hours).

Please look at the Most Needed Volunteer Opportunities Page for urgent opportunities. 
 
District 10 Supervisor Shamann Walton | 1 Dr. Carlton B. Goodlett Pl, San Francisco | Room 282 Office Line: 415.554.7670 | General Email: waltonstaff@sfgov.org
This email was sent by: City and County of San Francisco
1 Dr Carlton B Goodlett Place, San Francisco, California, 94102 United States

Privacy Policy
---
Term
Elected November 06, 2018 for term January 08, 2019 to January 08, 2023
---
Board and Committee Assignments
---
Contact Info
City Hall
1 Dr. Carlton B. Goodlett Place, Room 244
San Francisco, Ca 94102-4689
(415) 554-7670 - Voice
(415) 554-7674 - Fax