District 10
Shamann Walton
District 10

Supervisor Shamann Walton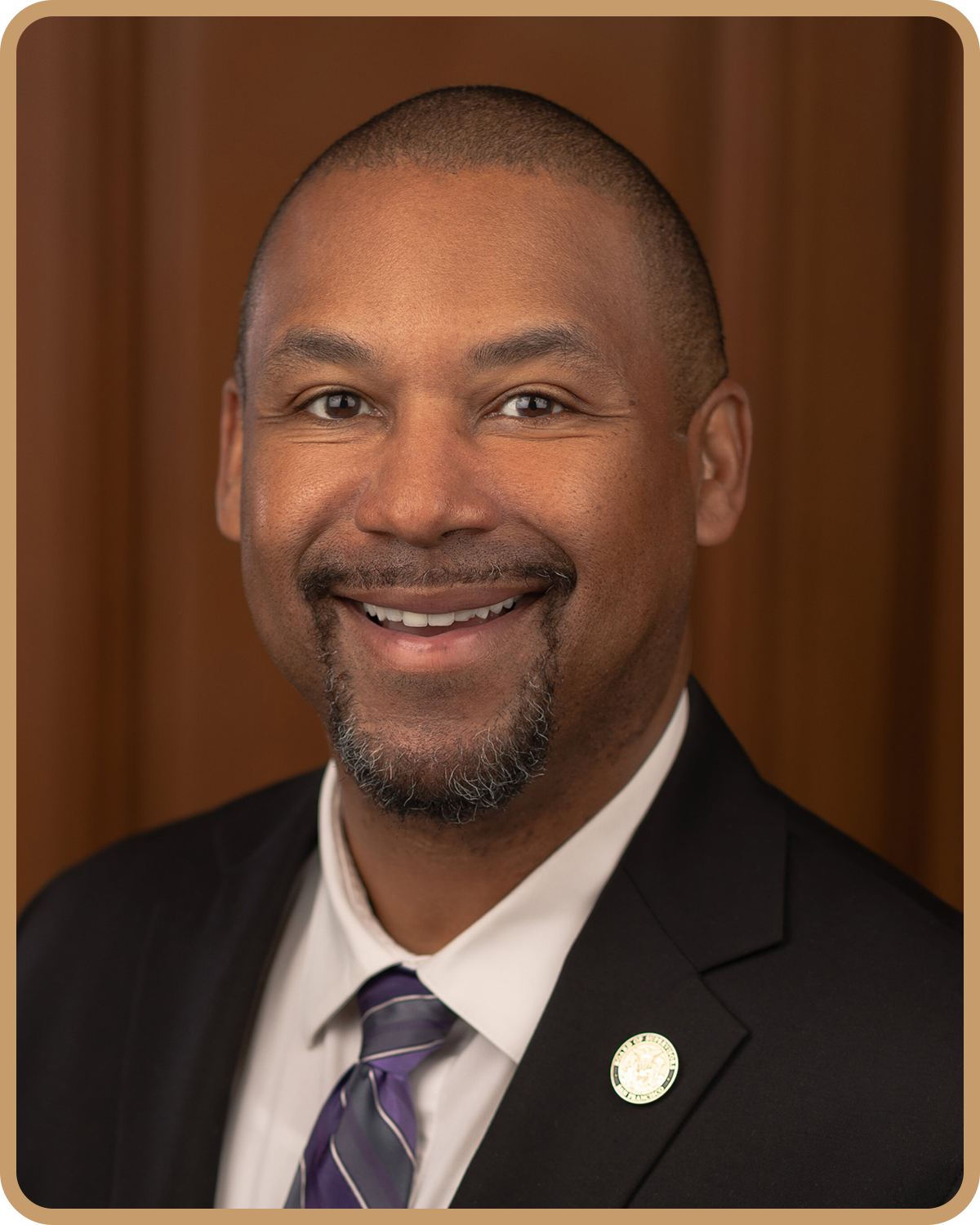 Supervisor Shamann Walton represents District 10. Shamann was born in San Francisco and lived in public housing at an early age in Bayview and Potrero Hill. He has worked in District 10 neighborhoods for decades
and has witnessed firsthand the challenges our community faces from long-time residents being pushed out of the city to losing childhood friends to violence and incarceration. As an accomplished and experienced community leader, Shamann has dedicated his life to improving these realities in our community and is committed to identifying solutions to our pressing issues. He has a proven track record of creating positive change in the community he serves.
As the former president and member of the San Francisco Board of Education, Shamann spearheaded the effort to close the achievement gap for Black, Latino, and special needs students and helped secure the funding for the school district's first African American Achievement and Leadership Initiative. He worked to protect undocumented students, decreased teacher turnover, increase graduation rates across the district for Black, Latino and Pacific Islander students, secured the financing and identified a site for our first affordable housing units for educators, and fought to make sure that Mission Bay will have its first school built in the next few years.  READ MORE
---
Community Events and Announcement
---
Newsletter
Dear Neighbors and Community, 

As we are approaching the annual budget season, I want you to know that I will continue to fight to preserve the existing services and resources in our District. These priorities include: 
no cuts to existing programs
implementation of the District 10 Public Safety Plan and violence prevention measures
prioritizing programming serving our most vulnerable populations
supporting education, equity, skills training, career pathways, as well as small businesses for underrepresented communities 
investing in resources to reverse the impacts of structural and systemic racism
housing stabilization, including public housing
COVID-19 recovery and economic stabilization
Earlier in April and May, we held two budget town halls in person and virtually to gather feedback from the community on what your budget priorities are. If you missed the meetings, you are welcomed to email our office at waltonstaff@sfgov.org.

Mayor Breed will release her budget on June 1st and the City Departments will begin their presentations to the Board of Supervisors throughout June. As the Board of Supervisors, we will have an opportunity to review the budget and hold hearings for each department to make sure public services in our communities are kept in place. Click here for more information on the schedule of hearings.

As a member of the public, you will have the opportunity to share public comment on Monday, June 26 in person or over the phone. You are also welcomed to email your comments to board.of.supervisors@sfgov.org. 

Click here to learn more about the budget process.
______________________________
Summer Camps & Programs
Summer is around the corner! The Department of Children Youth and Their Families have compiled a list of summer camps and programs for children grades K-8, click here to see a list of summer programming.

Opportunities for youth, ages 14-24 may be found here and additional summer resources listed by the San Francisco unified School District, may be found here.
______________________________
Reporting to 3-1-1 
SF311 is the primary customer service center for San Francisco. It is available 24 hours a day, 7 days a week via phone, web, mobile, and Twitter. If you see illegal dumping or a pothole that needs to be fixed, please reported it to 311, you may also take a photo and upload it to the mobile app. If you need assistance escalating the matter or if 311 has not responded to your case, please send your case number to my office and our staff will help you follow up. 
______________________________
Community Events Calendar
If you hear of any community events in our District, our office would love to add it to our community calendar at: http://bit.ly/d10communityevents - Please send us an email at waltonstaff@sfgov.org.

In community, 
Supervisor Shamann Walton
District 10 Office Updates
On April 24th, we kicked off the official Committee on Citywide Workforce Alignment meeting with City Department Heads, Labor and Community Appointees. This committee will play an integral part in aligning the workforce system and programs across the City. Building skills, connecting to careers and ending poverty takes everyone working together!

On April 25th, alongside Supervisors Ronen and Safai, we honored the Latino Task Force (LTF) at the Board of Supervisors. LTF emerged at the beginning of the pandemic as a community-based response to the health and financial crisis experienced by the Latino community in San Francisco. They mobilized to distribute food to over 9000 families, created the first community testing site, and the first community hub to respond to the crisis. But they didn't stop there, they also helped create the Bayview Hub and the Pacific Islander Resource Hut to tailor pandemic relief and response to our specific communities. Congratulations to the Latino Task Force on 3 years!

Also on April 25th, we celebrated alongside Young Community Developers (YCD) as they held a showcase for their 50 years in workforce development. We look forward to celebrating YCD's 50 years in service to the community throughout the year!

On April 29th, we celebrated the 115th anniversary of the St. James Presbyterian Church and their 100 years at home on 240 Leland Avenue. We also celebrated the St. James Presbyterian Church as the first city designated historic landmark in Visitacion Valley—this is our very first but definitely not the last historic landmark designation in the neighborhood. This church building is also going to be home to a mini museum for the history of Vis Valley. Thank you Pastor Fernando and the St. James Presbyterian congregation, the Visitacion Valley History Project, SF Heritage, the Historic Preservation Commission, and our Vis Valley community for making this happen.

Also on April 29th, the Fealofani Festival took place at Burton High School organized by the Samoan Community Development Center. The Fealofani Festival was founded to provide cultural enrichment and space for the youth to engage, celebrate, and showcase culture through the art of Siva Samoa. It is with hope that the students will feel empowered and recognized with a sense of unity and inclusiveness with our Pacific Islander community.

On April 30th, we attended the 5th Annual Butchertown Jazz Fest in Bayview! It was great to be back in person and enjoy great music and food!
On May 2nd, we had the pleasure of honoring Joy Zhan for AAPI Heritage Month. I've known Joy for several years and I have seen her develop exemplary leadership skills through her work in the community, developing young people and organizing in the API community. I would say she's a rising star but she's already a star with all the work she has been doing whether through the Youth Commission, SF Young Democrats, Rose Pak Democratic Club, and APALA-SF Chapter.

On May 9th, I stood in solidarity with our In Home Support Services staff in asking for fair wages.  These workers take care of our most vulnerable population and help them live with dignity.  They are important to many and much like childcare workers deserve to be paid a living wage.

On May 10th, we spent the morning visiting Frandelja Childcare Center at True Hope. So humbled to receive personal messages from every teacher at the center. That made my day!

Also on May 10th, we celebrated the Chinese Railroad Workers Historical Center Grand Opening and the role of the Chinese Railroad Workers who contributed to the prosperity of this country, even though they faced racism, Asian hate and violence. Today we commemorate these iconic Chinese Americans! Thank you Mrs. Florence Fang for making it possible!

On May 13th, I attended the Resilient Alice Griffith (Double Rock) Kick-Off - Neighborfest. Beautiful day to be out celebrating the community.

On May 16th, we held a press conference in support of SB 731, along with the SF Public Defender's Office, my colleagues Supervisors Chan, Melgar, Preston and Ronen, Californians for Safety and Justice, Us for Us, United Playaz, and community. This bill ensures that after people pay their debt to society, they have the opportunity to have their records expunged so that they can gain employment and adequate housing. This allows them to re-enter their communities and be productive members of society.
Headline: What should Prop L fund in the next five years?
San Francisco voters in November 2022 approved Prop L, the Sales Tax for Transportation Projects measure that will direct $2.6 billion (2020 dollars) in half-cent sales tax funds over 30 years to help deliver safer, smoother streets, more reliable transit, continue paratransit services for seniors and persons with disabilities, reduce congestion, and improve air quality.
The Transportation Authority is working to implement Prop L, and is seeking feedback on the specific projects to fund in the next five years. To take a survey, attend a virtual town hall, or learn more, visit:
sfcta.org/ExpenditurePlan
.
May is Bike Month! 
May is Bike Month and the 

Active Communities Plan

 team wants to celebrate biking, scooting, and rolling all across the City. We have 20 citywide events scheduled through June 10th, a 

brand new survey

, and a 

new interactive map

 showing where people are riding bikes and scooters, our analysis, and more.

 
There are 

all kinds of ways to participate

, including neighborhood audit bike rides, online webinars, and 21 energizer stations across the city for 

Bike to Wherever Day

. 
Our 

survey

 runs through July 31st and will be used to directly inform our recommendations for the Active Transportation network. If you would like for us to attend your own community meeting or event, please contact us at ActiveCommunities@sfmta.com  and let us know!

 
5/18/23: Hip Hop Congress: East Meets West
San Francisco Community Cypher with special guest Grandwizzard Theodore - the inventor of scratch and the needle drop and Lonnie "Poptart" Green

Free Event, all dance levels welcome 
Strutting Workshop

Thursday, May 18, 2023 7:45pm to 9:30pm
Bayview Opera House
4705 Third Street

For more information, zaccho.org
5/20/23: Vis Valley Community Unity Coffee
Have a cup of coffee on us and find out how together, we can make Vis Valley a safe, comfortable, and thriving community. 

Saturday, May 20, 202; 10:00am to 12:00pm Noon
Mission Blue Cafe on Leland at Peabody
Every Thursday 3-7:30pm:
Farmers Market at the Southeast Community Center
1550 Evans Avenue
Applications due by May 19, 2023
6/8/23: SF MADE HERE/NOW @ SECC
- Locally made foods and beverages
- Captivating keynote speaker Neal Foard, award-winning CMO of Within Inc.
- Presentation of the '23 Manufacturer of the Year award
- SFMade new logo and website unveiling!

More Info
SFMade is bringing together the local manufacturing community and our supporters for an evening around the theme: The Story of Local and highlighting the rich history and legacy local manufacturing plays in the city of San Francisco. The event will feature
Habitat for Humanity Greater San Francisco (Habitat GSF)
Habitat for Humanity Greater San Francisco (Habitat GSF) provides critical, major repairs to support low-income, long-term homeowners living in the City and County of San Francisco. Habitat GSF's Home Improvement and Repair services address safety, accessibility, and deferred maintenance issues that affect homeowners. Habitat GSF acts as a trusted lender and general contractor and offers a 0% interest loan – with all payments deferred for 30 years or until the home is sold. Loan amounts between $25,000 and $75,000 are available for home improvement and repair needs. 
To learn more or apply, contact Habitat at HomeRepairs@HabitatGSF.org or call (415) 625-1036.
Free Museum Days for Bay Area Residents
at the de Young Museum and Legion of Honor
Job Opportunity: Bayview Open Door Legal
We're hiring a new frontline partner for our Bayview office and would love to find someone who grew up in the community. You can see the job post here: https://open-door-legal.breezy.hr/p/51a489dc79e6
District 10 Supervisor Shamann Walton | 1 Dr. Carlton B. Goodlett Pl, San Francisco | Room 282 Office Line: 415.554.7670 | General Email: waltonstaff@sfgov.org
This email was sent by: City and County of San Francisco
1 Dr Carlton B Goodlett Place, San Francisco, California, 94102 United States

Privacy Policy
Term
Elected November 06, 2018 for term January 08, 2019 to January 08, 2023
Elected November 08, 2022 for term January 08, 2023 to January 08, 2027
---
Board and Committee Assignments
---
Contact Info
City Hall
1 Dr. Carlton B. Goodlett Place, Room 244
San Francisco, Ca 94102-4689
(415) 554-7670 - Voice
(415) 554-7674 - Fax